WWE Hell in a Cell 2012: Preview and Predictions from B/R's Evolution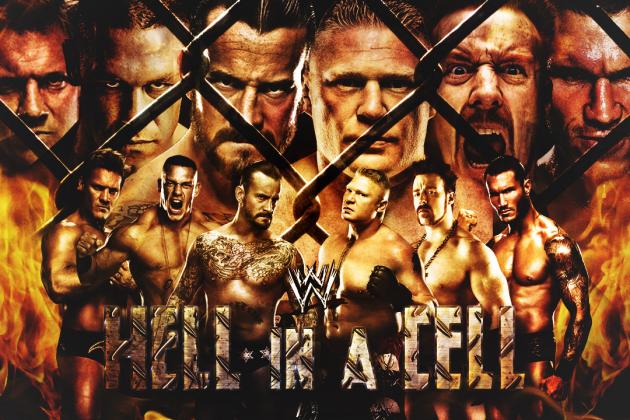 WWE Hell in a Cell (Courtesy of stylezfx.deviantart.com)
In mere hours, WWE presents its fourth annual Hell in a Cell pay-per-view event, live from the Philips Arena in Atlanta.
Since its inception in 2009, Hell in a Cell has always been a night of extraordinary action highlighted by the various Hell in a Cell matches that occur each year. While none of the installments in past years have been all that memorable, I have a strong feeling that will change come tonight's highly anticipated event.
The popular question being asked among the WWE Universe at the moment is: Punk or Ryback?
This is in reference to tonight's WWE Championship main event that will be contested between CM Punk and Ryback inside Satan's structure. I haven't been this unsure about a pay-per-view main event since WrestleMania 28's blockbuster bout between John Cena and The Rock, which goes to show just how unpredictable this upcoming event truly is.
Not only that, but the World Heavyweight Championship match between Sheamus and Big Show also has a variety of potential outcomes. With Dolph Ziggler finally cashing in his Money in the Bank briefcase a likely possibility, there's no telling who will be walking out of Atlanta as World Champ.
Here, I am once again joined by the past, present and future of Bleacher Report to help me analyze tonight's electric pay-per-view with their intelligent insight on all things wrestling.
Without further ado, please allow me to introduce the recognizable talent of SiD, Daniel Massey and Nate Scaccia, otherwise known as the Evolution of Bleacher Report, for the most jam-packed prediction article ever conducted!
Begin Slideshow

»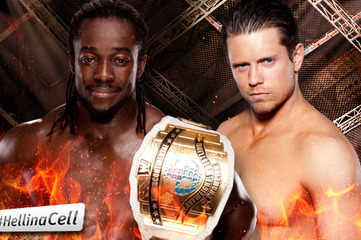 Kofi Kingston vs. The Miz
GSM: While there's no doubt in my mind that this match will be great, this feud has felt extremely rushed. They ran through their entire rivalry within two weeks rather than allowing it to develop over time, which I believe has killed most of the momentum for this bout.
Creative seems determined on pushing Kingston as a singles star, so it'd make sense for him to retain the belt here. Here's hoping they properly push Miz following this feud so he can reclaim his rightful place in the main-event scene, but I'm not holding my breath.
SiD: A rivalry which seemingly gained wings after Kofi Kingston set out on his own, Miz and Kingston will battle at Hell in a Cell for the Intercontinental Championship. At WWE's newest show (Main Event), Kofi Kingston gained the Intercontinental Championship from a game Miz after a long match, and is a multiple time IC Champ now. Miz, however, didn't take too kindly to the situation, and asked for a rematch and the deadliest day in the WWE.
This match might go second in the placement, and in my opinion, will last for about seven minutes before Kofi delivers the Trouble in Paradise to The Miz for the three count, and retains his title. Then, he can go on to face new challengers in Drew McIntyre, Mike McGillicutty and possibly even David Otunga.
Massey: Kofi Kingston is the Intercontinental Champion. I can't believe it. Life isn't fair. I have no idea why The Miz is forced to lose at every opportunity. He is an extremely accomplished wrestler and excellent on the microphone. He should be in the same place Ziggler is at the moment. I actually thought he was an excellent WWE Champion for the time he had the belt.
The Miz will lose as he has not won a match in ages. Kingston is likely to keep the Intercontinental Championship for a while to prepare him for another push like the one he was about to receive 3 years ago. The match will be fast-paced and Miz will look to ground Kofi to stop the high flying, but I believe he will succumb to Trouble In Paradise in the end.
Scaccia: Good matchup for the Intercontinental Championship here. Nice to see two good competitors feuding over the strap. Kofi retains because there is no reason Miz should win here. He just lost the belt to Kofi, so taking it off of Kingston now would be poor booking in my opinion.
Overall Consensus: Kingston-4, Miz-0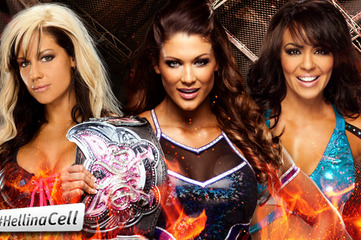 Kaitlyn vs. Eve vs. Layla
GSM: Sure, the angle involving Layla, Eve and Kaitlyn over the Divas Championship may be basic and predictable, but it's also simply effective. Mere months ago these lovely ladies weren't even on television, so featuring them in a three-way feud each week on Raw and SmackDown is certainly a step in the right direction, right?
Eve has the most compelling character of the three at the moment, so I see no reason why they should take the title off her here. This feud has been built up nicely in recent weeks and I would assume it leads to Kaitlyn contending for the title against Eve down the line.
SiD: Finally, we have a storyline for the Divas, and the division is picking up some steam. Eve, the assistant to Booker T, takes on Kaitlyn and Layla in a Triple Threat match for her Divas title. While this match is hard to predict, all I can say is, to further the storyline, Eve should grab the victory with the help of Aksana. Therefore, my prediction for this match would be that Aksana distracts the referee, and Eve hits the other ladies with any foreign object, and covers one of them to retain her title, thus furthering the feud.
Massey: I truly don't care for this match. The storylines are weak and until some new talent comes in to revitalize the decision, I refuse to be a part of this charade. I don't care. Eve if I have to choose.
Scaccia: Triple Threat match with three decent female wrestlers. Should be better than the average Divas match. I think Eve retains here simply because there is no reason to take the title off of her.
Overall Consensus: Eve-4, Layla-0, Kaitlyn-0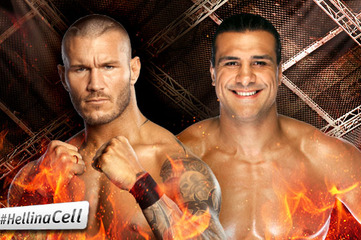 Randy Orton vs. Alberto Del Rio
GSM: Surprisingly enough, I've found this feud to be both interesting and enjoyable. Orton has been made to look somewhat weak since returning this past July after losing to the likes of Alberto Del Rio, Big Show and Wade Barrett, so at least his character has some sort of vulnerability these days.
Del Rio, on the other hand, spiced his persona up a bit by mocking Orton time and time again, showing more personality in just this one feud than his entire WWE career as a whole. They've had great matches in the past, so I expect nothing less tonight from the two former WWE Champions. Given Del Rio's recent hot streak, it's only inevitable for Orton to bounce back with a victory here.
SiD: This match is the only non-title match on the card, it seems. While I expect Dolph Ziggler vs. John Cena to be added later on; but as of now, Del Rio vs. Orton is the only non-title rivalry which interests me as of late, and boy, these men have done some good work here. I'm a Randy Orton fan, and while many people criticize him for not putting anyone over, it has to be noted that not only has Randy been losing a lot of matches, he has been losing clean.
On the other side, Alberto Del Rio hardly receives a reaction, but yet is the arrogant Mexican looking for revenge against the Viper. This match should be a good one, and honestly, I'd like to see Randy Orton come out on top here, in a good 15-minute match. I predict Randy Orton.
Massey: This match is a filler match—to be honest, most of the matches Randy Orton seems to be in nowadays are filler matches. Whether it is some form of punishment due to his recent suspension, your guess is as good as mine, but the man has to compete in a normal singles match yet again without a title on the line.
I did think that Randy Orton was getting slightly Cena-like just over a year ago and my interest in his character waned. But the man is a top star; there is no shying away from that. He deserves a World Title match and he should totally get one at the Royal Rumble.
Orton and Ziggler would be a brilliant match full of technical skill and that is what I would like to see happen at the Royal Rumble. I believe Randy will dispatch Del Rio with relative ease with a lovely RKO.
Scaccia: Really could not care less about Del Rio right now. It is the WWE"s job to make me care about Del Rio and they are failing miserably. Orton wins because I can't stand Del Rio's character at this point.
Overall Consensus: Orton-4, Del Rio-0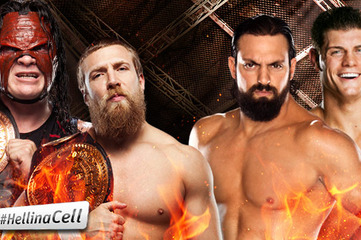 Team Hell No vs. Team Rhodes Scholars
GSM: Honestly, this is the most intrigued and entertained by a tag team title match in years, as both the Team Hell No and Rhodes Scholars duos have been brilliant. Since both Daniel Bryan and Kane are former world champions, they bring relevancy back to the tag straps while putting on solid matches each week.
Meanwhile, neither Cody Rhodes nor Damien Sandow were doing much in the midcard as of late, so pairing them up to chase the tag titles was a fantastic idea. This match could go either way, but Bryan and Kane just won the champions a month ago, so it'd be a mistake to take the belts off them this early.
SiD: The tag team division in the WWE is certainly heating up with Team Hell No, consisting of Daniel Bryan and Kane, taking on Team Rhodes Scholars, with Cody Rhodes and Damien Sandow, on the other side. This match is going to be one of the best bouts on the card, and I fully expect it to last for more than 10 minutes, with unnecessary shenanigans like hugging it out.
Now, it's prediction time, and I predict Rhodes Scholars to seal the victory, and become the tag team champions here. Expect Matt Striker to come out and cause a distraction, and thus making him the manager of Rhodes Scholars.
Massey: I AM THE TAG TEAM CHAMPION! Who would have thought that the team of Daniel Bryan and Kane would end up revitalizing a failing tag team division?
After taking the title, the duo has gone from strength to strength and their segments are getting funnier and funnier. From this success, the tag team division in the WWE has also improved immensely. The tournament that preceded this title match proved the talent you can create if you put superstars who have no direction together. The chemistry that can happen is amazing.
The biggest piece of evidence comes in the form of Rhodes Scholars. Cody Rhodes and Damien Sandow had little direction. By putting them together, WWE have put together a classic tag team. It just works so well. I can see Daniel Bryan and Kane retaining on Sunday as I don't see them losing the titles yet—it is too soon.
They will likely argue throughout the match and tag themselves in at every opportunity, coming out victorious.
Scaccia: Team Hell No gets the upset victory.
Overall Consensus: Hell No-3, Rhodes Scholars-1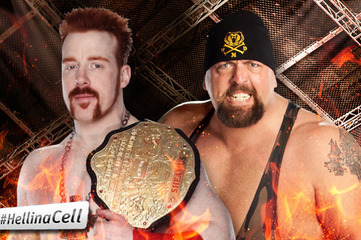 Sheamus vs. Big Show
GSM: While this match may not be the most exciting on paper, keep in mind that it's the first time ever that Big Show and Sheamus have clashed in a singles match. The feud, however, has been severely botched since it started.
Show showed signs of seriousness this past week, but it was too little too late, as Sheamus made him look cowardly instead of monstrous in the weeks preceding the event.
All that aside, Dolph Ziggler has made it known that he intends on cashing in this Money in the Bank briefcase following this title bout, which puts even more pressure on the winner. As much as Ziggler has teased it, I don't think now is the right time, but I see him at least attempting to cash in again.
Show could very well put an end to the 45-second talk by beating Sheamus here, but I don't see that happening, so my prediction is with the Celtic Warrior successfully retaining his prestigious prize.
SiD: While this match should have been a Hell in a Cell match, let's take nothing away from these two Superstars as well. The World's Largest Athlete takes on the Celtic Warrior for the World Heavyweight Championship.
Big Show has been chasing the World title for over a year now, since he lost it to Daniel Bryan in less than a minute. Since then, Big Show has been unstoppable as he's tormented WWE Superstars to get what is rightfully his; and then there is the first ever Irish-born champion, Sheamus, who has been the king of SmackDown since WrestleMania, when he defeated Daniel Bryan in 18 seconds to capture the World title.
What happens when the immovable object collides with the unstoppable force?
I guess we have to find out this Sunday. I expect this match to last a long time, yet I think this will start the show. I have a strong feeling that Dolph Ziggler will finally cash in his briefcase on Sunday, and we will see a new World Champion in the Show-Off, Dolph Ziggler.
Therefore, I predict that Big Show wins the match, yet Dolph Ziggler cashes in to become the new World Champion.
Massey: Big Show is in another World Heavyweight Championship match. We were in a similar situation at last year's TLC pay-per-view and the giant actually prevailed over the dominant Mark Henry. This only lasted 45 seconds, however, as Daniel Bryan cashed Money in the Bank in and beat the Big Show for the championship before it had even sunk in that we'd had a change of champion.
I've got a feeling a similar thing will happen at Hell in a Cell.
Sheamus has been champion since WrestleMania and this has helped to enhance the status of the World Heavyweight Championship. It now actually feels like an important title to carry.
I think with the blasé attitude Sheamus has to this match, he will get knocked out by a very angry giant after failing to execute a Brogue Kick.
However, I believe Dolph Ziggler will strike and win the World Heavyweight Championship from the Big Show in under a minute thus sparking a feud between these two that will culminate at Tables, Ladders and Chairs.
Scaccia: Sheamus looks to continue his reign as World Heavyweight Champion as he goes up against the Big Show. Big Show will be made to look dominant, but Sheamus will withstand the attack and keep up the offensive on Big Show. No real way I could see Big Show winning here. This is a filler storyline until a real challenger can be found for Sheamus.
Overall Consensus: Sheamus-2, Show-2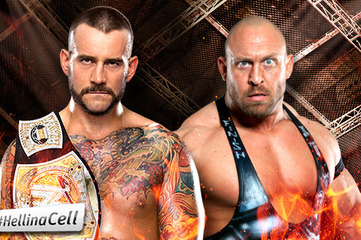 CM Punk vs. Ryback
GSM: People have been complaining for years (myself included) about WWE's inability to create new stars and insert new faces into the top title picture. Well, we have a breakout star in Ryback, who has yet to suffer a loss since returning to WWE earlier this year, and people still complain.
That aside, I've absolutely loved the build-up of this feud over the last month. Sure, it's a bit soon to be having the match (much less inside Hell in a Cell), but it will undoubtedly be an intriguing main event.
CM Punk has been WWE Champion for nearly a year by this point, so having him lose the strap here will prevent him from snapping John Cena's record and advancing to the Royal Rumble against The Rock with major momentum.
That being said, there's no way that Ryback makes it the Rumble as WWE Champion, so if he were to win here, he'd have to lose it at some point soon. It's always possible that John Cena could interfere in this match to unintentionally costing Ryback the loss, but I assume they'd be hesitant in having a recently injured star jump back into action so quickly.
Neither guy should lose here, but chances are one of them might have to since there are no disqualifications or count-outs inside Satan's structure. Many have speculated that there's the chance that Brock Lesnar could return to attack Ryback and align with Punk, and as logical as that would be, there's no chance of that happening with the limited amount of dates Lesnar has left on his contract.
As big of a supporter as I am for Ryback, it's simply too soon for him to walk out with the gold here. Ryback could always take the loss in shady fashion and still be considered a legitimate performer. I'd love to see this match end in innovative fashion in the form of a no-contest, but if one of the two had to win, Punk would be my pick.
SiD: Quite possibly the most interesting match on the card, and the only match contested inside the Hell in a Cell structure, CM Punk takes on Ryback for the prestigious WWE Championship.
Ryback, a new, hungry superstar has set his sights on the most prized possession in the WWE, the WWE Championship. On the other side, CM Punk, who has been champion for over 300-plus days, is seemingly being one-upped in this entire storyline, as he hasn't found out a method to retain his WWE Championship. While this match will be fought in the brutal Hell in a Cell structure, it means one thing: no disqualifications.
Hence, everything goes, and I'd expect Paul Heyman to interfere multiple times. This is the hardest match to predict on the card, and I cannot help but wonder, will Ryback take his first loss here? Or, will CM Punk lose his WWE Championship?
We have to remember that the Rock has a guaranteed title shot at the Royal Rumble, and while he is destined to win that match, this match can change the proceedings at Royal Rumble 2013.
While I'm thinking that Ryback will somehow manage to win the title, my gut says that we'll have a dirty finish, and CM Punk would be the victor. Therefore, I'm going with CM Punk retaining the title by unfair means.
Massey: CM Punk has been the WWE Champion for well over 300 days. He will reach a year with that title and face The Rock at the Royal Rumble, there is no doubt in my mind.
John Cena is getting older and injuries to the poster boy of the WWE are getting more and more frequent. Therefore, I believe Hell in a Cell was to be a culmination of the constant feud between CM Punk and John Cena that has been over a year in the making. I think CM Punk would have won and finally cemented his place as top dog in the WWE.
This will now be saved for the Survivor Series and in the meantime WWE has seen fit to put their undefeated star in the ring with the self-proclaimed best in the world. Ryback has been on a ridiculous winning streak, exerting his dominant physique on increasingly demanding opponents.
CM Punk will win this match but it will be by the help of someone else, some form of interference will allow Punk to escape the cell with his life. This means Ryback can stay undefeated and Punk can continue his cowardly heel run.
Scaccia: Really tough to predict this one. On one hand, Ryback has an undefeated streak on the line and has also looked dominant ever since returning from injury. Punk has a lengthy title reign to continue and it would be a shame to drop the title at a PPV that is not one of the "big four."
Ryback will need to look dominant and Punk needs to not look like a pushover.
That will be a tough thing to do. I think someone somehow interferes in this match and helps Punk win. Possibly Brock Lesnar to set up a future storyline between Lesnar/Ryback. At this point in time, I think Punk's title reign is more important than Ryback`s undefeated streak. Punk wins.
Overall Consensus: Punk-4, Ryback-0
Overall, Hell in a Cell looks like an exciting show on paper as most of the matches could go either way. The top two main events are the most unpredictable, and, if booked correctly, could make this event one of the most memorable pay-per-views in 2012.
For the first time since last year's WWE TLC event, John Cena is not advertised for a match on the card, mostly due to the fact he's coming off an arm injury he sustained about a month ago.
After what was teased on Monday Night Raw, I wouldn't be surprised to see him battle Dolph Ziggler, which could be announced during the pre-show that Cena is scheduled to appear on.
Given Justin Gabriel's recent victory over United States Championship Antonio Cesaro, expect to see a rematch between the two foreign stars on the card as well. Aside from that, the six matches that have already been announced should be enough to fill the three hours of the event.
I'd like to thank SiD, Daniel Massey and Nate Scaccia for collectively participating in my Money in the Bank preview. All of them put in valuable time and thought into making their respective predictions.
Drop a comment with your thoughts going into the Hell in a Cell event and be sure to tune in tonight for the one night of the year that WWE goes to hell and back!
GSM out.
Watch my latest WrestleRant video for my full predictions for the show.
Visit my website at Next Era Wrestling, like me on Facebook and listen to my SAVE US GSM radio show every Wednesday night at 10/9c for more of my thoughts and writings, along with WWE/TNA news, reviews, recaps and more.
Listen to Internet radio with Spoilerspodcast on Blog Talk Radio