The Top 10 Tims in Sports History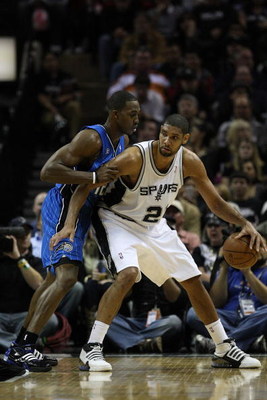 In my lifetime, I have had many fellow Tims to look up to in the world of sports. Here is my ode to those Tims.
This is the Top 10 Tims in sports (and by sports, I mean the major ones, and no, I don't consider hockey to be a major sport, so don't come to me about Tim Cheveldae or whoever).
Oh, and also of note is that this list only concerns those Tims who have played in the last 30 years (partly because that's how long I've been alive, and partly because Getty Images doesn't have any photos of Smiling Tim Keefe).
10. Tim Burke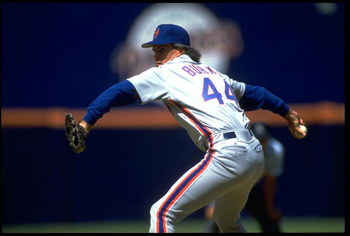 Burke, an All-Star in 1989 with Montreal, had a relatively short, yet very solid MLB career as a relief man. His career ERA is very respectable (2.72), as are his 102 saves.
Four times, Burke ended the year in the Top Ten in the NL for games pitched and four times he ended the year in the top ten in saves.
9. Tim Herron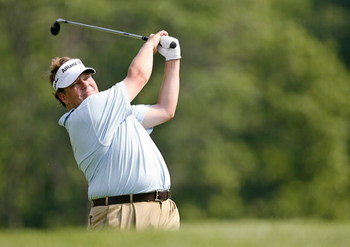 Herron turned pro in 1993 and has had a very solid PGA Tour career. He's played in 379 career tournaments and has four wins (most recently in '06), seven second places, and five third-place finishes.
He has made nearly $16 million on the tour in 16 seasons.
8. Tim Thomas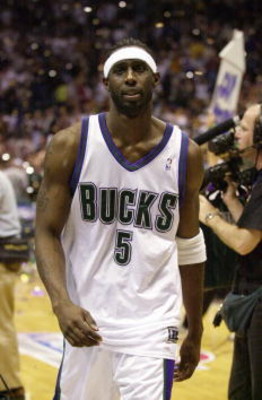 Tim Thomas has had a long and consistent career in the NBA, if not spectacular.
He has been doing what he does (namely sitting on the three-point line and pulling out opposing power forwards from the key to spread the floor) for 12 years now and shows little signs of slowing down.
The ultimate journeyman, Thomas has played for Philadelphia, Milwaukee, New York (twice), Chicago (twice), Phoenix, and the Clippers. His .368 career 3-point percent has to rate near the top all-time for guys 6'10" and taller.
7. Tim Lincecum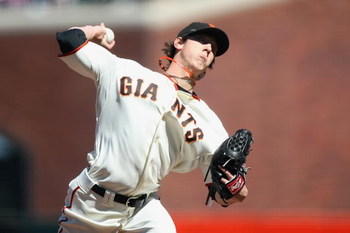 Certainly Lincecum's place on this list will only get better as he ages. In 58 career games (all but one in a starting role), he has gone 25-10 with a 3.16 ERA and 415 Ks in 374 innings.
In his first full season last year, Lincecum made not only his first all star team, but was named the NL Cy Young.
6. Timmy Smith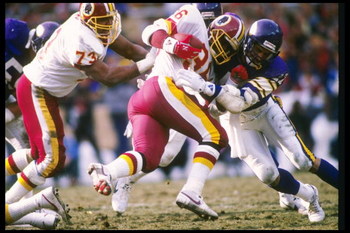 While his career numbers don't exactly jump out at you (602 yards and three TDs), Smith makes this list on his performance in one game: Super Bowl XXII in 1987, where he rushed for a still standing record of 204 yards to go along with two touchdowns.
That year, I insisted on being called Timmy for the remainder of 1987 in his honor.
5. Tim Hudson
Tim began his career in Oakland, and along with lefties Barry Zito and Mark Mulder, formed what A's fans affectionately called the Big Three.
His winning percentage of .655 places him 24th all time in that category, tied with Sandy Koufax.
Hudson, who has never had a losing season, is a two-time All-Star and known as a workhorse, as he consistently ends the year in the league leaders for games started and innings pitched.
4. Tim Hardaway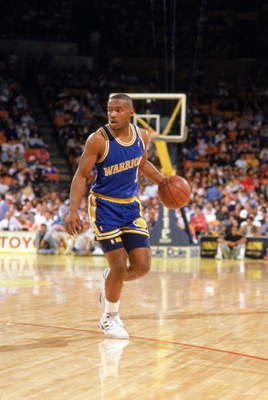 Tim Hardaway, master of the UTEP Two-Step, and five-time NBA All-Star, was one of the most exciting players to watch in the 90s.
He finished Top 10 in MVP voting three times throughout his career and formed, along with Mitch Richmond and Chris Mullin, RUN-TMC, a trio of high scoring players for some very good Golden State teams. He is 13th all-time in assists with 7,095.
3. Tim Raines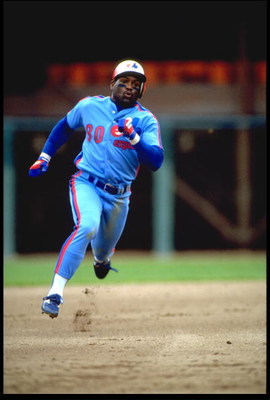 Tim is still the all-time leader in stolen base percentage (808 for 954, 84.7%), and he totaled 2,605 career hits and 1,571 runs for six teams over 23 seasons.
Known for a great eye, Raines only had more strikeouts than walks once in his career, and that was in 1982, his first full season in the bigs.
2. Tim Brown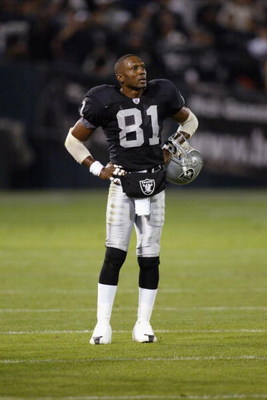 The nine-time Pro Bowler is a sure fire Hall of Famer and one of the greatest receivers to ever play in the NFL.
Fourth all-time in receptions (1,094), third in receiving yards (14,934), and tied for sixth in touchdown receptions (100) with Steve Largent.
1. Tim Duncan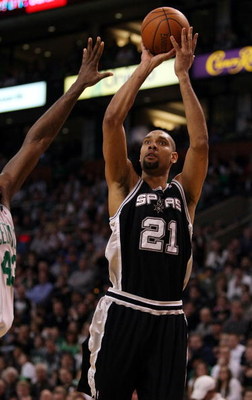 Easily the No. 1 Tim. Love him or hate him, there's no denying his success, even if it has come with little or no emotion.
Has averaged almost 22 points and 12 rebounds for his career and led the Spurs to three championships, has won two MVPs and been selected to 11 All-Star games.
Keep Reading