Florida Football: 10 Things We Learned from the Gators' Loss Versus Georgia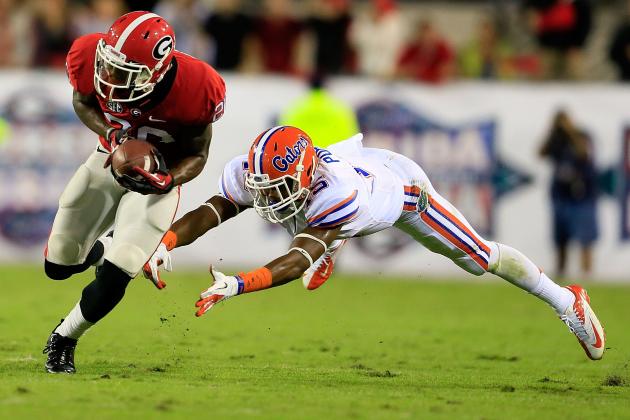 Sam Greenwood/Getty Images

Florida came up short against Georgia on Saturday night and lost a tough game 17-9.
This one stings.
Florida started the game off with an uncharacteristic turnover and couldn't manage to get anything going on offense the rest of the game. Florida came into the game with four turnovers on the season but coughed the ball up six times on Saturday. The turnovers were too much for the Gators to overcome, and it will be a long week of practice for the team.
You learn more about a team in a loss than in a win. So what did we learn about Florida in its first loss of the season? Let's find out.
Begin Slideshow

»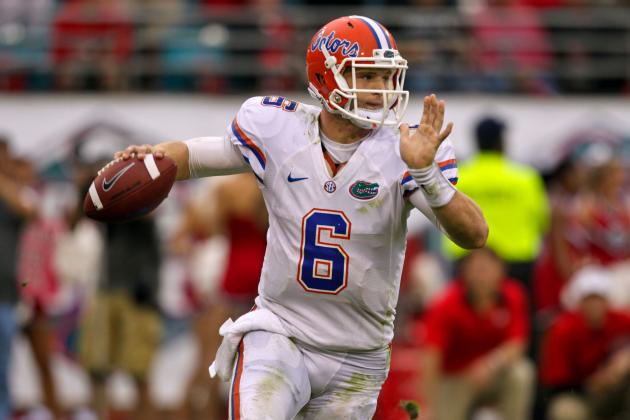 Rob Foldy-US PRESSWIRE

Jeff Driskel has had flashes this season where you see his true potential. He even had a couple of those moments on Saturday. But in the end, Georgia put Florida in a position where they needed Driskel to throw the ball to win the game, and he showed that he isn't ready just yet.
Driskel struggled early and finished the game with four turnovers, two interceptions and two fumbles.
Driskel's interception right before halftime paints the perfect picture of Driskel still being a little green. With eight seconds left on the clock, Driskel rolled to his right and tried to squeeze a pass into the end zone rather than throwing the ball away and kicking the field goal.
Driskel has shown at times that he tries to do too much and it came back to bite the Gators on Saturday.
In no way does the performance mean that Driskel shouldn't be the starting quarterback. Driskel led the team down the field at the end of the game before an unfortunate fumble on Florida's last offensive play. Driskel shows you the potential he has, but he is still learning and growing into the quarterback that Florida needs him to be.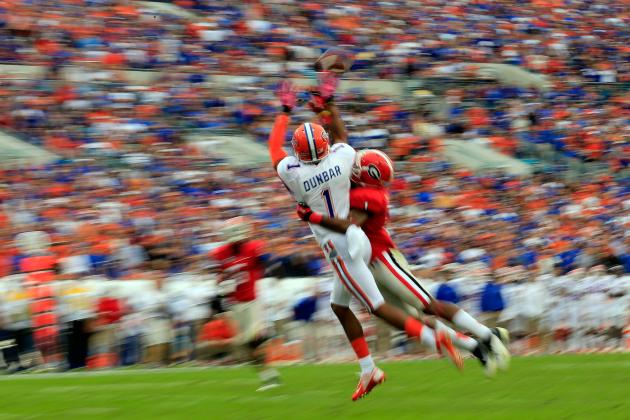 Sam Greenwood/Getty Images

Florida doesn't need to chuck the ball around the field like West Virginia, but without even a threat that Florida can throw the ball down the field, teams will continue to stack the box like Georgia did on Saturday.
Georgia pinned its ears back and blitzed on almost every down. The offensive line was manhandled by Georgia's defensive line, and the Gators managed just 81 rushing yards on a two yard per carry average.
Florida won't face another defense like Georgia's until they travel to Florida State, and they need to take advantage of playing an easier schedule. Let Driskel air the ball out and throw some deep passes off of play action.
If Florida cannot show it is capable of hitting on some vertical passes, then Georgia just gave other teams the blueprint to beat Florida.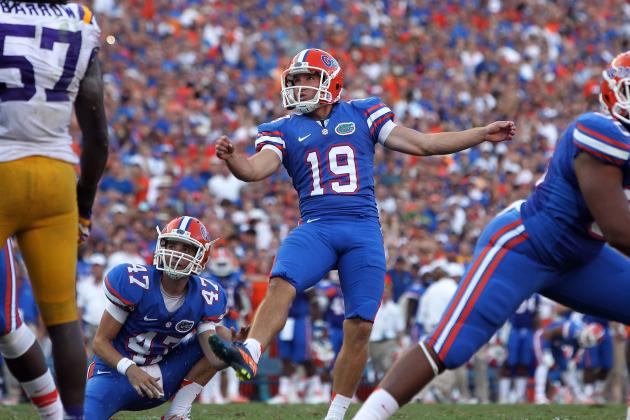 Kim Klement-US PRESSWIRE

Caleb Sturgis was responsible for all of Florida's points.
In a world where college kickers seemingly love to miss field goals and extra points, Florida has a kicker it can rely on.
Sturgis connected on all three of his attempts and hit a 50-yarder that brought Florida to within one point of Georgia. If Florida is ever lined up from 55 yards or closer with a kick to win the game, trust in Caleb Sturgis.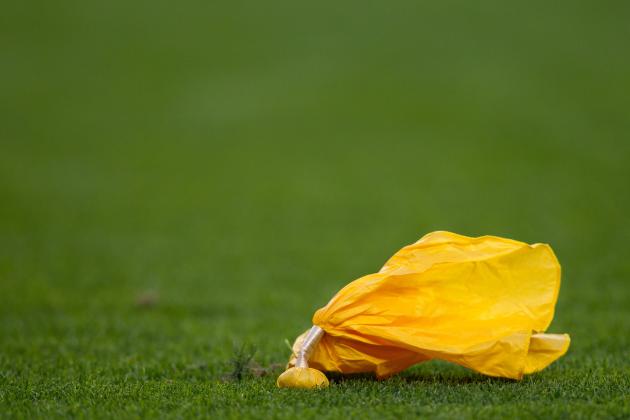 Justin Edmonds/Getty Images

Florida was penalized 10 times for 95 yards against Georgia. While getting flagged 10 times isn't good, the problem wasn't the amount of penalties but when they occurred.
Florida's defense was penalized three times on third down. Getting a stop on third down only to have the offense stay on the field because of a penalty is devastating.
A holding penalty on Dominique Easley extended Georgia's final touchdown drive of the game. It appeared that the "holding" occurred behind the line of scrimmage (which by rule isn't considered holding or interference) but nonetheless resulted in a Georgia first down rather than a punt.
Florida wasn't penalized as much as Georgia (14-132), but the Gators committed their penalties in some crucial moments.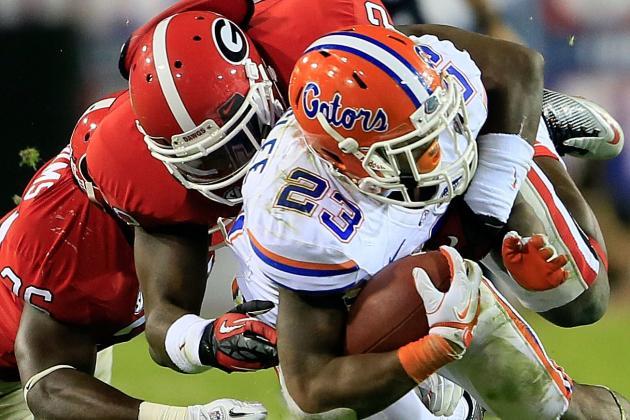 Sam Greenwood/Getty Images

Florida ran 19 times to just seven pass attempts on first down.
You can't be that predictable on offense.
Too many times, Florida ran the ball for little to no gain on first down and then was forced to put Driskel into obvious passing situations. Georgia's defense keyed on the run on first and second down, daring the Florida offense to throw on them.
Florida hasn't shown the ability to beat a team through the air. Georgia knew it and exploited it.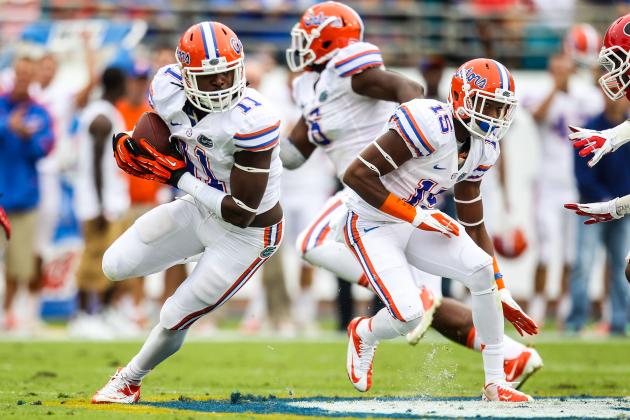 Daniel Shirey-US PRESSWIRE

Florida had 13 offensive possessions against Georgia. Eight of those lasted just five plays or fewer.
The defense did its part on Saturday, forcing three turnovers and holding the Dawgs to field goals off of costly turnovers.
Despite winning the time of possession 33:41 to 26:19, the offense has to help out the defense by staying on the field longer during drives and work to give the defense more field to work with when they take the field. The defense doesn't have time to rest on the sideline when the offense can't put together drives longer than five plays.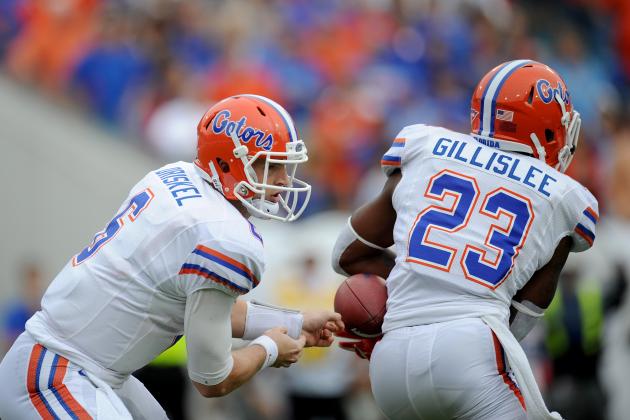 Kevin Liles-US PRESSWIRE

Will Muschamp has repeated it over and over this season: Florida doesn't have a wide margin of error.
Some teams are good enough to overcome miscues. Florida isn't one of those teams yet.
The recipe for success this season has been run the ball, control the clock, play tough defense and take care of the football. Florida was able to do that for seven weeks, but turnovers cost them the game on Saturday.
It's hard to win football games when you give the ball away that many times.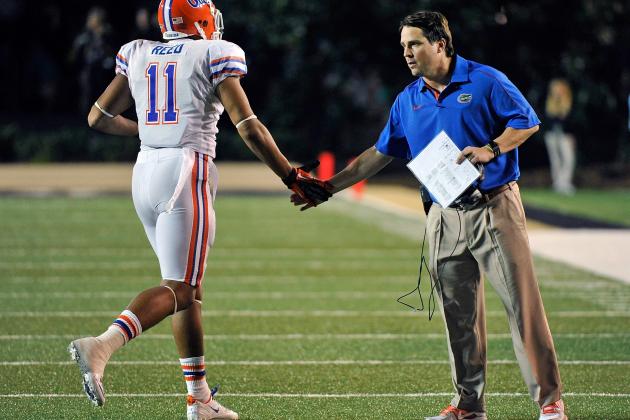 Frederick Breedon/Getty Images

Will Muschamp is now 0-2 as a head coach against his alma mater. Muschamp is also 0-6 in the series (he went 0-4 as a player against Florida).
Does that mean he is a bad coach or not up to the task? Absolutely not.
Florida wasn't out-coached or out-schemed against Georgia. The better team just won the football game. It may be a bitter pill to swallow for Florida fans, but Georgia was the better team on Saturday.
Muschamp's fiery sideline demeanor continues to rub off on his team, and Florida is a better football team in 2012 because of the job he has done as head coach.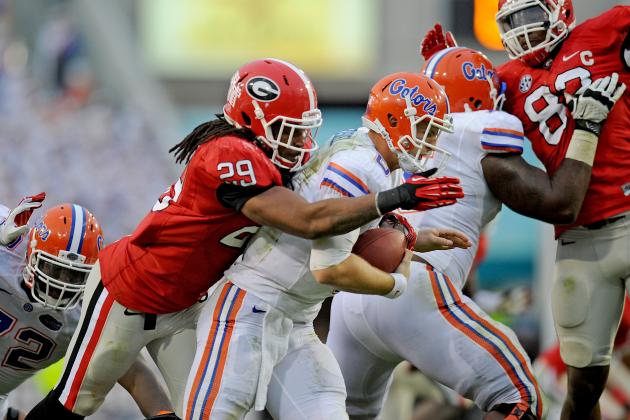 Kevin Liles-US PRESSWIRE

The game is known as the Largest Outdoor Cocktail Party, and nobody has played larger the past two seasons than Jarvis Jones.
You have to tip your hat to great performances, and Jones has had two great performances against Florida.
Jones finished the game Saturday with 13 tackles, three sacks, four-and-a-half tackles for loss, two forced fumbles, one fumble recovery and four quarterback hits. Those are video game numbers.
The past two seasons, Jones has seven sacks on his own. To put that into perspective, Florida has two sacks in those games.
No fans will be cheering louder than Gator fans when Roger Goddell announces Jones' name during the NFL draft.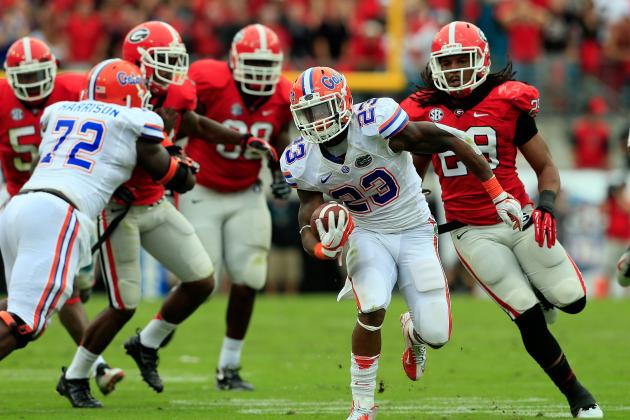 Sam Greenwood/Getty Images

Take a deep breath, Gator fans.
Now, step away from the ledge and think about how the season has turned out.
If I would have told you before the season started that Florida would start the season 7-1, you would have taken that in a heartbeat. Yes, the way Florida started the season changed how everyone perceived the team, and everyone, myself included, started to drink the Kool-Aid.
The fact is, this was a 7-6 football team just a year ago, and now Florida has returned to SEC and national relevance. Most experts thought Florida was a year away from being able to compete, but they are ahead of schedule.
This loss hurts, yes, but the loss on Saturday is no reason to start doubting the team or to think that this season has been a failure.
With a win next week, Florida will finish 7-1 in the SEC and surpass 2011's win total with four more games to play.
While the Gators are no longer in control of their own destiny, this season has been more of a success than anyone could have predicted.