Mississippi State vs. Alabama: Live Scores, Analysis and Results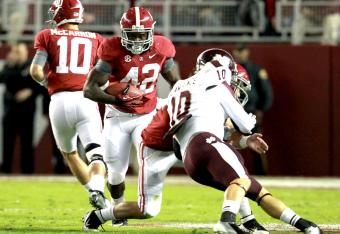 Mississippi State 7 Alabama 38, Final
Top-ranked Alabama got off to another blistering start and cruised to a 38-7 win over No. 11 Mississippi State.
A.J. McCarron threw two scoring strikes in the first quarter and the defense blocked a field goal on Mississippi State's first drive to help Nick Saban's club build a big cushion that the Bulldogs couldn't recover from.
Nick Saban's club improves to 8-0 with a heavily anticipated matchup against rival LSU looming next weekend.
The Bulldogs drop to 7-1 and will welcome Texas A&M to Starkville next week.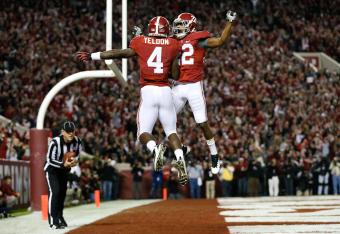 Here's a link to my postgame piece on Alabama's emphatic win.
Hope you guys enjoy it and thanks as always for reading.
As always, thanks for stopping by and keeping up with the blog.
Stick around for more postgame coverage of Alabama's impressive victory.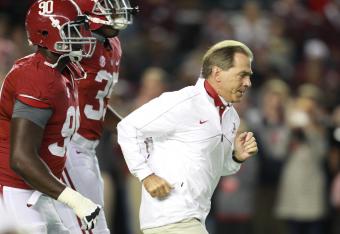 And that is a wrap, folks. Alabama wins 38-7.
Similar to the Arkansas game, Nick Saban has maintained his intensity by letting freshman defensive back Geno Smith have an earful after the Tide gave up that score.
I've said it plenty of times before, but that is part of what makes this staff and this team so great.
They expect greatness and hold each other accountable regardless of what the scoreboard shows.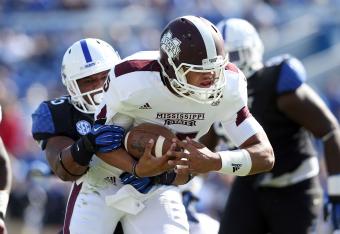 Mullen has inserted backup quarterback Dak Prescott into the game.
Prescott leads the Bulldogs into the redzone for the third time tonight.
With Alabama's backups in, MSU finally gets on the board.
Prescott hits Robert Johnson from two yards out, and Mississippi State avoids the shutout. Alabama leads 38-7.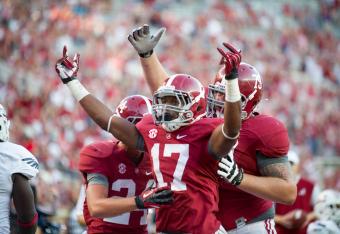 Kenyan Drake punches it in from three yards out and Alabama goes up 38-0 midway through the fourth quarter.
ESPN's Holly Rowe reports that McCarron has a bruise on the upper part of his back.
Lets just say I'd be highly shocked if he returned to this game with Alabama up 31-0 and LSU on deck.
That touchdown pass is the first of Ely's career.
McCarron has returned to the sideline.
Wow, Mississippi State coughs up the ball after a decent return and Alabama recovers it.
Christion Jones just delivered a blow more severe than any Bulldogs defender has come up with tonight.
That statement pretty much sums up the evening for MSU.
The other backup, Phillip Ely, comes in and tosses a screen pass to Lacy and he takes it 27 yards for a touchdown. That puts a nice bow on this one as Alabama goes up 31-0.
In another unfortunate bounce for Mississippi State, Mandell's short punt hits a Bulldogs player that was blocking and Robert Lester scoops up the fumble.
ESPN is reporting that A.J. McCarron has been taken into the locker room, so Blake Sims is in at quarterback.
In a rarity for Alabama this season, the Tide were held scoreless in the third quarter.
But they will begin the final period with a fourth-and-short in Bulldogs territory.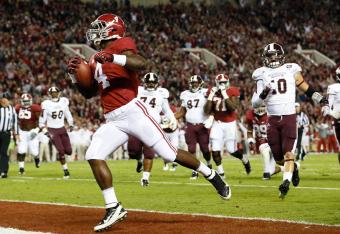 T.J. Yeldon has provided a few "circle-button" worthy cuts tonight, and he just froze a MSU defender on another long run.
This kid is freakish.
MSU gets to McCarron for its second sack, and you have to be impressed with how the Bulldogs have settled in since its rough start.
A little of that may be due to Alabama playing things close to the vest a bit, but regardless, the MSU defense has stepped up.
If anyone doubts how tough it is to score on Alabama's defense, that drive should serve as a testament to the challenge it is just to get on the scoreboard against the Tide.
Simply unreal.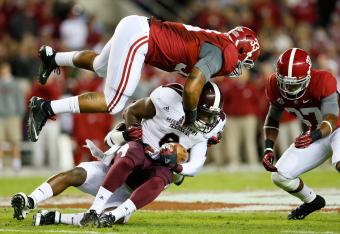 MSU is in the red zone for the second time tonight, but in an ominous sign, a false start penalty backs them up.
Penalties stunted their momentum on their first trip in the first half.
Russell is impressing the heck out of me on this drive.
Adrian Hubbard was all over him, but Chris Smith was able to help out his quarterback with a big-time catch.
That Tide defensive line is flexing its muscle inside the five-yard line.
OMG. Robert Lester just picked off Russell in the end zone and Alabama's defense turns away the Bulldogs after a 15-play 95-yard drive. Alabama remains on top 24-0.
Wow, Nico Johnson almost decapitated Russell.
But as I said, he was able to hang in and fire a strike for a first down.
There are lessons to be learned here for MSU even if they cannot comeback and win.
The fact that they are still fighting hard and showing some resiliency has to make Mullen feel good.
The Bulldogs have put together a nice drive and are in Tide territory once again.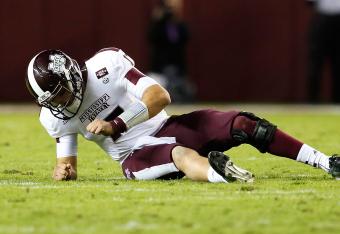 Russell should get some props for hanging in against a Tide defense that is pinning its ears back in an effort to harass him.
Alabama's special teams play has been suspect at times, but they have had one their better games tonight.
Cody Mandell pins the Bulldogs inside their own 5-yard line with a terrific pooch punt, and John Fulton gets the assist by hustling downfield to catch it before going into the end zone.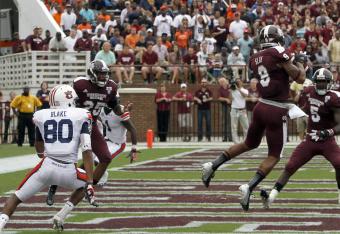 Alabama comes out for its first drive in the I-formation, and it looks like they may be content to grind out the rest of this game.
Eddie Lacy is still running hard taking punishment but carrying a few Bulldogs along for some extra hard-earned yards.
McCarron threw his first "oh boy" ball but Darius Slay drops a sure pick, so his passes without an interception streak continues.
Lost in that play was the nice blitz pickup by Lacy.
The Bulldogs stiffen and force the Tide to punt.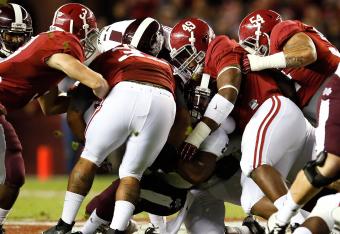 Mississippi State's offensive line is struggling to block Jesse Williams, even when they double team him.
Williams is still getting decent penetration, and basically blew up that drive for the Bulldogs.
Looks like more of the same for MSU's offense, which is bad news for the Bulldog faithful.
Its imperative for MSU to do something with its first drive in the second half.
Some halftime stats, per ESPN.
Alabama has the edge in total yards outgaining Mississippi State 236-105.
A.J. McCarron is 14-for-19 for 177 yards and two touchdowns, with seven different receivers recording catches in the first half.
T.J. Yeldon is Alabama's leading rusher with 39 yards and touchdown on six carries.
Tight end Michael Williams is Alabama's leading receiver with five receptions for 38 yards and a score.
For the Bulldogs, Tyler Russell went 8-of-19 for 84 yards while running back LaDarius Perkins was held to just 20 yards on eight carries.
MSU's biggest stat may have been five costly penalties that gave up 51 yards in field position.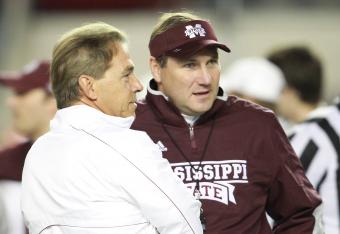 Mississippi State appears to be the latest victim to try and slow down the freight train that is Alabama.
In streaking to a commanding 24-0 halftime lead, Alabama has added to an impressive streak, per ESPN's College Football Twitter account.
Alabama leads MSU 24-0 at the half. Over last 28 games, Bama has either led or been tied at halftime. #MSUvsBAMA

— ESPN CollegeFootball (@ESPNCFB) October 28, 2012
As I'm typing this, I'm wondering what is going through the mind of Les Miles as he watches this beatdown.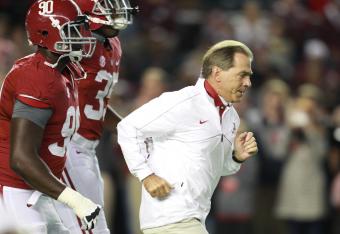 Am I imagining things, or did I see Nick Saban flash a smile during a halftime interview?
I know its cold in Tuscaloosa, but Christmas may have come early for Holly Rowe.
MSU is unable to do anything with its last drive, and Alabama will take a 24-0 lead into halftime.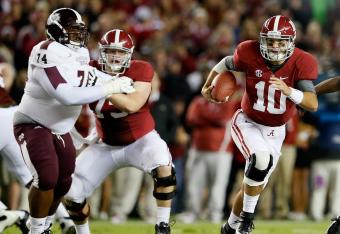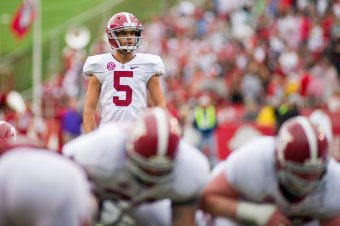 US PRESSWIRE
McCarron is making it rain with all of these deep throws, with his latest strike to Christion Jones comprising a work of art.
He's pretty much adding to his NFL draft reel at this point.
MSU's defense is still fighting hard, and they bow up in the red zone and force a field goal attempt.
Jeremy Shelley boots home a 34-yarder and Alabama goes up 24-0 with less than a minute left in the first half.
This article is
What is the duplicate article?
Why is this article offensive?
Where is this article plagiarized from?
Why is this article poorly edited?

Alabama Crimson Tide Football: Like this team?