Luis Carlos Abregu vs. Thomas Dulorme: HBO Boxing After Dark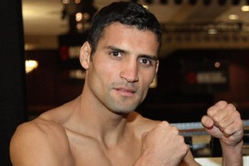 Tonight, October 27, 2012, HBO Boxing After Dark returns to the Turning Stone Casino in Verona, New York.
The televised card will feature IBF lightweight champion Miguel Vazquez (31-3, 13 KOs) of Guadalajara, Mexico against Marvin Quintero (25-3, 21 KOs) and junior welterweight prospect Mauricio Herrera (18-2, 7 KOs) will face the undefeated Karim Mayfield (16-0-1, 10 KOs).
The main event promises to be exciting as undefeated welterweight prospect Thomas Dulorme (16-0, 12 KOs) battles experienced, hard-hitting, once-beaten Luis Carlos Abregu (33-1, 27 KOs).
I'll be blogging live from press row all night long, starting with highlights from a talent-filled undercard.
Dulorme's corner wanted it called off. 2:35 of the round.
Wow! Abregu came out that round and took it to the undefeated rising star. When he hurt him, he knew he had him hurt and finished him. Knocked him down in the corner and then the ref waved it off.
An extremely impressive veteran performance by Abregu, knocking off an undefeated sensation. He has only lost to Bradley. He's got to be viewed as a genuine factor in the loaded welterweight division.
Abregu just keeps coming. Worked the body very well in that round. Took a few shots to get into range but looked like he was having good results by attacking downstairs. 10-9 Abregu.
Barely anybody in the joint is still sitting down during the rounds. Dulorme landed some brutal lead hooks. One of them echoed throughout the arena, followed by several hundred people going "oooh." It's a fight. Abregu is scrapping. But Dulorme will pull away at this rate. 10-9 Dulorme.
Turning into a very good fight. Abregu tried to be aggressive and keep the tempo pushed up. Dulorme caught him hard coming in a few times. 10-9 Dulorme. Both men have eaten some tough punches.
What a round. Just when it looked like Dulorme was finding range to explode in on Abregu, the Argentinian caught him with a counter and sent Dulorme down hard. Dulorme recovered as well as he could, but the veteran Abregu was patient and methodical and landed a few more very big shots before the round was over. 10-8 Abregu.
I have the first two rounds going to Dulorme, but they are close. Not a lot of significant action. Dulorme's hand speed is substantial.
After a tribute to Emmanuel Steward, we are ready for the main event. Luis Carlos Abregu is now in the ring. Undefeated Thomas Dulorme is in the ring.
After 10 hard-fought rounds they go to the cards. Mayfield wins by scores of 98-92, 97-93 and 96-94. I had him 99-92.
He is an interesting fighter. He stays unbeaten at a weight class with talented fighters to get matched against. He looks a little bit easy to get hit, but he is very durable. Herrera was no pushover, and Mayfield won a pretty decisive decision.
Wow. Herrera keeps coming. I give him that round for out-working Mayfield, which is impressive considering how much more damage he's absorbed. 10-9 Herrera.
Another tough round for Herrera. He is taking some punishment. I remember his loss to Alvarado last April and he is once more demonstrating that he is a tough guy who can absorb a beating. But I have him nearly getting shut out tonight. 10-9 Mayfield.
Herrera is a durable son-of-a-gun. He ate some big shots from Mayfield in the seventh and kept in the pocket loooking to score back. He is up quick from hi stool. 10-9 Mayfield.
Mayfield is very good at making Herrera carry his weight when they clinch or get against the ropes. That has got to be taking some energy from Herrera. Mayfield is also landing some very hard looking punches that Herrera shakes off but has to be absorbing. 10-9 Mayfield.
I think Mayfield is pulling away. Herrera does not take a step back, but he is continuing to get the worse of the exchanges. There's a little bit of Timothy Bradley is Mayfield. 10-9 Mayfield.
Another good round of exciting infighting. Mayfield is the stronger fighter and is able to bully himself into positions to land heavier punches. I think Herrera is getting beaten up, but he is staying very tough and keeps coming. 10-9 Mayfield.
Good round. Mayfield is a compact, powerful fighter. He landed some very hard looking shots during the round. Herrera was able to keep coming and landed a few punches. But he was taking the worst of it. Made some indications that he feels Mayfield is holding and hitting. 10-9 Mayfield.
Think Herrera threw more but Mayfield landed better punches. Nothing extremely significant, but I would give him the round. 10-9 Mayfield.
Feeling out round in the first. Hererra was slightly more active, but to know real effect. A lot of grabbing and holding by both men when action got close. 10-10 round.
Mauricio Herrera and Karim Mayfield underway. 10 rounds for the NABO 140 pound strap.
My neighbor had it 116-112 Vazquez. He pointed out that Quintero really had no success cutting off the ring which met Vazquez was setting the pace.
Split decision for Vazquez that is getting booed loudly by the Turning Stone crowd.
I would not be all that interested in seeing Vazquez fight the winner of Adrien Broner-Antonio Demarco.
Round 12 for me is a lot like the entire fight. Quintero chases the champ. Sometimes he gets off-balance or lunges but he is forcing the action and landing more punches. Vazquez is not an active, aggressive counter-puncher, so he most just ends up running backwards. 10-9 Quintero.
I've got Quintero 116-112, winning the title by a comfortable margin.
A lot of running from Vazquez, considering he could be losing the title. He avoids most of what Quintero throws, but the challenger lands one or two nice flush shots and that earns him the round for me. 10-9 Quintero.
Quintero is the more aggressive fighter, outworking the champion and landing more clean punches. That round was very close and I gave it to Vazquez. 10-9 Vazquez. Very tight going into the final rounds.
Very good round for Quintero. He is doing a nice job of ducking under Vazquez's wide punches and then catching him flush when he comes back up. He is just the more aggressive fighter and that round he lands the much better punches. I give him the round and I think it puts him up six rounds to three on my card. 10-9 Quintero.
Good round for Vazquez. He made Quintero miss a lot and landed some tough looking punches. 10-9 Vazquez.
This article is
What is the duplicate article?
Why is this article offensive?
Where is this article plagiarized from?
Why is this article poorly edited?