Comparing Miami Heat to Boston Celtics at Every Position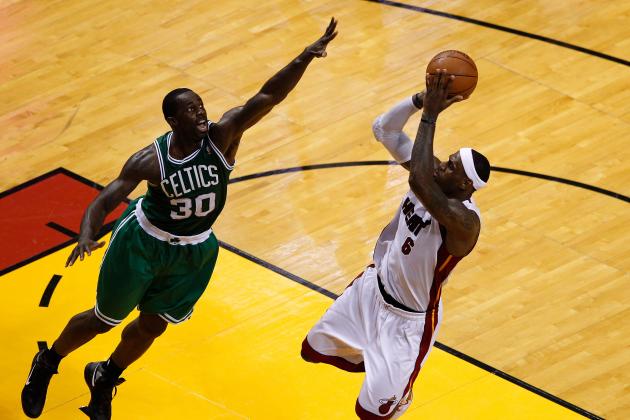 J. Meric/Getty Images
When it mattered in the 2012 playoffs, LeBron James took control.
Three days prior to the Heat's opener, LeBron James was asked to assess an opponent that he knows as well as any in the NBA, having faced them four times in the past five postseasons:
The Boston Celtics.
"I haven't gotten an opportunity to really watch them yet," James told Miami reporters after Saturday's practice, three days prior to each team's season opener at AmericanAirlines Arena. "But I don't think they're going to change anything. Who they are is what they're going to do. They've got a great coach, they've got great players, so it's going to be the same."
On paper, however, there are some differences from the squad James and the Heat outlasted, four games to three, in the Eastern Conference Finals, advancement that required James' epic 45-point performance in Game 6 in Boston.
For starters, Ray Allen has switched sides, to come off the Heat bench.
Boston has greatly fortified its own depth, adding Heat-killer Jason Terry, welcoming back the versatile Jeff Green and drafting Jared Sullinger, who was a James favorite when playing at Ohio State.
How do the teams match up?
We'll see on the floor Tuesday, just after 12 of the Heat players get their rings.
But here's a preview:
Begin Slideshow

»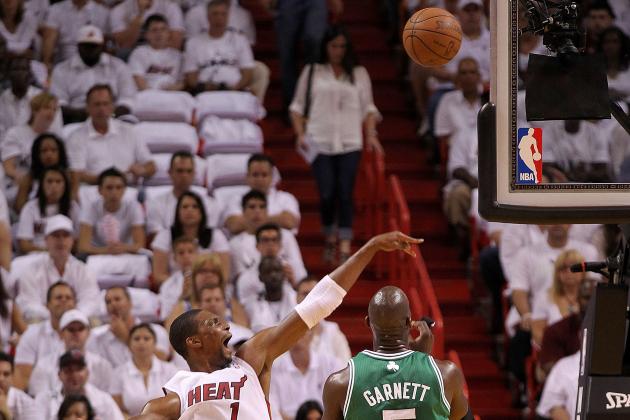 Mike Ehrmann/Getty Images
Bosh gets respect when he goes at Garnett.
Their personas couldn't be more different.
Many have accused Chris Bosh of playing too soft.
Many have accused Kevin Garnett of trying too hard to be hard.
Now both are playing out of their traditional positions, starting in the pivot, even if neither truly plays center in a traditional way.
Kevin Garnett has had the statistical edge in their 30 games against each other, averaging three points and half a rebound more per game.
But while Garnett is 14-8 in the regular season, Bosh is 6-2 in the playoffs, hasn't let Garnett get in his head of late and has played brilliantly in the preseason. Both will force the other to step outside, but Bosh has now extended his range to the three-point line.
Call it a push, so long as Bosh doesn't let Garnett push him around.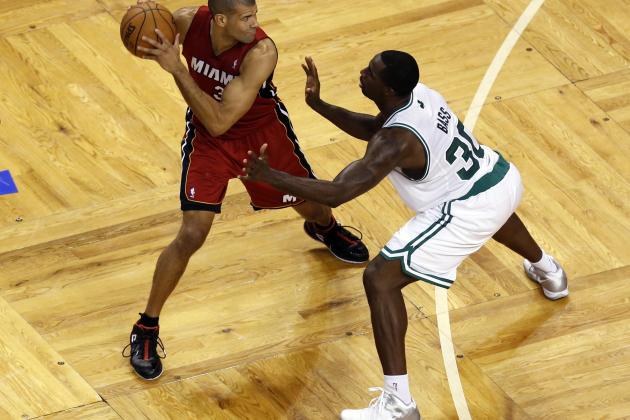 Greg M. Cooper-US PRESSWIRE
The "other" forwards are often most effective without the ball.
This has changed since the 2012 playoffs:
Neither man is now seen as merely a stopgap.
Brandon Bass was supposed to be, at best, a rotation player when the Celtics acquired him for Glen Davis during the 2011 offseason. Now he has a new three-year contract at a sizable sum ($20 million).
Shane Battier was supposed to be a reserve swingman, until Chris Bosh's injury forced Erik Spoelstra to shuffle the lineup. Then Battier's savvy came in handy, as an undersized starter, during the late stages of the championship run.
They play completely different styles—Bass a better rebounder, Battier stretching the floor from the corner—but their jobs are to make life easier for the stars.
Give the slight bump to Battier, simply because of the way he's stroking the ball so far, hitting on 50 percent of his threes in the preseason.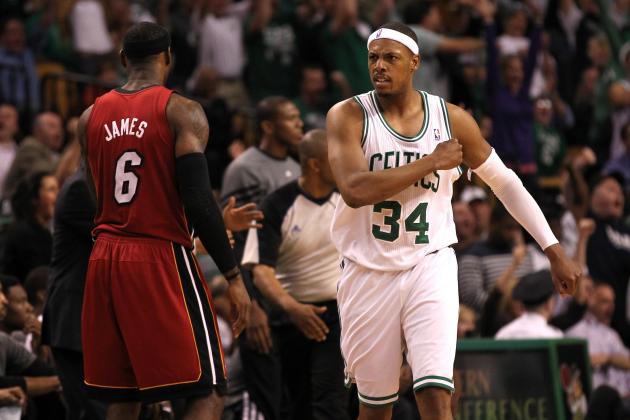 Jim Rogash/Getty Images
Pierce and James have had some memorable bouts over the years.
LeBron James has never faced Kobe Bryant in the postseason, no matter how badly Nike—with its puppets—always hoped that would happen. And while he took down his friend Kevin Durant in the 2012 NBA Finals, the truth is that Paul Pierce has been the closest thing he's had to a rival.
Pierce is 35 but still has some life left in him, as was evident when he knocked down a dagger three over James in Game 5 of the Eastern Conference Finals.
And overall, they're even, with Pierce ahead 14-13 in the regular season, and James up 13-12 in the playoffs.
Statistically, however, James dwarfs him, especially of late, and especially in the postseason, holding sizable edges in scoring, rebounding, assists, steals, blocks and field-goal percentages. Pierce has made 50 percent of his attempts just once in his past 18 playoff games against James' teams.
Once.
Pierce is one of the better players of his generation.
James, though, may be the best—and is still getting better.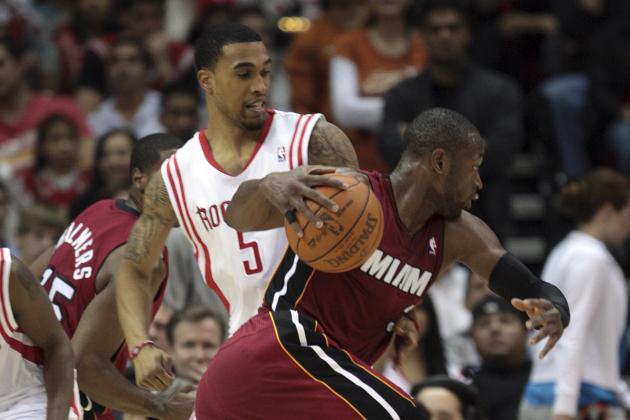 Bob Levey/Getty Images
Lee's in a new uniform, but not much should change.
There have been some forgettable outings for Dwyane Wade against the Celtics of late.
The season opener in 2010-11.
A 6-of-17 struggle last March.
The Eastern Conference Finals, in which he couldn't seem to get anything going until after halftime.
Still, offseason knee surgery has put some some bite back in his bounce, and two Celtics developments should help him this time around.
First, Ray Allen is now his backup, which means that he won't waste energy chasing the catch-and-shoot savant all over the floor. Second, Avery Bradley, the wiry defender who gave him so much trouble in that March matchup, is still recovering from shoulder surgery.
So the replacement, at least for the start of the first and third quarters, is Lee. And while Lee has his attributes, especially on the defensive end, all Wade has done in eight games against Lee's teams (Orlando and Houston) is average 32.8 points on 54.4 percent shooting.
Lee?
He's averaged 7.9 points and 36.5 percent shooting in eight games against the Heat.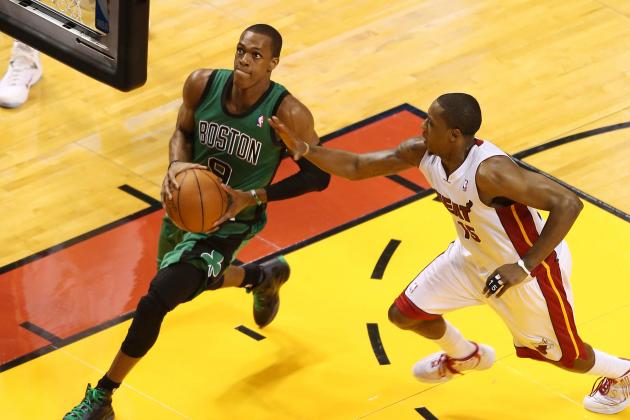 Robert Mayer-US PRESSWIRE
It seems Miami is always a step behind Rondo.
Erik Spoelstra will readily admit he has no answers for Rajon Rondo.
His primary strategy has been to play under the pick-and-roll and compel Rondo to shoot.
So what did Rondo do in Game 2 of the Eastern Conference Finals?
Connect on jumper after jumper, for 44 points.
Mario Chalmers hardly lacks confidence, even when his teammates are chewing him out. And this offseason, he declared himself to be in the top half of the top 10 point guards in the league.
In 28 games against Boston, though, he's never had double-figure assists, and only topped 20 points twice. There have been contests when Spoelstra has had to shelve him and go with someone else. Now Chalmers is coming off a truncated training camp, due to a quad injury.
Simply, here, the Heat will just try to survive.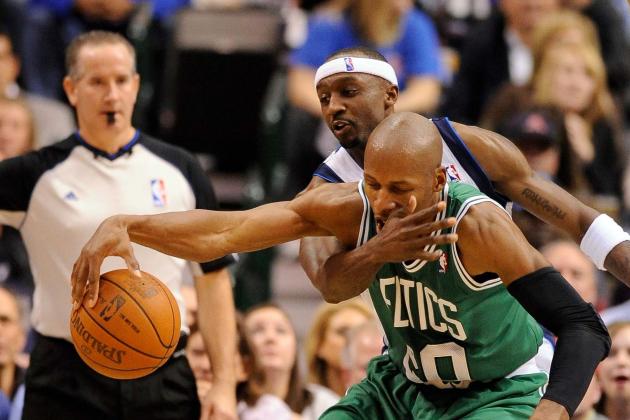 Jerome Miron-US PRESSWIRE
For Allen, signing Terry felt like a shot to the face.
The Celtics made a choice.
They can say they didn't, that signing Jason Terry didn't mean the end of Ray Allen, but Allen certainly took it that way. That's what makes this the game's most compelling encounter, even if it won't get started until sometime late in the first quarter.
Terry was scorching in the preseason (18-of-26 from deep) while Allen admitted his ankle is sore and he's still fighting his shot. Allen, while saying he's not an overly emotional player, certainly will feel some tugs Tuesday, and not just those of Terry on his jersey.
So it's hard to know how he'll react.
It is clear that Terry has no fear of the Heat. He's made 40 percent of his three-pointers against Miami over the course of his career, and in the 2011 NBA Finals, the Heat got tired of that wings thing he does.
The edge to Terry, if just for the night.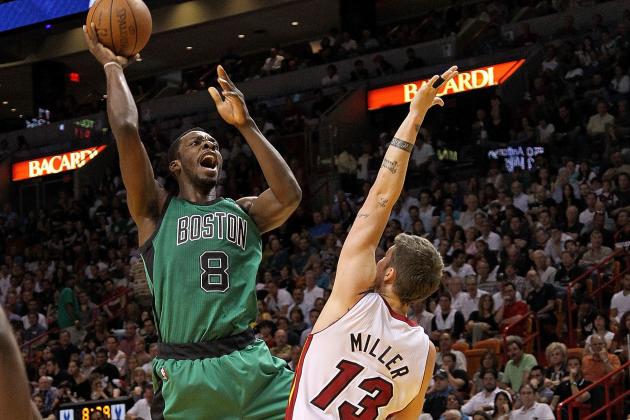 Mike Ehrmann/Getty Images
Green's back, and Miller's back seems better
By the time Game 7 came along, neither Erik Spoelstra or Doc Rivers felt comfortable going more than six deep, in an effort to avoid getting deep-sixed.
Spoelstra's top six, which included Chris Bosh coming off the bench, played all but nine minutes.
Rivers's top six, which included the now-departed Mikael Pietrus, played all but 17.
Tuesday should be different, for two reasons. First, the stakes aren't so high. And second, both benches are better.
For Miami, Udonis Haslem is now out of the lineup and likely the first frontcourt sub. Mike Miller is no longer hunched over, and he's letting it fly freely.
Norris Cole still has turnover trouble, but he led the NBA in three-point percentage during the preseason, making him less of an offensive liability. And Rashard Lewis, while hardly resembling the two-time All-Star, should be able to offer something.
The Celtics are similarly fortified, even if they don't yet have Avery Bradley back, which means that Courtney Lee needs to start.
Jared Sullinger appears to have been a draft steal, with 20 offensive rebounds in eight preseason games. Jeff Green will get starters' minutes, now that he's back from heart surgery, and he's had some good moments against Miami.
But, still, it's slight advantage Heat, when you recall how diminished Leandro Barbosa looked, as a Pacer, against a barely ambulatory Miller in the 2012 second round—and when you consider how many chances Darko Milicic has already squandered.