Redskins vs. Steelers: Final Game Grades and Analysis for Pittsburgh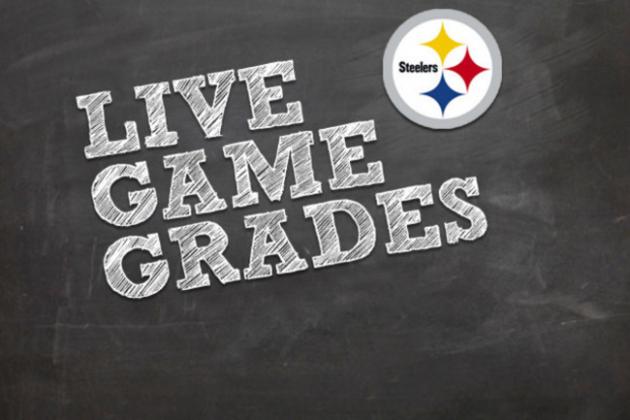 The Pittsburgh Steelers (4-3) won their fifth straight game over the Washington Redskins (3-5), securing their first winning record of 2012 before the loyal fans of Heinz Field.
Robert Griffin III and Alfred Morris had been the gears behind a dangerous 'Skins offense, but an early deficit effectively eliminated Morris from the gameplan. Without run support, RG3 held his own performance-wise, but his statistics suffered from 10 dropped passes.
Sporting their 80th anniverary prison gear (uniforms), the Steelers were masterful offensively. Jonathan Dwyer eclipsed 100 yards for the second straight game, and Ben Roethlisberger confounded the Redskins secondary with another great showing. Two of his three touchdowns came to unexpected recipients, Leonard Pope and Will Johnson.
The end result was a 27-12 victory for the Steelers, who now only trail the Ravens by one game in the AFC North. Here are the game grades and analysis from Week 8's critical interconference showdown.
FINAL SCORE: STEELERS 27, REDSKINS 12
SCORING SUMMARY:
Q1- PIT- LEONARD POPE 1-YD TD REC. FROM ROETHLISBERGER (7-0)
Q1- PIT- SHAUN SUISHAM 48-YD FG (10-0)
Q2- WAS- SANTANTA MOSS 2-YD TD REC. FROM GRIFFIN, MISSED XP (6-10)
Q2- PIT- HEATH MILLER 7-YD TD REC. FROM ROETHLISBERGER (17-6)
Q2- PIT- SHAUN SUISHAM 27-YD FG (20-6)
Q3- WAS- KAI FORBATH 48-YD FG (9-20)
Q3- PIT- WILL JOHNSON 1-YD TD REC. FROM ROETHLISBERGER (27-9)
Q4- WAS- KAI FORBETH 45-YD FG (12-27)
Begin Slideshow

»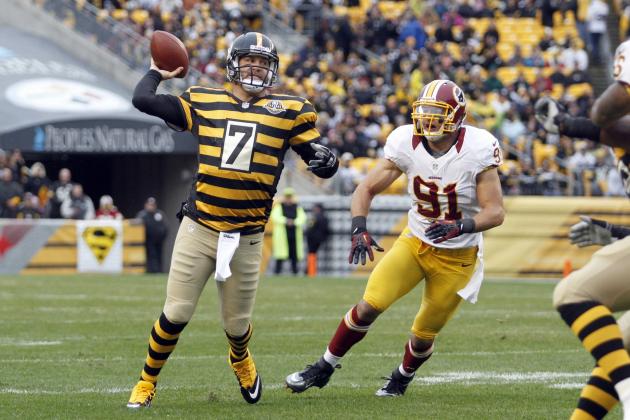 Justin K. Aller/Getty Images

FINAL GRADE: A+
Sometimes, the final product is greater than the sum of its parts. Though he didn't earn an A+ grade in any given quarter (see below), Big Ben's total performance was as thoroughly convincing as it was consistent.
His command of the offense and ability to freeze Redskins defenders, both with his pump fake and scrambling, were masterful. His completion percentage (accuracy) was impeccable in mild wet conditions. And, above all else, he led the team to points in all but one drive that truly mattered.
Beyond his passing numbers, it is worth noting that Roethlisberger endured no sacks. Clearly, the offensive strategy and playcalling are geared toward his long-term health, and those "tweaks" discussed in the offseason are taking shape. That, and... well, the offensive line has performed inexplicably well the last two weeks.
Q4: N/A (SEE FINAL GRADE)
A high percentage swing pass to Jonathan Dwyer picked up a first down, a smart play by Big Ben that won't show on the highlight reels but that effectively ended any semblance of competitiveness in the game.
A quarterback's job isn't pizzazz; it's victory. No. 7 allowed his dominant run game to secure the win, finishing a superb afternoon for his offense.
Q3: B+
When the running game is working, Ben Roethlisberger is as deadly efficient as any quarterback in the NFL. Against the Titans last season, Dwyer's first great game as a pro, No. 7 tossed five touchdowns.
Against the Redskins, No. 7 threw his third touchdown to Will Johnson in the third quarter. Though the offense finally stalled on the next drive, Roethlisberger exited the third quarter as the anti-Griffin, boasting a gaudy completion percentage and efficiency by air.
Q2: A
When opposing No. 7, often defenders come to a clear conclusion: it's just not fair!
On the Steelers answering touchdown to Washington's opening score, Big Ben pump faked to freeze the safety, stepped into the pocket to lock him in place beneath the route of Heath Miller, and hit No. 83 with a pass along the backline.
Roethlisberger's halftime numbers served as a showcase for his excellent play, completing 16 of his first 21 passes for 173 yards and two touchdowns.
Q1: A
"…have a little help from my friends!"
The lyrics above from the Joe Cocker hit described the Pittsburgh offense well, as Big Ben received solid protection and….behold- Mike Wallace held onto the football! I apologize for my obvious cynicism.
In the first quarter, Roethlisberger was fantastic. He completed 7 of 8 passes on the team's first drive, and his lone incompletion was a catchable pass to Heath Miller. His fourth down touchdown to Leonard Pope could serve as a film study on deceptive play action passing.
With Ben finishing the quarter 9-of-10, my favorite pass of the quarter was born from film study. The Steelers have used quick screens frequently in the early season, and they faked such an effort outside. The 'Skins' defensive backs bit, and Heath Miller gained 25 yards on a wide open lob pass up the right sideline.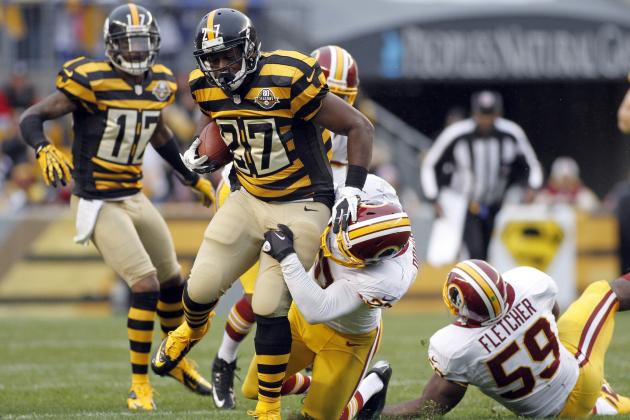 Justin K. Aller/Getty Images

FINAL GRADE: A+
As stated in Big Ben's final grade (last slide), sometimes the end result is greater than the sum of the parts.
Jonathan Dwyer ran for over 100 yards, the Steelers drove on Washington on the vast majority of drives, Big Ben's aerial attack put up three touchdowns, and the unit ended the game wiht a clock-killing march.
Q4: A-
A dropped pass by Emmanuel Sanders (are ghosts of Limas Sweed randomly taking control of Pittsburgh's wideouts?) ended a Pittsburgh drive on third down to open the fourth quarter.
Granted, they didn't put the contest away on their first opportunity of the final act, but they masterfully ended the game on their last possession. Or, well, all but 26 seconds of it…
Getting around the edge, Jonathan Dwyer clinched his second straight 100-yard rushing game with a key first down, and he was smart enough to stay inbounds to keep the clock moving.
Q3: A-
The Washington defense continued to be suckered by the Steelers' misdirection plays on offense, but that paled in comparison to the gouging they endured at the hands of the running game. The offensive line blocked with a supremacy that Steelers fans have missed, and Dwyer and peers entered the fourth quarter with well over 100 rushing yards.
A first drive touchdown was highlighted by downhill running by Dwyer, a superbly executed direct snap (and amazing fake by Big Ben) to Chris Rainey, and a 1-yard touchdown pass to Will Johnson. Just like all season, Roethlisberger spread the field and distributed the ball across the board with a fine mix of aplomb and bravado.
Washington's defense, clearly missing key playmakers such as Brian Orakpo, was equally lackluster against the pass. Not only did the secondary continue to get caught in bad position, but the defensive front failed to get any semblance of pressure on Big Ben.
With any semblance of a decent effort on their second possession of the quarter, the unit would have it stretch of "A" ratings, but they went backwards. A horribly set up screen pass was snuffed out, forcing a punt from the 10-yard line.
Q2: A
Momentum is a funny and often fickle thing. The Steelers surrendered a touchdown, and the offense responded with a masterful drive. Jonathan Dwyer continued to run downhill, continuing to prove like last week that he may just have the skill set to be an every down back. Chris Rainey converted a key 3rd-and-2.
Then, finally, Big Ben pump faked to freeze the safety, stepped into the pocket to lock him in place beneath the route of Heath Miller, and hit No. 83 with a pass along the backline.
Gotten off-balance on delay draws and a plethora of other calls, the Redskins' defense continued with its hands on its haps, unable to contain the dynamic Pittsburgh offense.
The real key in the first half, true for both quarters, was balance. Unable to narrow their focus against one element of the Steelers attack, the passing game benefited from the running attack and vice versa.
Q1: A
The opening drive was a masterful display by the Steelers' offense. The Black and Gold played a chess game with the Redskins defense, utilizing misdirection, pump fakes, and trickery to complete their six-point march. The offensive line protected well, Jonathan Dwyer gained solid yardage on both of the game's initial first downs, and six different players contributed to an early lead.
Jonathan Dwyer's burst through a gaping hole off the right side of the line to open the Steelers' second drive. Though that second possession was tempered by a failed gadget play, Ben's third down connection to Mike Wallace showed a veteran savvy, foregoing the first down on a surefire connection with No. 17 into field goal range.
With Ben finishing the quarter 9-of-10, my favorite pass of the quarter came on the opening drive and was born from film study. The Steelers have used quick screens frequently in the early season, and they faked such an effort to the outside. The 'Skins' defensive backs predictably bit, and Heath Miller gained 25 yards on a wide open lob pass up the right sideline.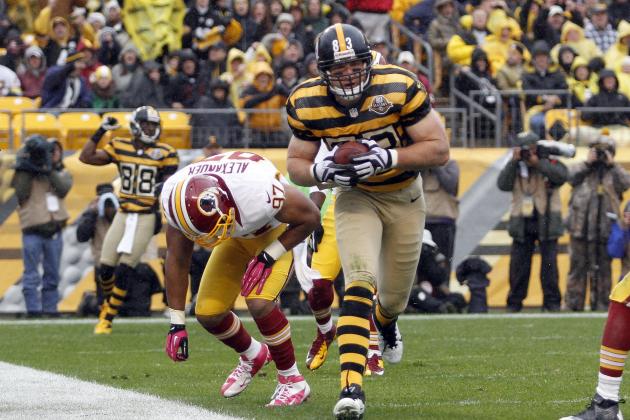 Justin K. Aller/Getty Images

OFFENSIVE LINE
Ben Roethlisberger left with a clean jersey, nary suffering any pressure and avoiding even a single sack. Likewise, holes opened up for Jonathan Dwyer, who gained 100 yards for the second straight game.
Dominating in both responsibilities, the Steelers were able to balance an effective attack by both ground and air, and each facet was the beneficiary of the others' success.
FINAL GRADE: A+
WIDE RECEIVERS
Unlike last week, when Mike Wallace had a number of key drops, No. 17 was sure-handed this weekend, leading the team with seven receptions for 64 yards. Emmanuel Sanders' fourth quarter drop prevented the competitive phase of the game from officially ending a bit earlier, but it ultimately wouldn't matter.
All three receivers contributed, and though none had a career game, each had a hand in frustrating the D.C. secondary. That said, the team did fail to convert on third down as effectively as normal, moving the sticks on only four of 11 attempts.
FINAL GRADE: B
RUNNING BACKS
What else needs to be said? Jonathan Dwyer is proving his worth as an every down back, wearing down the opposing defense, hitting the hold hard, and running downhill.
Likewise, fullback Will Johnson contributed with a touchdown catch, putting a fine day for backs way over the top!
FINAL GRADE: A+
TIGHT ENDS
Though 46 yards may have been pedestrian for his 2012 standards, Miller contributed a key touchdown. In fact, along with Leonard Pope's fourth down score, tight ends accounted for two of the three touchdown passes by Big Ben.
Likewise, a review of the game film will once again see Heath Miller blocking downfield masterfully, just another demonstration of his blue-collar awesomeness.
FINAL GRADE: A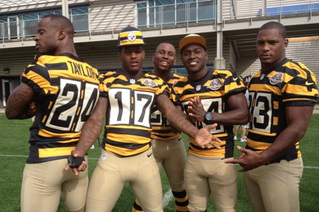 Image courtesy of proplayersinsider.com
GRADE: C
Though not for their beauty (F!), these garments earn their "grade upgrade" for their striking design and undeniably nostalgic flair. There's something interesting about being teleported into another era, and from the dijon pants to the cell block shirts, every fan will have an opinion on Monday morning to assist the uniform buzz.
Many, if not most, Steelers fans will argue vehemently, even to the point of rabid foaming and torpedo-like spit-fire action, that the Men of Steel sport the greatest colors in all of sports: Black and Gold, with capital letters!
Occasionally, many teams will brand alternate jerseys for both a fresh (albeit temporary) look and a few "hard-earned" bucks by virtue of merchandise sales. The Steelers are among those teams. As an example, for their 80th anniversary, they've already unveiled a garment that can be most respectfully described as...non-conservative?
The contest against the Redskins will be remembered as much for its bumble bee aesthetic as its impact on the '12 campaign.
The 80th anniversary garb(age...is that harsh?) looks like a cross between an outfit from a prison break scene from the recent summer blockbuster The Dark Knight Rises (which was, fittingly, filmed in Pittsburgh and included roles fulfilled by many Steelers favorites) and a black and yellow version of something that might be worn by the star character of the book series Where's Waldo?, albeit with a helmet instead of a winter cap.
Nevertheless, even considering the visual attack on the corneas showcased by the newest Steelers wardrobe, those wearing the jersey this season will still be representing the team's rich history. They'll just be sporting a less aesthetically pleasing type of Pittsburgh jersey, though still mindful of the proud Black and Gold tradition.
You see, those colors will always say "Steelers!" And, in that way, I can embrace that over a pink October.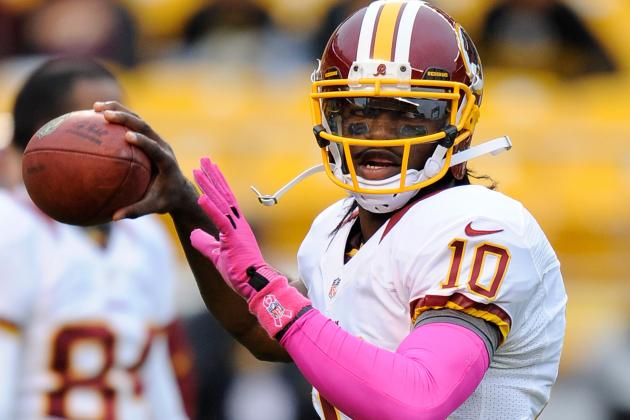 Joe Sargent/Getty Images

FINAL GRADE: B+
Despite holding the 'Skins dangerous offensive attack to 12 points, make no mistake that the secondary had issues in maintaining coverage. Griffin's elusiveiness, despite Pittsburgh pressures, opened up soft spots in the defensive backfield.
However, Alfred Morris was unable to get going on the ground, largely due to Washington foregoing the running game. Also, when the Redskins knocked on the door of the goal line, the defense allowed them to enter the end zone only once.
Dick LeBeau improved to 14-1 against rookie quarterbacks since 2004, thanks in large part to Washingotn receivers dropping double-digit passes. Though Griffin completed less than half of his passes, his targets' unreliable hands had more to do with the lackluster percentage than Griffin's own accuracy.
Q's 3-4: A-
Keenan Lewis was a stud in the fourth quarter, even in spite of a preposterous hands to the face call against him while defending a deep pass to Josh Morgan. Lewis got a hand in on a would-be touchdown pass from Griffin at the start of the quarter, then prevented a deep connection between Griffin and Morgan.
On Washington's next drive, Will Allen blasted Santana Moss, resulting in the tenth Redskins' drop of the game. However, emblematic of the team's fourth quarter issues, the defense failed to make a subsequent fourth down stop. Griffin connected predominantly with Logan Paulsen and Josh Morgan to lead the 'Skins down the field.
However, all that mattered was the final result. With the Redskins nearing the end zone, the defense stood tall and got pressure in the backfield. Brett Keisel blew up a hurried screen pass, setting up a 3rd-and-17 from which Washington would not recover.
Q2: B-
After allowing the beginning of a sustained drive in the first quarter, the second quarter provided an opportunity for the defense to answer. To bend, but to not break…
Through three downs… well, down… on a goal to go, it appeared they'd stiffened, but Griffin answered Big Ben's fourth down pass with a touchdown of his own to begin second quarter scoring.
The defense's awaited answer came on the next three drives. Ryan Clark's perfectly timed and legal third down hit on RG3 stopped one drive. Griffin, who had just interfered as the intended receiver on a gadget play, has his hands on an apparent catch. Though the ball slipped away a second later, Clark's hit would have likely dislodged the pigskin had he held on.
A second defensive stop gave the Steelers' offense a shot at their two minute offense, and the half ended with Washington running out the clock.
Q1: B
On the opening drive, the defense stuffed Alfred Morris, sending an apparent early message that their perceived "age and slowness" were premature observations.
However, D.C.'s second drive, which ended the quarter, was far more successful. The Black and Gold were certainly compromised by the athleticism of Robert Griffin III, whose ability to get outside the pocket opened running lanes and compromised the secondary.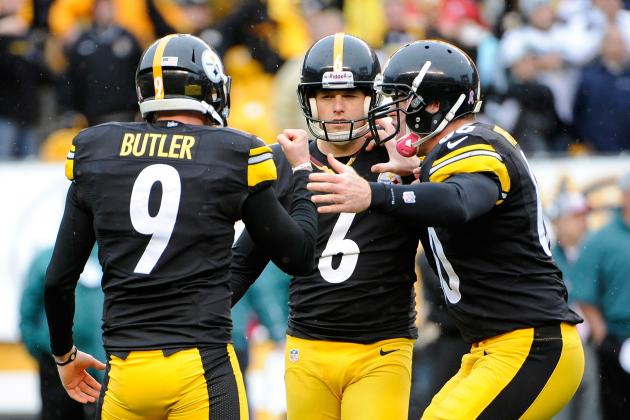 Joe Sargent/Getty Images

FINAL GRADE: B
This was incredibly close to an "A" effort from the special teams, with Suisham continuing his excellent play and Butler doing the job at each opportunity.
However, if I'm forced to pull my hair out one more time after a penalty negates a long Antonio Brown return, I may have to invest in Rogaine stock.
Q4: A
There wasn't much to report in the final quarter on special teams.
Drew Butler's punt at the start of the fourth quarter was angled beautifully. While not quite as impressive as a more accurate coffin corner kick, the Redskins' were unable to set up a return, boxed in by the Steelers' coverage at the 15-yard line.
Q3: F
In Cincinnati, the Steelers cost Antonio Brown on special teams. It has been problematic all season long, costing No. 84 another Pro Bowl season (perhaps) as a returner, though that's not to say he can't make it as a wideout.
With another huge penalty (block in the back), a tremendous touchdown return was once again for not. In the second quarter, the yellow flag was easy to ignore, but this unfortunate habit rearing its ugly head in the third was too much to ignore.
The special teams are tied for the second most infractions in the NFL.
Capping off a frustrating period was a sizeable return by Brandon Banks following a long Drew Butler punt, coverage unable to bring the returner down with immediacy despite a decent hang time on the kick.
Q2: A
Suisham continued his near-perfect campaign with another field goal, but the real highlight of the second quarter came in "punter differential."
Rocca's shanked put for the Redskins was in stark contrast to Drew Butler's masterful backspin, a punt and pin effort that placed RG3 and crew at the 1-yard line in the final seconds of the first half.
Though a penalty affected a fine return by Antonio Brown (where have we heard that before?), the special teams continued an effective outing through thirty minutes.
Q1: A-
The opening kickoff was returned 22 yards by Chris Rainey, and Antonio Brown's first punt return featured fancy moves but little yardage. However, as it goes on special teams just like the trenches, it's often true that not hearing your name on special teams is a good thing.
One man hearing his name often in Steeltown is Shaun Suisham, who continued his sublime 2012 campaign with a 48-yard field goal to extend the lead to 10-0. His subsequent kickoff sailed out of the endzone for a touchback, a clear edge in the silly "35-yard line kickoff" era.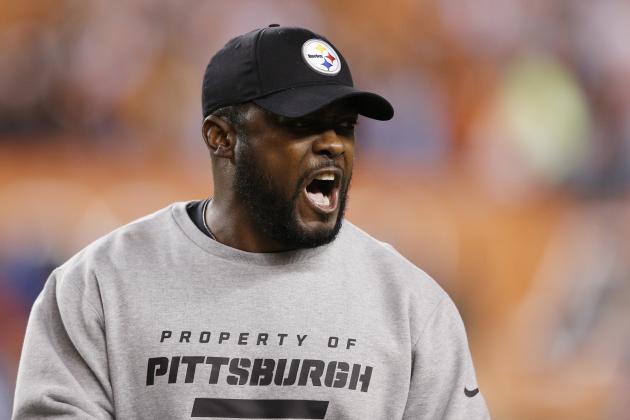 Joe Robbins/Getty Images

Q4 & FINAL GRADE: A-
As seen below, I decided to pass on a third quarter coaching grade in favor of analyzing the fourth quarter. After all, the Steelers had fallen apart in the final moments of games this season, and I needed to see a winning effort for a full sixty minutes.
Dick LeBeau's defense shutout the 'Skins in the fourth, and the offense's final drive secured a win. It was a nice response, as all three phases equaled or improved upon their third quarter efforts.
Q3: WITHHELD
(Note: The coaches grade will be based on their entire effort in the second half based on the players' ability to finish.)
Q2: A
Players play and coaches coach.
Through halftime, with the players playing well, one had to assume the coaches were coaching well. The defense stiffened and allowed only one touchdown on five Washington possessions, though it wasn't without some good fortune and a key overthrow by Griffin.
The offense scored on all but one of their drives, and the special teams made play and key kicks where available.
Ahead by two touchdowns at the half, the coaching staff appears to have done the norm at Heinz Field: gotten the Steelers ready to seize home field advantage.
Q1: A
Protecting "the house of Heinz" (or, is it Hines?) is a priority for a team that is 1-3 thus far on the road, and all of the hullabaloo regarding Griffin's offense and the Redskins dynamic play surely gave the coaches all of the fuel they needed to motivate the roster.
Though the defense's second showing served as a suspect showing to cap the quarter, the offense took advantage of Washington tendencies, the defense shutout the 'Skins through fifteen minutes, and the special teams contributed as well.
With success in all three phases, it's hard not to credit the coaches.