World Series 2012 Game 3: Live Score for San Francisco Giants vs. Detroit Tigers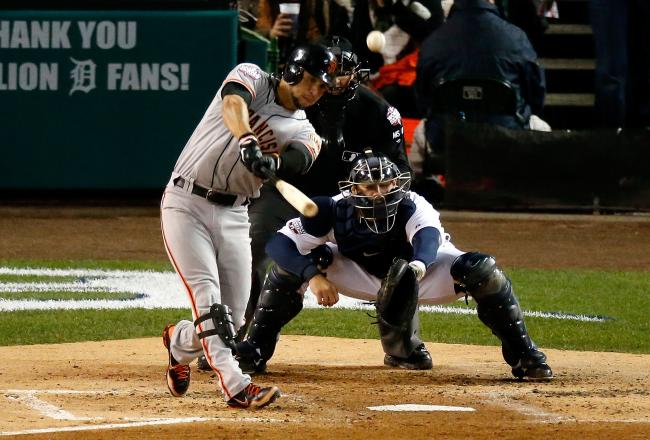 Leon Halip/Getty Images
The Detroit Tigers hope to make the World Series an actual series tonight when they play the San Francisco Giants at Comerica Park.
Anibal Sanchez hopes to keep the Tigers afloat while San Francisco counters with arguably their best postseason pitcher in Ryan Vogelsong.
With the Giants leading 2-0 in this best-of-seven, the first pitch is shortly after 8:00 p.m. ET/5:00 p.m. PT.
SCORE UPDATE:
FINAL: Tigers 0 - 2 Giants
W: Vogelsong
L: Sanchez
S: Romo
Giants lead 3-0
INFANTE GOES DOWN SWINGING AND THE GIANTS SHUT OUT THE TIGERS AGAIN 2-0 AND LEAD THE SERIES 3-0!
Avila flies out to Pagan in left-center and there are now two-out.
Infante the last Tiger hope for the night.
Vogelsong would get the win; Sanchez the loss.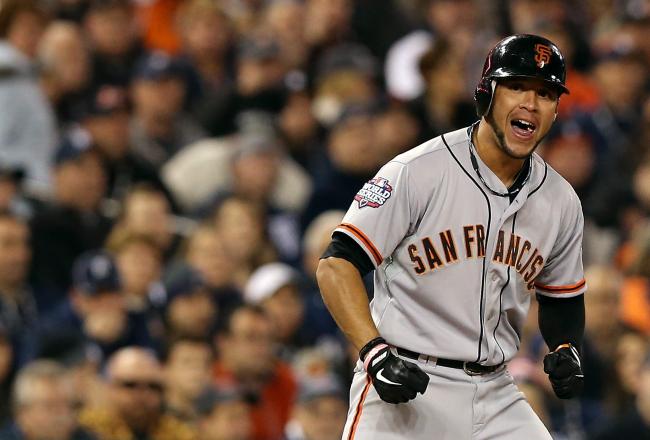 Another great play for Blanco!
On a 2-2 count, Peralta send a rocket that was just foul by the pole that Blanco was able to catch.
Sergio Romo is indeed into pitch.
Coke strikes out the side and the Tigers send out the 7-8-9 hitters to face Sergio Romo.
Coke strikes out Belt and Blanco to get two quick outs.
Coke has had a very good postseason.
When you see the highlights of this game, watch for an amazing save of a wild pitch made by Buster Posey in the bottom of the eighth.
An amazing catch.
After a good inning from Benoit, Phil Coke will pitch the ninth for Detroit.
The last team that fell behind 3-0 in a World Series to win one game was the 1970 Reds. The only other one was the 1937 Giants.

— Bob Timmermann(@bobtimmermann) October 28, 2012
So far Lincecum has 2 2.1IP WS rlf stints v #Tigers, yet to give up a hit. He's saved terrible season by becoming huge weapon for #sfgiants

— Joel Sherman (@Joelsherman1) October 28, 2012
Lincecum strikes out Dirks and the Tigers continue to do nothing.
Another great play by the Giant defense as Cabrera hits a screaming grounder by the bag at second that is grabbed by Crawford and a snap throw retires Cabrera.
Fielder strikes out on three pitches and you hear boos for the first time.
Young hits a sharp rounder to Crawford, but he cannot get a grab on it.
He throws, but Belt also bobbles it and Young reaches on an error.
Tigers on verge of wasting a terrific job by their staring pitcher for second straight game. #Tigers2012

— Freep Tigers (@freeptigers) October 28, 2012
Pence grounds out to short and Lincecum comes out to face the big Tiger hitters here in the eighth.
Benoit gets Posey looking at a fastball for strike three.
With two-out, the red-hot Pence is up.
Sandoval doubles to the opposite field off the wall in left and he now has 23 hits this postseason.
That is a team record, even with the caveat of all the extra postseason rounds that did not exist before 1969.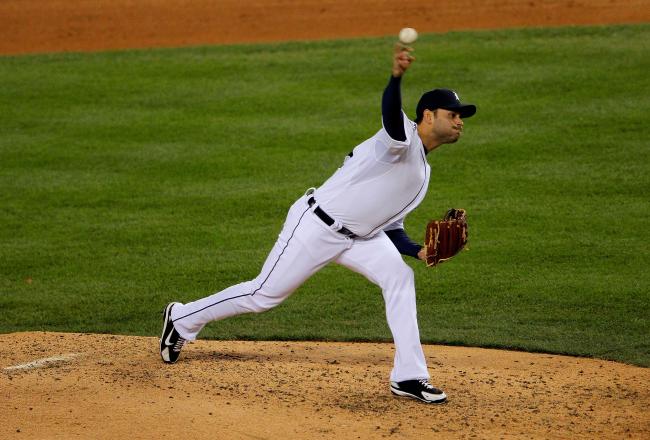 After seven very good innings, that is the night for Anibal Sanchez.
Benoit is the first guy out of the Tiger pen.
Sanchez really settled down after that rocky second inning and held the Giants from adding to their two-run lead and ended up striking out eight.
Scutaro leads off the eighth by grounding out to second.
Berry strikes out on three pitches and the Tigers come away empty again.
Not even sure that even the biggest Giant fans saw this coming.
Jackson walks with two out and Berry gets a chance to redeem himself.
After Avila grounded to Lincecum who jogged to the bag himself, Infante flies out to right.
Lincecum is cruising and some are suggesting he could be the MVP if the Giants win.
Crawford steals second, but Sanchez strikes out Pagan looking on a beautiful curve.
Stretch time here in Detroit as Staff Sgt. Amy Gould sings God Bless America.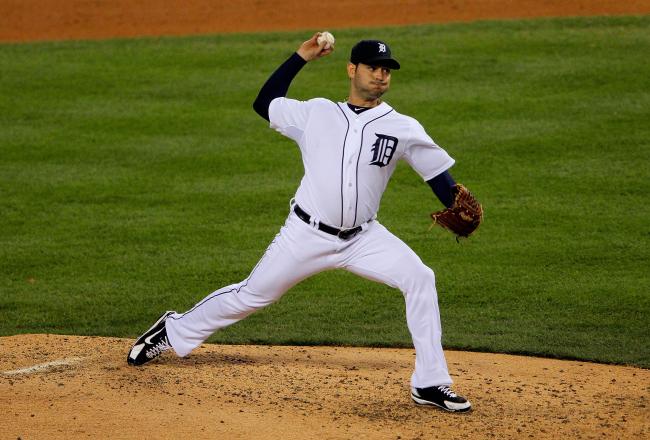 Sanchez comes out for the seventh.
Blanco grounded to third and the throw caused Fielder to fall down.
Replays showed that Blanco might have been safe as Fielder did not keep his foot on the bag, but no one made an argument for the Giants.
After Sanchez was retired, Crawford singles to center.
Leyland must have no confidence in his pen as Sanchez is at 112 pitches.
Lincecum induces a Peralta to fly out to right and we are through six.
Last team to throw consecutive shutouts in #WorldSeries- 1966 Orioles (3 in row). Last NL team: 1919 Reds!

— ESPN Stats & Info (@ESPNStatsInfo) October 28, 2012
After a Young ground out to third, Dirks draws a walk.
Vogelsong has walked four and has pitched 104.
That is his highest pitch count of the postseason as Lincecum comes in.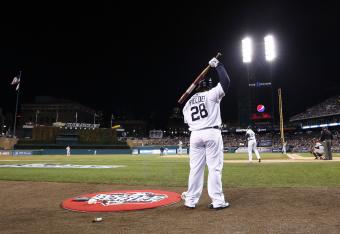 Fielder skies the first pitch into a quick out to right.
While this is a 2-0 game, it really feels like the Tigers are down by four or five.
Benoit warming for Detroit and Lincecum up for San Francisco.
Belt strikes out looking to end the sixth.
At 104 pitches, that should be it for Sanchez.
Smyly and Alburquerque were warming at the end of the inning.
Fielder leads off the Tiger sixth and he is due.
This article is
What is the duplicate article?
Why is this article offensive?
Where is this article plagiarized from?
Why is this article poorly edited?