Full NBA Playoffs and Finals Predictions for the 2012-13 Season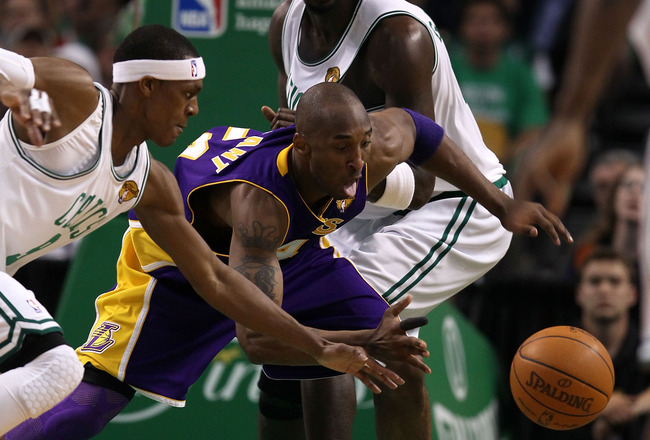 Elsa/Getty Images
With the 2012-13 season just around the corner, it is prediction time here at Bleacher Report.
When the regular season wraps up in mid-April, the standings should look something like this:
| | |
| --- | --- |
| Eastern Conference | Western Conference |
| 1. Miami Heat | 1. Oklahoma City Thunder |
| 2. Boston Celtics | 2. San Antonio Spurs |
| 3. Indiana Pacers | 3. Los Angeles Lakers |
| 4. New York Knicks | 4. Denver Nuggets |
| 5. Brooklyn Nets | 5. Memphis Grizzlies |
| 6. Chicago Bulls | 6. Los Angeles Clippers |
| 7. Atlanta Hawks | 7. Utah Jazz |
| 8. Toronto Raptors | 8. Golden State Warriors |
However difficult preseason predictions are, I feel comfortable with these picks. They are based on knowledge of the game, recent history and facts. From there, the teams were whittled down within each series to grant us an eventual champion.
So, without further ado, let the games begin!
Eastern Conference: Miami (1) vs. Toronto (8)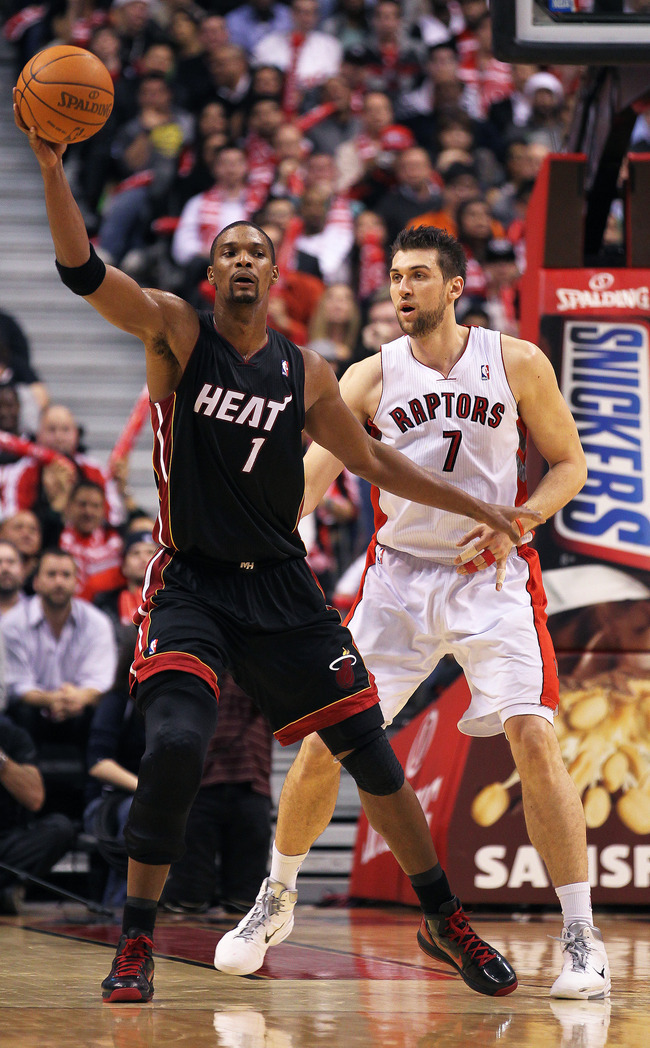 Claus Andersen/Getty Images
The Pick: Miami in Four
The Miami Heat are the obvious pick as the No. 1 seed in the Eastern Conference. After winning the 2011-12 NBA championship, they improved in a few areas. The additions of Rashard Lewis and Ray Allen are sure to bolster the Heat bench, but in the end it will all come down to their big three.
This team is constructed in a way that would even allow for some minor injuries to take place. There is no one who will be able to beat them out as the top team in the East in the regular season.
Toronto is currently a bit of a dark horse to make the postseason. They will be battling the likes of Philadelphia and Milwaukee for the eighth spot in the conference. It is my belief that they have improved in enough areas to give them an edge over both of those teams.
The 76ers earned this spot in 2011-12 with a .530 winning percentage. Because the East is a rather top-heavy conference, the low seeds will not need a high-win season to get this spot. Toronto must play well in-division in order to beat out Philadelphia.
In the No. 1 vs. No. 8 series last season, the eighth seed prevailed when Philadelphia beat out Chicago. In 2012-13, I don't foresee that happening again. Miami should have swept New York out in the opening round last season, and this time they won't let that opportunity slip away.
The Raptors simply don't have enough firepower to cover up for their defensive liabilities. There is no one on this roster with even a hope of stopping LeBron James.
Eastern Conference: Boston (2) vs. Atlanta (7)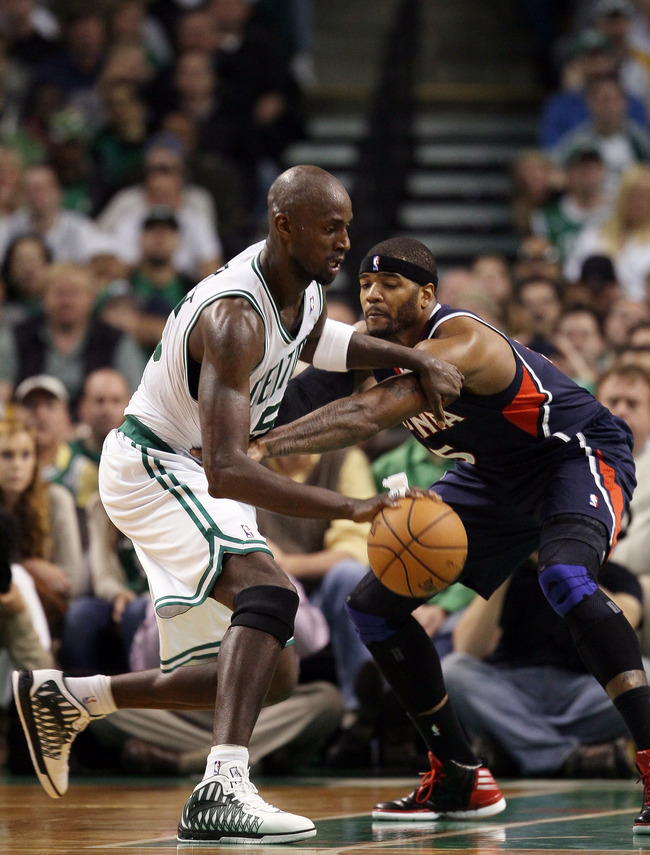 Elsa/Getty Images
The Pick: Boston in Six
The Celtics have a great chance to be the NBA's top defensive team this season. With a revamped roster, stocked with more offensive talent than previously, they should win enough games to earn the second seed behind Miami.
The only worry is the Celtics' recent history of foggy and lackadaisical regular season play. They tend to shut down for stretches, and with some older starters still on the floor, there could be similar lapses in 2012-13.
Atlanta went through a pretty big change in the offseason, trading away their top offensive player, Joe Johnson. They have brought in some decent pieces like Lou Williams, and they return an elite frontcourt of Josh Smith and Al Horford, but will there be enough offense?
This is still a very legitimate team with a chance to earn a much higher seed than No. 7. However, without that go-to option offensively, they will slip behind the New York teams and even the Bulls.
In the series, the story is going to be Atlanta's inability to put enough points up against a staunch Boston defense. The Celtics will pride themselves on the ability to stop teams, especially one without its best offensive player from a year ago.
Also, these teams know each other incredibly well, meeting up in numerous postseason series. One team has improved more than the other, and that team is the Celtics.
Eastern Conference: Indiana (3) vs. Chicago (6)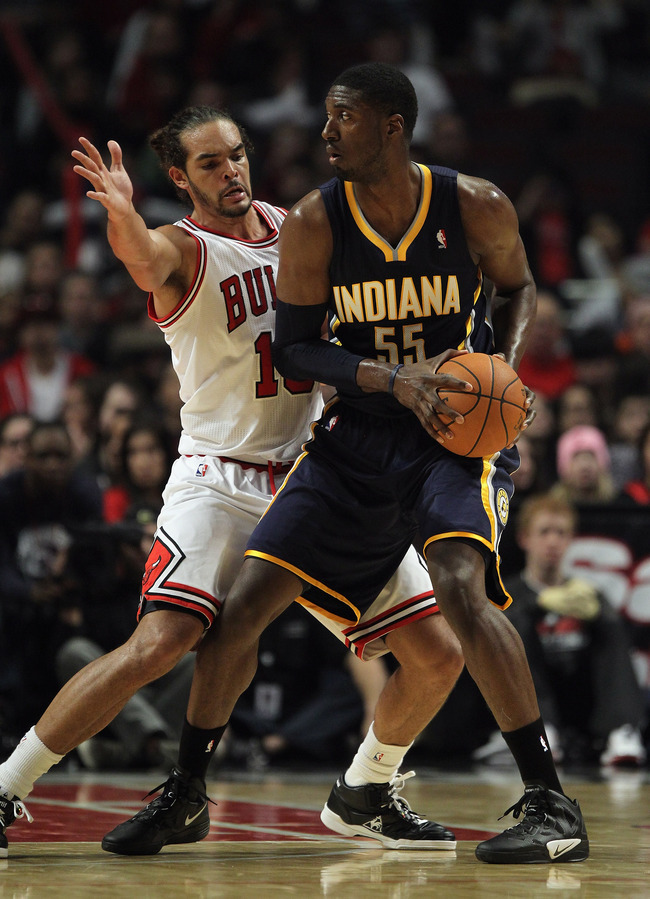 Jonathan Daniel/Getty Images
The Pick: Chicago in Seven
The Pacers will be essentially the same team that took the floor last season. That team earned the third seed in the Eastern Conference, and so will this version.
With the Bulls falling, Indiana has an opportunity to leap into the No. 2 spot, but it has not improved nearly as much as Boston and will be forced to remain third.
Chicago was the top seed in 2011-12, but tragically fell to Philadelphia in the opening round. The reason for that loss will still be affecting them in 2012-13. Derrick Rose isn't due back to play until possibly the All-Star Break.
The Bulls didn't help themselves out in the offseason either, losing Omer Asik, C.J. Watson and Ronnie Brewer off a great defensive second unit. This, coupled with Rose's questionable return, will force the Bulls down in the Eastern Conference standings.
The series will be vastly different than the regular season, however. The Pacers are going to have a lot of issues containing Rose, who will be in midseason form. If he is rested enough after playing only half a season, then the Bulls should be able to advance. It is hard to call this pulling off an upset, but the seeding fits and the Bulls advance to the second round.
Eastern Conference: New York (4) vs. Brooklyn (5)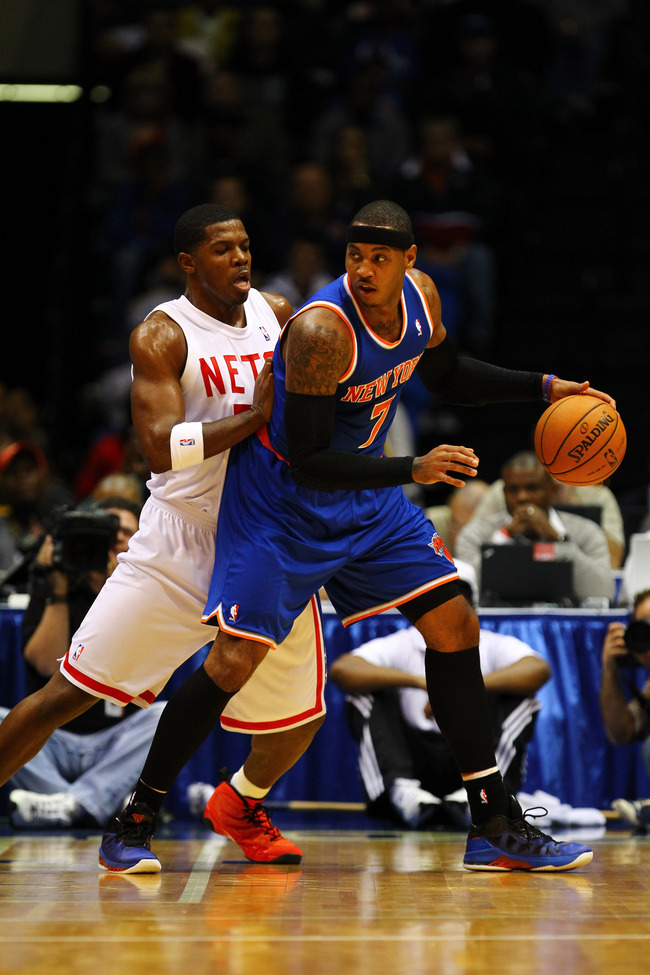 Al Bello/Getty Images
The Pick: New York in Seven
New York had a very up-and-down offseason after being eliminated handily by Miami in the first round of 2011-12.
They watched Landry Fields and point guard Jeremy Lin leave but replaced them with a slew of veterans and a steal in Ronnie Brewer. The Knicks picked up valuable backups in Jason Kidd and Marcus Camby and brought back Raymond Felton to run the point.
The question is whether they can overcome their starters lack of meshing. If Amar'e Stoudemire and Carmelo Anthony aren't productive together, then this seeding is far too high. Mike Woodson, in his first full season with New York, should be able to figure something out, and that is what I am banking on.
The Knicks' new neighbors in Brooklyn are sure to have a bumpy time early in 2012-13. They will need to adjust to a new offensive star in Joe Johnson, and a largely untested bench. The Nets have a dynamic starting five and are sure to put up serious point totals during the regular season.
The fifth seed seems like a safe prediction for a team that can be equal parts great and terrible, especially on the defensive end. They will also be playing in a very tough division that will see three or four playoff teams come out of it.
The matchup the country wants to see in the Eastern Conference may be Boston and Miami, but this one is a close second.
Two teams from one of the world's largest markets battling each other in the postseason certainly moves the needle. Add in the thrill of one team in a brand new arena and the offensive firepower each squad brings to the table, and you have an instant classic.
The Knicks have more experience playing together as well as Game 7 on their home floor; therefore, I like them to emerge from this tightly contested series.
Western Conference: Oklahoma City (1) vs. Golden State (8)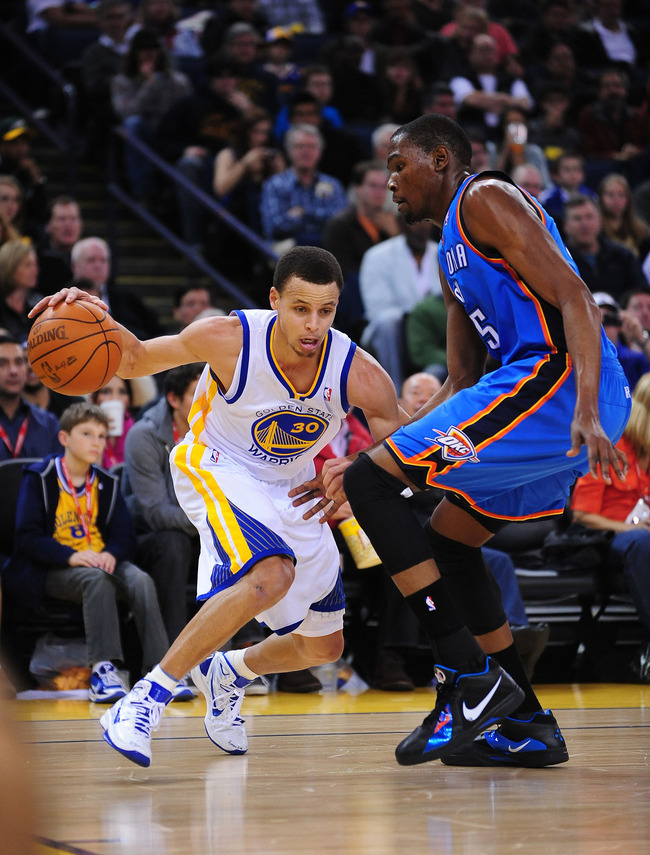 Kyle Terada-US PRESSWIRE
The Pick: Oklahoma City in Five
The 2011-12 runner-ups have a great season in store for everyone to watch. They are going to rack up wins as a team that is young, hungry and supremely talented. Their .712 winning percentage in the shortened season is in line with a team that could win right around 60 games.
If they take a step or two forward as a team in 2012-13, they have the potential to win even more than that. Their youth will allow them to play all 82 games without taking any off. That will give them the regular season edge over Los Angeles and San Antonio, earning them the No. 1 seed.
Regarding the Dirk Nowitzki injury, I believe it opens up a playoff spot. The Mavericks had a largely new team put together as it was, and now they are missing their leader for the early part of the season.
This opens the door for a team like Golden State to make a postseason appearance. This team has a lot of potential in it, but also boasts two or three injury-prone players in very important spots. However, if Andrew Bogut, Stephen Curry and David Lee can stay on the court together for a large portion of the season, that eighth seed is in their reach.
The Warriors are also a team that offensively can keep up with the Thunder for a game or two. In the end, though, Oklahoma City is too talented to allow an upset to creep into Golden State's mind. The Thunder may falter in a game or two as a young team that doesn't know how to slam down subordinate programs, but they will win the series.
Western Conference: San Antonio (2) vs. Utah Jazz (7)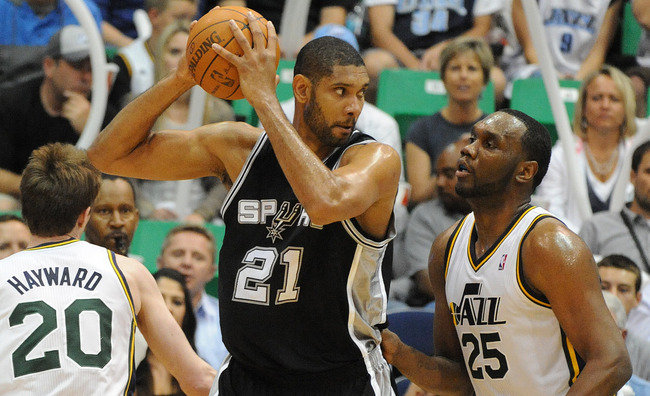 Steve Dykes/Getty Images
The Pick: San Antonio in Five
The Spurs are starting to once again look like the forgotten team in the Western Conference. After the Thunder's trip to the Finals and Los Angeles' big moves, San Antonio is flying under the radar.
This seems impossible for a team that won 50 of 66 games last season. That stretches out to a 62-20 season. While the Spurs aren't going to win 62 games in a tough conference and a tough division, they should have enough wins early on to outlast the Lakers.
The Spurs still have the best veteran presence in the conference and the best coach in the league—that is enough for the second seed.
Utah also benefits from the Mavericks falling out, in that it advances the Jazz to the seventh seed. Bad news comes right along with that, though. The Jazz have to face the team that swept them out of the postseason a year before.
The Jazz made some improvements to their team, bringing in Marvin Williams to bolster a position of weakness, and Mo Williams is an offensive upgrade at point guard. If Derrick Favors continues his growth, the size of this team is scary.
Still, San Antonio found ways around that size in 2011-12, and I don't see why it wouldn't be able to once again. Utah has improved enough to earn a win but not much more. The Spurs advance to the second round yet again.
Western Conference: Los Angeles Lakers (3) vs. Los Angeles Clippers (6)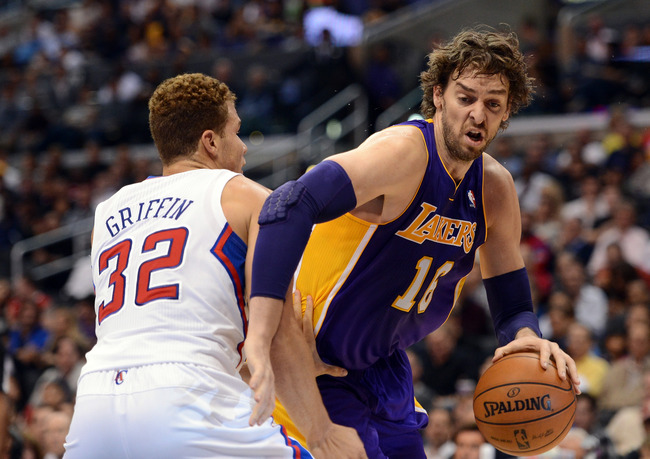 Harry How/Getty Images
The Pick: Los Angeles Lakers in Six
The regular season could be bumpy for the Lakers, as they have some aging key pieces. If members of their elite starting unit, or even bench players like Antawn Jamison, miss time, the Lakers will fall to the No. 3 seed.
This team should take about a month and a half before its members start clicking with consistent play. There are worries with chemistry, but during the regular season talent can outweigh that. Talent is something the Lakers now have in mass quantities. This starting five has the potential to shred opponents.
The Clippers made some hit-or-miss moves in the offseason, like nabbing Lamar Odom. His play in a young frontcourt could be a big service or disservice to Los Angeles' season.
They return all the key components from a No. 5 seed in 2011-12, but some other teams may have done enough to surpass them in the final standings.
Just like there is a must-watch series in New York, there will be one in Los Angeles as well. This series is great for everyone and is the one I wanted last season. in 2012-13 it only has added intrigue with the Lakers' offseason haul and presumed dominance.
The Staples Center will be the spot of the most intriguing opening round matchup of the playoffs.
Western Conference: Denver (4) vs. Memphis (5)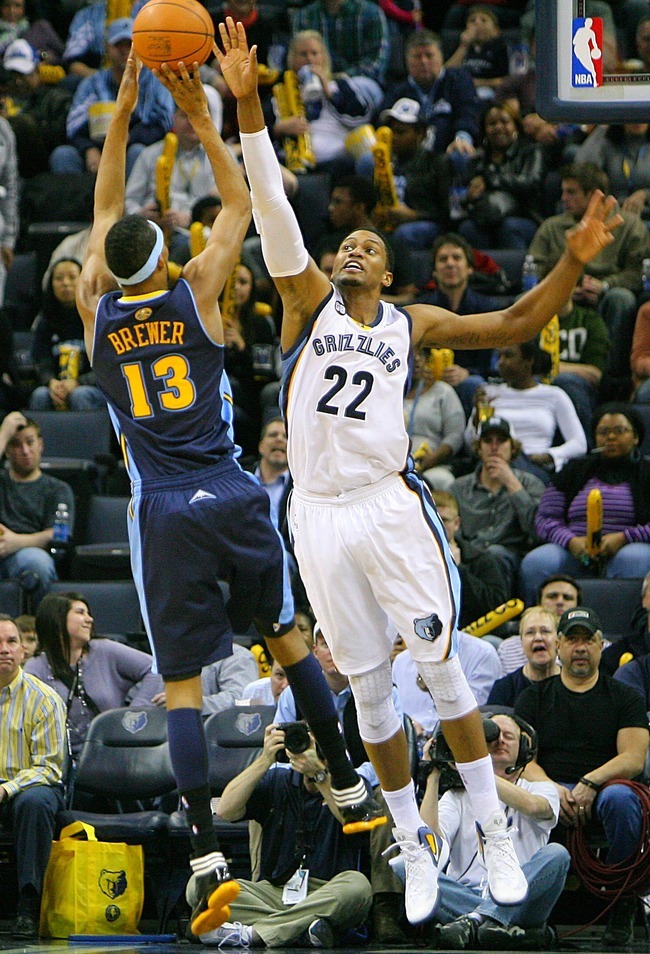 Spruce Derden-US PRESSWIRE
The Pick: Denver in Seven
The Nuggets had the most underrated offseason in the NBA, quietly bringing in an All-Star shooting guard with veteran leadership qualities.
Andre Iguodala, the NBA's premier perimeter defender, is now on possibly the worst defensive team of 2011-12. Denver was able to get involved in the Dwight Howard deal and may have come away with the second best haul of all involved franchises.
Denver has a very solid team that can put up points in bunches. Iguodala's talent and leadership should play a large role in balancing this team out and making them one of the best teams in the NBA in 2012-13.
Memphis is starting to get that feeling of a team that is stuck in the mud. The Grizzlies suffered some key injuries in 2011-12 and, if healthy, will battle for home-court advantage in this series. The only major moves of improvement were finally parting ways with O.J. Mayo and solidifying the backup point guard spot.
While there may be some addition by subtraction with the Mayo departure, he is a great scorer with a lot of potential still untapped when he's on.
In my opinion, this series goes to whichever team has home court. Last season Denver finished just three games behind Memphis. The Nuggets' offseason was better, and with more youth improvement, they will top the Grizzlies this regular season and in Game 7.
Eastern Conference Semifinals: Miami (1) vs. New York (4)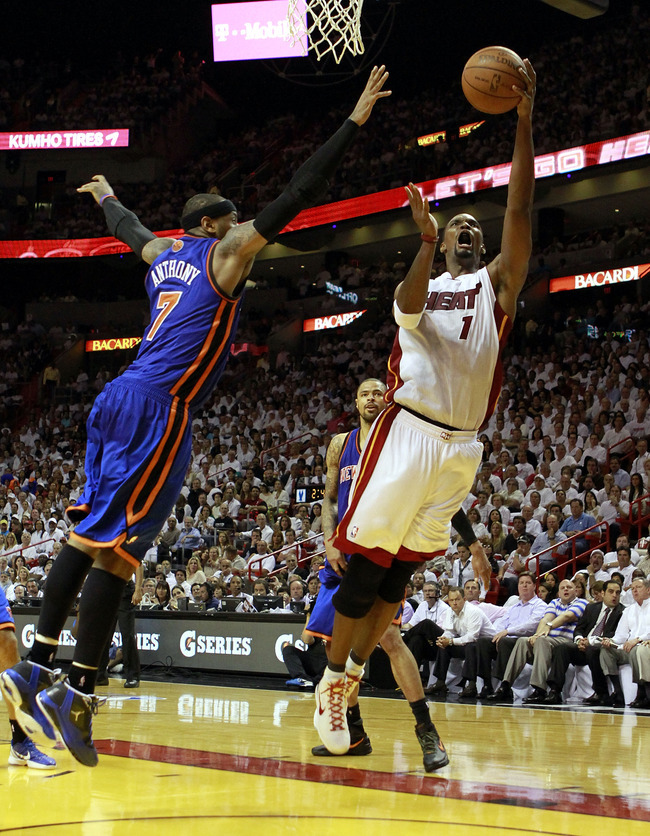 Marc Serota/Getty Images
The Pick: Miami in Six
This is a rematch from the 2011-12 opening round. A rematch that the Knicks certainly have their eyes on after getting embarrassed by the Heat in five games.
The difficulty New York will have to overcome is exhaustion. The Heat are still a younger and more athletic team who will most likely be coming off a brief sweep of the Raptors. The Knicks, however, just battled for a year's worth of bragging rights over a seven-game series with Brooklyn. By the way, New York currently employs the oldest team in NBA history.
Two benefits New York has that will allow their team to stay in this series are size and Iman Shumpert.
With the addition of Marcus Camby, the Knicks have two of the best defensive/rebounding centers in the NBA. He and Tyson Chandler will be able to pulverize the Heat in the paint, limiting Dwyane Wade and LeBron James' attempts at the rim.
Shumpert's injury was killer for the Knicks in 2011-12. He was on the verge of becoming an elite perimeter defender and has that potential easily accessible once he gets back on his feet.
A player like Shumpert, tough and ignorant, is key to slowing the Heat. He can stick to Dwyane Wade like flypaper or bust through picks to stay with Ray Allen and gives New York a fighting chance on the defensive end.
The Knicks will not get embarrassed this time around, but they still lack enough talent to outscore Miami four times in seven games.
Eastern Conference Semifinals: Boston (2) vs. Chicago (6)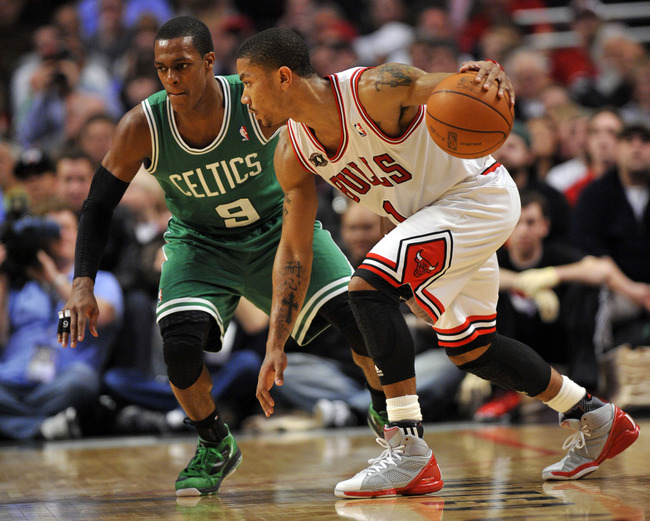 Rob Grabowski-US PRESSWIRE
The Pick: Boston in Seven
Continuing along with the theme of series everyone wants to watch, we have Boston and Chicago. Or the miniseries of Rajon Rondo vs. Derrick Rose, Kevin Garnett vs. Joakim Noah and Doc Rivers vs. Tom Thibodeau.
This is a series to watch because the individual matchups are so fantastic and intense. You can even throw in Luol Deng, who is always tough on Paul Pierce.
The opening-round series in 2009 was one of the greatest playoff battles in history. Four of the seven games in the series went to overtime, one double overtime and one triple overtime. The Celtics eventually prevailed in a sloppy Game 7, when all players were visibly spent.
It is a great little rivalry that hasn't gotten a lot of talk recently and will certainly make for a great series in 2012-13.
The two teams are very evenly matched right now, with each one offering players to cancel out the opposition's. However, the Bulls' bench took a hit in the offseason, while Boston's was vastly improved. In a series featuring multiple overtimes, bench play is paramount, and Boston will prevail once again.
Western Conference Semifinals: Oklahoma City (1) vs. Denver (4)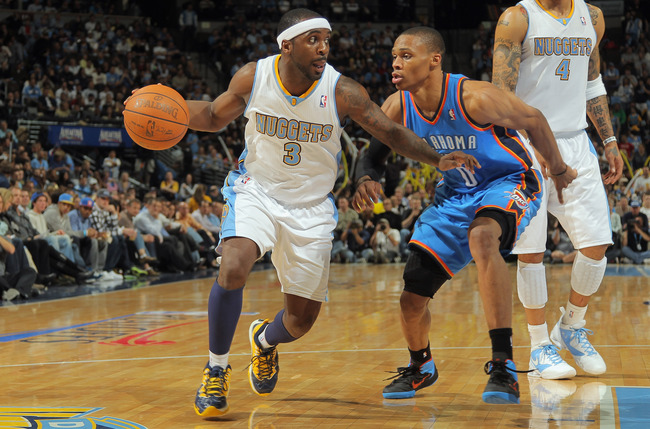 Doug Pensinger/Getty Images
The Pick: Oklahoma City in Six
We've already been over how much I enjoyed the Andre Iguodala addition, and he will certainly help the Nuggets try to contain Oklahoma City. Denver has the offensive firepower to score with a team like the Thunder, but if the Nuggets are once again unable to get any stops, it won't matter.
Oklahoma City is on the fast track to the Western Conference Finals, and thanks to earning the No. 1 seed, it avoids San Antonio and Los Angeles until that series.
While Iguodala will be effective defensively, if Kevin Durant figures out how to use his size advantage on him, the effect will be minimal. With good coaching and the advantage everywhere else on the floor, Durant and Oklahoma City can overcome this obstacle.
Denver remains in the land of the fourth to sixth best team in the conference, and the Thunder advance to the increasingly familiar conference finals.
Western Conference Semifinals: San Antonio (2) vs. Los Angeles Lakers (3)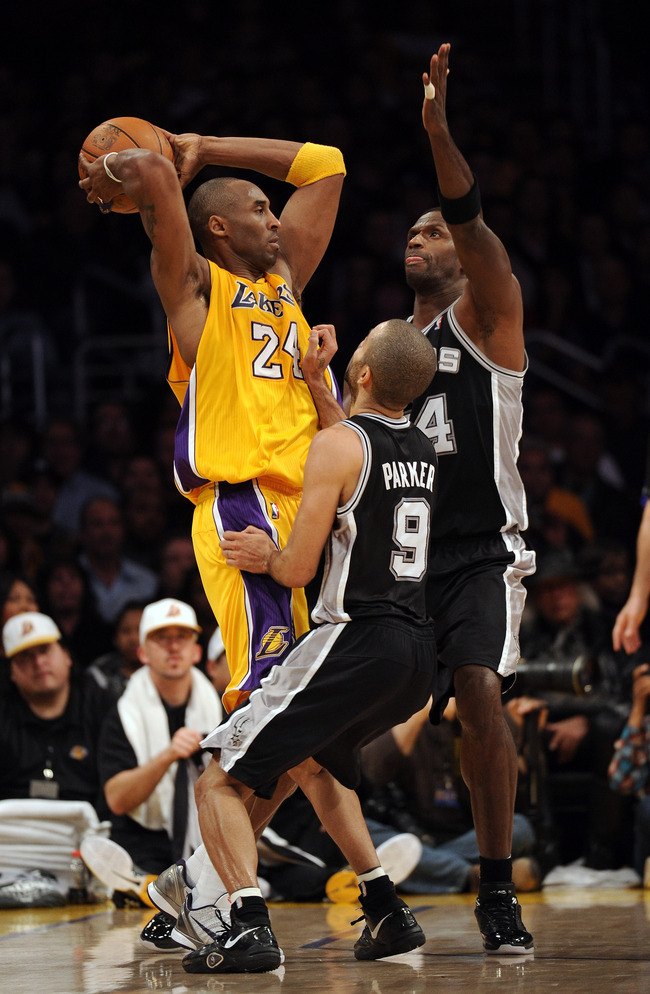 Harry How/Getty Images
The Pick: Los Angeles in Six
It is my belief that at this time, Los Angeles will be cruising and putting on consistent displays of dominant basketball.
The biggest obstacle they have to overcome in this series is the lack of home court advantage. Because of the time they took in the regular season developing chemistry, they fell behind San Antonio's record.
That is why they won't allow this series to go seven games. Los Angeles must close out the Spurs in six or a trip to finals will evade them in year one of the Dwight and Steve experience.
The Lakers know this isn't the same as Oklahoma City or Miami—their window is infinitely shorter with aging core members. Therefore, I don't believe they mess around here and take care of business at the Staples Center in Game 6.
The Spurs' difficulties will stem from having enough tough bigs to throw at Howard. The team that beats Los Angeles is going to need to rough him up a lot, and I don't think Tim Duncan, Tiago Splitter and Boris Diaw have that in them.
Eastern Conference Finals: Miami (1) vs. Boston (2)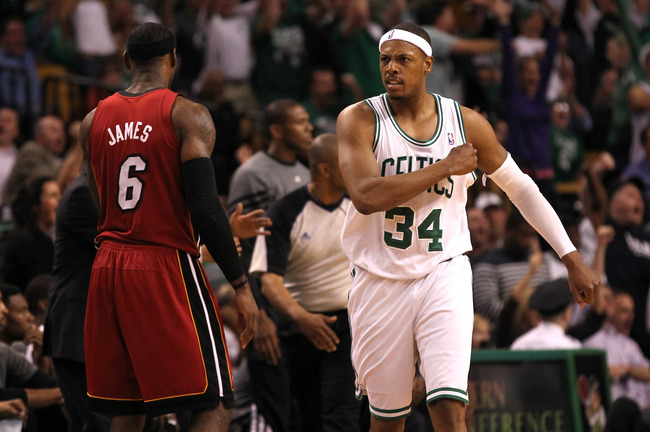 Jim Rogash/Getty Images
The Pick: Celtics in Seven
To me, this is as close to a pick 'em as you are going to find in the 2012-13 postseason. The two teams battled through a seven-game series in 2011-12. The team that lost, Boston, did more to improve its roster than the team that won, Miami. Each team has distinct advantages in different spots on the floor as well.
The Celtics winning in seven games means they have to win Game 7 on Miami's home floor, an added level of difficulty, but one the Celtics can handle.
Miami's argument for the 2011-12 Eastern Conference Finals of Chris Bosh being injured in the early going is entirely valid. So is the argument that Boston had to overcome numerous injuries prior to the series as well.
Boston's fifth-best player in the series, Mickael Pietrus, currently cannot find a job in the NBA. That puts into context just how much their second unit has improved. Miami has added a couple outside shooters, one being the best all-time, but nothing else of note.
The demons of LeBron James' past have been vanquished each of the last two seasons, but they continue coming and eventually will overcome him.
Western Conference Finals: Oklahoma City (1) vs. Los Angeles (3)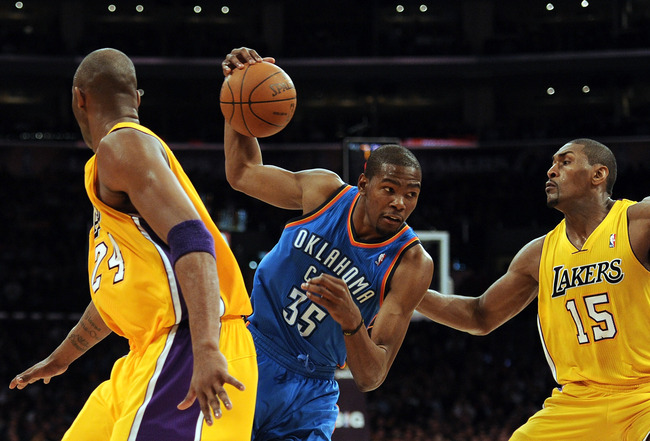 Harry How/Getty Images
The Pick: Los Angeles in Six
Once again, the Lakers must close this series out in six games to advance. The possibility of a Game 7 in a raucous Oklahoma City arena would be too much for the Lakers to overcome.
Los Angeles can steal one of two road games to open the series and then hold serve at home. At that point they will return to Oklahoma City up three games to one. That is when the pressure comes in on the Thunder. The pressure that clouds the judgement of a young team.
In 2011-12, the Thunder had little pressure as the underdogs against San Antonio. After falling in the first two games of the series, there was nothing to lose and they were returning to their home for Game 3. The run of four straight wins was a byproduct of the lack of pressure.
In this series, the Thunder must win those first two games, and if they fail to take both, the pressure starts building and they can't rest on the laurels of playing at home in Games 3 and 4.
When players like Kobe Bryant smell fear, something in them changes. No matter what happens, the Lakers will always have a killer instinct with Bryant on the floor. The Thunder didn't display that killer instinct in the 2011-12 Finals. They beat the Heat in Game 1, but after losing Game 2, they had to go to Miami.
A similar thing will happen in the Western Conference Finals, and the Thunder will be left at home waiting for 2013-14.
NBA Finals: Boston (2) vs. Los Angeles (3)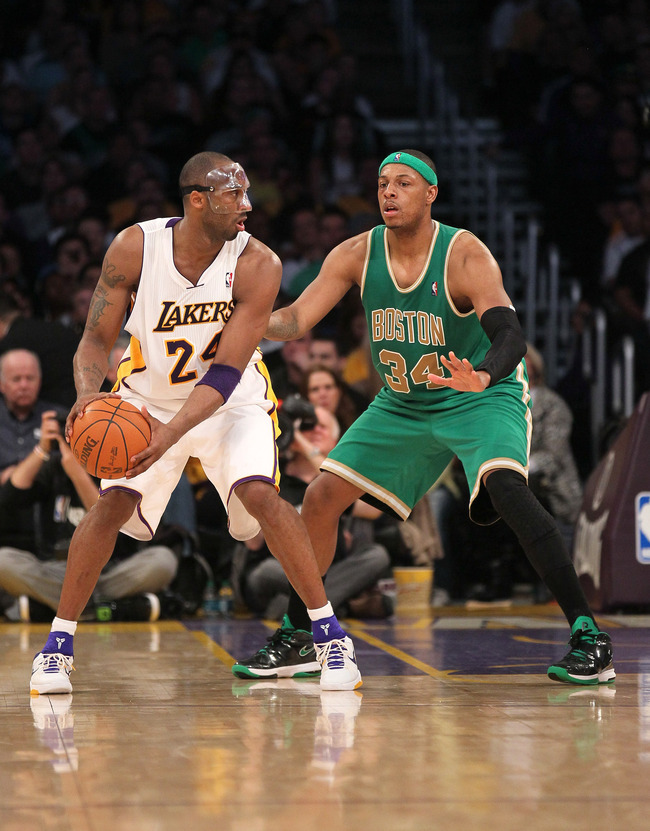 Stephen Dunn/Getty Images
The Pick: Lakers in Seven
At this point in the season, I just don't believe anyone is prepared for how good Los Angeles can be. They have the potential to be dominant at every position on the floor, something Boston will be too spread out to compete with.
Depth is great, and it will get the Celtics very far in 2012-13, but against the Lakers, the depth's effect is minimal. Los Angeles boasted a couple solid bench additions as well in Antawn Jamison and Jodie Meeks. While I'm not sure Meeks sees the floor a lot in a Finals series, Jamison is still a solid offensive option.
The Lakers' size will again prove too difficult to overcome for the Celtics, who will be starting any of three undersized power forwards to combat Pau Gasol.
This is really the first time in the postseason that an issue of this nature will face the Celtics. They are built to beat Miami, but with names like Milicic and Collins in the frontcourt behind Kevin Garnett, they aren't built to face the Lakers.
As a series, this is one of great entertainment value and one of the top three or four possible matchups fans want to see. Two of the NBA's greatest franchises with a host of aging talent gutting it out in search of one more title, or their first.
Now that these picks are set in stone, I'm fully prepared for none of them to happen. Given the matchups I have provided, and the new knowledge of James Harden's trade, who do you think comes out of each conference unscathed?
Keep Reading