Texas Football: 10 Things We Learned from the Longhorns' Win vs. the Jayhawks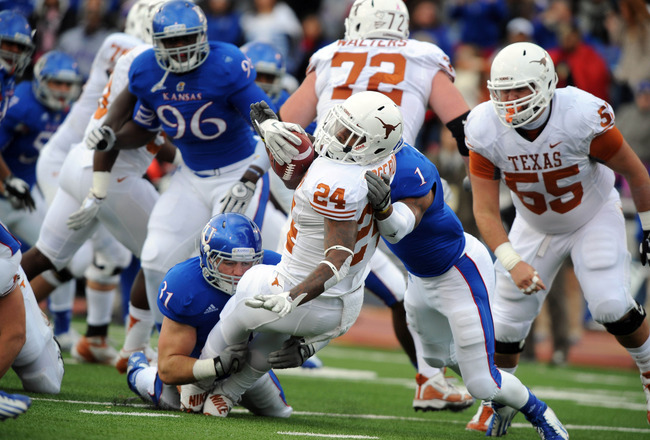 John Rieger-US PRESSWIRE
Even uglier than No. 23 Texas' (6-2, 3-2) win over Baylor last weekend was Saturday's victory over Kansas (1-7, 0-5) in Lawrence.
In a 21-17 triumph that went down to the wire, Case McCoy, who replaced David Ash at quarterback for the Longhorns, engineered two scoring drives in the fourth quarter to give Texas bowl eligibility for the second year in a row after finishing 5-7 in 2010.
Performing much like the inferior team for the majority of the game, the Longhorns did just enough on both sides of the ball to edge out a victory against a Kansas team that has not won a Big 12 game in almost two years.
With the schedule heating back up for the Longhorns, wins are critical, but so are the lessons learned.
Here are 10 things we learned from UT's victory over the Jayhawks.
There Is Little to Show for Texas' 6-2 Mark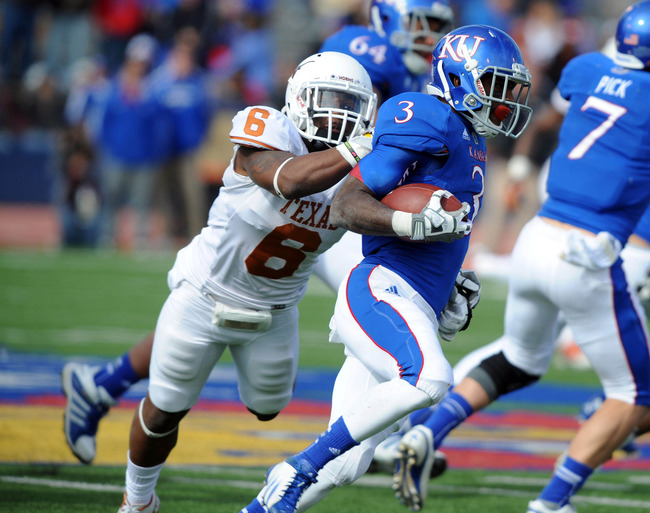 John Rieger-US PRESSWIRE
Bowl eligibility is a baseline goal for most programs, and the Longhorns accomplished just that with their win over Kansas.
But with the ever-changing condition of the loss to West Virginia coupled with the blowout loss to Oklahoma, Texas' six wins do not amount to a whole lot of confidence going into the final four games of the season.
Wins over Wyoming and New Mexico were seen as building blocks for an impressive season, but victories over Ole Miss and Oklahoma State began shedding light onto bigger problems that needed to be fixed.
Now a month later, Texas is in a similar position: weak defensively, and stoppable offensively.
Alex King Has a Big Leg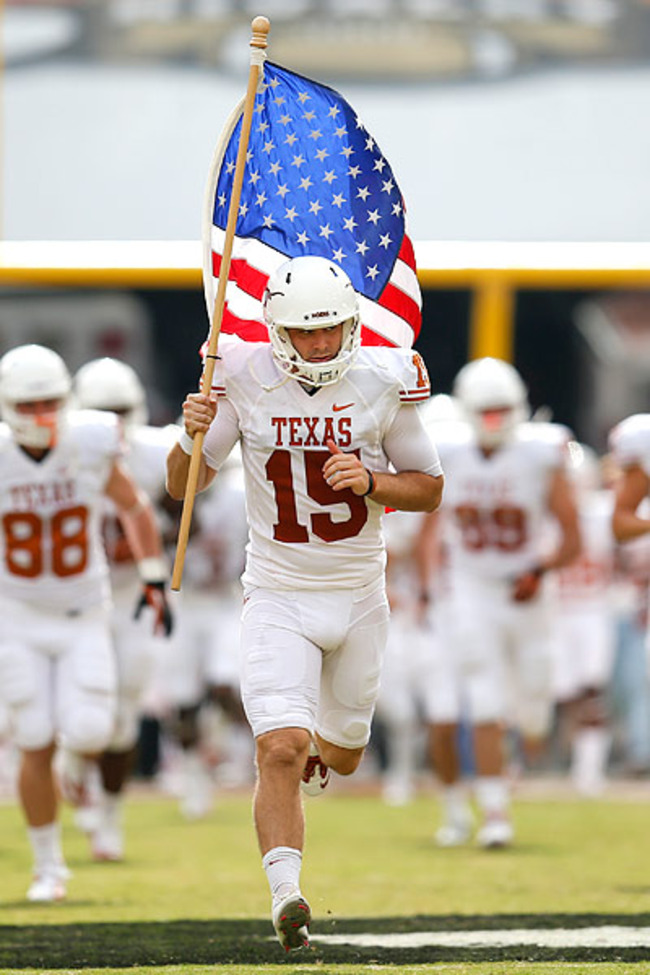 Cal Sport Media via AP Images

Perhaps the brightest spot for the Longhorns this season has been their punting game, featured by senior punter Alex King.
King belted five against Kansas, pinning the Jayhawks inside their own 20 three different times.
If the Longhorns had anything to show defensively, King would generate much more recognition for his exploits. With an average punt floating around 46 yards, King would rank in the top 10 in the country, but he does not qualify with the minimum punts per game.
Texas Fields Arguably the Worst Defense in the Big 12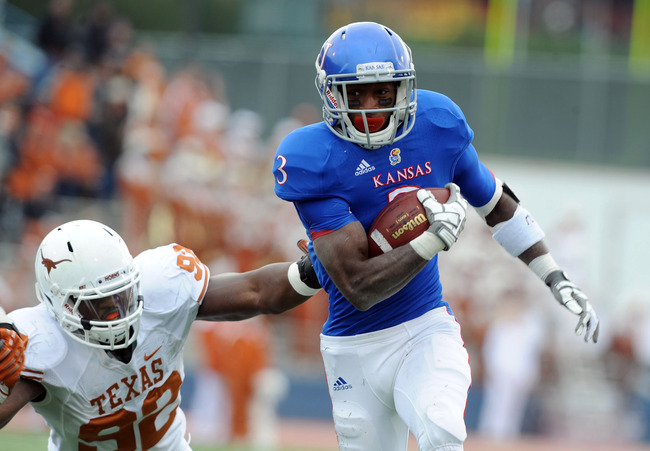 John Rieger-US PRESSWIRE
Kansas' one-dimensional offense ran wild over the Longhorns defense, racking up 234 net rushing yards on 56 carries.
Poor positioning, bad angles and worse tackling have gotten the best of Texas all season, and it is becoming a habit that is garnering more attention every week that it continues.
The upcoming offenses on Texas' schedule do not get any easier, and if the struggles are persistent through the end of the campaign, the Longhorns' final record could be a tough one to swallow.
Texas May Have Too Many Playmakers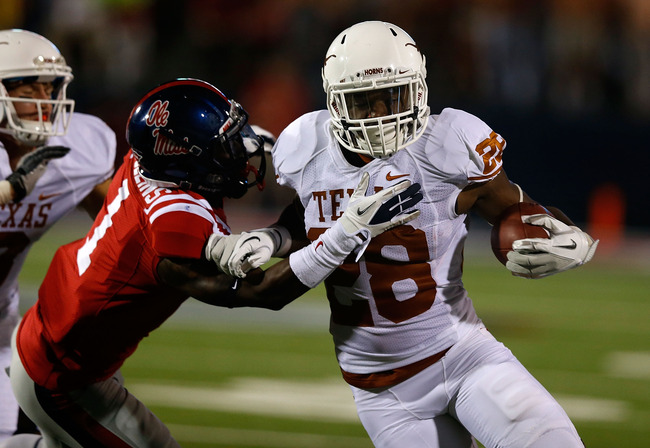 Scott Halleran/Getty Images
Although it may be a good problem to have, in an offense like Bryan Harsin's that uses distinct formations, a lack of consistent identity with the playmakers could cause some problems.
A trio of featured running backs in Malcolm Brown, Joe Bergeron and Johnathan Gray are all starters are the Division I level. Throw in speedsters in Daje Johnson, D.J. Monroe and Marquise Goodwin, and already there is a challenge in distributing the ball in a fashion that not only generates offense, but also creates enough balance to legitimize that kind of distribution.
The diversity and depth of talented ball-carriers only raise concerns about finding rhythm offensively. We have seen cases of it paying off in big ways, but we have also seen the schemes go stale.
Johnathan Gray Has Arrived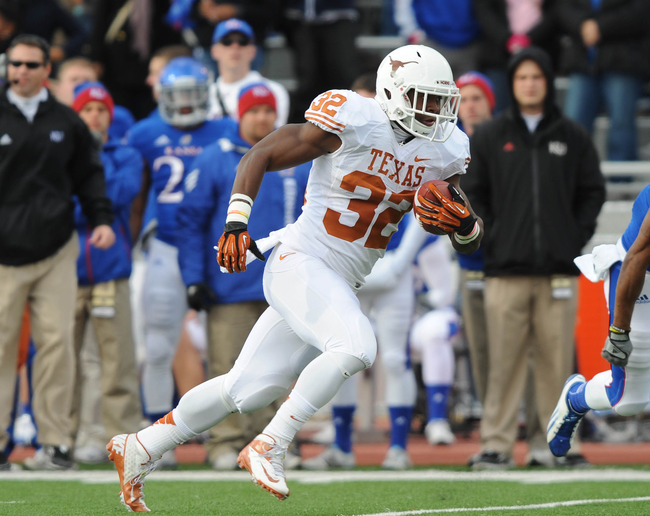 John Rieger-US PRESSWIRE
Stepping into the void left behind by Malcolm Brown and his high ankle sprain has been Johnathan Gray, a true freshman running back who has impressed in recent weeks.
After scoring his first career touchdown last weekend against Baylor, Gray achieved another milestone Saturday by topping the 100-yard mark for the first time in a Texas uniform.
His 111 yards on 18 carries led the Longhorns in rushing, and his 31-yard sparkling run to open the game only prolongs a buzz that has slowly grown since he arrived on campus.
Marquise Goodwin and D.J. Monroe Could Be Used More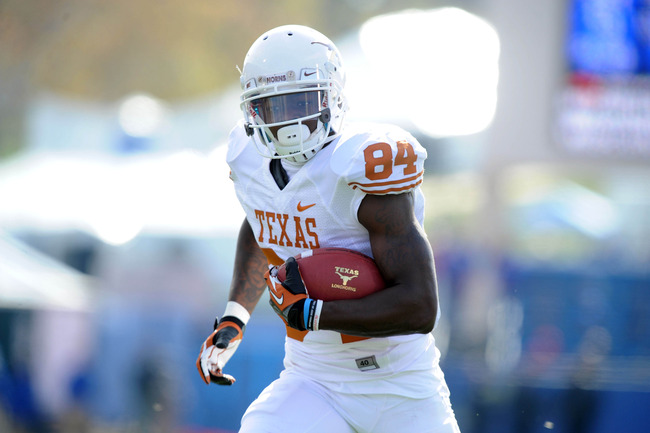 John Rieger-US PRESSWIRE
Lost in the spectrum of Texas' speedy edge-runners are Marquise Goodwin and D.J. Monroe, two senior sprinters who have had a huge share of big plays over their careers but are consistently missed.
As big plays waiting to happen, neither receives the amount of carries that seemingly can satisfy the Texas faithful.
Goodwin is averaging 11.6 yards per touch between is 18 catches and seven carries.
In a similar light, Monroe has a 6.5 yards per touch average to go with a 36.3 yards per kickoff return average. He has three touchdowns on 13 carries and has returned a kickoff 100 yards for a score.
Perhaps there is a method to the madness, but there will always be a calling for Bryan Harsin to get these two speedsters more touches.
Texas Is a Big Ball of Struggle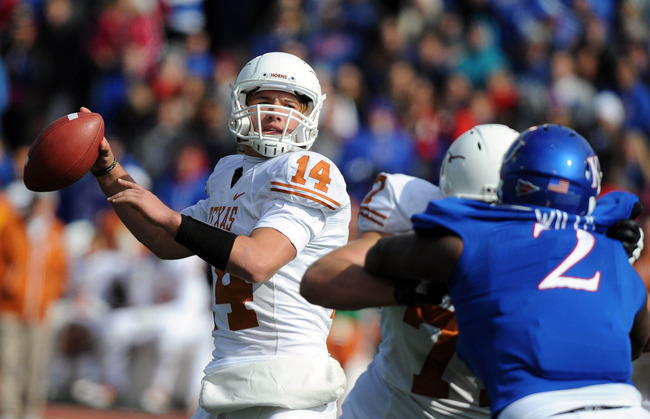 John Rieger-US PRESSWIRE
The Longhorns have not been "comfortable" since their 66-31 win over Ole Miss.
In consistent struggles, through a late 41-36 win over Oklahoma State, a late 48-45 loss to West Virginia, a blowout loss to Oklahoma, a late win over Baylor and another late win over Kansas, the resume does not speak highly of efficient work efforts.
Yes, Texas has seen some of the best offenses in the country, but the struggles have been consistent over the last two months.
Can the Longhorns turn the corner? And if so, how far away is it?
Case McCoy Has Some Guts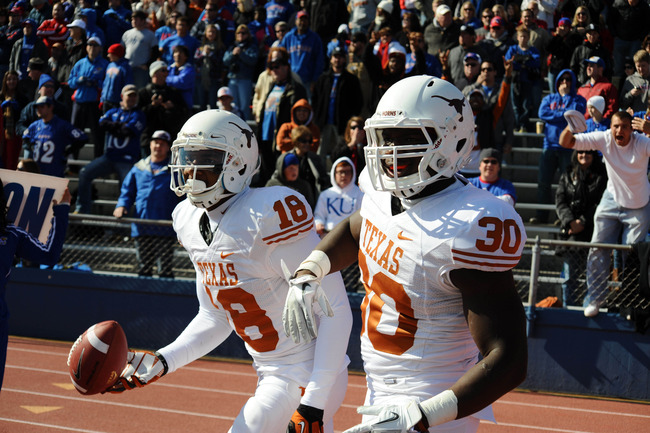 John Rieger-US PRESSWIRE
Although the two scoring drives against Oklahoma were merely consolation to the overall result, Case McCoy repeated those same sort heroics in with a win on the line.
Down 14-7 after three quarters, McCoy, who replaced David Ash at quarterback, engineered two scoring drives to snatch a victory from the jaws of defeat.
The first was all running as the Longhorns marched down the field on the back of Marquise Goodwin, who capped the drive with an 11-yard score.
Then with two-and-a-half minutes to play, McCoy led another series down the field. A pinpoint 4th-and-6 conversion to Jaxon Shipley for 18 yards was the highlight play, but just two plays later, McCoy connected with Mike Davis on a dime for 39 yards to set up a touchdown pass to D.J. Grant three plays later.
Texas Is at a Crossroads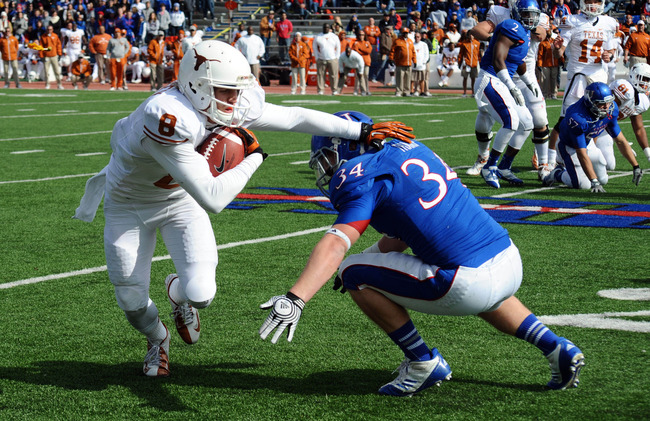 John Rieger-US PRESSWIRE
The Longhorns have come to an important crossroads in their quest to rebuild their program.
Sitting at 6-2 overall with bowl eligibility secured, Texas actually has little to show on its resume.
With Texas Tech, TCU and Kansas State still to come on the schedule, much of what is said of the Longhorns this season can be remade or perpetuated in the coming weeks.
How will the Longhorns rebound defensively, and can they? On offense, is there trouble brewing at quarterback? Are there any coaches on the hot seat?
A win is a win is a win, but a close win against Kansas is not what the Texas faithful ordered.
Manny Diaz Is Legitimately on the Hot Seat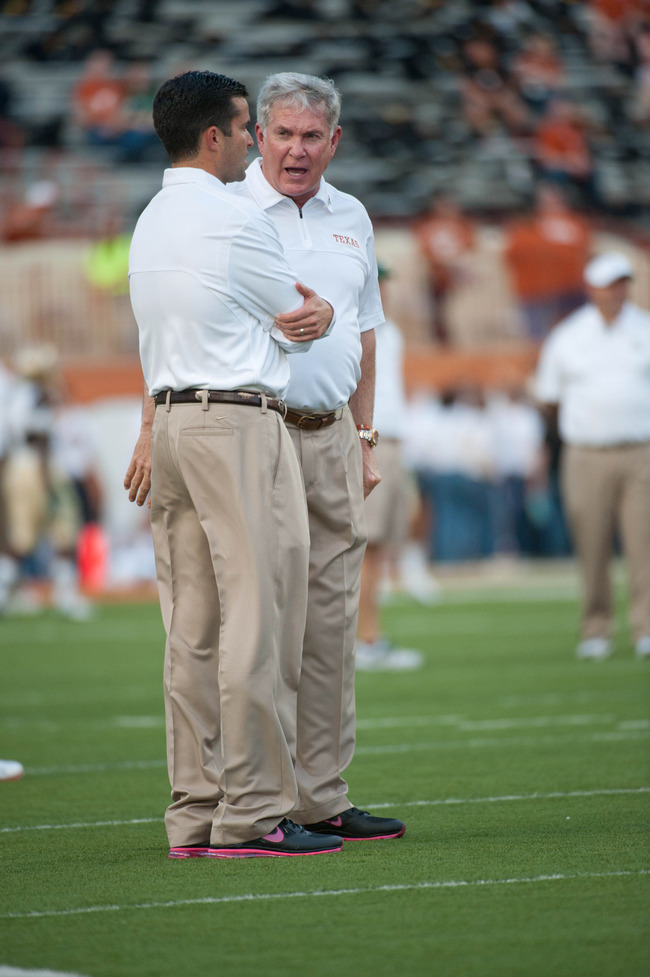 Brendan Maloney-US PRESSWIRE
On one bright side, the Longhorns defense gave up just 273 yards of offense to the Jayhawks, almost 200 yards fewer than Texas' season average allowed.
But against the run, Texas gave up 234 yards to Kansas, more than its 215 yards-per-game average coming into the contest.
Individual mistakes may fall on the players, but the collective mistakes that consistently span across a range of games fall on the defensive coach.
The poor positioning, bad angles and bad tackling have to get better, and it has to start with the coach.
Keep Reading

Texas Longhorns Football: Like this team?