Michigan State vs. Wisconsin: Live Scores, Analysis and Results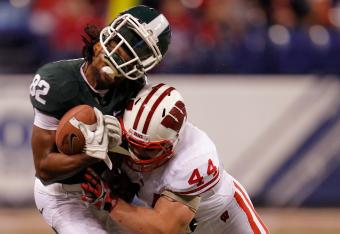 Gregory Shamus/Getty Images
Michigan State 16, Wisconsin 13 - Final
The Spartans shock the #25 Badgers at home. The Spartans had been held to 3 points late in the fourth quarter before scoring a touchdown to tie the game, and matching a Badger field foal in overtime with a touchdown for the win.
Keep this page open for live analysis and commentary.
Wisconsin's home winning streak is snapped, not surprising that Michigan State is the team do it given the recent history between the two teams.
TOUCHDOWN MICHIGAN STATE

#25 Badgers lose at home

Michigan State 16, Wisconsin 13 Final
TOUCHDOWN MICHIGAN STATE

Going to overtime
Wisconsin 10, Michigan State 10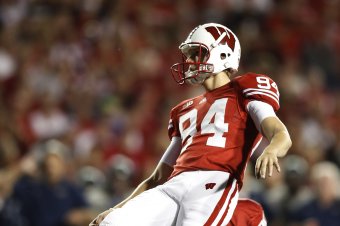 Tom Lynn/Getty Images
FIELD GOAL WISCONSIN

Kyle French nails a 39 yard field goal to give the Badgers a 7 points lead

Wisconsin 10, Michigan State 3
MSU Fumbles Wisconsin recovers on the MSU 18.
Montee Ball rushes for 7 yards AKA the longest run of the ballgame. That was not a joke or sarcasm, no team has a run longer than 7 yards.
This game continues to be about field position. It seems like the first team to pull out a big play will win. Considering the most exciting play so far has been an Ally Bank commercial the finale should be interesting.
Danny O'Brien throws it away on third down due to heavy MSU pressure, Wisconsin forced to punt.
Joel Stave will not return to the game after injuring his shoulder
End of the 3rd... only means one thing in Madison.
Botched Snap, Wisconsin uses the Wild Badger formation (direct snap to James White) and the ball is snapped over the tailback's head.
Jared Abbrederis takes a deep punt and returns it to about midfield. A special player with a fantastic name.
Offsetting penalties negate what would have been a big Spartan gain via a pass interference call.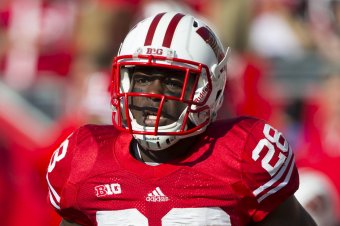 Jeff Hanisch-US PRESSWIRE
Montee Ball back to "ballin" it seems.... sorry, sports puns are the worst.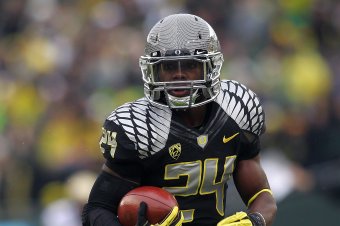 Jonathan Ferrey/Getty Images
Wisconsin repays in kind, forces a MSU three-and-out. The Oregon Ducks have scored more points in 90 seconds than either one of these teams have mustered in more than a half.
Michigan State forces a three-and-out to start the half. Wisconsin has to be less than thrilled to see Stave replaced by a guy they benched a couple weeks ago.
Joel Stave is hurt, ACC transfer and opening day starter Danny O'Brien comes into the game.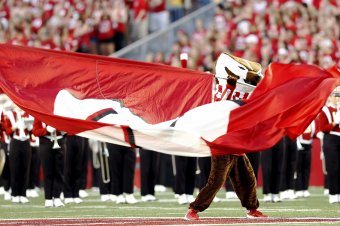 Tom Lynn/Getty Images
Bucky usually has to do more push-ups, only 7 at the half. Looks like Wisconsin will need to make some adjustments if it wants to put up significant points against a supremely talented Spartan D.
Does the Big Ten really think that by airing commercials about honoring legends and creating leaders we will forget how ridiculously stupid the division names are?
It will be interesting to see if the power running game of both teams used the first half to soften up the opposing defenses and will explode in the second half, or if both the Michigan State and Wisconsin D's can stay stout against the run.
Wisconsin Punts with 1:17 left in the half. It will be interesting to see if Michigan State tries to push the ball, or plays it safe.
22 rushes for 22 yards combined for both MSU and Wisconsin. Kind of surprising given how dominant both Ball and Bell can be.
Does anyone not love the Buffalo Wild Wing commercials?! Have we not all watched football under less than ideal conditions?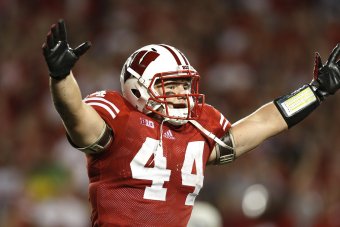 Tom Lynn/Getty Images
Chris Borland knocks down a Maxwell pass attempt in coverage. Wisconsin LB play has been crazy good.
Botched Snap on the Punt Michigan State recovers deep in Wisconsin territory
This article is
What is the duplicate article?
Why is this article offensive?
Where is this article plagiarized from?
Why is this article poorly edited?