New York Mets: 5 Realistic Moves Team Should Consider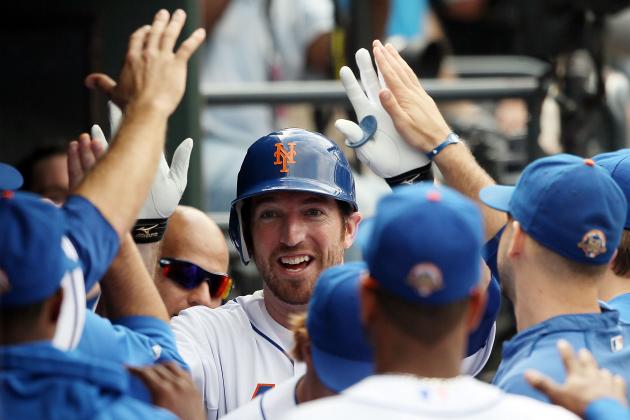 Alex Trautwig/Getty Images

If this was the Omar Minaya era, the New York Mets could potentially be one Josh Hamilton signing short of becoming a 90-win team, much like they became once they acquired Carlos Delgado to protect Carlos Beltran in the middle of the order.
Unfortunately, this is not, and the team has announced the payroll will remain in the same vicinity entering 2013.
Unless they are duping us all, they will be forced to improve the team via trades and free agents who are unlikely to garner much attention.
Here are the five moves the team could realistically pull off and improve the team without adding payroll.
Begin Slideshow

»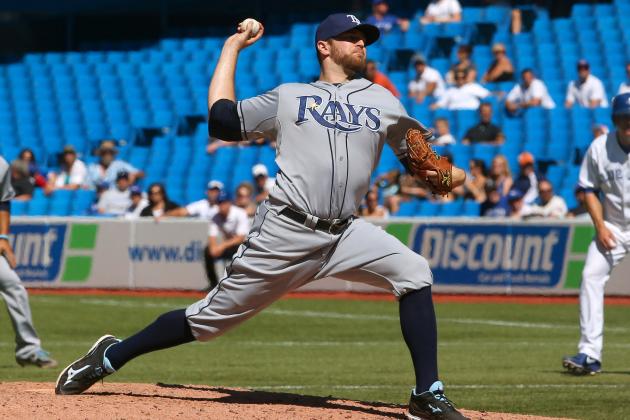 Tom Szczerbowski/Getty Images

Daniel Murphy is the type of player that is a solid but expendable player for an MLB team. He has posted an OPS+ as high as 126 in a full season, but is not a terrific fielder (15 errors in '12) and does possess much power.
As a proven big league hitter with a .292 career average over 1601 at-bats, Murphy has value on the trade market.
The perfect team for him would be the Tampa Bay Rays, who pride themselves on a team of hard-nosed and intense players that benefit from playing under Joe Maddon.
The former American League Manager of the Year has found places for defensively challenged players to thrive—such as Ben Zobrist—and converted them into All-Stars.
The Rays have a bevy of power arms and have zero trouble developing and replenishing arms with their deep minor league system.
Wade Davis is a 27-year-old converted starter who had a tremendous 2012 campaign, posting a 2.43 ERA and 1.09 WHIP over 54 appearances spanning 70 innings.
He could be a late-inning reliever that could potentially challenge Frank Francisco for the closer spot.
Additionally, he is under team control until 2016.
Second base could be filled in by Jordany Valdespin or possibly filled via free agency with a cheap defensive-minded player such as Jeff Keppinger.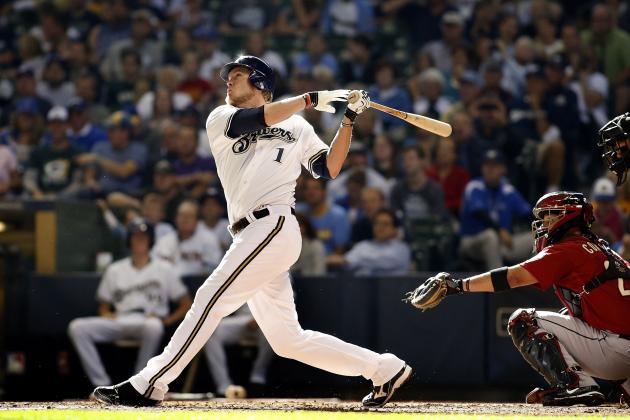 Mark Hirsch/Getty Images

I have pointed this out in the past, and I will continue to stand by it.
Perhaps another player, such as Elvin Ramirez, would be needed to finish the deal, which I would not have a problem with.
Is it a bit curious the team allowed the story regarding Davis' nightlife to leak out of nowhere, just as he began to turn around his season?
Certainly.
This trade is not because Ike Davis is a poor player or he parties too much, however.
This move would be made with one reason in mind: Allocating power throughout the lineup.
Yes, Davis hit 32 home runs and plays a tremendous first base, but by acquiring Hart, the Mets would put a competent bat in the outfield while preventing Lucas Duda from playing the outfield.
Duda would shift over to his natural position of first base. He may never be a Gold Glove caliber player, but his true contribution would be with the bat.
In 2012, Duda was sent down due to his inconsistencies.
He still managed to hit 15 home runs in 400 at bats, which would be close to 30 home runs over the course of a full season.
The .239 average is not acceptable, but Duda did hit .292 in '11, which is reason for optimism in Queens, especially for a player who will begin 2013 at age 27 and ready to hit his statistical prime.
Corey Hart smacked 30 home runs in '12, which was pretty much the norm for his career. He is still only 30 years old, which could mean he has a few more solid seasons left.
He would lengthen out the Mets lineup, and he has posted an .896 OPS against left-handed pitchers in his career.
The Brewers have already shown they could replace Prince Fielder and remain a competitive team, and they could be looking to get younger.
Davis could help that movement.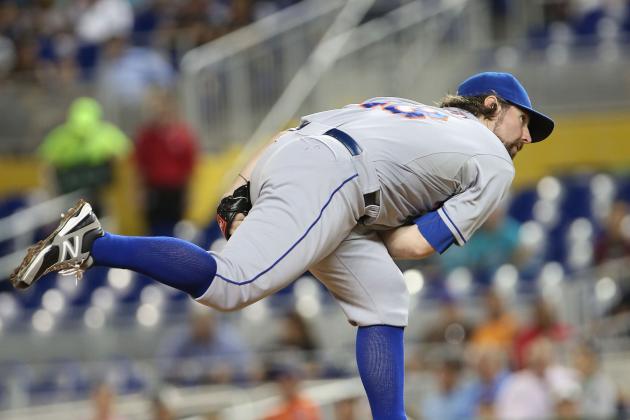 Marc Serota/Getty Images

This one hurts me the most to say.
It is a distinct possibility, however, that the Mets can deal Dickey while his value is at its peak, possibly coming off a Cy Young season, in order to improve other aspects of the team and avoid paying him as one of the league's top pitchers.
I attempted for a long time to find a perfect fit for Dickey.
It's very hard to find a team, however, that would be willing to trade elite prospects for a 37-year-old knuckleballer.
Some of the teams with pitching trouble have thin minor league systems, such as the Minnesota Twins, Colorado Rockies and Houston Astros.
The Mariners seemed like a possibility considering their weaknesses and Jesus Montero potentially blocking Mike Zunino from the majors, but he has not been signed to a pro contract for a full year, which prevents him from being traded.
I think a team will ultimately give up one elite prospect and possibly a second upper-echelon one, considering Mets GM Sandy Alderson was able to net Zack Wheeler for an injury-plagued Carlos Beltran who was in a contract year.
The Mets are very thin on positional prospects, which does not limit who they could trade him for. Ideally, they could get an MLB-ready catching prospect such as Travis d'Arnaud, but Toronto is unwilling to deal him.
They also could use more outfield depth.
If I had to bet, he will be dealt to Texas—returning to the team that originally drafted him—for a package including a prospect such as Jorge Alfaro, who is among the best in the minors.
Jeff Golden/Getty Images

I have spoken about the Mets' bullpen extensively, and I have said they should sign Joel Peralta.
They ranked 30th in the big leagues in bullpen ERA this season, and that will not improve if they fail to sign an impact reliever.
The team does not have the resources to bring in one of the proven closers, such as Jonathan Broxton, so they must be creative.
Peralta does not get publicity, especially in the same Tampa Bay bullpen which featured Fernando Rodney setting the single-season record for ERA by a reliever (.60).
He did, however, post a terrific season and limits baserunners, which is crucial. A hard throwing, intense reliever, who has amassed a WHIP under 1.00 for the past three seasons, is undervalued in my opinion.
He could be had at a reasonable price, and he would help the bullpen greatly.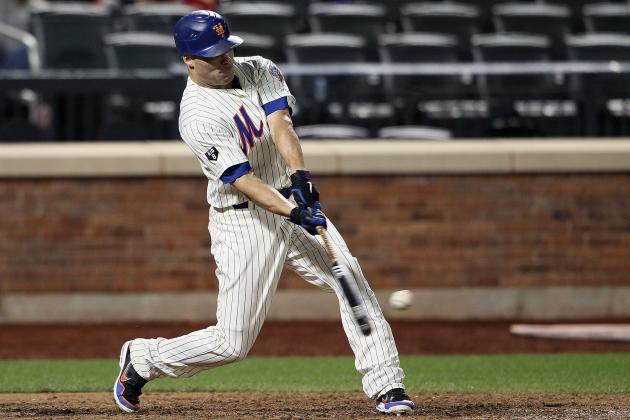 Alex Trautwig/Getty Images

With the combination of Scott Hairston posting a career-high in home runs with 20, and the incredibly inept level of power in the outfield, the team must re-sign him if they plan on having a respectable team.
Unless they are looking to add a player such as Josh Hamilton, Michael Bourn or Shane Victorino, they have no excuse for letting one of their 2012 bright spots depart.
Hairston mashes the ball against lefties, was terrific off the bench and is a leader on the team.
There's not much else to say considering he has proven himself to be a productive player in New York. He will certainly ask for a pay increase, but at 32 years old, he won't be looking for a long-term contract.
Having only made $1.1 million in '12, he definitely gave the Mets a great deal of value for his pay.