WWE Hell in a Cell 2012 Predictions: Brock Lesnar Returns?
WWE Hell in a Cell will be live this Sunday in Atlanta.
Yours truly will be on hand at ringside, and I am looking forward to the show.
There will be six matches on the card, with a possible throw-in US Championship match to add to the card.
As of now, only the WWE Championship match between CM Punk and Ryback will be contested inside of the ominous cell.
This event has the looks of an exciting show and a lot of unexpected moments are likely.
John Cena will open the night with a pre-show before the event. It isn't clear what Cena's role, if any, will be at Hell in a Cell.
However, I wouldn't be surprised if we don't see him during the WWE Championship match at some point.
Cena's interference in the WWE Championship match is likely to be upstaged by the man he defeated at Extreme Rules earlier this year, Brock Lesnar.
Begin Slideshow

»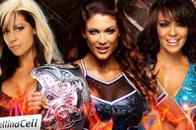 Image courtesy of WWE.com
It seems as if the entire women's division is out to get Eve and her Divas Championship.
At this point, it would be a miracle for her to hang on to the title.
Look for the girl with nothing to lose, AJ Lee, possibly interfering in this match, potentially helping Eve retain the title in the process.
Winner: Eve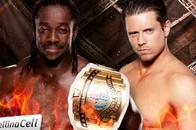 Image courtesy of WWE.com
The WWE Intercontinental Championship has always been my favorite title in the WWE, especially in the early '90s when the likes of Shawn Michaels, Razor Ramon and Bret Hart carried it.
I love the new/old look to the title; bringing back the white leather strap gives a nostalgic feel to the title.
The reason I mention this is because, up until this year, the Intercontinental title seemed to have fallen by the wayside.
The Miz has brought back some excitement to that title, and I look forward to seeing him get the belt back this Sunday in Atlanta.
I will be holding up my "Haters, Keep Hating" Miz sign while wearing my Miz "Haters Love Me" t-shirt.
I am a bit biased with this choice but proud of it—Miz wins!
Winner: The Miz (new Champion)
Image courtesy of WWE.com
I am the Tag Team Champions?
Kane and Daniel Bryan are quite the odd tag team couple, but they are still a force to be reckoned with.
When all the slap-stick comedy is put to the side, you got the monster, Kane, and the mat technician, Daniel Bryan, as a pretty darn good team.
On the other side, Team Rhodes Scholars are pretty impressive as well.
The intellectual duo defeated three other tag teams in a four-week tournament on WWE Raw to get this opportunity.
I can't foresee the Rhodes Scholars getting out-smarted in this match, and the back-and-forth confrontations between Bryan and Kane will likely lead to them losing their titles and setting up a possible Survivor Series match between the two as respective captains for their teams, Team Yes vs. Team No.
Winners: Rhodes Scholars (new Champions)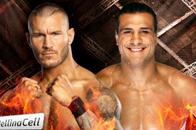 Image courtesy of WWE.com
The Apex Predator Randy Orton is once again sporting his look that got him his first major championship in 2004.
The once nearly bald reptile is now looking like the good old days again with his old hair style.
I would really like to see Orton go on another big run heading into WrestleMania 29 next year and be a possible main-eventer once again.
Oddly enough, it was at last year's Hell in a Cell in New Orleans that Randy Orton last competed for a major championship at a pay-per-view.
I am hoping that this singles match with Alberto Del Rio will end that streak and that Orton can stay healthy and compete in the main event again.
Beating the likes of Del Rio could spark the fire needed back inside of Orton to drive him back to the top of his game.
The next RKO hit by Orton could be one of the most important of his career; he can go up, or down from here.
Winner: Randy Orton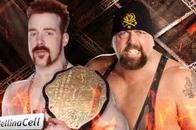 Image courtesy of WWE.com
In an 18-second victory over Daniel Bryan at WrestleMania XXVIII, Sheamus won his first World Heavyweight Championship and third major championship in the WWE (two-time WWE Champion).
Nearly seven months later (or "seven monts" in Sheamus talk), the red-headed Irishman still holds that prestigious crown.
Big Show last won the World Heavyweight Championship when he defeated Mark Henry at last year's Tables, Ladders and Chairs event.
Unfortunately for Show, Daniel Bryan cashed in his Money in the Bank contract on him and won the title just minutes after Show attained it.
I can see the same thing happening tonight if Show wins, and I believe he will.
Winner: Big Show (new Champion)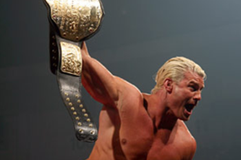 As mentioned in the last slide, I picked Big Show to defeat Sheamus for the World Heavyweight Championship.
However, I expect lightning to strike twice for Big Show, as his bad luck will continue.
Last year, Big Show only retained the title for a short time after defeating Mark Henry at TLC, and I expect more of the same this Sunday in Atlanta.
Before the announcer can say, "New Heavyweight Champion," Dolph Ziggler will be there to "show the world" that the show-off has what it takes to be a major champion in the WWE.
Winner: Dolph Ziggler (new World Heavyweight Champion)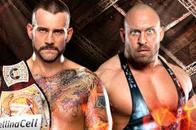 Image courtesy of WWE.com
The match that everyone has been waiting for, the undefeated Ryback vs. WWE Champion CM Punk.
It is crazy to believe that CM Punk is only a month away from being the WWE Champion for a full calendar year.
Though no one is ever likely to reach the marks set by Bruno Sammartino, Pedro Morales, Bob Backlund or Hulk Hogan for days holding the WWE title, Punk is doing something only one other wrestler has done in the last 18 years.
Not since Diesel in 1994 has a wrestler in the modern era held the title for over 300 days, besides John Cena in 2007 and CM Punk's current reign.
It is hard to bet against "The Best In The World," even surrounded by steel against the undefeated beast Ryback.
However, Punk has an ace up his sleeve, and that is of his manager Paul Heyman.
I expect Heyman and his goon to play a key role in this match, and even with the help of John Cena, Ryback will come up short in this match.
Who is this goon, you ask? Well, Brock Lesnar, of course.
This could set up a Survivor Series tag team match next month with Ryback and Cena teaming up vs. Punk and Lesnar.
Or another theory, the returning Ric Flair could assemble a classic Survivor Series five-man team involving Cena and Ryback to go up against a team set up by Paul Heyman.
Winner: CM Punk
Follow me on Twitter @nyyrobinson.