Virginia Tech vs. Miami: 5 Ways the Hurricanes' Season Can End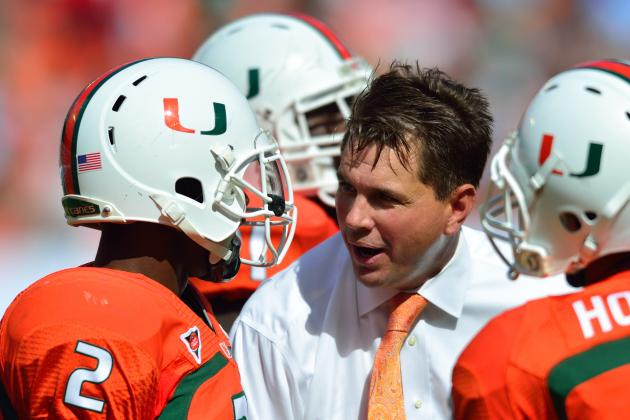 Steve Mitchell-US PRESSWIRE
Second-year coach Al Golden could end with either a memorable season or disappointment.
The Miami Hurricanes started fast in the 2012 season, but three consecutive losses have brought disappointment to South Beach.
Though a 4-4 record is not what the coaches, players or fans want to see, there are plenty of encouraging factors due to a weak Atlantic Coast Conference.
The Hurricanes are again tied for the division lead after the Florida State Seminoles dismantled the Duke Blue Devils on Saturday.
Another favorable sign is that Miami's remaining schedule is not against top-tier teams. Opponents include the Virginia Tech Hokies, Virginia Cavaliers, South Florida Bulls and Duke.
With Stephen Morris, Duke Johnson and Denzel Perryman nursing small injuries, Miami's bye week could not have come at a better time.
Thursday's contest against the Hokies will likely decide the Coastal Division crown, but here are five ways that the Hurricanes could finish the season.
Begin Slideshow

»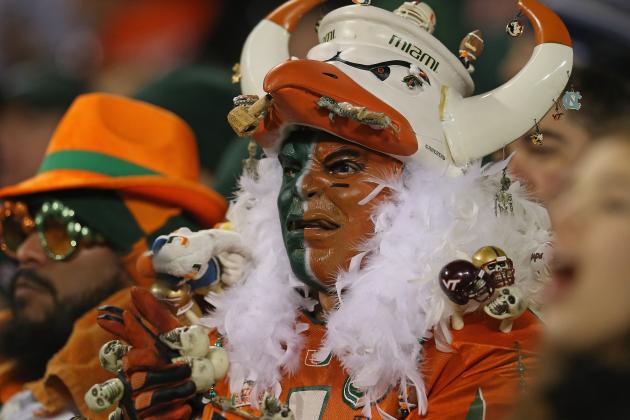 Jonathan Daniel/Getty Images
An 0-4 or 1-3 finish to the season would certainly cause a few looks like this.
While Miami has played great in some games, there have been many times where it has lacked execution.
If Morris doesn't get back to his early-season form, Johnson can't overcome his turf toe injury and the defense continues to allow 500 yards per game, the remaining games might get ugly.
Virginia Tech's offense could run all over the Hurricanes behind Logan Thomas.
Virginia and South Florida are not having great seasons, but Mike London's Cavaliers defeated Miami last year and the Bulls still have the dynamic B.J. Daniels.
QB Sean Renfree has led the upstart Blue Devils to bowl eligibility for the first time since 1994.
No game is a cakewalk and a five-win season would be a horrific ending to Miami's 2012 campaign.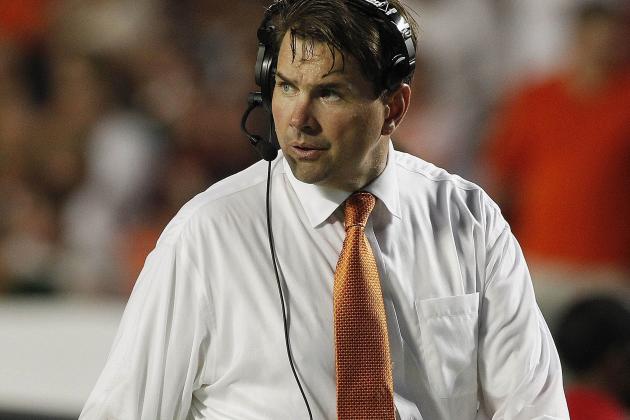 Robert Mayer-US PRESSWIRE
Golden wouldn't be happy with a 6-6 record he had in his first season, too.
Thankfully for the Hurricanes, this isn't the same Hokies team as last season.
But it's still pretty good.
And unfortunately for Miami, this isn't the same Blue Devils team, either.
Virginia Tech could win at Sun Life Stadium on Thursday, while Duke will be at home against the Hurricanes in late November.
While Miami likely defeats Virginia and South Florida, the Hokies and Blue Devils will be tough games.
If this were to happen, the Hurricanes should consider forgoing postseason play again this season due to impending NCAA sanctions.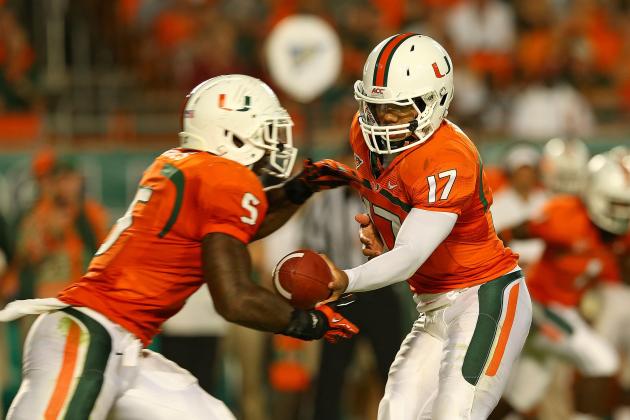 Mike Ehrmann/Getty Images
Mike James has already eclipsed his career-high of rushing yards in a season.
Miami's ACC Championship hopes will be determined in Thursday night's game against Virginia Tech.
Logan Thomas engineered the game-winning drive for the Hokies in last season's matchup in a 38-35 thriller.
Both teams have two losses thus far in ACC games. The North Carolina Tar Heels are ineligible for postseason play, while the Blue Devils have remaining games against the Clemson Tigers, Georgia Tech Yellow Jackets and Miami.
The Hurricanes will likely have a tough time defending the run as the Hokies average more than 150 yards per game.
Duke is a very beatable team, but it's on Miami's defense to step up against Renfree.
With no division title won, skipping a bowl game will probably again be considered in Coral Gables.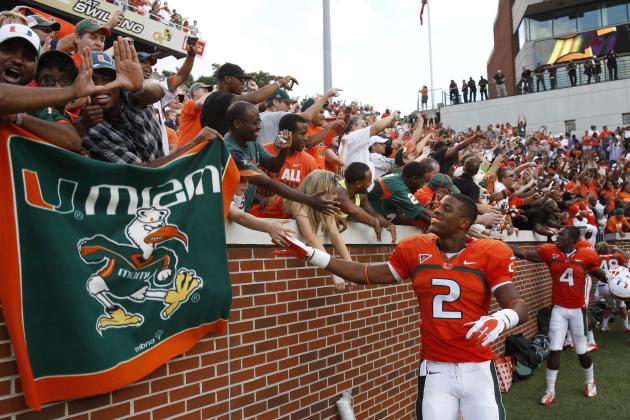 Joe Robbins/Getty Images
Hurricane fans haven't celebrated a victory since North Carolina State.
If Miami beats Virginia Tech, it control its own destiny in the Coastal Division.
The Hokies face Florida State the following Thursday and could suffer their fourth conference loss in a season for the first time since 2002.
With Virginia Tech out of the picture, the contest with the Blue Devils on November 24 becomes a must win.
Miami could, however, drop the contest with Virginia and still win the division if it beats Duke—a testament to the struggling ACC.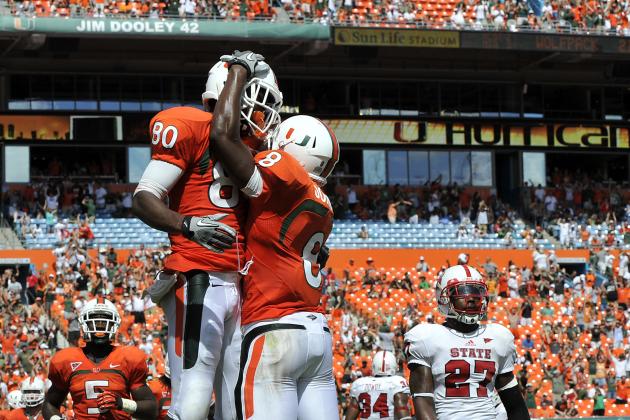 Steve Mitchell-US PRESSWIRE
Rashawn Scott and Duke Johnson have been two dynamic players for Miami.
The hopeful outcome is naturally to defeat the rest of the schedule.
Al Golden has repeatedly preached "the process," and it may be expedited by the struggling ACC.
Miami's remaining opponents post a 14-19 record combined.
A win against the Hokies could spark a 4-0 finish for the Hurricanes, resulting in a trip to the ACC Championship Game and a likely rematch with the rival Seminoles.
Stephen Morris has shown he can win games. Mike James and Duke Johnson are this year's version of "Smash and Dash" for Miami. Phillip Dorsett and Rashawn Scott have stretched defenses. Denzel Perryman is still a force on defense, while Eddie Johnson and Shayon Green have stepped up this season.
It's simply a matter of putting everything together on game day.
But the Hurricanes can't win four in a row without beating the Hokies.
It's a process, remember?