Florida State vs. Duke: Complete Game Preview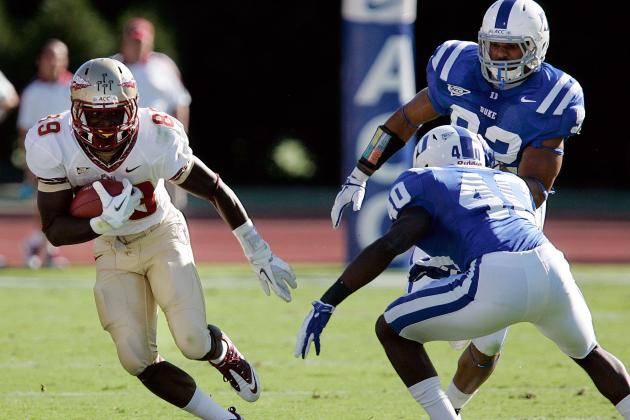 Mark Dolejs-US PRESSWIRE
FSU destroyed Duke on the road last year.
In some university somewhere, I'm sure scientists and theoretical mathematicians have been waiting for the perfect time to test their long-held theory.
Duke is bowl-eligible. Therefore, anything is possible.
It's taken 18 years, but the Blue Devils have finally surpassed the doldrums and could make things relatively interesting in Tallahassee on Saturday. WhatIfsports.com actually predicts FSU to win by under a touchdown, despite the Seminoles having the Homecoming crowd advantage. Given the fact that Jimbo Fisher is 0-2 in Homecoming games, that should catch people's attention.
Duke, riding the high of last week's thrilling win against UNC, currently leads the ACC Coastal Division. That says a lot more about the state of the Atlantic Coast Conference than Duke University, but let's not assume anything is for sure.
After all, Duke is bowl-eligible.
Begin Slideshow

»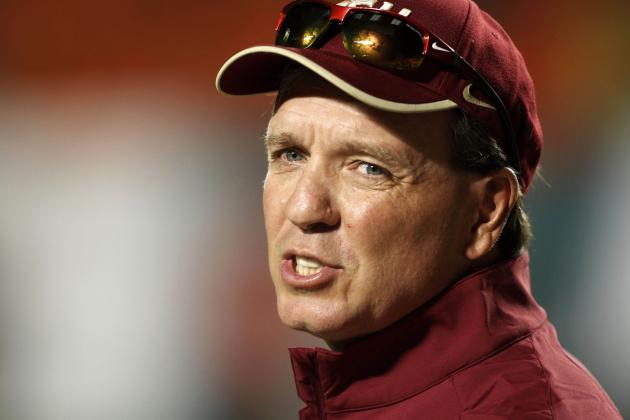 Robert Mayer-US PRESSWIRE
Just because it's Homecoming, don't expect a complacent Jimbo.
Who: Florida State vs. Duke
When: Saturday, 3:30 PM EST
Where: Tallahassee, FL
Stadium: Bobby Bowden Field at Doak Campbell Stadium (capacity 83,200)
TV: ESPNU
Radio: Sirius XM (among others)
Locally: Check out Seminoles.com's listing to the left
Internet Stream: Not applicable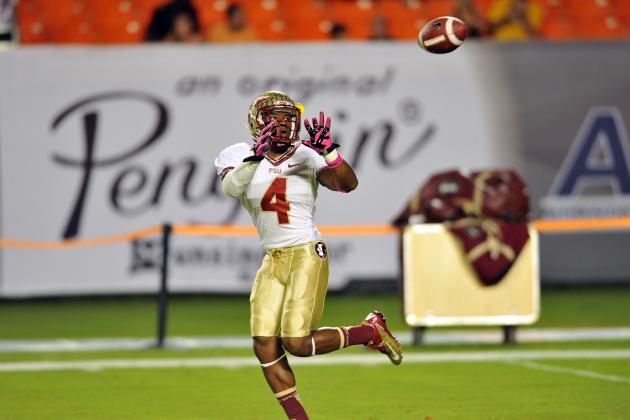 Steve Mitchell-US PRESSWIRE
Chris Thompson's injury dampens some Seminole pride.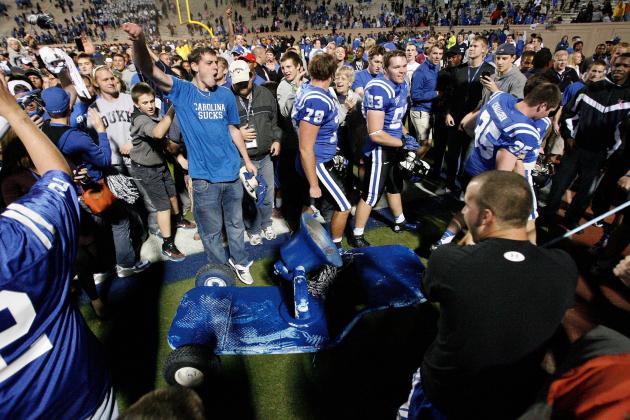 Mark Dolejs-US PRESSWIRE
Duke celebrates its victory over UNC and bowl-eligibility.
Duke's depth chart has taken quite a hit.
The Blue Devils lost starting safety Brandon Braxton in practice this week and will likely have to rely on freshman Dwayne Norman to fill the role. Norman is one of many backups on the defense filling in for injured players.
In addition, wide receiver Conner Vernon is hurt from a hit during a substitution from last week's UNC game.
Duke has yet to have a bye week, so some speculation that Duke might rely on backup players in Tallahassee is grounded in solid logic.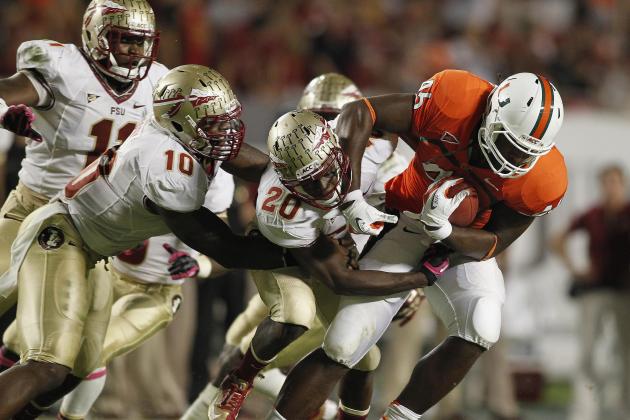 Robert Mayer-US PRESSWIRE
The Seminoles suffocated the Hurricanes' offense.
After spotting Miami an early 10-0 lead, Florida State gradually came back into the game. Facing a gigantic Miami crowd on the road, the Seminoles' offense did not execute as often as it should have; nevertheless, Jimbo Fisher's team entered halftime with a 13-10 lead they would never relinquish.
Beloved back Chris Thompson was lost to a season-ending injury for the second year in a row, and has applied for a medical redshirt. In his absence, James Wilder, Jr. and Devonta Freeman combined for three touchdowns and sealed a 33-20 FSU victory that wasn't as close as the final implied.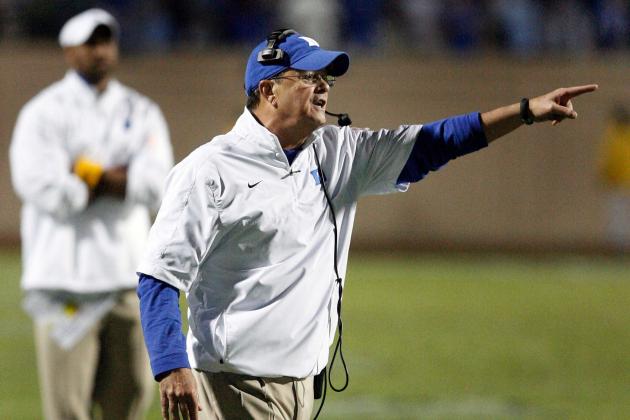 Mark Dolejs-US PRESSWIRE
Coach David Cutcliffe finally did the "impossible" at Duke.
Well, basketball season hasn't started yet, but it will soon. So not much is happening in Durham.

Oh, wait. I forgot already.
Duke is bowl-eligible for the first time in 18 years!
Coach Dave Cutcliffe's team, having surrendered a two-touchdown lead in the fourth quarter, led a legendary drive. The Blue Devils converted on three third-down situations and scored the game-winning touchdown on fourth down with 13 seconds left in the game.
In addition, last Saturday's victory gave Duke the current lead in the Coastal Division--though with FSU, Clemson and Miami still left on the schedule, that will quickly change.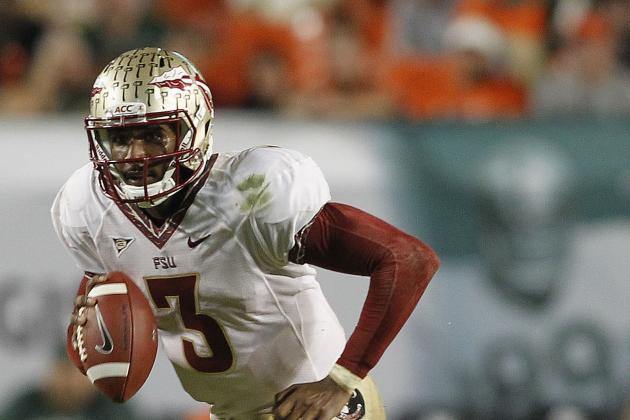 Robert Mayer-US PRESSWIRE
Implications for the ACC Championship Game are at stake.
Florida State and Duke cannot afford a conference loss.
The Blue Devils have a killer schedule that will likely leave the team at 7-5, so the odds of the team winning the ACC title are nearly nil.
Florida State is caught in a logjam for first place in the Atlantic Division. Clemson, N.C. State and Maryland each have one loss in conference play. If Florida State loses, the Seminoles would still have a shot at taking down the Terrapins in College Park. N.C. State will likely lose to Clemson, taking them out of the equation.
But the way Clemson is playing football right now, the Tigers will likely finish 7-1 in the ACC. The Seminoles would need Clemson to lose a second time. But FSU already beat Clemson in September. If the Seminoles lose, they are at the mercy of Dabo Swinney's team dropping the ball to advance to the ACC championship.
Though the Tigers have been professional choke-artists, that era is quickly ending. Thus, a loss to Duke would likely end FSU's campaign to win the ACC.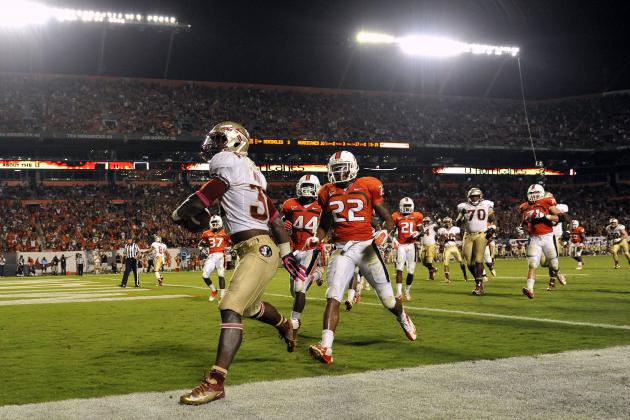 Steve Mitchell-US PRESSWIRE
James Wilder, Jr., has the explosiveness FSU needs.
Chief Osceola's spear has knighted James Wilder, Jr. as Chris Thompson's replacement.
Wilder has the physicality to lead Florida State's offense, which is in need of a new leader on the ground. Wilder, veteran Lonnie Pryor and speedy Devonta Freeman all could be the leading tailback, but, as the starter, Wilder is responsible for gaining yards when the game occurs in the trenches.
Quarterback E.J. Manuel has proven he can lob the football, but the Seminoles need to find a new offensive equilibrium before traveling to Virginia Tech.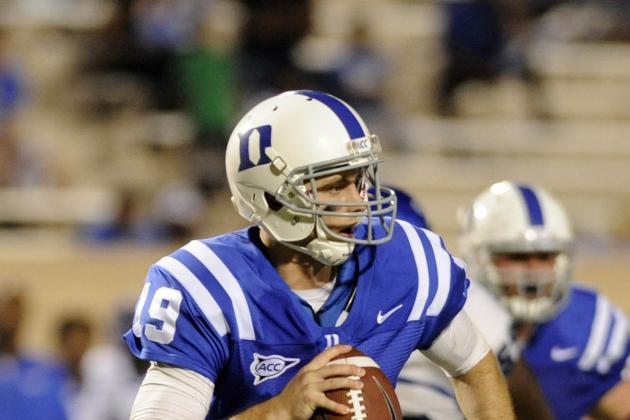 Liz Condo-US PRESSWIRE
Sean Renfree is Duke's only hope.
Duke's only chance of winning this game will come from starting quarterback Sean Renfree.
This team's defense is too battered to keep FSU off the scoreboard, so Renfree will need to have a record-setting day against Florida State's defense to win.
Renfree's completing a commendable 69.2 percent of his passes, but has an 11-7 touchdown-to-interception ratio. Seven of those touchdowns—and only one pick—came against North Carolina Central and Memphis. Tossing those cupcake-game statistics out, Renfree has thrown four touchdowns and six interceptions. Obviously, Renfree will have to lead drives like the one he led last week against UNC late in the fourth, as he needs to shift from being a game manager to getting the Seminoles' defense on its knees.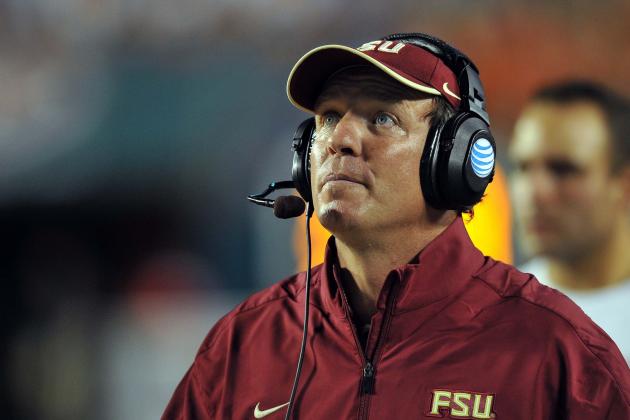 Steve Mitchell-US PRESSWIRE
Jimbo Fisher is still seeking his first Homecoming victory.
1. They remember this isn't an ordinary Duke football team.
2. E.J. Manuel takes advantage of Duke's battered defense.
3. James Wilder gets enough reps to take pressure off of Manuel.
4. Dustin Hopkins can make the kicks he's proven he can still make (the Seminoles lost last year because Hopkins missed a game-winning field goal)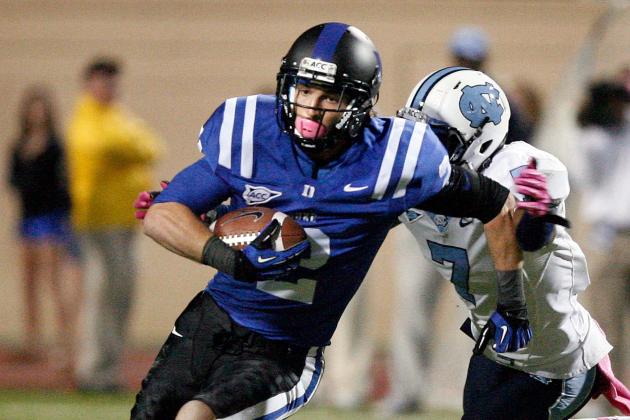 Mark Dolejs-US PRESSWIRE
Can Duke score a monumental upset?
1. FSU has injuries in the secondary.
2. Sean Renfree throws the ball early and often.
3. Florida State keeps committing penalties.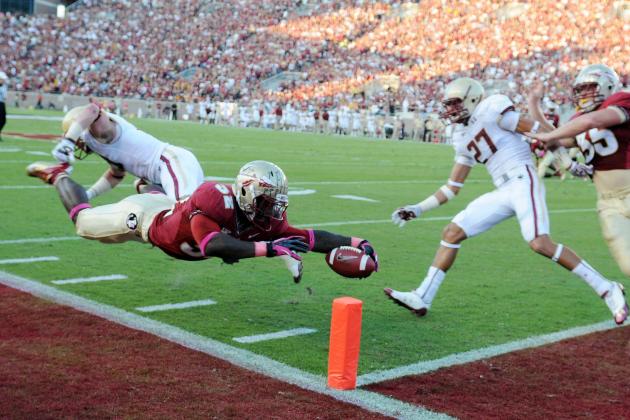 Melina Vastola-US PRESSWIRE
The Seminoles will edge out the Blue Devils.
Florida State, mad from its penalty-palooza on the road, will play disciplined football.
Duke, still riding the euphoria of beating UNC and being bowl-eligible, will fall behind quickly. The Blue Devils will score some touchdowns in the second half, but the Seminoles will take advantage of Duke's weak scoring defense to win handily.
Final: Florida State 51, Duke 20