WWE SmackDown: 5 Talking Points from This Week's Show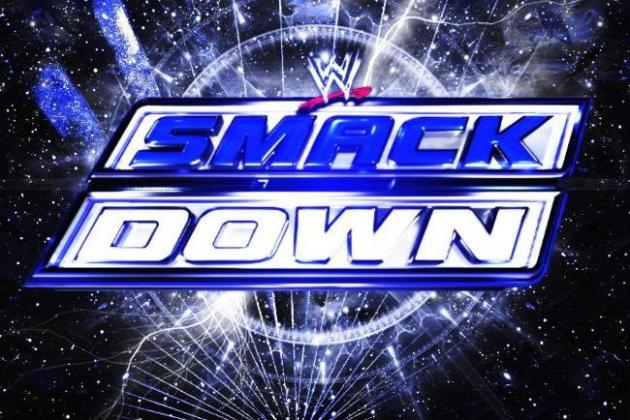 Photo courtesy of Bleacherreport.com
In what was the final piece of WWE programming before Hell in a Cell, SmackDown produced a great show filled with key storyline developments.
This Sunday's pay-per-view now looks pretty much good to go, with issues surrounding virtually every match of the Hell in a Cell card being addressed on SmackDown. The only exception was the CM Punk/Ryback rivalry which has essentially been reserved exclusively for Monday Night Raw.
But which of these issues were the most important?
Once again, we take a look at the five key talking points to emanate from SmackDown this week, discussing their impact on future events, particularly those of Hell in a Cell.
Begin Slideshow

»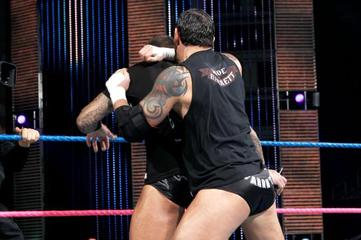 Photo courtesy of WWE.com
SmackDown kicked off with a solid segment between Randy Orton and his PPV opponent Alberto Del Rio, but there was a real twist in the end as Wade Barrett emerged to jump Orton from behind.
This set up a match later in the night between the former adversaries which ended in a big win for Barrett, capping off a strong but steady return from injury for the Englishman.
The surprising thing here, though, is he is not scheduled to be involved in Hell in a Cell this week, despite having featured in main event-calibre matches over the course of the last few weeks.
Does this mean he is being saved for a big feud after the PPV? Perhaps, but it appears just as likely that the Barrett Barrage could strike as early as this Sunday, either in the World Heavyweight Championship encounter or the Orton vs. Del Rio grudge match.
To have him feature so prominently in recent weeks, only to disappear again come the big event this Sunday would seem questionable to say the least.
I for one wouldn't be surprised to see an interference from Barrett at Hell in a Cell, setting up some form of future feud for the former bare-knuckle boxing champion.
Photo courtesy of WWE.com
I'm not talking about their match in the ring here, rather the verbal contest that we saw between the two on commentary during their respective partners' match.
The two were highly amusing, as Sandow continually pointed out Bryan's grammatical errors, most noticeably in proclaiming himself to be the Tag Team Champions.
Their bickering and debate was arguably more entertaining that the in-ring competition, which itself was hardly disappointing.
But perhaps more importantly their presence further added to the hype surrounding their PPV clash, with many a reference to either team's "weak link" as well as the "plan" that Sandow and Rhodes claim to have to ensure victory.
I was already looking forward to this one, but now I think it's going to be one of the highlights of the whole show.
A very good job from the WWE in promoting this one.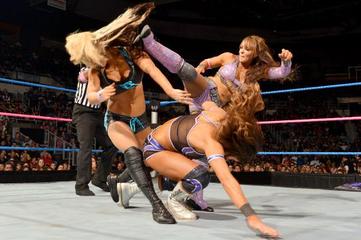 Photo courtesy of WWE.com
After weeks of controversy, a match for Eve's Divas Championship was announced on SmackDown; a Triple Threat contest between the Champion, Kaitlyn and Layla.
It may have been a slightly anti-climatic way of culminating the feud, and a Triple Threat between the two could be perceived as a somewhat obvious and easy way out, but I'm certainly glad that the WWE have persisted with giving the Divas a meaningful storyline.
And on top of that announcement, the plot further thickened during the resultant Tag Team match pitted Eve and Aksana against Layla and Kaitlyn.
Layla's roundhouse kick inadvertently struck Kaitlyn rather than Eve, suggesting that the Triple Threat contest this Sunday could indeed be every woman for herself.
Less impactful that some of the storylines involving the males, but a welcome change to the Divas matches of months gone by which have had little meaning or relevance behind them at all.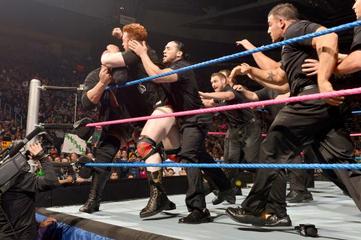 Photo courtesy of WWE.com
After weeks of berating the World Heavyweight Champion, I can finally offer Sheamus some praise.
He ditched the corny smiles and cheap crowd-pleasing antics, and acknowledged the magnitude of the task ahead before initiating a brawl with Big Show and half of the arena's security team.
Big Show also played his role in the segment well, contributing to what was a much-needed exchange between the two as we head into their title match this Sunday.
The rivalry had, in my mind, been slowly deteriorating in quality during recent weeks, but this turn of events was just the boost that was needed so close to their big match.
I am left wondering, though, how much better would this rivalry have been if Sheamus had adopted this steely attitude from the beginning?
Photo courtesy of Twylah.com
One of the biggest questions in my mind after SmackDown related to its alleged superior counterpart of Monday Nights; was SmackDown better than Raw this week?
In terms of promoting Hell in a Cell, the answer is 100 percent yes.
Raw seemed to glance over a number of issues regarding Hell in a Cell, providing as much an emphasis on the new AJ/John Cena storyline as it did for this Sunday's PPV.
While this didn't necessarily make Raw a bad show, it arguably made it less relevant and appropriate given that it was the go-home episode before Hell in a Cell.
I firmly believe that SmackDown, its roster and the WWE writers all deserve credit for really stepping up their game on the Blue Brand in recent weeks.
The show has been entertaining, exciting and highly relevant to the upcoming PPV; the perfect mix for a great WWE show.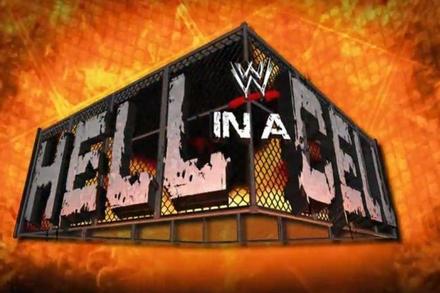 Photo courtesy of WWE.com
The stage is set for Hell in a Cell this weekend, and much of that is a result of the stellar job that SmackDown did this week.
The only negative aspect is the failure to announce a US title match for Champion Antonio Cesaro, though I'm sure that situation will be rectified at the last minute and will we ultimately be provided with a title match of some sort.
Apart from that though, things are looking somewhat more promising than many pessimists would like to admit as we roll into Hell in a Cell this Sunday.
Until then though, comment below with your thoughts on SmackDown, the talking points discussed in the article and also the Hell in a Cell PPV itself.