UCLA Football 2012: Grading Each Starter from Win at Arizona State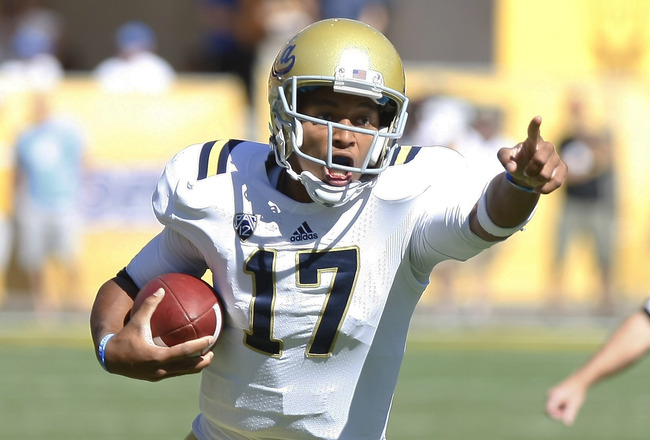 Rick Scuteri-US PRESSWIRE
For the first time since 2005, the UCLA Bruins are bowl-eligible in the month of October, sitting at 6-2 after a thrilling last-second victory over Arizona State.
QB Brett Hundley and RB Johnathan Franklin led the way for UCLA on offense, while linebacker Eric Kendricks and DE Datone Jones carried the torch on defense.
The game was far from polished, as the Bruins struggled on special teams and along the offensive line. But at the end of the day, a win is a win.
Here are the grades for every UCLA starter from the blockbuster victory in Tempe on Saturday.
QB Brett Hundley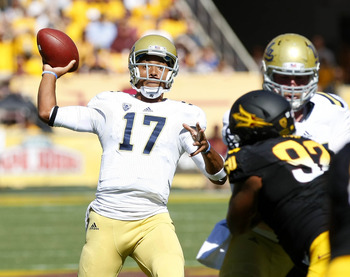 Rick Scuteri-US PRESSWIRE
In the Bruins' last road game, QB Brett Hundley played like a freshman, making poor decisions that led to turnovers and big losses, and the result was an embarrassing defeat for UCLA. But against Arizona State on Saturday, the redshirt freshman out of Chandler, Arizona played with the poise and command of a multi-year starter.
Hundley was masterful, orchestrating the Bruin attack to the tune of 274 yards passing and four TDs. He was making his reads efficiently and decisively, knowing the right time to tuck-and-run, dump it off to a hot route or even just throw it away.
And when he sensed the pocket collapsing and the pressure closing in, Hundley stepped up and made the passes he needed to make. He also gashed the defense on a few QB keepers, which were doubly effective since the Sun Devils froze up on every UCLA play fake.
His biggest miscue on Saturday came in the second quarter when the Bruins tested the ASU secondary's discipline on a 50-yard flea flicker on first-down. Hundley's deep ball sailed long, directly into the hands of senior defensive back Deveron Carr. The interception, as well as five big sacks, were the only demerits for a passing attack that rolled on all-cylinders from start to finish.
Hundley's signature moment came in the final 1:33 of the game, when he marched the Bruins down the field to calmly retake the lead with a 33-yard field goal as time expired. The impressive game-winning two-minute drill was a sign of good things to come for UCLA and its freshman signal caller.
Grade: A-
RB Johnathan Franklin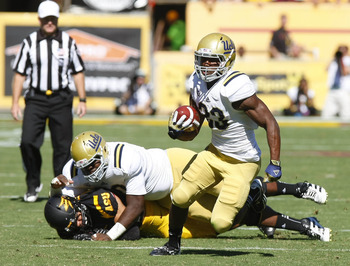 Rick Scuteri-US PRESSWIRE
Johnathan Franklin isn't just a senior captain by name. He is also the heart and soul of the UCLA huddle. His performance on Saturday in Tempe made that point all the more evident.
Franklin rushed for 164 yards and two touchdowns on 26 attempts, giving the elusive scat back a productive 6.3 yards-per-carry average. He was able to gash the ASU defense all day, breaking arm tackles and diving for bonus yardage on every rush. Franklin seemed unfazed by the hostile road environment, making the big plays when UCLA needed them most.

At one point in the fourth quarter, Franklin broke off three-consecutive five-yard runs, including an impressive rumble where he dragged ASU linebacker Brandon Magee across the first-down marker.
But his most crucial contribution didn't involve him touching the ball at all.
Franklin single-handedly prevented a few UCLA sacks, sacrificing his body to block an otherwise unguarded blitz. On one very memorable play, Franklin exploded across the backfield to make a block, opening up Hundley for a 65-yard TD pass to a streaking Damien Thigpen. If Franklin hadn't executed the hustle-play perfectly, the Bruins would have taken a big loss instead.

Grade: A+
WR/RB Damien Thigpen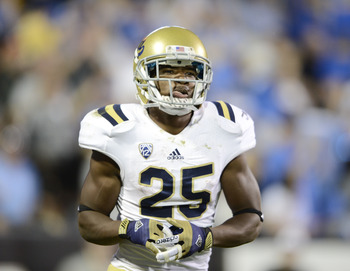 Ron Chenoy-US PRESSWIRE
Damien Thigpen had a monster game against the Sun Devils, asserting himself as a go-to playmaker in the UCLA offense. The junior RB only had one rushing attempt in Tempe, but he made his mark in the passing game, hauling in three balls for 92 yards and two touchdowns.
Both of Thigpen's scoring receptions were set up by pure speed and athleticism, as he was able to get behind the ASU defense with ease.
On the broken play that ended up a 65-yard TD, Thigpen took the pass from Hundley, turned on the jets and tight-roped his way to the end zone. And on his second TD catch, Thigpen burned a slower linebacker on a wheel route, a mismatch that Hundley easily took advantage of for a crucial fourth quarter score.
Grade: A
WR/TE Joe Fauria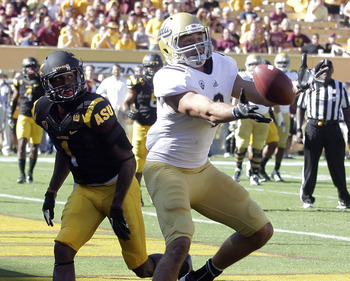 Rick Scuteri-US PRESSWIRE
There is no traditional tight end position in Noel Mazzone's offense, but big Joe Fauria has made a ton of highlight reel plays out of the tight set this season.
Fauria, a 6'7", 255-pound jump-ball specialist, had another productive outing against Arizona State, hauling in three balls for 25 yards and a touchdown.
Fauria also exhibited his clutch gene, making a critical sideline grab on the game-winning drive. The acrobatic catch bailed Hundley out of a tough situation and set the Bruins up a for a third-and-short that Johnathan Franklin easily converted.
If Fauria can manage to carve out a bigger role in the UCLA offense, his enormous size advantage should make him a threat over the middle on every play.
Grade: B
WR Shaq Evans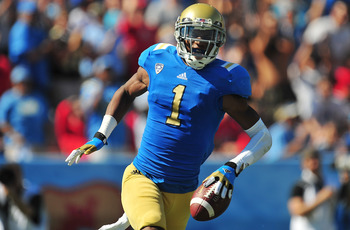 Gary A. Vasquez-US PRESSWIRE
The UCLA receiving corps has been obliterated by injury this season, but the play of junior wideout Shaq Evans has been one bright spot for an otherwise hazy outlook.
Against the Devils on Saturday, Evans battled a slow start only to explode in the second half for 75 yards receiving on five catches, which works out to a massive 15.0 yards per reception. Evans was a major contributor with the ball in his hands too, fighting for extra yards after the catch.
In the fourth quarter, Evans came through in a big way, snatching consecutive passes of 17 and 29 yards to set up a UCLA scoring opportunity.
His numbers weren't as flashy as they have been in the past, but Evans did his job and helped the Bruins secure the victory.
Grade: B-
WR Jerry Johnson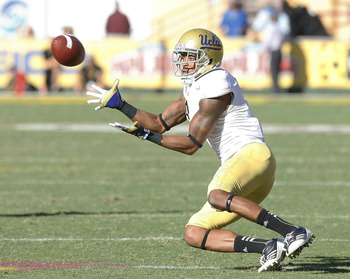 Rick Scuteri-US PRESSWIRE
Coming off a rib injury that sidelined him against Utah, senior WR Jerry Johnson was expected to provide a boost to the UCLA receiving corps on Saturday.
Unfortunately for the Bruins, Johnson was clearly hampered by injury and failed to record a single statistic.
In fact, his only memorable plays were of the not-so-nice variety. On the flea-flicker interception, Hundley targeted Johnson, who is usually able to outrun his defender and make a play on the ball. But the 6'3", 211-pound ballhawk was outpaced by a few steps on that play and couldn't even fight to prevent the easy INT.
Johnson also missed a wide open, uncontested catch late in the fourth quarter that would have given UCLA a manageable third down and a chance to run the clock out. Instead, the ball fell harmlessly to the turf, and the Bruins had to punt, clinging to just a one-possession lead.
Grade: D-
Offensive Line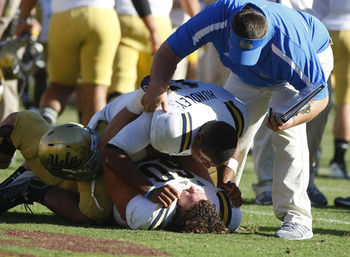 Hundley celebrates with OL Jeff Baca after the game in Tempe
Rick Scuteri-US PRESSWIRE
The UCLA offensive line had a tough day against Arizona State, giving up five sacks and numerous other hurry-up hits. The Sun Devils exploited several weaknesses along the O-line, raising a myriad of concerns for Jim Mora and his staff.
In the end, the Bruins still managed to pull out the win. But if they want to keep winning, there will have to be some answers up front. Here are the grades for each starting lineman:
LT Torian White
Redshirt freshman Torian White has started every game at left tackle and has locked down Hundley's blind side all year. Against the Sun Devils, White continued his solid play. The 6'5", 285-pound behemoth was able to consistently force the ASU pressure outside, opening up running lanes for the backs and giving Hundley plenty of time to make his reads. White should only get better as he gains more experience and adjusts to the speed of the college game.
Grade: B+
LG Xavier Su'a-Filo
Xavier Su'a-Filo is only a sophomore, but he plays with the poise of a veteran.
The 6'4", 295-pound left guard was picked to be a team captain this year, despite not playing football since 2009. On Saturday, Su'a-Filo went to work, thwarting the plans of the conference-leading ASU pass rush with an unrelenting push alongside Torian White.
The only blemish on Su'a-Filo's performance was a chop-block penalty that forced UCLA to throw when the Bruins should have been killing the clock.
Grade: B+
C Jake Brendel
The center is ultimately responsible for the execution of the entire O-line, so a large part of the blame for Hundley's five sacks falls on Jake Brendel. The freshman from Plano, Texas struggled to identify Arizona State's blitzing packages and failed to call protection assignments accordingly. As a result, Hundley and RB Johnathan Franklin took a lot of big hits. Brendel also committed a holding penalty, which makes his performance all the more forgettable.
Grade: D
RG Jeff Baca
As the only senior on the offensive line, Jeff Baca is supposed to be the glue that holds all the youngsters together. But the 6'3", 295-pound guard hasn't lived up to his lofty expectations so far in 2012.
In Tempe, Baca was beaten badly on multiple occasions, allowing his man to get into the backfield and take Hundley down. He was also called for a rare offensive facemask, a 15-yard penalty that gave the Devils another lease on life. Baca will need to develop consistency for UCLA to be successful down the stretch.
Grade: D
RT Simon Goines
True freshman Simon Goines has been a force out of the Bruins' right tackle spot, but he has battled injury in recent weeks. Goines had to exit the ASU game after re-aggravating a knee injury that he suffered against Utah before the bye week. The native of Keller, Texas measures in at a beastly 6'7", 324 pounds. UCLA will definitely miss his size along the O-line if he is forced to sit out serious time.
Grade: Incomplete


DE Cassius Marsh
Stephen Dunn/Getty Images
DE Cassius Marsh has been a consistent contributor for UCLA so far this season, but the game against Arizona State was undoubtedly his best performance of 2012.
Marsh was an absolute force in the trenches, repeatedly beating his man to get to the ball carrier in the backfield. The 6'3, 275-pound junior notched nine tackles, including six solos and a sack. But Marsh's biggest play in Tempe won't appear on any stat sheet.
With just over a minute to play in the first half and UCLA trailing by three, punter Jeff Locke pinned the Sun Devils on their own four-yard line. On the very next play, Marsh exploded off the line and got to QB Taylor Kelly in the end zone, forcing a desperate throw from the young signal caller. Safety Dalton Hilliard was there to grab the easy interception, and the Bruins scored in one play to take the lead into halftime.
Grade: A
DT Ellis McCarthy
True freshman Ellis McCarthy was the prize of Jim Mora's highly-touted recruiting class, and he has already made an impact in his first season with UCLA.
The 6'5", 330-pound DT didn't have an amazing game on Saturday, but he did his job filling up the running lanes between the tackles. McCarthy recorded three stops against ASU and really made his presence felt up the middle, where the Sun Devil offense simply could not go.
You can expect his numbers to get even better as the 18-year-old space-eater develops under defensive mastermind Lou Spanos.
Grade: B-
DE Datone Jones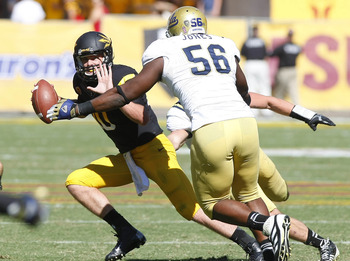 Rick Scuteri-US PRESSWIRE
Senior defensive end Datone Jones is probably the most legitimate NFL prospect on the UCLA roster, and he made that quite clear against Arizona State.
Jones shredded the Sun Devil O-line, fighting his way into the backfield with a quick jump off the line. The Compton, California native did everything in his power to lead the Bruins to victory, pressuring QB Taylor Kelly, forcing bad throws, drawing holding calls and making sure-handed stops.
At the end of the day, Jones recorded nine tackles, including six solo takedowns, to lead the charge on the defensive line. Look for Jones to continue his surge to the draft in his final season in Westwood.
Grade: B+
OLB Damien Holmes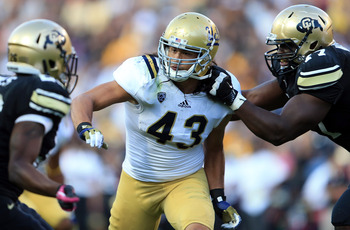 Doug Pensinger/Getty Images
Damien Holmes is having his best season as a Bruin in 2012, but his outing on Saturday left much to be desired. The senior OLB couldn't get it going in Tempe, tallying just three tackles despite playing a majority of the day's snaps.
Holmes did have a bit of success stopping the run up the middle, but that didn't provide much against an ASU offense that relies heavily on getting the ball to the flat in a hurry. As a whole, the UCLA linebackers had an impressive performance, so Holmes' pedestrian productivity wasn't a huge problem.
Grade: B-
ILB Jordan Zumwalt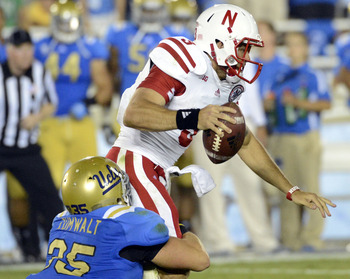 Richard Mackson-US PRESSWIRE
After a scary motor-vehicle accident forced Jordan Zumwalt to miss a game last month, the junior linebacker has shown nothing but improvement in his three games back.
Zumwalt's productivity has increased every week since his injury, including on Saturday against Arizona State when he tallied a season-high 10 tackles. The 6'3", 235-pound bruiser also recorded a critical nine-yard sack that set up a long third down for the Sun Devils.
Grade: A-
ILB Eric Kendricks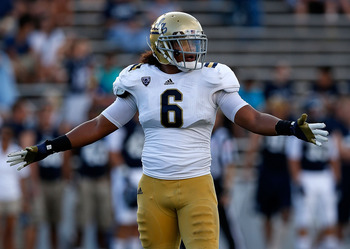 Scott Halleran/Getty Images
Eric Kendricks is a monster, plain and simple.
On Saturday in Tempe, Kendricks had his ears pinned back and was really flying to the ball. The sophomore inside linebacker notched an insane 17 tackles, including 11 solo stops, to keep the ASU offense in check all day.
Kendricks was making every crucial hustle play, diving for tackles and wrapping up in the open field to prevent first downs. There was no player on either sideline that wanted it more than Kendricks, and so he gets the highest marks.
Grade: A+
OLB Anthony Barr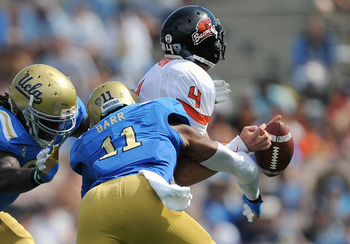 Jayne Kamin-Oncea-US PRESSWIRE
Anthony Barr is a junior suiting up as a defender for the first time, but he has played with the instincts of a seasoned pass-rush expert so far for UCLA.
The 6'4", 235-pound athlete is a physical specimen that was grossly underused as a fullback in former coach Rick Neuheisel's offense. Since making the switch to outside linebacker, Barr has flourished, emerging as the most productive member of the Bruin defense.
Against ASU on Saturday, Barr was unstoppable, coming off the edge and busting between the tackles to make big plays. He also showed off his motor in Tempe, racking up some next-level highlights with nothing but good, old-fashioned effort.
Barr's unrelenting pursuit was paramount to the Bruins' success, as he managed to record five tackles and a shoestring sack in the win.
Grade: B+
CB Sheldon Price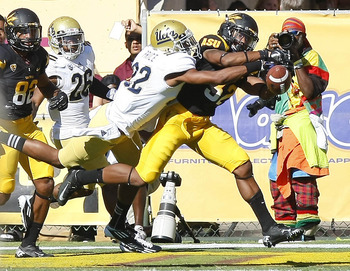 Rick Scuteri-US PRESSWIRE
Senior CB Sheldon Price has had an up-and-down career with UCLA, and the game on Saturday was a microcosm of his time in Westwood.
Price struggled out of the gate against the Sun Devils, taking bad angles and missing tackles on a few big plays that could have been much more moderate gains. Price also failed to get off his blocks, limiting his ability to help out against the rush downfield. He only recorded one tackle all day.
But the sluggish start didn't prevent Price from making one of the biggest defensive stops of the game.
After an ASU score cut UCLA's lead to 28-26 early in the second half, the Devils lined up for a two-point conversion attempt to tie it up. Price made an athletic play to force an incompletion, diving and reaching across the receiver's body to knock the ball down.
Grade: C+
CB Aaron Hester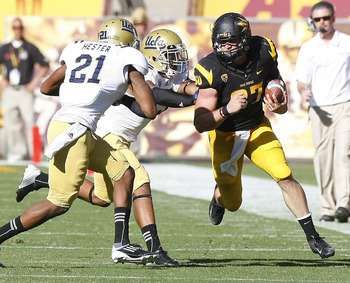 Rick Scuteri-US PRESSWIRE
We didn't hear much from Aaron Hester on Saturday, but that's probably good news.
The senior cornerback has had a bad case of the penalty-bug since the beginning of his UCLA career, and always seems to have his name called in the worst way. But Hester had a clean game against Arizona State, managing to avoid being flagged despite playing solid bump-and-run all day long.
Hester also tallied four tackles to go with his strong effort in coverage, but his outing was marred by one very ugly play.
With a one-possession lead in the third quarter, the Bruins needed to keep the Devils out of the end zone, but they just couldn't do it. RB Marion Grice got to the edge on a screen in the red zone and surged towards the goal line. Hester was there waiting to make the tackle, only to whiff badly and topple to the turf while Grice burst across the plane for the score.
Grade: B
FS Tevin McDonald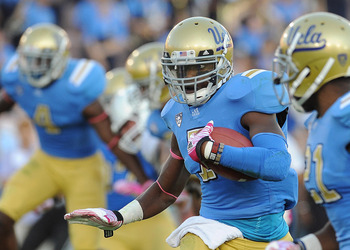 Jayne Kamin-Oncea-US PRESSWIRE
While T. J. McDonald was having a career day just 100 miles down the I-10 in Tucson, baby brother Tevin was battling adversity in Tempe.
Less than two minutes into the game against ASU, the younger McDonald was caught out of position on a tunnel screen and took a very bad angle to the receiver. The result was an easy score for Arizona State and an electric atmosphere at Sun Devil Stadium right off the bat.
But to McDonald's credit, he battled the whole way and turned a slow start into a productive outing. The sophomore free safety finished with five tackles, proving to be a formidable run-stopper in the open field.
Unfortunately, the fact that McDonald was making first contact on ASU rushers on the third level is more a silver lining than a laudable achievement.
Grade: B
SS Andrew Abbott
Bob Stanton-US PRESSWIRE
As a former walk-on turned starter, strong safety Andrew Abbott takes advantage every time he steps on the gridiron, and the matchup with the Sun Devils was no exception.
The senior DB was all over the field on Saturday in Tempe, recording a season-high six tackles, including some open field solo stops that forced crucial ASU punts.
Abbott was also solid in pass coverage, locking down the deep routes and forcing ASU QB Taylor Kelly to throw into the dangerous underbelly of UCLA's 3-4 defense.
Grade: A-
K Ka'imi Fairbairn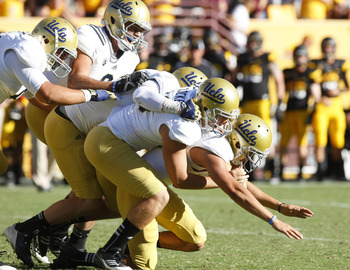 K Ka'imi Fairbairn celebrates with teammates after win over ASU
Rick Scuteri-US PRESSWIRE
True freshman kicker Ka'imi Fairbairn's number wasn't called much in the Bruins' win over Arizona State, but he answered the bell every time it was.

Fairbairn was a perfect 6-for-6 on extra point attempts, increasing his streak to 27-consecutive made PATs after having three blocked in the season opener against Rice.
He also drilled his only field goal attempt of the game, a 33-yarder that lifted UCLA to victory as time expired in Tempe. Fairbairn is now 10-of-15 on FGAs this season and has to be feeling confident after nailing the clutch game-winner on the road.
Grade: A+
P Jeff Locke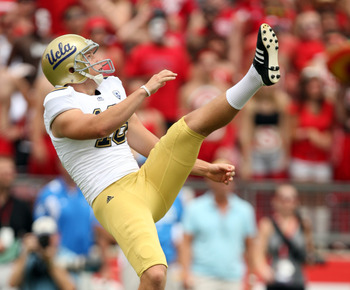 Thomas Campbell-US PRESSWIRE
Senior punter and special teams captain Jeff Locke had a very unorthodox start on Saturday but finished with the same dominance he has shown all season.
Prior to kickoff, UCLA was late coming out of the locker room and didn't have the proper players present for the coin toss. Locke, who was already warming up on the field, took the initiative and hustled over to the captains' meeting to represent the Bruins. What happened next is inexplicable.
In some strange turn of events, Locke's desire to choose deferral was misconstrued as a call to kick in the first half, giving ASU the opportunity to elect to receive in the second half. The Sun Devils, by means of a very confusing rule intricacy, were able to get the ball on the opening kickoff of both halves.
Chalk it up to a mental error or just bad luck, but the pregame blunder cost UCLA a possession and gave Arizona State an unearned advantage.
Fortunately for the Bruins, the handicap still wasn't enough for the Devils, and Locke's stellar performance was a major reason why.

Locke booted six punts for 294 yards, which works out to a robust 49.0 average. He also managed to down two punts inside the 20-yard line, giving UCLA a huge boost in the field-position battle. Locke was solid on kickoffs too, nailing 7-of-8 for touchbacks.
Grade: A-
Keep Reading

UCLA Football: Like this team?