5 Ways Losing Andre Dawkins for the Season Affects the Blue Devils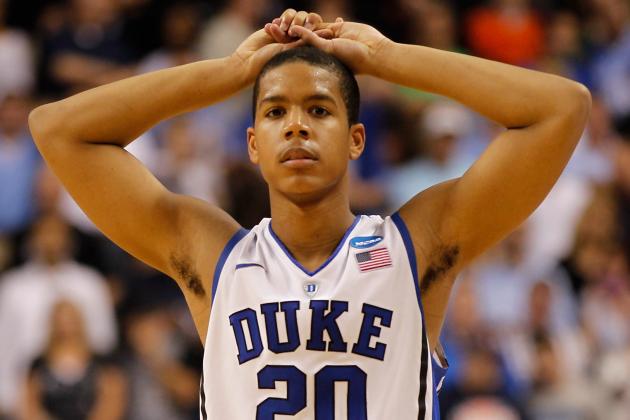 Mike Ehrmann/Getty Images

When Andre Dawkins decided to take a redshirt year to be with his family, the first thought of every Duke fan was to hope that his time away from the stresses of college basketball afforded him the opportunity to deal with the emotional trauma that he has suffered. As fanatical as fans can be, it was clear that this issue was of greater importance than any game Duke will play this year.
Though he will be missed, as a player and as a person, his absence is understood and the Duke community will certainly keep Andre Dawkins and his family in their hearts and minds.
As Duke fans hope to welcome back Andre Dawkins next year, the team this year will have to carry on without his substantial contributions. Here are five areas where Andre Dawkins' absence will affect Duke.
Begin Slideshow

»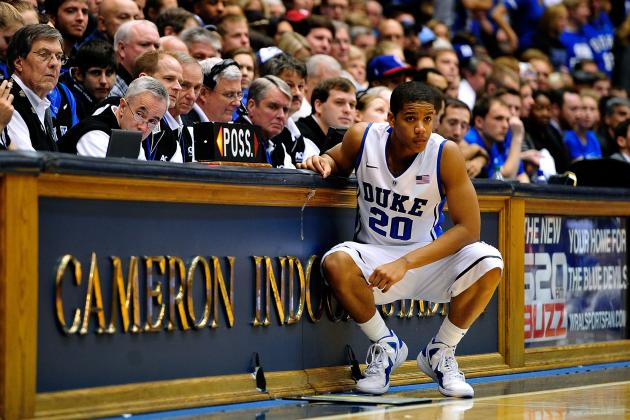 Grant Halverson/Getty Images

As anyone who has gone to college knows, freshmen students go through an adjustment period. For young people in college, it's often their first time out in the world on their own. That situation, coupled with difficult college courses and managing your own responsibilities, can often feel overwhelming for young men and women. Basketball players are not immune to this.
After coming to Duke a year early out of high school, Andre Dawkins suffered a family tragedy. Obviously the emotional fallout from that event is still something Dawkins is dealing with to this day. Between the distance from his family and the responsibilities of a student and a basketball player, it's impossible to imagine the strain Andre Dawkins must have felt and continues to feel.
Often the best leaders are those who can impart wisdom gleaned from grappling with the darkest elements of life. Certainly, Andre Dawkins has been through Hell and back, so any advice he could offer or any example he could set would be invaluable instruction to a scholarship athlete, or anyone else for that matter, attempting to deal with the rigors of life.
When involved in the Duke program, Andre Dawkins offers the kind of leadership that is invaluable to the growth of young men and sets a sound example of someone with a great amount of spirit, fortitude and courage.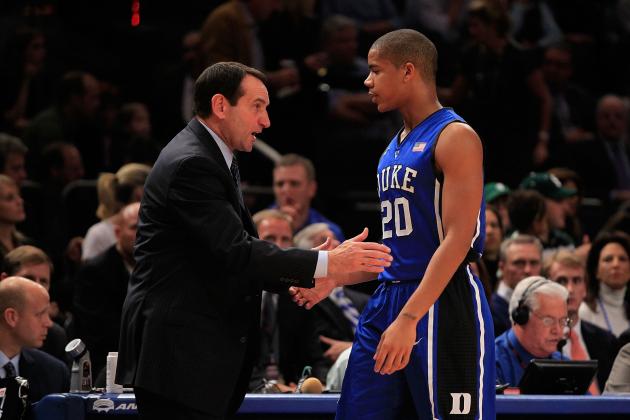 Chris Trotman/Getty Images

Duke already has three seniors who figure to be regulars in the starting lineup. Andre Dawkins would have added a fourth senior to an already experienced squad. Even if Dawkins had been relegated to off the bench sixth man duties, he would have provided yet another seasoned veteran to a team that will depend on several freshmen playing in key roles.
After three years of tutelage under Coach K and the Duke coaching staff, Dawkins certainly understands the offensive and defensive systems. For a team that's going to play a lot of half-court man to man team defense, awareness of every teammate's defensive responsibilities is crucial. That depth of knowledge is best acquired through game reps. Andre Dawkins' game experience would have provided him with the utmost defensive awareness.
Without Dawkins and his playing experience, Duke will have to rely on underclassmen less familiar with the system. Especially early on in the season, people might wind up in the wrong place on offensive sets and the level of cohesion on team defense will suffer. It will take a while for the younger players to get a true feel for the speed and intricacies of the college game. Andre Dawkins would have allowed Duke to get out of the gate with much less of a learning curve.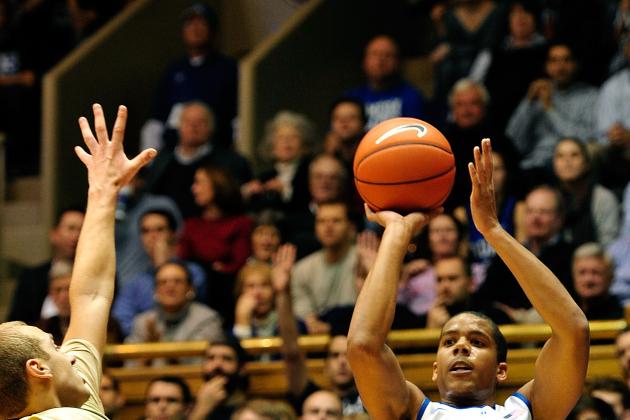 Grant Halverson/Getty Images

Duke is a team obsessed with shooting threes, so they have plenty of players with good long range shots. Even as loaded with shooters as they are, Duke will miss Andre Dawkins as he was the best of the bunch.
Last season, Andre Dawkins shot 39.2 percent from behind the arc. That was better than Seth Curry (38.3 percent) and Austin Rivers (36.5 percent). Only Ryan Kelly and Michael Gbinije amassed a better percentage than Dawkins and both those players took far fewer shots than Dawkins (Gbinije only attempted a total of 10 three pointers). Dawkins' 171 attempts from three-point range show his supreme confidence in his shot, and his team-leading 67 made three-pointers proved his efficiency.
Without Andre Dawkins, Duke loses its biggest three-point threat. Rasheed Sulaimon should fill in some of the void left by Dawkins, but the freshman won't be as adept at finding his spots on the floor and launching his shots with as much confidence as the senior Dawkins would have. If Duke's defense is as bad as it was last year, then Dawkins' instant offense and tide turning threes will be dearly missed.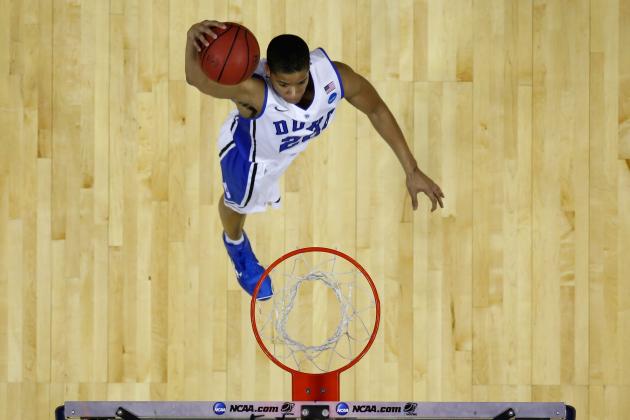 Kevin C. Cox/Getty Images

Duke comes into the season with only 10 scholarship players. Marshall Plumlee is out six to eight weeks with a stress fracture and Seth Curry has an unidentified leg injury that could cause him pain all season. Depth will be a serious issue for the 2012-13 Blue Devils.
The team minus Dawkins will likely be forced to start Josh Hairston, Alex Murphy, Amile Jefferson, or Rasheed Sulaimon. While Josh Hairston is a junior, he hasn't shown himself to be a standout player on either end of the floor. Alex Murphy, meanwhile, is just a redshirt freshman and Jefferson and Sulaimon are true freshman. With Dawkins out of the mix, the starting lineup looks to be very much up in the air.
Even if the starting lineup gets sorted out, Dawkins' absence limits Coach K's backcourt options. With Quinn Cook starting at point guard, Sulaimon and Tyler Thornton are the only guards available off the bench. If Curry's injury turns out to be serious, a Dawkins-less Duke may have to force bigger and slower players into backcourt positions they aren't familiar with.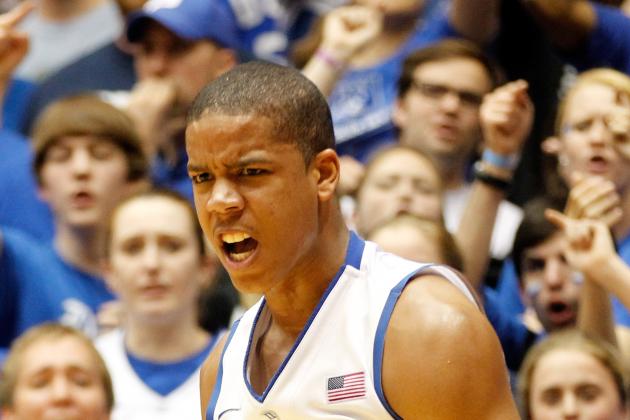 Streeter Lecka/Getty Images

Andre Dawkins' youthful face has the effect of making him look harmless. But on the basketball court he is the sort of player that plays hard and shows no mercy. It takes a certain mindset to jack up threes in high-pressure situations and Andre Dawkins exemplifies that attitude.
If he was struggling, Dawkins didn't get frustrated. He powered through droughts and kept putting up shots because eventually they'd start to fall. And when he was on fire, Andre Dawkins electrified the Cameron crowd and his teammates. After making three-pointers he frequently stared daggers at the opponents and encouraged his team to keep applying pressure. Andre Dawkins' cold-blooded three-point assassin demeanor was at times reminiscent of fan favorite and Duke legend JJ Redick.
Even though Dawkins gave the impression of a soft spoken guy, on the court his explosive three-point shots and emotional outbursts often rallied the team. The seriousness and determination on his face focused the team's energy and brought the fans to life. His attitude was useful inspiration because the team knew that at any moment Dawkins was capable of hitting a game-changing shot.
There are many reasons that Andre Dawkins will be missed. He's a great player and seems to be a great guy. Any team would be better off with Andre Dawkins in uniform. But for now every Duke fan knows that Andre Dawkins is exactly where he needs to be, with his family.