5 MLB Ballparks That Are Ready to Be Torn Down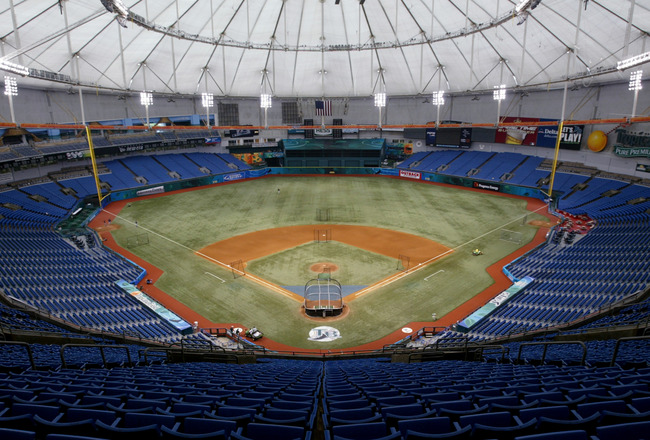 Jeff Gross/Getty Images
With the World Series just recently in our rear-view mirrors it's hard to believe that we're just over three months away from MLB teams returning to spring training.
Along with the return of spring training will ultimately come the return of game-day experiences for millions of fans all over the country, though it's hard to deny that the experiences will be better for some fans than others.
The emergence of new stadiums in the past 10 years has set the bar high for teams with aging ballparks; new technologies are a part of life for all of us, and game-day experience means far more than just what's on the field.
The ballparks listed here aren't necessarily the worst in the league, but they certainly need more help than others when it comes to functionality and fan-friendliness.
Wrigley Field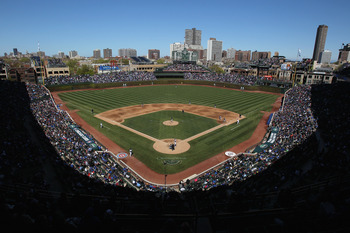 Jonathan Daniel/Getty Images
When it comes to atmosphere, a baseball fan would be hard-pressed to find a better place to catch a baseball game than Wrigley Field.
From a physical standpoint, the 1914 stadium is sitting in a "cozy" footprint that doesn't allow much room maneuvering from place to place.
Building a new stadium wouldn't necessarily solve this problem, either, but it's definitely alarming that in recent inspections, nearly 60 percent of the vendors in the stadium were found guilty of some type of health code violation.
Dodger Stadium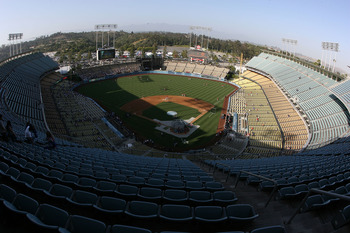 Jeff Golden/Getty Images
With a fair amount of history inside its walls, it will most certainly be a bittersweet day when Dodger Stadium does eventually get replaced with a modernized stadium.
New ownership has come into town and made an immediate impact to improving the quality of product put on the field, and better yet, they've shown a strong willingness to spend money.
Boasting a simplistic design, the 50-year-old stadium itself doesn't seem to draw much criticism, though parking is a big problem. The bad publicity surrounding public safety hasn't helped anything either.
Fenway Park
Elsa/Getty Images
With as much history as any other stadium in baseball, it's hard to say whether or not Fenway Park will ever become nothing but a memory.
Much like other stadiums that have been around for generations, the atmosphere and "game-day experience" is a selling point for the viability of Fenway Park.
The rapidly aging structure—which opened in 1912—provides subpar sightlines and could very well be ready to retire, as pointed out in Mike Downey's CNN.com article, "Fenway at 100: Love it, revere it, blow it up."
Oakland-Alameda County Coliseum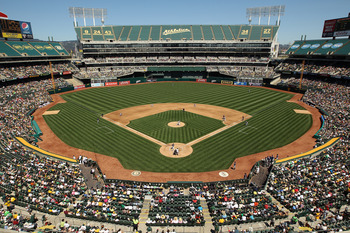 Ezra Shaw/Getty Images
With nearly as much foul territory as there is fair territory, the Oakland-Alameda County (or O.co) Coliseum provides a less-than-ideal fan experience compared to many newer stadiums that put fans much closer to the field of play. The Coliseum opened in 1966 and welcomed the Oakland A's in 1968.
Seeing tarps covering half the stadium seats doesn't look good when it comes to presenting a positive atmosphere, and though the team is seeing its share of successes, the A's fans deserve a ballpark to call their own.
Furthermore, as a Minnesota native I've seen just how bad it can be when you're playing baseball in a stadium that should really just be used for football. Not pretty.
Tropicana Field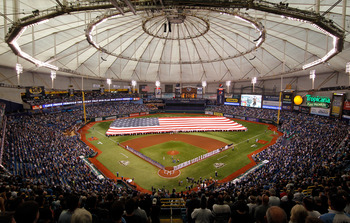 Mike Ehrmann/Getty Images
With the Marlins finally freeing themselves of their football-friendly confines this past season with a move into Marlins Ballpark, the attention in Florida now turns to the Tampa Bay Rays, who badly need to find a new stadium to call home.
If the lagging attendance at Tropicana Field (which opened in 1990 and welcomed the former Devil Rays in 1998) isn't enough evidence that a new ballpark is in order, just keep in mind the long list of ground rules that can turn the game in an instant:
1. Batted ball that strikes either of the lower two catwalks, lights or suspended objects in fair territory: HOME RUN.
2. Batted ball that is not judged a home run and remains on a catwalk, light or suspended object: TWO BASES.
3. Batted ball that is not judged a home run and strikes a catwalk, light or suspended object in fair territory shall be judged fair or foul in relation to where it strikes the ground or is touched by a fielder. If caught by fielder, batter is out and runners advance at own risk.
4. Batted ball strikes catwalk, light or suspended object over foul territory: DEAD BALL.
Keep Reading