Picking One WWE Theme Song to Describe Every Top NBA Star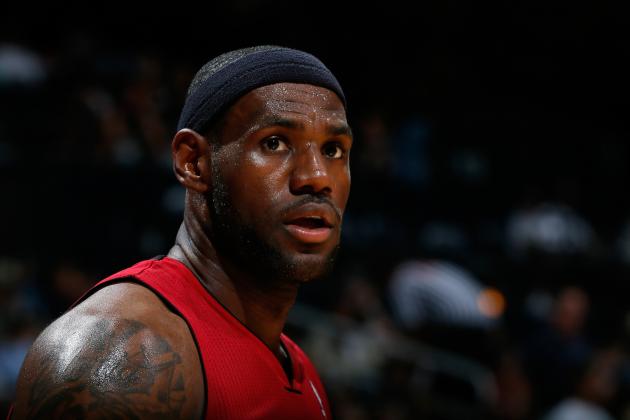 Kevin C. Cox/Getty Images

The NBA recently made another strange decision, which it is wont to do after making a few competent decisions, to limit player handshakes before games to 90 seconds. Because, you know, it was guys shaking hands and dancing around a bit that's been making games unnecessarily long, not the saturation of commercials.
I actually think they should have gone in the opposite direction and romanticized the entire thing. Expand on player entrances and get a whole professional wrestling vibe going before the opening tip. After all, that pregame handshake stuff is all for fan entertainment, so why not go all-out with that?
It's time to embrace the fact that NBA players are incredibly visible and have personalities on display like no other sport, and those personalities can take a life of their own when a fan sees a guy play.
That's basically the intent of what I'm looking at here, while at the same time showing off my ultra-dorky side. I want to find an entrance theme from a professional wrestler that not only embodies who the best stars are as players, but as people too.
Now I'll be honest with you here, the title is misleading. There are only a handful of "WWE" entrance songs thrown on here, most of them are old-school guys who were retired or nearly there by the time they changed from the WWF.
There's a good reason behind the exclusion of the new guys (besides the fact that I can't stand the product anymore and haven't been able to in about a decade). There was a time when wrestling was supposed to be cheesy, it knew that and we knew that, so they played up the cheesiness with everything from gimmicks to goofy, computerized, uber eighties-sounding entrance music. Now you've got a bunch of guys coming out to music you'd hear on an "edgy" rock station that uses a chord-and-a-half, thriving on energy and repetition. What's fun about that?
Most of what you'll get here, then, is guys geared more toward the 90s WWF period, and, hell, even a few WCW dudes.
Begin Slideshow

»
There was something about Ahmed Johnson when I was a kid that scared me like no other. He was an enormous dude who would just dismantle people, and I find it a bit amazing that he didn't last any longer.
Anyway, his entrance music is such a strange blend that it seems to fit LaMarcus Aldridge's playing style to a tee.
Initially it seems big and gruff, sounding intimidating for the first 20 seconds or so before breaking out into a light drum solo emphasized with tinkering cymbals, going back and forth for the remainder of the song.
It reflects how Aldridge's power game exists simultaneously with a finesse game that, over time, you realize is actually more prominent than his power game. Both are there, but it's easier to see him dribbling along the baseline or trying to fake someone out over purely dominating them.
Are there any basketball players left that play with as much style as Steve Nash?
Beyond that, was there anybody who could make you hate him while simultaneously loving him quite as much as Ric Flair? I've got a feeling that will be Nash's narrative over the course of his time with the Lakers, only the hatred stems from the team he's a part of, not the way he's acting on the court.
Nash's game is always a buildup, only done so quite a bit more quickly than Flair's song. Every time he touches the ball there's a moment where you can see him deciding what to do as he dribbles at the top of the key for a few seconds. It may take the form of a series of screens to get to the basket or just a simple pick-and-roll, but his game is always building toward something.
There is no basketball player quite as unintentionally goofy as Chris Bosh, and the fact that he's so intent on trying to be sophisticated at the same time just intensifies the entire act.
That entire arc is reflected by The Rock's time in wrestling after he started making movies, but before he became a sparingly used fan favorite. Everything you need to know is in the song.
With an intense initial buildup, you expect something big to come, but what finally does come, a whispering, "...isssss cooookiiiinnnn," is so freaking cheesy it has me rolling on the floor to this day.
There's such an enormous attempt for this to be an intimidatingly long buildup that once the music actually comes in, it's easy to forget how good the entire ploy actually is.
Sting had so many subtly different phases throughout his career that it's easy to forget just how great he was at times, and that might be the way Carmelo Anthony is remembered when he's done in the league.
While he's never quite found the success that Sting did in WCW, he has made a name for himself as a player of merit, and there's something in that that is special.
With the Seek and Destroy entrance that Sting used later in his years at WCW from Metallica there's a smooth intensity that almost becomes repetitive after a while, which reminds me of Carmelo Anthony for whatever reason. Whether it be how repetitively 'Melo can break down a defender or just how almost monotonously good he's been over the years, he consistently comes to mind here.
If you're looking for a show, Rob Van Dam was one guy who could definitely do it on a night-to-night basis during his formative years. There was such a strange smooth showmanship about him that it was easy to overlook just how great he was.
In a way, that's exactly the way Tony Parker plays his game, isn't it? He's so good at making everything he does look easy that it's almost like he's become an underrated basketball player.
As for the song, there's a not-so-subtle intensity that reflects both guys' ability to consistently bring it every night, never disappointing the fans.
I love everything about Jake "The Snake" Roberts for all the wrong reasons. Here's a guy who's not going to pull any punches. You pretty much know exactly what he's going to do just because of his name, he'll bring a snake out, fight you for a while and then "attack" you with said snake.
Perfect.
As for his entrance music, it's backed by an electronic beat that seems like it would be the music for an intense battle scene in an early Zelda game and fronted by a song that seems like it had to be used in some terrible 80s sports movie.
Like Jake the Snake, Gasol's game doesn't pull any punches anymore. You know that when he's in the game he'll post his guy up in the high post and spin around him or do it in the low post and spin off him, usually making the shot.
Now I'm kind of hoping that Gasol will come to the arena with a python in a bag from now on.
Where the later, more ridiculously pompous and sophisticated version of The Rock has to fit Chris Bosh to a tee, the younger, more energetic, still equally pompous version of The Rock seems to fit Blake Griffin quite well.
A bit before he became the international name that he is now, but after he was a mid-card player, there was a period when The Rock was fun and exciting, but not quite as polished as he would be in later years, basically where Blake is right now.
Blake's a guy who knows how to pander to the crowd, give the people what they want and do so in a quick and entertaining fashion, regardless of whether it's profoundly technical or not.
I'm ready for Andrew Bynum to take on the "Macho Man" persona. Not necessarily the seemingly coked-out insane side of him, just the anti-hero that he became for the young fans when he was taking on Hulk Hogan early on.
The entrance music he used was so ridiculously against his personality that I think it'll fit with Bynum as well. It's almost ironic to a point where he's reflecting himself with the song they play at graduations but with a persona that screams lunatic.
Is that not the way it feels when you watch Andrew Bynum? He's completely fine for most of the game, but there are certain moments where he's ready to bust out, do something crazy and release his inner Macho Man.
Rajon Rondo is a kind of new superstar who goes against the grain, isn't warm and cuddly, doesn't give a damn about appealing to a wide audience, but still gets love because of how fun he is to watch and, to a point, how much he doesn't care.
It's obvious that Rondo is there to put on a show, and isn't that what it's all about anyway? You don't need a star player to have nice interviews and be polite as long as he's kicking the other guy's ass.
That's what the NWO personified as a group. They weren't the nice, classic heroes of old, they were gritty and went against the grain, but that's a part of what made them so fun to watch.
There's a certain herky-jerky style to Dirk Nowitski's game that is impossible to be infatuated with. He can drive into a guy's chest, sending him reeling backward in fear of Dirk running past him, then stop on a dime with his left foot and jump in any direction off that foot and sink a jumper.
There's an intensity in that that seems to be hard to see at times, but when it happens it leaves you in shock.
That's a bit of what you can feel from The Ultimate Warrior's entrance theme here. It comes out of the gate with crashing drums and cheesy, muted 80s guitar, but then it brings in a smoother, less rhythmic, yet cheesier-sounding 80s lead.
There's a feeling right out of the gate with Lex Luger's theme song that makes you think you'll see something special once he gets into the ring and starts beating dudes up, which is pretty much what you feel right out of the gate with Deron Williams.
He's not as intensely styled as guys like Russell Westbrook or Derrick Rose, but he's constantly moving and it always seems like he's about to do something memorable, which is conveyed, more or less, through Luger's theme.
Even when Williams has been on bad teams, and he's had some doozies, he's able to at least put on the facade of a show, just ask this kid.
It's pretty obvious what makes Russell Westbrook an exciting player to watch, but it's even more obvious when he gets going with a full head of steam—It's just a rush.
Westbrook is one of the leading men in terms of new, exciting point guards who are able to drive to the rim, score in contact and even get up to the hoop and throw down with the best of them.
The way the Legion of Doom was able to send fervor through an arena with just a few growled words at the beginning of a song, so is Williams able to electrify a crowd with a simple drive to the rim and a twisting layup as a dude seven inches taller than him flails comedically to try and stop him.
There was a kind of catch-22 expressed through Bret Hart in his day that was both strange and completely understandable. For whatever reason, painting a group of Canadians as heels was easy with the old Harts, but fans seemed to undeniably love them at the same time.
That's pretty much what's going on with Dwyane Wade at this point. He's a flopper and a member of the Heat, which is already two strikes against him, but his style of play mixed with his personality and his off-court lovability make him impossible to straight-up hate.
As for the entrance music, it sounds like Eddie Van Halen is strangling a guitar at the onset, but it sets the stage for an anti-anti-hero, a guy who is endearing to the crowd, but still easy to hate while he's on stage. It's a mixture of consistent, pounding intensity with intermittent 80s guitar noises.
Good lord, there were few wrestlers quite as cheesy as the Junkyard Dog, and all that was exemplified with his long-time theme song.
For whatever reason, the song revolves around the hook where he repeats, "Grab them cakes," over and over again. I'm not sure what that means in the least bit, but it sounds downright hilarious.
Even with the obvious lip-synching in this "live" performance, this is something I could watch all day long.
In fact, I like it so much I've got to throw it at Kevin Love. I think every time he goes for a rebound this year I'm going to shout "grab them cakes!" at my television.
At this point in his career, Kobe Bryant has gotten to a stage where he doesn't care what the fans outside of L.A. think, he's just ready to take a run at becoming one of the best basketball players of all-time. That's about the thinking that went down when Hulk Hogan broke bad.
The music is nearly perfect for him. Jimi Hendrix's Voodoo Child starts off with a chilling guitar solo that is so recognizable that nobody could mistake what comes next. A stylish flash of guitar gymnastics followed by a lead-in to Jimi singing completely sets the stage for whatever greatness is about to happen.
I fully believe that Hulk Hogan could stand up next to a mountain and chop it down with the edge of his hand, while Kobe could do the basketball equivalent to that, which I guess would be becoming the league's all-time scorer.
This is the only real contemporary wrestler included because, well it's the only contemporary wrestler that deserves any bit of intrigue anymore.
In the off-chance that I stumble upon a show, the only reason I stick around, or come back to check it out later, would be if CM Punk is somehow involved.
What he is isn't a return to the old days of wrestling, it's something completely different. Not really pandering to the crowd, but doing exactly what the crowd wants him to do at the same time. He doesn't care about them, he just cares that they're having a good time.
His entrance song, Cult of Personality is perfect for both him and Derrick Rose. There's something in each of these guys, with their brooding, cold exterior, that make them inexplicably interesting to fans everywhere. Plus you can tell that they really enjoy what they're doing, and love the fans that let them do it.
Chris Paul isn't the fast-paced scorer that Russell Westbrook or Derrick Rose is, and he's not the back-and-forth runner-gunner that Deron Williams is. Instead he seems like someone with a maddeningly captivating relationship with the game that can only be described as reckless perfectionism.
Every move seems calculated, even if they don't always land like you'd expect them to, while he establishes a continued intensity that really lasts the entire game, even though he always seems to have a calm exterior.
Cactus Jack's guitar-heavy solo intro reflects the constant driving force that is Chris Paul, and as he's continually working his team together, he gets to an obsessive point where you could hit him in the head with a chair a few dozen times, or blow half his face up, and he'd come back to do it all again tomorrow.
I can't just throw one Mick Foley creation out there now can I? If I'm gonna talk about the intensity of Cactus Jack the I'm going to have to get to the cool that is The Dude.
There's not another basketball player in the league that seems to enjoy the aura and the superfluous bits of the game quite as much as Dwight Howard. He seems to get just as much joy out of dancing with his teammates and being a big, goofy dude as he does out of dunking on someone's head.
How much more could a theme song fit from a wrestler who was always dancing and strutting himself, but got down to business when it really mattered?
Kevin Durant doesn't quite have the Vince McMahon strut down yet, and that's probably a good thing, a normal human couldn't take that much torque on his joints, but he's a great reflection of the boss's entrance theme.
There's got to be a feeling as a defender going up against Kevin Durant that you're having a good night if the guy scores just 25 points on you and you make him miss a few more shots than normal. How demoralizing must that be?
The fact is, there are more bald eagles in my living room than guys who can legitimately shut down Durant on offense, and most guys have no chance in hell.
Was there a more hated wrestler after the breakup of DX than Triple H? The only thing that rivals the amount of hatred that would shower down on the man has to be the tour of boos that LeBron James went on during his first season with the Heat.
Of course, that all culminated with his return to Cleveland, and I'm not sure that there has ever been anyone booed so vociferously and constantly than LeBron on that night. It was almost frightening.
As far as the entrance music goes, there's no doubt that LeBron is "the game" at this point. There's nobody in the league better than him until they are able to take him down, and for now it's time to give him his due and call him what he is—that damn good.
If you are one of those twitterers, you can follow me @JDorsey33.