10 Lessons We Learned from the NBA Preseason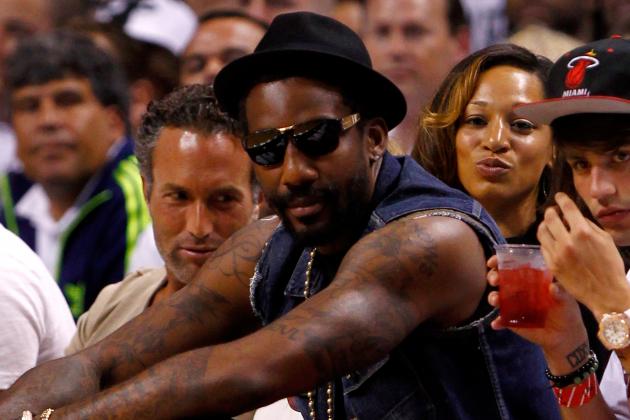 Mike Ehrmann/Getty Images
Stoudemire's knee problems don't look like they're getting much better.
NBA training camps and preseason are usually nothing more than elongated stretches of practice time used by coaches to get their first real feels for their rosters for the upcoming year.
Still, there's always some insight to be gleaned from the way things go down before the real games start. And with the regular season set to begin on Tuesday night, it's about time to check in on some of the more eye-opening events of the preseason.
There haven't been too many big injury issues or major transactions this preseason. But there's been enough fodder to ensure that we as fans will have plenty to look for once the Celtics and Heat tip off the season.
Begin Slideshow

»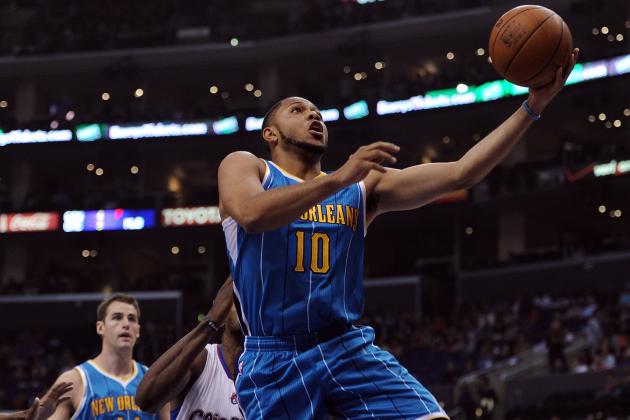 Harry How/Getty Images
Gordon can't seem to get past his troublesome knee problems.
Eric Gordon averaged 16 points per game as a rookie for the Clippers in 2009-2010.
He then played in just 63 games for the Clippers and Hornets over the next two seasons combined.
His talent and ability have never been questioned. That's why he was a lottery pick and earned himself a four-year, $58 million offer sheet from the Phoenix Suns this summer, a contract matched by New Orleans.
Gordon has missed the entire preseason with lingering knee pain. And while a report came out this past week stating that he's good to go for his first contact practice of the year this weekend, the fact remains that the Hornets are on the hook for a lot of money to an injury-prone player they are expecting to be a centerpiece of their franchise.
Given his issues the past two seasons along with his failure to even suit up during this preseason, the Hornets, who are clearly in rebuilding mode with rookies Anthony Davis and Austin Rivers (who can't seem to stay healthy either) joining Gordon as the core of the team, there's not a lot of reason to believe Gordon will make it through the season unscathed.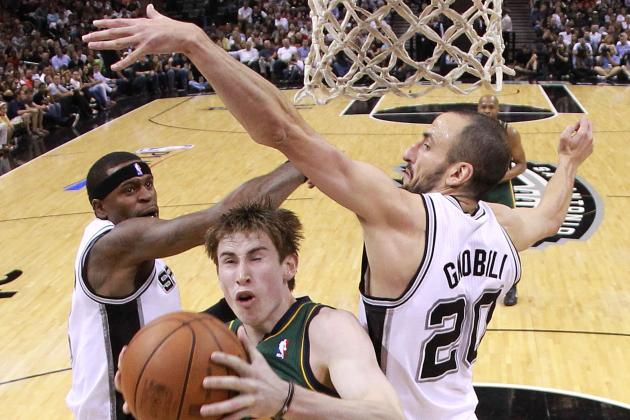 Ronald Martinez/Getty Images
Hayward is part of an exciting young core in Utah.
They may have been outclassed by the Spurs in the first round of last year's Western Conference playoffs, but the Utah Jazz look like a team that has improved mightily since then.
Not only are their raft of front court players a year older, better and more experienced, they've added a spark plug to their back court in Mo Williams, who is a proven scorer, floor general and former All-Star.
Utah won five of its eight games in the preseason, which doesn't really matter in the grand scheme of things. But the Jazz are stacked up front, with Al Jefferson and Paul Millsap starting and two high lottery picks in Enes Kanter and Derrick Favors both coming off the bench.
After that, in addition to Williams, the Jazz sport a couple of very promising youngsters on the wing in Gordon Hayward and Alec Burks. Those two don't make the Jazz any older or wiser, but they do line up with the rest of the team's core to make the Jazz look like one of the most interesting, up-and-coming teams in the league.
In the crowded West, it may be another year before the Jazz can contend. But they're building what looks like a winner, and it's starting to show in this preseason.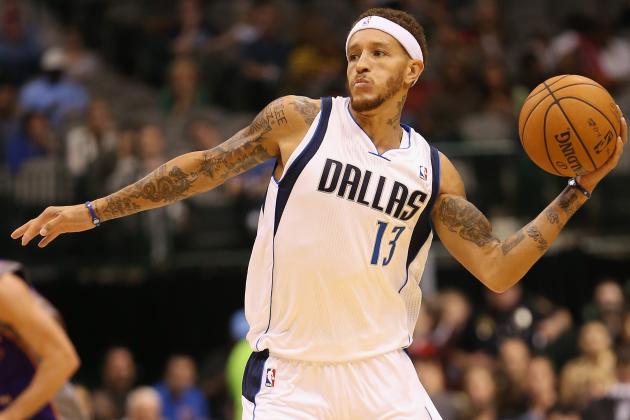 Ronald Martinez/Getty Images
It may be the end of the road for West.
West, who has gotten himself suspended by the Mavericks twice in a span of two weeks for conduct detrimental to the team, may now be out of a job.
While there have been no details as to what constitutes "conduct detrimental to the team" given by either West or the team in this case, what is known is that the Mavs are looking to rid themselves of West for good.
West made note of his bipolar disorder in one of his many tweets on the subject, saying, "no I ain't on no bipolar trip." Whether that's accurate or not, what is not arguable is that West is clearly dealing with some issues that have put his career in jeopardy.
Back in 2009 when he was arrested for speeding on his motorcycle with a guitar case full of guns on his back, it looked like he was in real trouble. But his team at that time, the Cleveland Cavaliers, stuck with him and he's since gone on to play in parts of two more seasons since.
But these two recent incidents along with his injury history (he's played in more than 70 games just once in his eight-year career and has missed more than half the season five times) make him a risky pickup.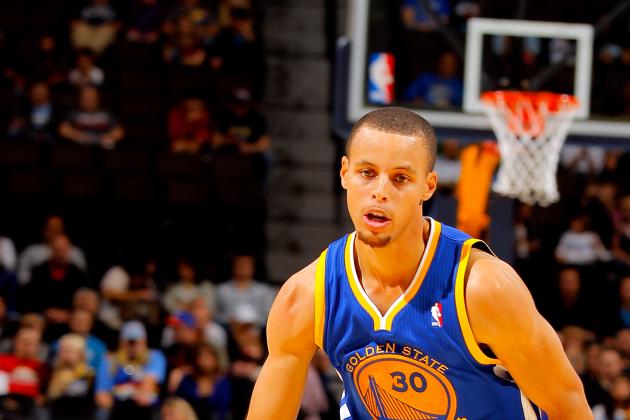 Doug Pensinger/Getty Images
Curry and Bogut's injury woes could spell doom for Golden State.
When the Golden State Warriors traded Monta Ellis to Milwaukee for Andrew Bogut last season, they certainly had the right idea.
Trading small for big is always justifiable. And Golden State was going nowhere with both Ellis and Stephen Curry in their back court.
But Bogut was hurt when he was dealt. And he was hurt for long stretches of each of the previous two seasons.
And he's still hurt.
Bogut played five-on-five at the Warriors practice on Thursday, but that's the most he's been able to do since suffering his latest injury and there's no guarantee he'll be ready to start the season on Wednesday.
When you add Bogut's lingering issues to those of Curry, who has seen persistent ankle injuries alter each of his last two seasons (especially last year) and hurt his right ankle yet again in a game last weekend, it's tough to see the Warriors doing any more than being an also-ran for still another year.
Perhaps both Bogut and Curry will stay healthy, each play in at least 70 games and combine with promising rookies Harrison Barnes and Draymond Green to put a scare into some of their foes out west.
Recent history, though—as recent as last week—suggests otherwise.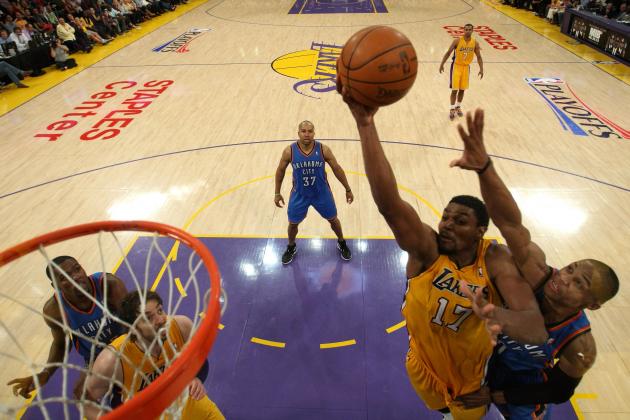 Stephen Dunn/Getty Images
This is the last time Bynum played basketball.
When the Sixers threw their hats into the ring of the Dwight Howard circus over the summer, it wasn't to get Howard, it was to grab the widely considered next best center out there, the Lakers' Bynum.
Philly gave up veteran/main man Andre Iguodala to get Bynum, but the prospect of having such a force in the paint to go along with a group of wildly talented youngsters in the back court and on the wing was enough for the Sixers.
As of now, it looks too good to be true. Bynum, already saddled with a reputation of being difficult and immature, is dealing once again with injury issues, this time to his right knee.
Bynum didn't play a minute with his new team in the preseason. He's been getting injections. He had platelet therapy in Germany last month.
And he still can't play. The team announced last week that he will not do so until he is "pain-free" but if this were the playoffs, he'd be out there.
Bynum will likely miss the Sixers' opener on Wednesday night (naturally, against Iguodala and the Nuggets). After that, who knows? This is a guy who could be one of the 10 best players in the league if his body and his head could only get out of his way.
The Sixers took a risk in acquiring Bynum, who seemingly cannot really be reached by anyone, even Phil Jackson. If he can't even get on the floor, it won't matter.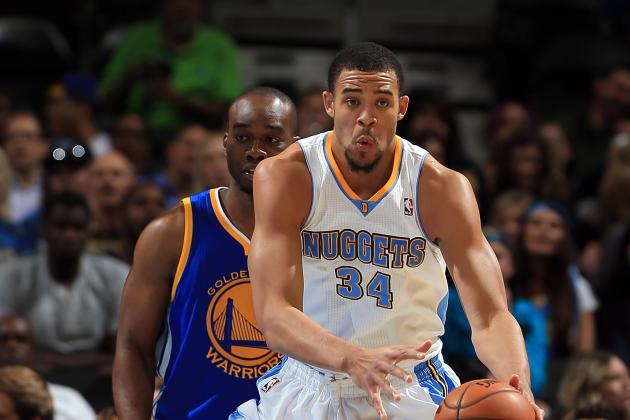 Doug Pensinger/Getty Images
McGee could be the key piece for the Nuggets.
McGee has always looked the part. But in Washington, he played the clown.
Once freed from that mess of a franchise though, he started to look like the high-impact big man he's capable of being with his new team, the Denver Nuggets.
In Denver, McGee has a top-flight point guard in Andre Miller to get him the ball where he needs it. He has a veteran coach who's seen it all in George Karl. He has battle-tested veterans as teammates so someone can give him a swift kick if he acts like a knucklehead. And he plays on a team with a truckload of depth, so he doesn't have to be the man.
This is a guy who has the size and tools to be a dominant NBA player. He's already a premier shot blocker. And he's just 24 years old. With the right kind of coaching and development, he could be an All-Star sooner rather than later.
The Nuggets are a trendy, fringy-looking contender out West. And even though in the end, they probably don't have quite enough despite all of their depth, they have the look of a team that will give opponents fits while continuing to steadily improve.
And McGee is at the center of it all.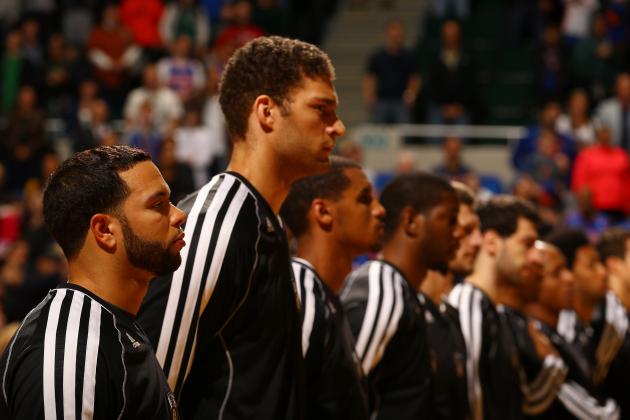 Al Bello/Getty Images
The Nets need Lopez to stand tallest.
While some Nets fans may be alarmed at the news of Deron Williams suddenly coming down with a case of ankle tendinitis that kept him out for a stretch last week and required a couple of injections, things looks pretty good in Brooklyn on the eve of the franchise's move there becoming official.
As important as Williams is, the key for the Nets will be the performance of Brook Lopez at center. Lopez can score, but is he healthy? And if so, will he rebound and play defense?
So far in the preseason, Lopez has averaged 10 boards per 36 minutes, a very solid number. As opposed to the six boards per 36 he put up over parts of the past two seasons, a number lower than several NBA guards, his preseason rebounding stats practically make him look like Bill Russell.
The Nets piled up a ton of additions in the summer, from Joe Johnson to Andray Blatche to the intriguing Mirza Teletovic. But other than Williams, no one is more crucial to their success this season than a healthy Lopez.
Three years ago, Lopez averaged 18 and nine. Stats like that prove he's capable of rebounding at a high-ish level.
The question is, can he do it again? If he does, the Nets will be a real threat in the East.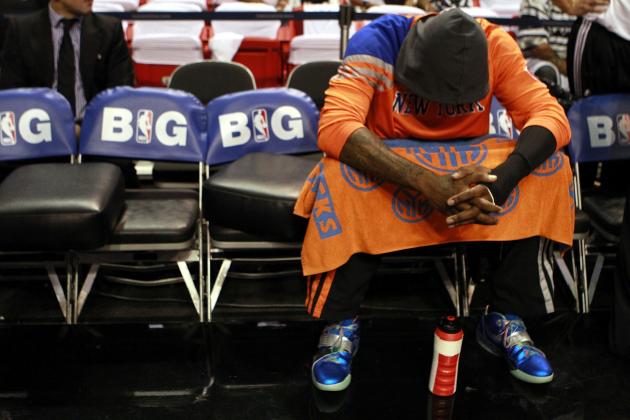 Marc Serota/Getty Images
This is what you signed up for, big fella.
Let's see... Stoudemire, Chandler, Shumpert, Smith and Camby are all hurt.
Yep, it's the New York Knicks!
Not all of those names are injured. Chandler just has a bruised knee and says he'll play on opening night. Smith and Camby should be good to go as well.
But Stoudemire is likely to miss the opener, and could be out longer. His uninsurable knees are acting up again and a report surfaced on Friday that he could miss four to five weeks.
If anyone is surprised by this development, they haven't been paying attention. The Knicks are so poorly run that they are continually forced to depend on players who shouldn't be depended on, with Stoudemire being the latest. Even if his knees are healthy, who's to know he won't punch a fire extinguisher case in the playoffs and mangle his hand?
When you add to Stoudemire's injury issues the fact that the Knicks opened up a retirement home over the summer by adding Camby, Jason Kidd and (gulp) Rasheed Wallace to an already older core, you can see with your own eyes that this is a team that still does not get it.
Chris Trotman/Getty Images
One wonders if Allen will ever stop talking about how terribly the Celtics treated him.
Ray Allen didn't want to come off the bench in Boston. So he took less money, fewer years and turned down a no-trade clause from the Celtics to do just that in Miami.
And now he can't shut his mouth regarding how unwanted and how poorly treated he was by the Celts.
Um, Ray...maybe you should stop talking for a few minutes.
Allen, who has proven since leaving the Celtics to be an insecure, immature egomaniac, needs to let this all go. His telling ESPN.com's Jackie MacMullan that, "I didn't want to go anywhere. It hurt my family to leave," rings so hollow after all of the other things he's said since leaving Boston. In addition to coming off like a jilted lover, he's now appearing completely disingenuous and lacking in credibility.
Fine, Ray. You were being ignored, forgotten, phased out. The team didn't want you despite offering you more money and years than anyone else as well as a no-trade clause so that your feelings wouldn't get hurt every time there was a rumor.
Get over it. You play for the defending champs now. You're teammates with the game's best player. Obviously everyone in South Beach loves and respects you more than those mean, angry Celtics ever did.
Now please shut up.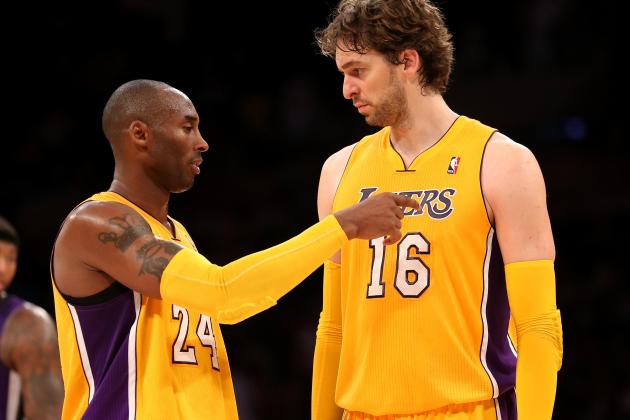 Stephen Dunn/Getty Images
You think either of these guys care that they went winless in the preseason?
You know who was the worst team by record during the preseason?
The Lakers. They went 0-8.
Does this mean that they are doomed, that all of the hype surrounding their offseason moves was for naught? That they are destined for the lottery?
Um, no.
They may have lost eight games in about three weeks, but it will likely take them almost three months until they lose their eighth game of the regular season. There's just too much talent and hunger there for them to do any less once the games begin to matter.
And now that Oklahoma City has dealt James Harden, the Lakers' path to the Finals looks at least slightly less challenging.
The point is, it doesn't matter how many games a team wins in the preseason, it only matters how much a team wins in the regular season.
The Lakers are the ultimate proof.