Most Shocking Flash Knockouts in UFC History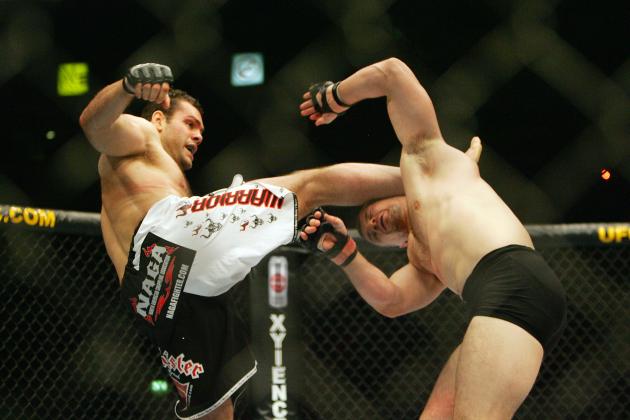 Gary M. Prior/Getty Images

There's no denying it, fans love a knockout. Even better than a knockout is a "flash knockout."
That moment where a single strike flattens an opponent and the limbs go numb. It's perhaps the most shocking way to end a fight in the sport of mixed martial arts. The combination of small gloves combined with intense weight cuts and sloppy striking techniques have lead to a lot of these spectacular knockouts over the course of UFC history.
Some of these battles had profound impacts on the landscape of the UFC while others simply provided excitement. No matter the significance, these are all the most shocking flash knockouts in UFC history.
Begin Slideshow

»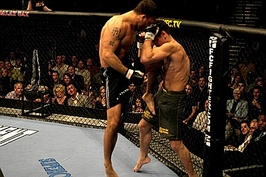 knucklepit.com
When Robbie Lawler and Nick Diaz faced one another at UFC 47, fans of the UFC were likely anticipating a vicious knockout from Lawler. The touted welterweight was the UFC's golden child at that time, while Diaz was believed to be nothing more than a grappler.
Instead Diaz chased Lawler across the cage, taunting him all along the way. Lawler attempted to answer back with some looping punches, but Diaz was able to evade them. In the second round, Diaz kicked up the taunting and angered Lawler even more.
Lawler missed with a looping hook that allowed Diaz to land a solid punch causing his adversary to face-plant directly into the canvas. Lawler attempted to protest the stoppage after being saved but was also stumbling all over the Octagon.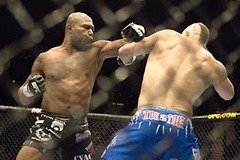 foxnews.com
Chuck Liddell had been the unquestionable king at light heavyweight for years when Quinton "Rampage" Jackson crossed over from Pride. Although many UFC fans felt Liddell was unbeatable, the UFC champ had previously lost to Jackson in Japan.
Making this rematch even more special was the fact it was one of the first instances of mainstream media like ESPN profiling the pay-per-view. UFC fans were quick to side with their "Iceman," while MMA insiders were banking on Jackson defeating Liddell once more.
Not only did Jackson defeat Liddell, he did so in shocking fashion. The UFC champion was utilizing his trademark "back and counter" ploy on the feet, but this time Rampage lunged forward with a powerful hook to drop Liddell like a bad habit.
mmaweekly.com
Lyoto Machida's knockout of Randy Couture would've been all the more impressive had his teammate Anderson Silva not done almost exactly the same thing just weeks prior.
Machida utilizes a karate style of attack in the Octagon and often gets referred to as "the Karate Kid" by UFC fans. I suppose Machida heard those terms of endearment and decided to channel his inner Daniel-son.
Couture was expected to try and hold Machida against the fence to wear him down, but instead fans witnessed a flying front-kick that resembled the Miyagi crane kick. The KO loss would be the last time we'd see Couture in an Octagon.
I guess Mr. Miyagi was correct when he said, "If done right, no can defense."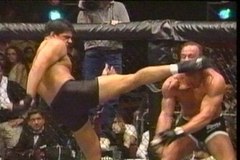 mmamenetal.com
It's never a good thing to take a shoe to the face. But that's exactly what happened to Mark Coleman at UFC 17.
Coleman was expected to steamroll Pete Williams in a manner that would've caused manslaughter charges if it were to happen outside the cage. Instead, Williams was able to stifle the heavy wrestling of Coleman and caused the former champion to become exhausted.
With Coleman's hands at his knees, Williams took advantage of the opening and launched a head kick that landed square on Coleman's face. The former heavyweight champion collapsed in a pile against the cage, and one of MMA's most shocking upsets was complete.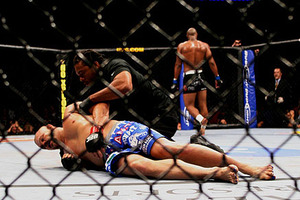 bloodyelbow.com
When Rashad Evans faced Chuck Liddell at UFC 88, the narrative going into the fight was "To be a legend you have to beat a legend." Evans was the young prospect working his way up the rankings, while Liddell was a legendary champion looking to get back on top.
Fans were expecting Evans, primarily a wrestler thus far into his career, to utilize his speed with takedowns and avoiding the dreaded overhand right from The Iceman.
Liddell fans should've known something was wrong when he spent the majority of the first and second round chasing down Evans. Liddell made his living off making opponents come to him and using beautiful counters. At UFC 88, Evans would give The Iceman a taste of his own medicine.
Evans was able to land an overhand right as Liddell came forward with an uppercut. The result was Liddell crashing to the floor and the end of The Iceman as a title challenger.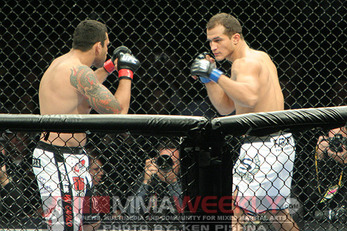 mmaweekly.com
Junior dos Santos was supposed to be the sacrificial lamb to Fabricio Werdum. Werdum, a Pride veteran, was closing in on an UFC title shot but just needed to get past an unknown Brazilian prospect.
Instead of Werdum seizing the chance to look overly impressive against lesser competition, dos Santos made mincemeat of the BJJ black belt. Dos Santos landed what would become his signature punch, an uppercut, straight to the chin of Werdum.
Werdum crumpled to the mat, and Dos Santos' reign of terror in the UFC began.
One part that will always stick out to me when remembering this fight is watching the replays and seeing Werdum's ears wiggle as dos Santos landed the knockout blow.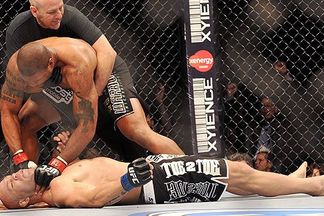 espn.go.com (Jon Kopaloff/Getty Images)
Quinton "Rampage" Jackson and Wanderlei "The Axe Murderer" Silva had one of the best rivalries in MMA history. Not only did the two fighters not like one another, but their fights were some of the most violent battles in the history of the sport.
Silva was able to take the first two encounters with a combination of devastating muay Thai knees. Still, despite the prior outcomes, the two men were matched up once again at UFC 92. Jackson was looking for some measure of vindication while Silva looked to silence Rampage once and for all.
Jackson ducked under a Silva punch to deliver one of the most powerful left hooks ever seen. Rampage wasn't content with nearly knocking Silva's head off, however, and landed another full punch as the referee attempted to pull Jackson off.
A violent ending to one of the most violent rivalries in MMA history.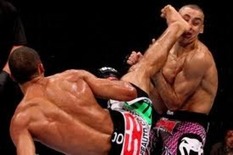 mmamania.com
Edson Barboza and Terry Etim were expected to provide an exciting lightweight contest to help kick off UFC 142. Fans got an action-packed bout and more.
Both Etim and Barboza had their moments in the early rounds, but the outcome was still up in the air as the third round approached. Barboza didn't feel like waiting to hear a judge's scorecard and instead provided a Knockout of the Year candidate.
The Brazilian hit Etim with a wheel kick that caused Etim to collapse backward to the canvas. Perhaps more memorable than the kick itself was Etim's lifeless body slowly crashing to the mat.
It's not hard to imagine why people were predicting Barboza to be the Anderson Silva of the lightweight division.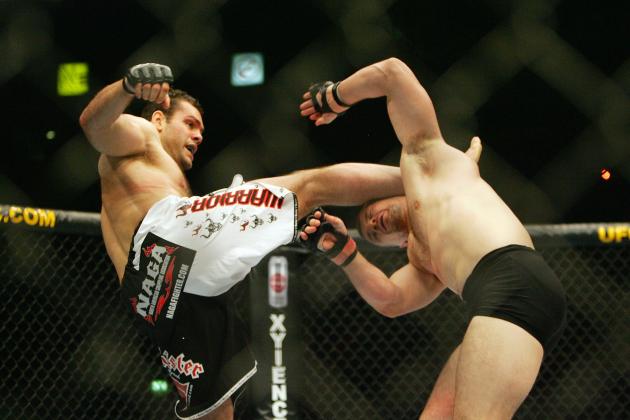 Gary M. Prior/Getty Images

In perhaps the ultimate moment of irony in MMA, Mirko "Cro Cop" Filipovic's tenure as a heavyweight contender effectively came to an end after receiving a kick to the head. The head kick had been the signature move from Filipovic's striking arsenal throughout his entire career.
When Cro Cop and Gabriel Gonzaga met one another, it appeared to be another striker vs. grappler matchup. Gonzaga is a BJJ black belt but was expected to struggle to get takedowns from Cro Cop, who possessed some of the best takedown defense in the division's history.
Gonzaga threw one of the most unathletic head kicks I've ever witnessed, but it absolutely flattened Cro Cop. The kick heard around the world caused one of the most vicious knockouts in UFC history along with the ugly sequence of Cro Cop's knee twisting backwards.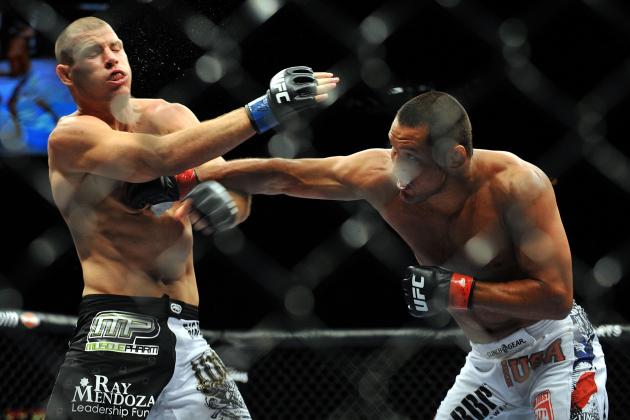 Jon Kopaloff/Getty Images

Dan Henderson and Michael Bisping had a healthy rivalry heading into UFC 100. The Ultimate Fighter: Team USA vs. Team UK was the perfect setting to mold Henderson into an even more popular fighter while vilifying the Englishman Bisping.
For most of the fight, Bisping refused to listen to his corner and circled towards Henderson's powerful right hand. Apparently, Bisping missed the memo that fighters should have "Avoiding the H-Bomb" as their top priority going into a fight with Henderson.
Watching Bisping circle the wrong way was like watching the seconds of a bomb count down. It was only a matter of time before Henderson landed one of his vaunted right hands to the chin of Bisping.
Once Henderson landed a thunderous right hand, Bisping fell back to the canvas. But Hendo wasn't done. The former Pride champion flew through the air to land a flying forearm to an already unconscious Bisping.