Giants vs. Cowboys: Final Report Cards, Player Grades for Dallas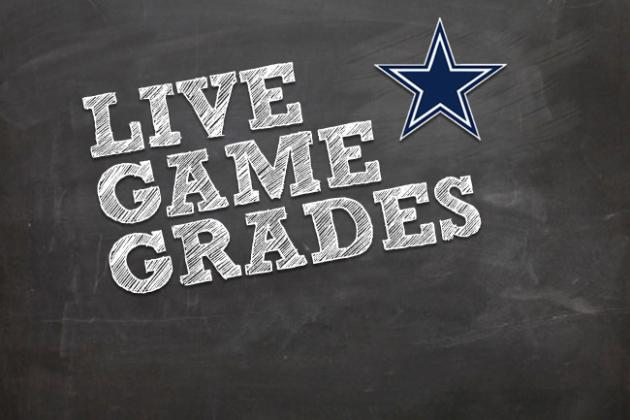 The Dallas Cowboys finally hosted a game at home and they kept shooting themselves in the foot. Even with six turnovers, they almost pulled off an incredible come-from-behind victory over the New York Giants. The Cowboys comeback fell a few inches short and as such, have yet to defeat the Giants in their new home stadium. With the win, the Giants improve to 4-0 inside Cowboys Stadium.
The Cowboys dug their own grave, turning the ball over six times in a 29-24 loss. The Cowboys dropped to 3-4 on the season while the Giants improve to 6-2 and now enjoy a commanding lead in the NFC East.
Let's take a look as the final player grades and analysis for the Dallas Cowboys.
Begin Slideshow

»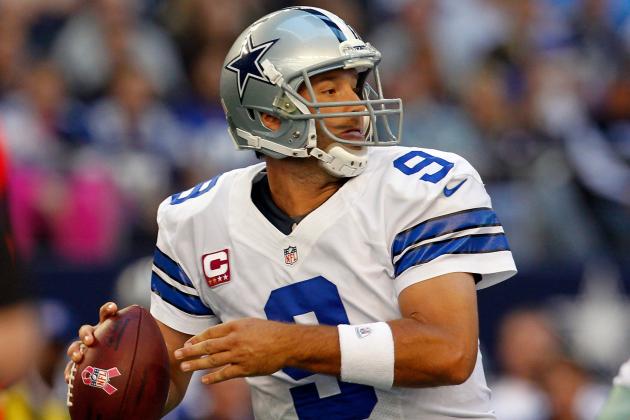 Tom Pennington/Getty Images

Tony Romo: C+
Tony Romo did everything he could to win this game. It was a valiant comeback and he and the Cowboys lost the game of inches. Romo started the game miserably but he was able to show his resiliency and bounce back in the game. After a horrendous first half, he rushed and passed for a pair of touchdowns and brought the Cowboys back from a 23-0 deficit and gave Dallas a 24-23 lead.
Romo was responsible for four interceptions and hopefully one day soon, he will have some wide receivers that actually run the route correctly. He finished the game with a 58.3 passer rating on 36-of-62 passing for 437 yards passing.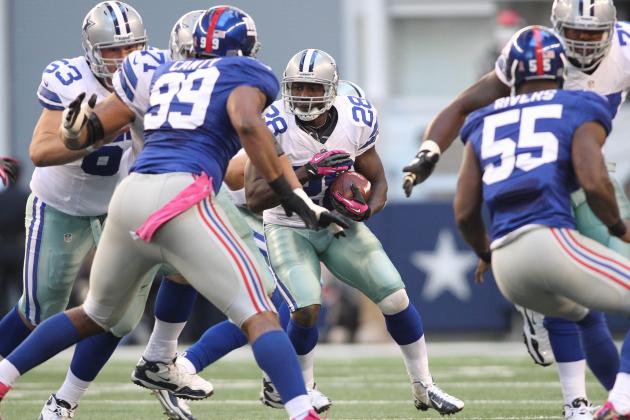 Tim Heitman-US PRESSWIRE

Felix Jones: C-
Everyone in Dallas must be ask, 'When is DeMarco Murray coming back?"
Felix Jones did not do anything to make the Cowboys forget Murray. Jones was tentative and was only able to gain a meager 19 yards on 13 carries. His longest carry went for five yards and his fumble was the reason the Cowboys come-back bid fell short.
Late in the fourth quarter, after the Giants took a 26-24 lead, the Cowboys were driving the ball for a possible go-ahead score. On 1 st-and-10 from the Giants 48-yard line, Felix Jones fumbled the ball when he ran into the back of center Ryan Cook. That turnover proved to be costly.
Phillip Tanner: D
Phillip Tanner was nearly nonexistent. Tanner was only given two goal-line carries, and both times he was stopped for no gain. Tanner was never handed the ball the rest of the night.
He did add one catch for a 13-yard gain, but Tanner did not provide much excitement.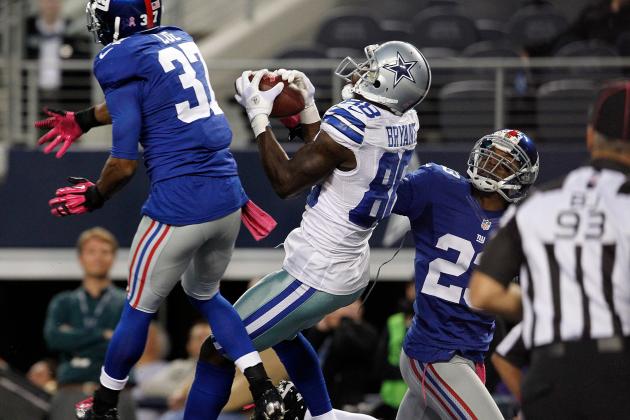 Tom Pennington/Getty Images

Miles Austin: A
Miles Austin continues to easily be the most consistent wide receiver for the Dallas Cowboys. He had his way with Giants cornerback Prince Amukamara. So much so that the Giants needed to give Amukamara help over the top late in the game.
Austin finished the night with nine receptions for 133 yards.
Dez Bryant: B-
If only Dez Bryant would have taken his gloves off for one play, maybe the Cowboys win the game. What's with those huge gloves anyway?
Bryant quite possibly might be the best worst receiver in the entire NFL. One play he looks fantastic, and the next, he runs the wrong route and causes an interception. Bryant did have five catches for 110 yards, but it was the one catch that was overturned that would have
Kevin Ogletree: F
Is there anything to say about Kevin Ogletree? Really?
Ogletree has become a ghost. You kind of remember that huge game he had against the Giants a long time ago, but you hardly see him anymore. Quarterback Tony Romo threw the ball three times at Ogletree and Ogletree finished the night with zero catches.
Time to find another third wide receiver. We'd even take Chad Johnson right now. Where you at 85? Because clearly the current 85 is not getting it done!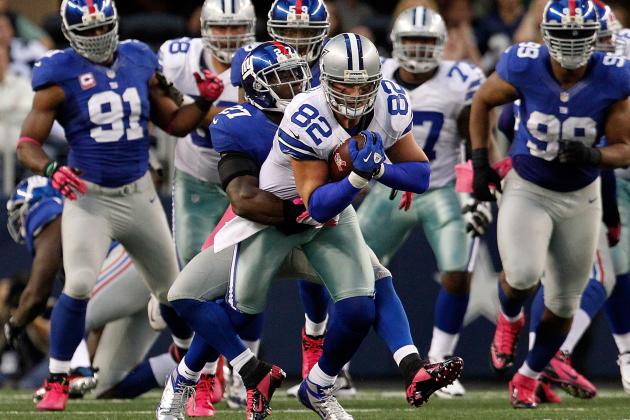 Tom Pennington/Getty Images

Jason Witten: A+
Jason Witten was not kidding when he said that he would be more involved earlier in the week. Witten was targeted 22 times and caught 18 of them.
He finished with a career-high 18 catches for 167 yards. He did not score a touchdowns, but he had his best game statistically as a Dallas Cowboy.
A case could be made that Jason Witten is the best player the Dallas Cowboys have on their team.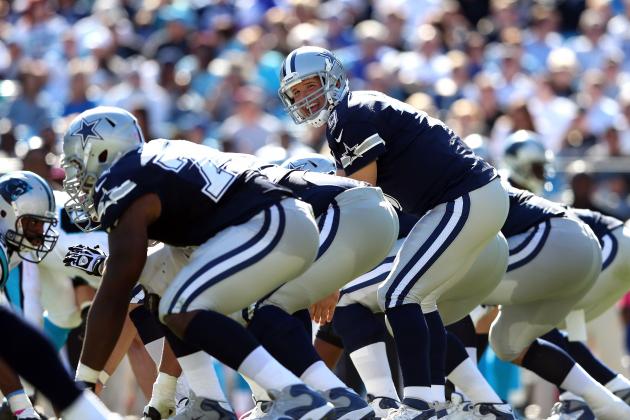 Streeter Lecka/Getty Images

Tyron Smith: B-
Tyron Smith did a descent job against Jason Pierre-Paul for most of the game, but Smith did give up a sack and did allow a couple of pressures on quarterback Tony Romo. Smith's footwork is getting better, but at times it does look as if he is out of position with his blocks.
Doug Free: D
Same thing, different day. Doug Free continues to have a hard time with all forms of blocking. Most of the pressure applied on Romo came from Free's side of the line. He gave up a couple of sacks and his inability to hold a block on the Cowboys 4th-and-1 play hurt the Cowboys chances of picking up the first down late in the fourth.
Replacing Free should start to become the Cowboys top priority.
Ryan Cook: F
It is clear that the Dallas Cowboys need to go out and find a true center. Ryan Cook was in for the injured Phil Costa and he was abysmal.
Cook snapped a ball over Romo's head which killed a drive when Romo had to chase down the ball to save another turnover. Cook, or at least Cook's backside, was also involved in the Felix Jones fumble which was a critical mistake late in the game.
Nate Livings: C-
Nate Livings is not living up to his billing. The Cowboys are paying him too much money for him to allow defenders to constantly blow up the middle of the offensive line-of-scrimmage.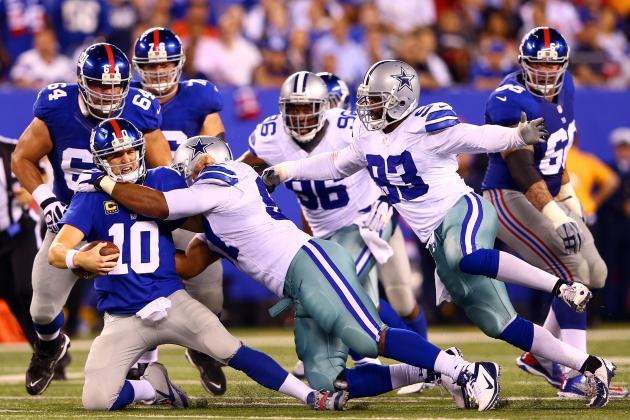 Al Bello/Getty Images

Jay Ratliff: B-
Jay Ratliff was back at it for the Cowboys applying plenty pressure in the trenches. Ratliff had three solo tackles, five total tackles, a tackle for a loss and one defended pass.
Ratliff was able to get after Giants quarterback Eli Manning and was also credited with a QB hit.
Jason Hatcher: A-
Jason Hatcher was also close to getting to Eli Manning several times. He applied one QB pressure and one QB hit. Hatcher is doing a great job of taking the double team and at times getting off it to make the tackle or apply pressure in the backfield.
Hatcher also finished with four total tackles.
Kenyon Coleman: B+
Kenyon Coleman was all over the place on the defensive front. Coleman finished the game with three solo tackles, with five total tackles.
He was a great force clogging up the middle of the line and his forced fumble on Ahmad Bradshaw was fantastic. If Coleman can help create more turnovers, he is going to help this defense get better.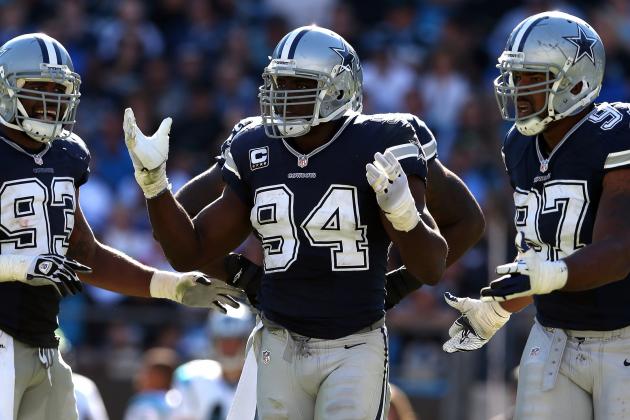 Streeter Lecka/Getty Images

DeMarcus Ware: A
DeMarcus Ware continues to be the best pass rushing linebacker the Cowboys have ever had. Ware picked another sack of Eli Manning and finished the game with three solo tackles, a tackle for a loss and one quarterback hit.
Ware is starting to look better in coverage too.
Bruce Carter: B+
With Sean Lee out due to injury, Bruce Carter had to take a bigger role on the defense. Carter stepped up well and responded with four solo tackles and a tackle for a loss.
Carter does well around the line of scrimmage but struggles when asked to drop back into coverage.
Dan Connor: Incomplete
The Cowboys just cannot catch a break. Dan Connor started the game in place of the injured Sean Lee and Connor left the game with an injury himself. Connor suffered a neck strain and left in the first half. Connor had two tackles before he left the game.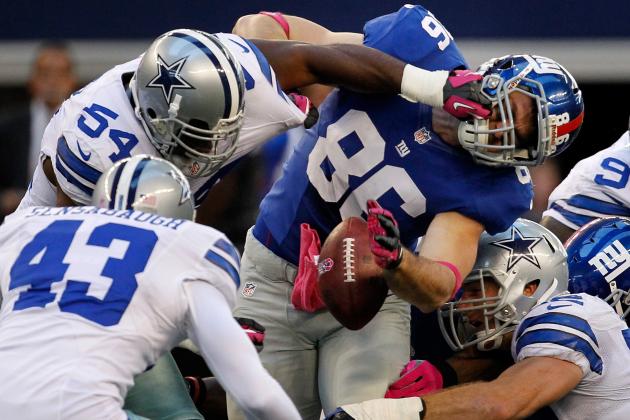 Tom Pennington/Getty Images

Brandon Carr: A
Brandon Carr virtually eliminated Victor Cruz from the game. Cruz only managed 2 catches although he was targeted eight times. Carr was solid in coverage and credited with a pass defensed to go along with his five solo tackles.
Morris Claiborne: A
Morris Claiborne is not intimidated by Hakeem Nicks or any other Giants receiver. Nicks finished the game with a paltry four catches for 46 yards. Claiborne had tight coverage and it is clear he is suited for man-to-man coverage.
Claiborne also recovered an Ahmad Bradshaw fumble in the second quarter, proving he knows how to be around the football. He finished with three solo tackles.
Gerald Sensabaugh: B+
Gerald Sensabaugh's hit on Victor Cruz was awesome. It resulted in an interception. I was a legal hit on a wide receiver and probably the best legal hit we have seen in a long time. Sensabaugh is starting to grow into his safety role and he finished the game with a solo tackle and that pass breakup.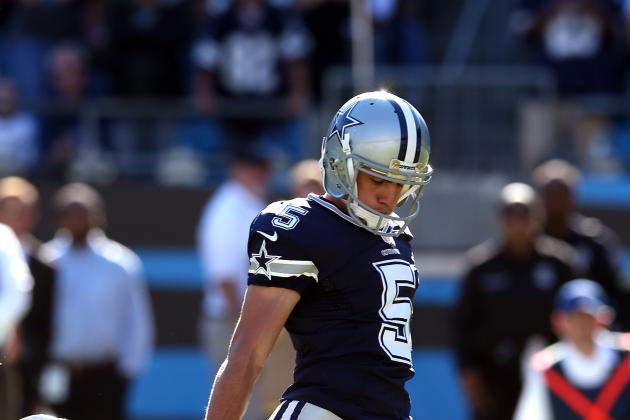 Streeter Lecka/Getty Images

Dan Bailey: A
Dan Bailey nailed his only field goal attempt of the game, a 51-yard kick in the second quarter. He was great on kickoffs and appears as if Bailey would have been good to go had the Cowboys needed a field goal late to win the game.
Brian Moorman: A-
With punter Chris Jones on the IR, Brian Moorman has been asked to step in and handle the punting duties. Moorman showed he is more than capable of handling the job.
Moorman had four punts with an average of 41.3 yards per put and nailed the Giants inside their own 20-yard line three times.
Lance Dunbar: B+
Lance Dunbar had a promising start returning kickoffs for the Cowboys. He gained 142 yards on six kickoff returns, averaging 23.7 yards per return. He did have a nice return for a long of 44 yards. That return should have bought Dunbar a few more games with the job of returning kicks.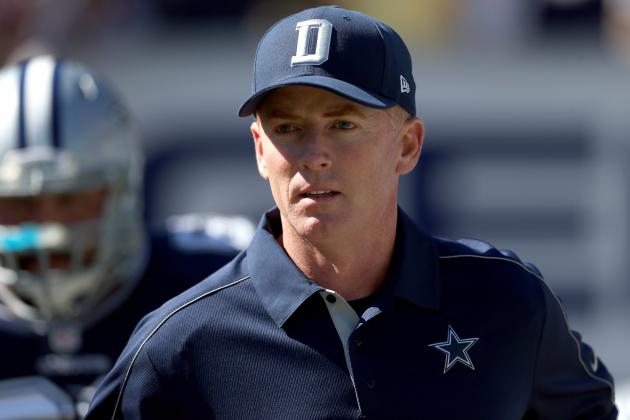 Streeter Lecka/Getty Images

Jason Garrett: D
Jason Garrett continues to struggle as head coach of the Dallas Cowboys. The Cowboys end of half, end of game situational game planning continues to be horrendous. Garrett's needs to consider giving up his play-calling duties.
Garrett does not know how to handle situational play-calling. He runs the ball when he should pass and he passes when he should run. With three timeouts at his disposal, there was no reason for Garrett to call for Tony Romo to throw the ball deep on 2nd-and-1 late in the fourth quarter on three consecutive plays.
The Cowboys had three straight incompletions and failed to get the first down. They had been having success gaining short yards when they needed it, but Garrett proves again that he cannot be counted upon to do the right thing.
Rob Ryan: A
Honestly, the only reason the Cowboys were even in this game was because of the play of the defensive unit. They forced the Giants to settle for field goals instead of giving up touchdowns. Ryan talked the talk and the defense walked the walk, effectively shutting down Victor Cruz and Hakeem Nicks.