NBA Preseason 2012: Disappointing Teams That Need Fast Turnaround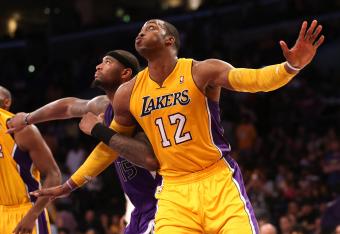 Dwight Howard in Laker preseason game against Sacramento
Stephen Dunn/Getty Images
The NBA preseason has now come to a close, and it's almost time for the regular season start. Record-wise, there aren't many teams who looked particularly good in the preseason, but there are a few teams that we all expected to have played better than they did.
Los Angeles Lakers
Now, I know everyone says preseason doesn't matter (especially when their team isn't playing so well), but are we really going to ignore that the Los Angeles Lakers are 0-8?
We're talking about the Lakers. The team that picked up a self-proclaimed superhero in the offseason.
And it's not like their starters haven't been playing. Pau Gasol has played an average of 30 MPG (outside of the one game he sat out), and the other starters have put up roughly the same number of minutes. Of course, Dwight Howard only played in two games while he recovered from back surgery, and Kobe missed a couple games because of a foot injury.
But that doesn't excuse what's supposed to be the best team in the NBA going winless in the preseason.
And let's not forget this little fun fact: No team has ever made it to the NBA finals after going winless in the preseason. Just saying…
Dallas Mavericks
The Mavericks went 3-4 in the preseason this year.
Ronald Martinez/Getty Images
They played without Dirk Nowitzki, who's recovering from the knee surgery he underwent Oct. 19. Nowitzki, the team's top scorer, averaged 21.6 PPG last season and is expected to be out three to six weeks.
The Mavs are apparently looking to get rid of Delonte West, who was suspended for the second time in less than a month after there was an argument following the Mavs last preseason loss to the Thunder. West averaged 9.6 PPG for the team last season.
OK, so they'll probably survive without Delonte West on the roster, but can they do without Nowitzki for the first few weeks?
They can if players like Jae Crowder, who averaged 11 points off the bench in preseason, can continue to perform well in the regular season.
And players like O.J. Mayo will need to step it up. Mayo played pretty well in preseason, averaging 10 PPG in 26 MPG. But Dallas will need more from him and the rest of the Mavs starters this season, especially while they play without their leading scorer.
Boston Celtics
The Boston Celtics are another team that hasn't quite lived up to expectations so far.
The Celtics, who lost to the Miami Heat last year in the Eastern Conference finals, had a 3-5 record in the preseason.
Not terrible, but also not good for a team looking to succeed without its "Big 3" for the first time since 2007. Ray Allen went to the Miami Heat in the offseason.
The good news is, Jeff Green, who missed all of last season with a heart problem, showed what an asset he'll be to the team this year. He put up double-digits in points in all but two games, including a 25-point game in Paul Pierce's absence.
Whether or not you think the preseason matters, you have to agree that these teams are going to have to step it up in the regular season if they want to be successful this year.
That goes for the Lakers especially; that fun fact won't be so fun when the league's superteam is sitting out the NBA finals.
This article is
What is the duplicate article?
Why is this article offensive?
Where is this article plagiarized from?
Why is this article poorly edited?