Seahawks vs. Lions: Final Report Card, Player Grades for Detroit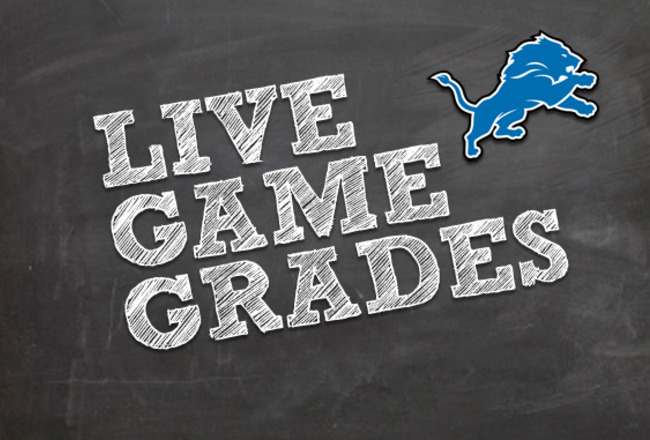 The Lions and the Seahawks played a pretty tight football game in Week 8. Lions quarterback Matthew Stafford led the Lions to 14 fourth quarter points to bring the Lions from behind for another comeback win. The Lions played their best game of 2012 against the Seattle Seahawks.
Let's look at the Lions' final postgame grades and evaluations.
Quarterbacks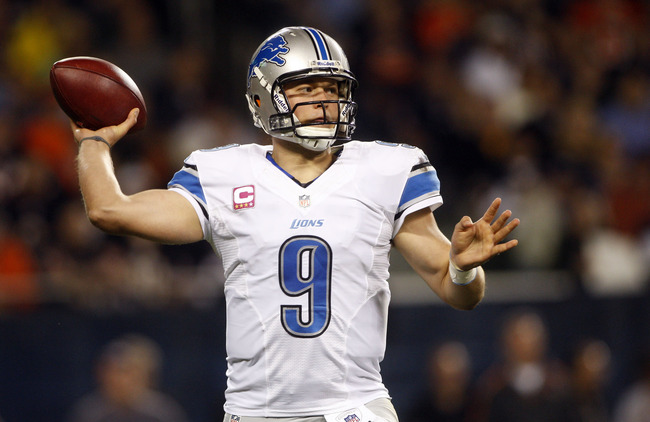 US PRESSWIRE
Matthew Stafford: A
Lions quarterback Matthew Stafford had the best game of the 2012 season as he reminded everyone of what he looked like in 2011. Stafford was very accurate against the Seahawks, fitting the ball into tight windows throughout the afternoon.
Stafford displayed his athletic ability as the Lions moved him around and he was able to manipulate the defense with his feet. Stafford was fantastic in this game. He finished 34-of-49 for 352 yards. He threw three touchdown passes and one interception in the game against the Seahawks.
Running Backs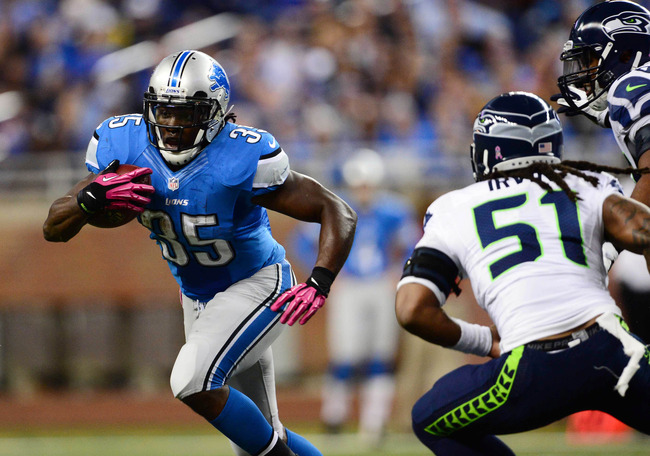 Andrew Weber-US PRESSWIRE
Mikel Leshoure: B
Running back Mikel Leshoure was not all that active against the Seahawks as the Lions looked to be more focused on getting Stafford's timing together and not establishing the run. He was effective when he did touch the ball, running it for 46 yards on 10 carries. He also caught three passes for nine yards.
Joique Bell: B
Joique Bell continues to be one of the pleasant surprises for the Lions in 2012. He makes the most of his opportunities each and every week. Bell rushed for 25 yards on seven carries and caught four balls for 33 yards. Bell is a reliable running back and a very nice offensive weapon for the Lions.
Wide Receivers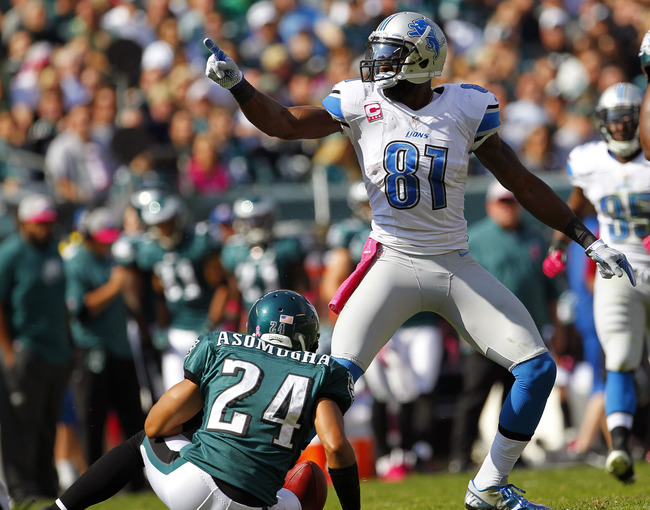 Rich Schultz/Getty Images
Calvin Johnson: C+
Johnson looks like something is nagging him physically as he is dropping passes and looks out of sorts. He is the game's best wide receiver but is not playing like it. Everything he is doing looks to be a grind, even getting up from the turf.
Johnson finished with 46 yards on three catches, but he dropped a touchdown pass and a few others in the game.
Titus Young: A
Everyone has been wondering where Titus Young has been in 2012, as he has been incredibly quiet through six games. He showed up today against the Seahawks when it really mattered. Young has moved up the depth chart due to the Nate Burleson injury and the Lions need him to mature and step into the role.
Young was brilliant in this game. He caught a bunch of passes, including the game-winning touchdown pass late in the fourth quarter. Young finished with nine catches for 100 yards and he scored two touchdowns.
Ryan Broyles: B
Broyles emerged last week as he scored a touchdown on Monday Night football. He steps into the starting slot receiver role with the Burleson injury, and the Lions need him to play up to the level they saw when they drafted him in the second round of the 2012 NFL draft.
Broyles caught the game's first touchdown in the first quarter. He finished with 37 yards and a touchdown on three catches.
Tight Ends
Howard Smith-US PRESSWIRE
Brandon Pettigrew: B
One of the positives coming out of this game is that Pettigrew was heavily involved in the passing attack, caught seven passes for 74 yards and he did not fumble the ball or drop a pass in Week 8. Pettigrew had a solid outing against the Seahawks as he helped to move the chains for the Lions offense.
Tony Scheffler: B-
Scheffler is a matchup problem for opposing defenses because he is very big and he can run well. The Lions are going to line up Scheffler all over the field much like they did today. Scheffler did not have a great game against Seattle, but he was effective. He registered 46 yards on four catches.
Offensive Line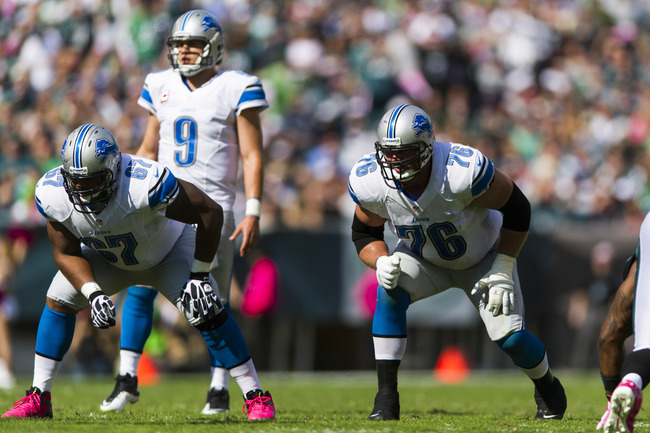 Howard Smith-US PRESSWIRE
Jeff Backus: B
Jeff Backus did a great job of protecting quarterback Matthew Stafford. He does not help in the run-blocking game, but that is not a particular strength of his. Overall, Backus was great versus the Seahawks as they had only two sacks on Stafford. Backus did not hurt the Lions in any fashion today.
Rob Sims: B
Rob Sims did a nice job of keeping Stafford clean in this one. Sims was really effective in pass protection and he did an adequate job of giving the Lions running backs some room to operate. He is quietly a stabilizing force playing next to Jeff Backus.
Dominic Raiola: C
Much like the other offensive linemen, Raiola was fairly effective in pass protection. Raiola's job is to make the calls for the offensive line, and he did a good job there today. Raiola looks physically outmatched in every game as he struggles to move anybody off the ball. He was directly responsible for a sack the Lions gave up to Seahawks defensive tackle Brandon Mebane.
Stephen Peterman: B-
Stephen Peterman was good in this game. He helped to create a little push in the running game and the Lions did try to run the ball behind him. He was good in pass protection as well.
Gosder Cherilus: C+
Cherilus was a not a problem from a negative play perspective in Week 8. He has made a poor choices by taking personal foul penalties for unsportsmanlike conduct in the past, but he did none of that today. He performed well in pass protection against the Seahawks.
Defensive Line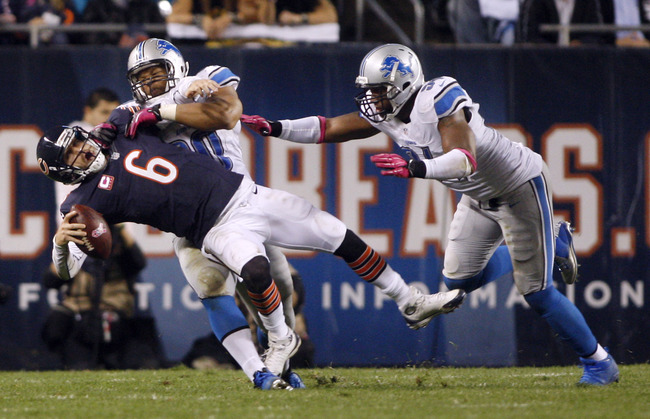 US PRESSWIRE
Ndamukong Suh: B
Ndamukong Suh had another strong performance, as he displayed his incredible strength by pushing offensive linemen into Seahawks quarterback Russell Wilson. Teams are still trying to take advantage of his aggressiveness by running the ball at him, but he is much better at playing the run than he has been in the past. Suh finished with no sacks and two total tackles.
Cliff Avril: C
Cliff Avril had a pretty average game by his standards as he finished with one tackle. The Lions did not get much pressure from their defensive line against the Seahawks, and Avril was not a factor in this game.
Kyle Vanden Bosch: B
Vanden Bosch did a good job of pressuring the quarterback today. He did not register a sack but he was all over the field. The Lions defensive line did a really strong job of helping in defensing the run. Vanden Bosch totaled two tackles but was a bigger part of the defensive effort that the statistics show.
Corey Williams: B
Williams managed just two tackles against the Seahawks but he was also a bigger part of the effort than the numbers show. He was timing the snap and disrupting the pocket throughout the afternoon.
Linebackers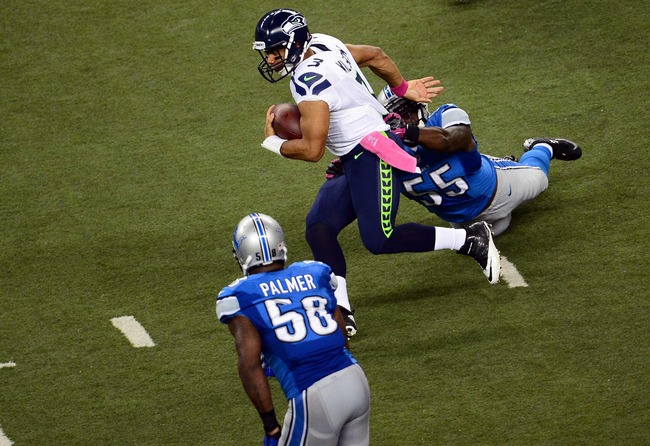 Andrew Weber-US PRESSWIRE
Justin Durant: B
Justin Durant and the linebacker group as a whole played a fantastic game against the Seahawks. They were tasked with tackling one of the NFL's best players in running back Marshawn Lynch. Durant and the rest of the linebacker group did a great job of preventing the big play. He registered seven total tackles. Durant and the linebacker group are emerging as one of the best linebacker groups in the NFL.
Stephen Tulloch: B
Stephen Tulloch tackled well throughout the day and he is proving that the Lions made a great choice ion paying him in free agency in 2012. He finished with five total tackles and did a nice job of spying Seahawks quarterback Russell Wilson. The Lions linebackers played a great game and they kept the Lions in a position to win this game.
Ashlee Palmer: C-
Palmer didn't have a great statistical game but he was tasked with running down the hard running Marshawn Lynch, and that is itself is a tough task. He got burned by Seahawks tight end Zach Miller for a touchdown and got himself blocked on Lynch's 77-yard touchdown run. Palmer finished with three total tackles.
Secondary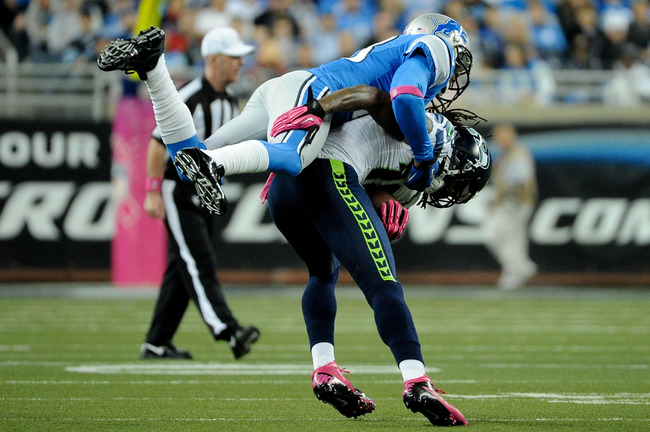 Tim Fuller-US PRESSWIRE
Jonte Green: B-
Green got the start at cornerback in this game opposite Chris Houston. He played a strong game and did a better job of locating the ball. Green did get called for a long pass interference call, but he broke up a few passes as well.
Chris Houston: B
Houston played another very good game as he kept everything in front of him. Houston gives too much cushion at times, but he had an effective day playing a very disciplined game. Houston had eight total tackles against the Seahawks.
Alphonso Smith: B-
Smith is playing the nickel cornerback position for the Lions and he is doing an admirable job. He got beat by wide receiver Sidney Rice for a short touchdown but the throw and catch was well executed. He located the ball and didn't get burned deep, tacking on four tackles in the stat column.
Ricardo Silva: B+
Silva had a really strong performance against the Seahawks, stepping in for starter Amari Spievey . He stopped the run and did a very nice job in coverage. He had a gigantic interception and finished the game with four total tackles. Silva had a very strong game against the Seahawks.
Louis Delmas: B
Delmas' return to the defense means everything as they are a much better team with him on the field. He made plays all over the field, against the run and the pass. His return makes the defense a very good secondary, but he did get injured and missed some time against the Seahawks.
He had three tackles and looked very strong when he was in the game.
Special Teams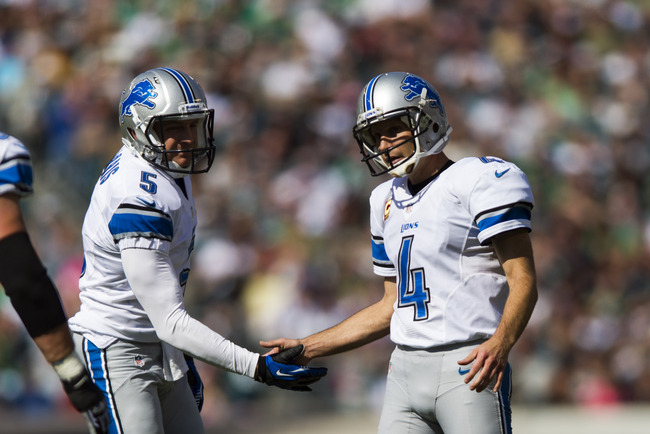 Howard Smith-US PRESSWIRE
Special Teams: B
The special teams units did not hurt the Lions against the Seahawks in Week 8. They did a nice job in kickoff and punt coverage, and kicker Jason Hanson kicked the ball deep and away from returner Leon Washington. They did flirt with giving up a big return early in the game but they tightened up and prevented the big play from happening.
The Lions got called for lining up over the center during a punt early in the first quarter. It is a play that can't happen as the Lions gave the ball back to the Seahawks and they converted the penalty into three points. This is an example of a play that simply can't happen.
Coaching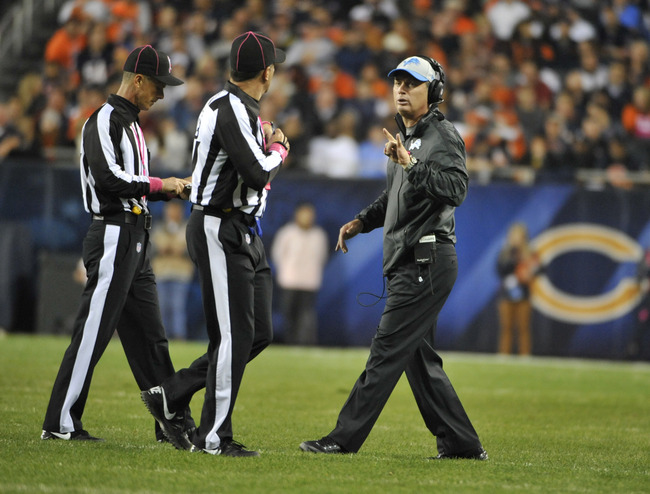 David Banks/Getty Images
Coaching: B
The massive number of penalties that this team is taking early in games is alarming. The staff needs to find a way to prevent the neutral-zone infractions, as well as the other silly penalties that this team takes for too often. Defensive coordinator Gunther Cunningham hammered the players for the penalties and the players responded, getting the penalties under control.
The offense came out much quicker and it got Stafford moving the pocket, which appeared to help his accuracy and tempo. Give the staff a lot of credit for making this change. The coaches had a fairly strong game in all areas as the Lions looked more prepared to play this game than at any other point in this season. It was a very good showing for the Lions.
Keep Reading

Detroit Lions: Like this team?