2013 NFL Mock Draft: Defense Dominates 1st Round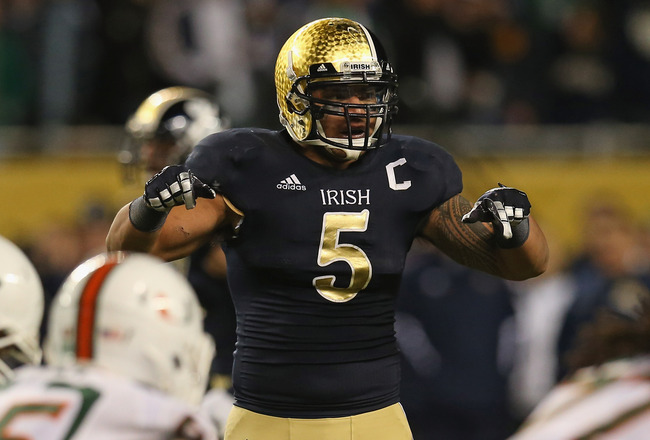 Jonathan Daniel/Getty Images
Do you crave a ridiculously early 2013 NFL Mock Draft? If you're like me, then that's an absolute yes. While it's great to ponder who your team will have a shot at drafting, I should point out that because this is so premature to the actual draft, I wouldn't be surprised if half of these prospects slip out of the first round (in the past, some have slipped to day three or even remained undrafted). Anyways, here's my first take. You can follow me on twitter @Metta_Colin and read all my work at my site www.mettachronicles.com.
1. Kansas City Chiefs: QB Matt Barkley, USC
Stephen Dunn/Getty Images
QB Matt Cassel has been horrendous for Kansas City; he is by far their biggest weakness on offense and it's time to replace him. While I think QB Matt Barkley is overrated, he is the top choice at the position (although in my humble opinion, this is a very weak offensive draft class). Not sure if they want to go for the other QB options here—although Barkley is a polished product, he's far from being an elite prospect like Andrew Luck or RG3 but grades similarly to QBs in the past like Jimmy Clausen (which would be a bad thing).
2. Cleveland Browns: DT Star Lotulelei, Utah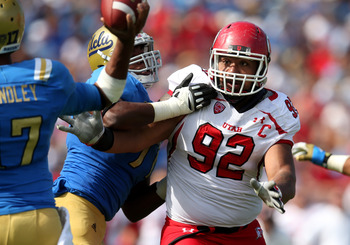 Stephen Dunn/Getty Images
This pick will likely depend on what type of defense the Browns play in 2013, so I'll try to pick a neutral choice. DT Star Lotulelei has been talked about being a top-three pick since last year's draft and has been favorably compared to Ravens star Haloti Ngata due to his size, speed and strength. He'd be a huge upgrade over current starting tackles Ahtyba Rubin and Billy Winn (I realize Phil Taylor is injured, but he hasn't proven much yet). He would also have the ability to become a star in both 4-3 and 3-4 defenses.
3. Jacksonville Jaguars: OLB/DE Jarvis Jones, Georgia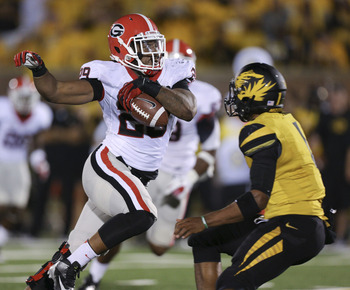 Ed Zurga/Getty Images
So many needs here, it's hard to pick. While QB Blaine Gabbert has proven to be a bust at this point in his career, I don't think it would be wise to gamble on a QB with such a high selection and with so many needs. The Jags can't instantly become a contender overnight, so with this pick it's important to get the best player available, which would be OLB/DE Jarvis Jones.
Over the past few drafts, the Jags' front office has attempted to improve their pass rush but to little production. Jarvis is an intense linebacker/end hybrid who could bring terror to fellow teams in the AFC South. I wouldn't be surprised if the Jags opted for help for their offensive line; tackles like Texas A&M's Luke Joeckel or Michigan stud Taylor Lewan could be an option if they were to declare.
4. Carolina Panthers: DE Bjoern Werner, Florida State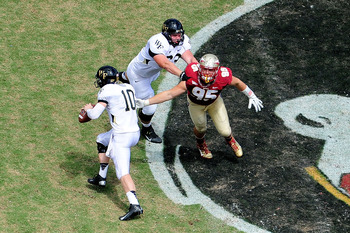 Stacy Revere/Getty Images
The Panthers need help on their defensive line, but unfortunately the two elite prospects are already off the board. Lotulelei would have been a great fit, but unfortunately he's already gone. For me, it's a toss-up between defensive ends Barkevious Mingo from LSU and FSU's DE Bjoern Werner, but in the end I'm taking Werner. He's steadily improved throughout this season and has quickly risen on draft boards. Also watch out for Mingo's teammate DE Sam Montgomery to be an option, but to me LSU defensive linemen seem to pan out in the pros when drafted too early.
5. Oakland Raiders: DE Barkevious Mingo, LSU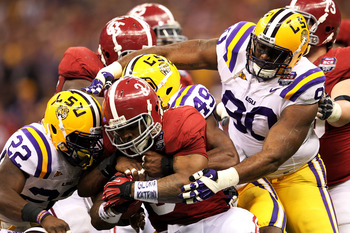 Andy Lyons/Getty Images
It's been an up-and-down season for the Raiders; they easily could be 4-2 if they hadn't lost two close games to the Chargers and Falcons. They have a lot of needs they should address. Like so many other teams in the top five, the Raiders desperately need to improve their pass rush as Matt Shaughnessy and Lamarr Houston are failing to generate any type of heat on opposing QBs. Mingo seems to be good fit here. If not for a DE, some analysts have stated they wouldn't be surprised if they drafted a young replacement for QB Carson Palmer, although Palmer has played well so far.
6. Buffalo Bills: QB Geno Smith, West Virginia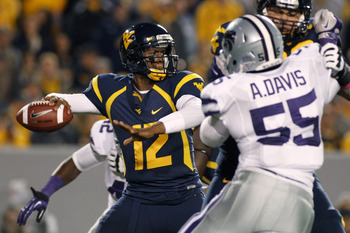 Justin K. Aller/Getty Images
While the Bills handed a huge extension to Ryan Fitzpatrick during last season, I don't see them rising above being mediocre with him at the helm. They've already got a young, exciting defense, so with that in mind, I think West Virginia QB Geno Smith would get a call. With him at the helm, I wouldn't be surprised to see a quick turnaround and see some initial success due to Smith's uncanny accuracy and ability to read defenses (although not as much in the past few weeks). If an elite LT emerges between now and the draft, it wouldn't be a bad move to snag him since their current starter Cordy Glenn is more suited to be a right tackle or even guard due to his size.
7. Tampa Bay Buccaneers: LT Luke Joeckel, Texas A&M
Ronald Martinez/Getty Images
While most analysts would suggest that the Bucs draft a defensive lineman, I would allow their young players a little more time to develop. 2011 first-round pick Adrian Clayborn is on the IR, while fellow draft class member DE Da'Quan Bowers has been dealing with knee problems. Instead, I point to their offensive line and specifically to their right tackle where they could use a huge upgrade on incumbent Demar Dotson.
Luke Joeckel has played as well as any offensive lineman this year and has the tangibles to be an elite LT. Head coach Greg Schiano could draft Joeckel and then slide Donald Penn over to the right, which would vastly improve the team's ability to pass protect (which will also improve given the return of G Davin Joseph).
8. St. Louis Rams: LT Taylor Lewan, Michigan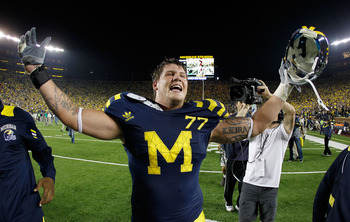 Gregory Shamus/Getty Images
Coach Jeff Fisher has done a fantastic job changing the culture of the Rams, making them instantly competitive in the NFL in just one offseason. They will look to add even more talent to an already-young team with the first of their two first-round picks. Boasting one of the league's worst offensive lines, I can see them taking the best offensive lineman available with this selection, which in this scenario would be LT Taylor Lewan (should he declare). Don't be surprised if they select a WR, although it might be a few picks too early for someone like Cal's Keenan Allen.
9. New York Jets: OLB/DE Sam Montgomery, LSU
Ronald Martinez/Getty Images
If the Jets pick this high, there's a strong chance Coach Rex Ryan won't be back on the sideline with two consecutive missed playoffs. However, should he remain in the Big Apple, he'll need to address the lack of a pass rush (something they've been missing for years). OLB/DE Sam Montgomery would be an excellent fit for Ryan's hybrid 3-4 and offers the most versatility of the remaining OLB pass-rushing prospects. Not only does he have elite athleticism and the ability to get after the quarterback, he is also a stout run defender. They could also decide that Manti Te'o is just too good to pass up.
10. St. Louis Rams (via Washington Redskins): WR Keenan Allen, Cal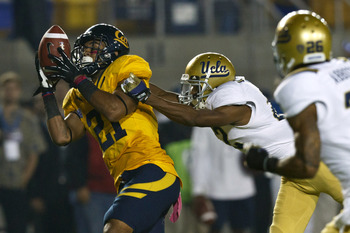 Jason O. Watson/Getty Images
Since the Rams have addressed their offensive line, it seems like an appropriate time to get QB Sam Bradford some help to progress his career. Enter WR Keenan Allen from California. He has the body of a prototypical receiver, but was a standout safety in high school. He's also been one of the few bright spots for the Golden Bears, as they have mightily struggled offensively this season. He's equipped with great hands and excellent speed, which would be enhanced by the turf in St. Louis.
11. Detroit Lions: LB Manti Te'o, Notre Dame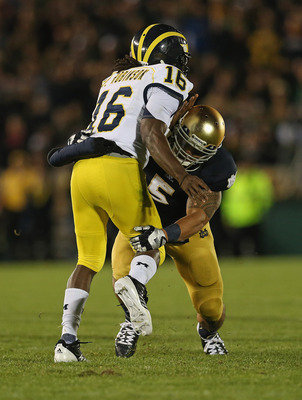 Jonathan Daniel/Getty Images
I'm projecting a down year for the Lions (they've already stumbled coming out of the proverbial block), and while they need help in their secondary, I don't see a way where they could pass up LB Manti Te'o from Notre Dame. Linebackers Justin Durant and DeAndre Levy are set to become unrestricted free agents, so Te'o could potentially line up next to MLB Stephen Tulloch or, instead, man the middle and slide Tulloch to WLB.
12. Cincinnati Bengals: RB Marcus Lattimore, South Carolina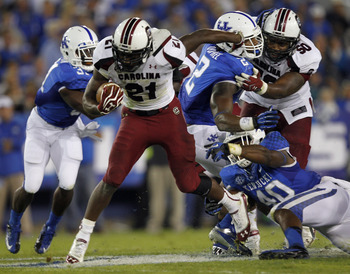 John Sommers II/Getty Images
A bit of a down year for head coach Marvin Lewis & Co., but there's a lot to like about this team. They have young playmakers (QB Andy Dalton, WR AJ Green) and the league's most underrated defensive lines. However, they're severely lacking a credible run game after passing over prospects the last few years. They signed "The Law Firm," Benjarvus Green-Ellis, this past offseason, but he hasn't exceeded expectations by any means.
RB Marcus Lattimore out of South Carolina has an injury history (he tore a knee ligament in 2011, which sidelined him for half of the season), but he's also been one of the countries best backs since his freshman year. Lattimore offers the Bengals the ability to have the "young triples," which is a formula best known to the Dallas Cowboys of the early 1990s (when they had Aikman, Emmitt Smith and Michael Irvin).
13. Indianapolis Colts: G Chance Warmack, Alabama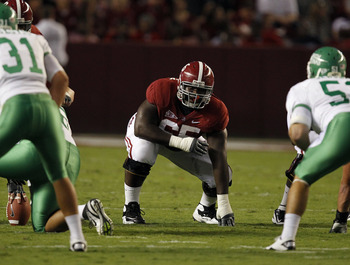 Butch Dill/Getty Images
Surprised to see the worst team of the 2011 season picking in the middle of the first round in 2013? I'm not considering that they were fortunate to draft the best QB prospect since Peyton Manning. Somehow, even with the loss of head coach Chuck Pagano, the Colts have clawed their way to respectability (including an upset of the Green Bay Packers two weeks ago).
However, they still have plenty of holes on offense, and I expect them to go for an offensive lineman to protect their investment in QB Andrew Luck. University of Alabama G Chance Warmack might be this draft's best offensive lineman regardless of position. He would be as safe a pick for GM Ryan Grigson as possible.
14. Arizona Cardinals: QB Aaron Murray, Georgia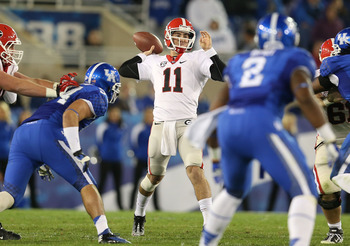 Andy Lyons/Getty Images
Despite the horrendous play from their quarterbacks, the Cardinals managed a 4-0 start (but have since lost three straight). However, with Barkley and Smith already off the board, the Cards would be stuck with QBs Aaron Murray, Tyler Wilson and Landry Jones, who are nowhere near elite prospects. Still, since this is a QB-driven league and teams are always looking for a franchise signal caller, I would expect Aaron Murray to be the choice here. I also have my doubts that Murray will actually declare for the draft, though.
15. Tennessee Titans: CB Dee Milliner, Alabama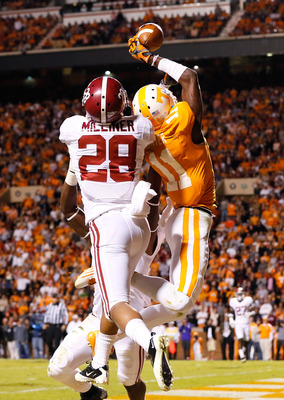 Kevin C. Cox/Getty Images
The Titans need a lot of help on defense, as witnessed by their early-season struggles. While casual fans will notice the lack of production from RB Chris Johnson, there are no current first-round running back prospects available, and frankly, the Titans have bigger concerns. CB Dee Milliner hails from Alabama (the same school that has produced countless first-round secondary picks since Nick Saban arrived) and would instantly compete for a starting position in the Tennessee secondary. If not, expect them to seriously consider the defensive line as it's also an area of huge need.
16. Miami Dolphins: WR Justin Hunter, Tennessee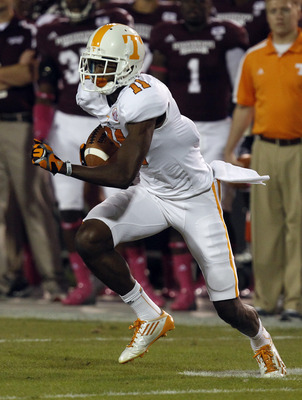 Butch Dill/Getty Images
I've been pleasantly surprised with the play of rookie QB Ryan Tannenhill; I was not expecting him to be a mature signal-caller with the ability to lead the Dolphins to victory, but he has definitely proven me wrong. However, he has had little talent to throw to, so with that, WR Justin Hunter from Tennessee is my selection. Hunter has great size (6'4", 200 pounds) and reliable hands, and he would get a long-term target for Tannenhill.
17. San Diego Chargers: RT Jake Matthews, Texas A&M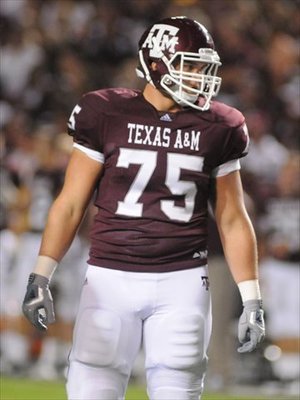 The Chargers have been really saddled by their offensive line play (particularly from LT, although they do have undrafted free-agent rookie Mike Harris). OT Jake Matthews from Texas A&M (Joeckel's teammate) has a great shot at being a middle-of-the-first-round pick, and although he's been playing RT, I believe he could easily slide over to protect the blindside of Philip Rivers or stick to RT if the Chargers want to give currently injured (historically injured, I might add) LT Jared Gaiter another shot.
18. Dallas Cowboys: S TJ McDonald, USC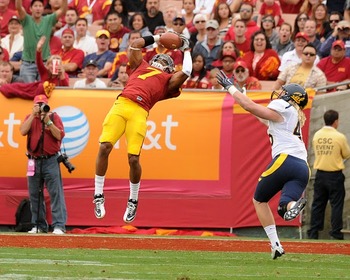 If the Cowboys pick this late, I would expect head coach Jason Garrett to still be on their sidelines. Many believed the Cowboys would select Alabama S Mark Barron in the 2012 draft, but they instead opted for CB Morris Claiborne, failing to address the safety position (one in which they've struggled at for years), but I don't see a way they can pass on USC S TJ McDonald, who almost declared last year as a junior. McDonald has been a force in the Trojans' secondary the past two seasons (and including his current campaign) and offers very little downside. He's a safe pick for the Cowboys in a huge position of need.
19. New Orleans Saints: DE Damontre Moore, Texas A&M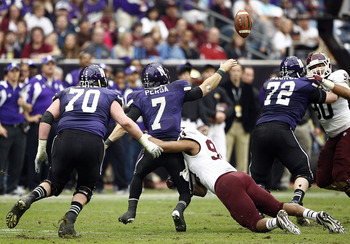 Bob Levey/Getty Images
This will prove to be a difficult season for the Saints, but I don't believe they're finished. They'll rebound. Even with the selection of DE Cameron Jordan in 2011, the Saints have failed to generate a consistent pass rush. If Texas A&M DE Damontre Moore slides here, expect the Saints to pounce. Moore might end up being the best defensive end in this draft, which potentially boasts the best crop of prospects to come in years.
20. Minnesota Vikings: MLB Alec Olgetree, Georgia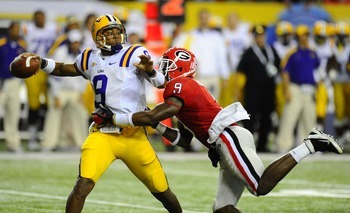 The Vikings have surprised everyone with their hot start, but I don't see them squeezing into the playoffs as I believe they'll tail off as QB Christian Ponder's production will wane. MLB Jasper Brinkley has failed to produce along the lines of former Viking EJ Henderson, so for purposes of this mock, I think they'll take Georgia MLB Alec Olgetree, who has rebounded beautifully from an early-season suspension. If not, they're defensive line isn't getting any younger, and they could use an elite interior offensive lineman to play alongside LT Matt Kalil.
21. Philadelphia Eagles: OL Dallas Thomas, Tennessee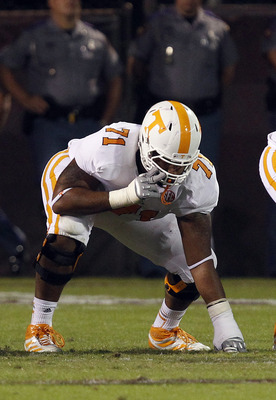 Butch Dill/Getty Images
Poor Andy Reid. In my opinion, his Eagles team will likely miss the playoffs again, which could ultimately cost the league's longest-tenured coach his job. Regardless, the Eagles remain one of the league's most talented squads but still have pressing needs.
Whether or not it's Michael Vick's fault, the offensive line has been credited with 17 sacks, and sophomore RG Danny Watkins has disappointed with his failure to progress in his second season. Even with the return of LT Jason Peters, they still need more help on the offensive line, so University of Tennessee OL Dallas Thomas provides excellent versatility, as he can either play tackle or guard. He's held his own against potential first round DT Jesse Williams in the Vols' matchup against Alabama, which has helped his draft stock rise.
22. Pittsburgh Steelers: NT Johnathan Hankins, Ohio State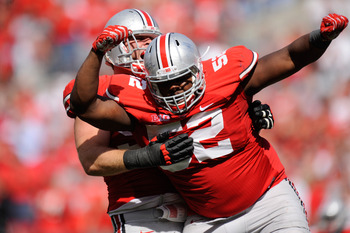 Jamie Sabau/Getty Images
The Steelers might look to replace aging LBs Larry Foote and James Harrison this offseason, as their defense has significantly aged over the course of this season, but they could use more youth everywhere on defense. Due to the abundance of upside and talent in the defense tackles, I expect to see some potentially elite prospects fall into the latter half of the first round with one example being NT Johnathan Hankins from Ohio State. He's not known for his pass rush, but in the Steelers' scheme, he would be asked to clog the middle for the linebackers to make moves. Current NT Casey Hampton is already 35, and they don't have a proven backup on their roster at the moment.
23. Baltimore Ravens: CB/S David Amerson, NC State
Joel Auerbach/Getty Images
Due to the vast number of injuries, I don't expect the Ravens to reach the AFC Championship game (if they play like they did this past Sunday, I don't expect them to go far in the playoffs whatsoever). CB/S David Amerson played beautifully for NC State last season, leading the NCAA in interceptions with an insane 13. While he won't repeat that number this season, he does already have four and could easily end up duplicating those figures in the second half.
The Ravens need an injection of youth within their secondary, and Amerson could step in at corner immediately and then slide over to safety once Ed Reed retires. Amerson seems like a classic pick by Ravens General Manager Ozzie Newsome, notoriously known for getting great value late in the draft. He could always opt for a run-stuffing defensive lineman since the Ravens' run defense has been especially atrocious this year, and they'll also need an eventual replacement for Ray Lewis.
24. Denver Broncos: NT Jonathan Jenkins, Georgia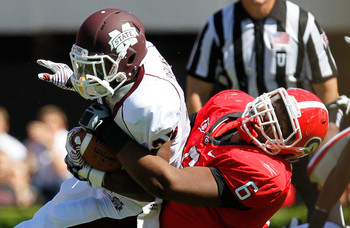 While it would be great to provide QB Peyton Manning with more protection, the Broncos desperately need to improve the interior of their defensive line (especially after getting run over by the Patriots, of all teams). NT Jonathan Jenkins of Georgia is a 6'3", 351-pound run-stuffer. Jenkins would immediately become the Broncos' best run blocker and allow more movement for the linebackers. If not Jenkins, I would expect either Purdue's DT Kawann Short or North Carolina's Sylvester Williams (and potentially Williams from Alabama).
25. Seattle Seahawks: WR Aaron Dobson, Marshall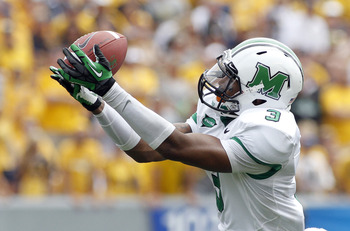 Justin K. Aller/Getty Images
The Seahawks certainly have surprised most fans this season, and while some of their victories have been marred in controversy (Packers game), at the end of the day a W is still a victory in the record books. With their dangerous pass rush, the Seahawks should go far this season due to a majority of the teams in the NFL experiencing quality shortage on their offensive line. However, rookie QB Russell Wilson could use some more options at the wide receiver position, so Marshall's WR Aaron Dobson seems like an excellent choice.
With a 6'3", 190-pound build, Dobson is a prototypical receiver and could line up opposite WRs Sidney Rice with Golden Tate in the slot. West Virginia's WR Tavon Austin has had a phenomenal season already and is hard to tackle when given space, but his game reminds me too much of Tate's. Carroll could opt to draft his former player at USC Robert Woods, but Carroll hasn't shown a strong history of selecting his former players high in the draft. If not a WR, I can see Pete Carroll pushing for another TE like Notre Dame's Tyler Eifert or Stanford's Zach Ertz to give Wilson great release valves.
26. Chicago Bears: G Jonathan Cooper, North Carolina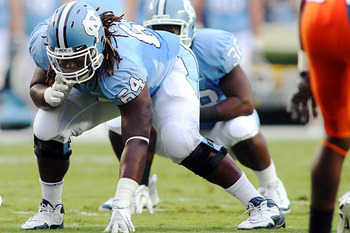 It's a miracle that the Bears haven't killed QB Jay Cutler due to horrendous offensive line protection. They desperately need upgrades, and they have a glaring hole at LG where former second-round bust (of the 49ers, however) Chilo Rachal resides. North Carolina's G Jonathan Cooper provides not only excellent value, but is in a position of high need and could immediately step in and play. Central Michigan's OT Eric Fisher has played wonderfully and deserves a first-round selection. He could easily go in the teens.
27. New York Giants: DE Corey Lemonier, Auburn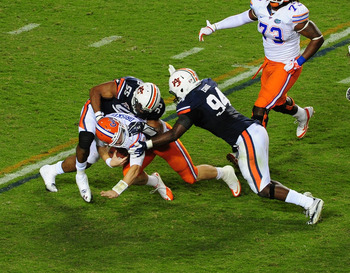 Scott Cunningham/Getty Images
I really liked Jerry Reese's 2012 draft where he went offense and replaced former starters with great value players in RB David Wilson and WR Rueben Randle. Coincidentally, both have done great jobs in the return game. While the Giants' offense has vastly improved over the course of their two Super Bowl victories, they've been predominantly known for their terrorizing defensive line.
A few of their recent picks in this department have failed to materialize (except DE Jason Pierre-Paul), so I believe they'd take the best available lineman which would be Auburn's DE Corey Lemonier. Current RDE Osi Umenyiora isn't getting any younger, and Lemonier represents tremendous value. However, the Giants have prepared a "rag-tag" offensive line at the moment, and there could also be great value in the late first round. Don't rule out secondary help, either.
28. Atlanta Falcons: DE Dion Jordan, Oregon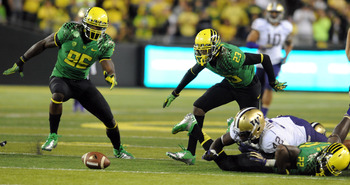 Steve Dykes/Getty Images
The Falcons may be undefeated, but I'll move them further down the draft order once I see them in the Super Bowl (they've twice had bye weeks under Matt Ryan and have twice failed to advance). The Falcons have failed to find a youthful pass rusher, and John Abraham is on his last legs.
While there are higher prospects at the moment, I believe Oregon's DE Dion Jordan will continue to impress and his stock will only grow along with the national publicity Oregon will receive for contending for a BCS championship. While he's a little on the small side (he only weighs 240 pounds), he's got a high motor and can grow from being a third-down pass rusher into an all-around performer. But I wouldn't be surprised if Atlanta soon adopts a 3-4 system since they do have one of the best 3-4 defensive coordinators in Mike Nolan, and there have been rumors in the past about this.
29. New England Patriots: CB Johnthan Banks, Mississippi State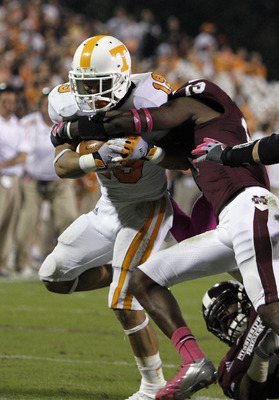 Butch Dill/Getty Images
Bill Belichick did a great job addressing his defense's youth problem in last year's draft, however, they're still having problems in their secondary. Mississippi State's CB Johnthan Banks is the premier senior corner in this draft and could have gone in the first round of last year's draft. He could create a great tandem with CBs Devin McCourty, Ras-I Dowling and Kyle Arrington.
30. Green Bay Packers: DT Sylvester Williams, North Carolina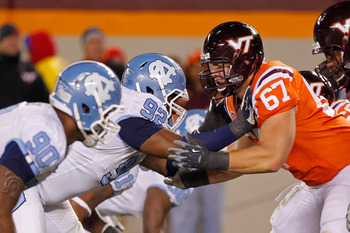 Geoff Burke/Getty Images
The Packers' run game has been atrocious, especially since RB Cedric Benson went down with a foot injury (a Lisfranc), but I still don't expect general manager Ted Thompson to go with a running back (historically, he waits until after the first to do so). The Packers obviously have a pass-dominated offense. While they have a giant hole next to FS Morgan Burnett, I also don't expect them to draft players like Georgia safeties Baccari Rambo or Shawn Williams. At this point in the draft, North Carolina's DT Sylvester Williams would be tremendous value and could help as a space-eater for the Packers D.
31. Houston Texans: S Kenny Vaccaro, Texas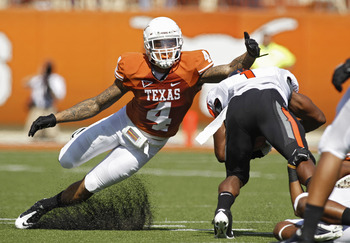 Erich Schlegel/Getty Images
For a team that I'm projecting will make it to the Super Bowl, they could have a lot of holes depending on which free agents depart in the offseason. FS Glover Quinn is an upcoming free agent and could need to be replaced regardless. If this turns out to be true, expect the Texans to draft Texas S Kenny Vaccaro and move current SS Daniel Manning over to FS.
32. San Francisco 49ers: DE Margus Hunt, SMU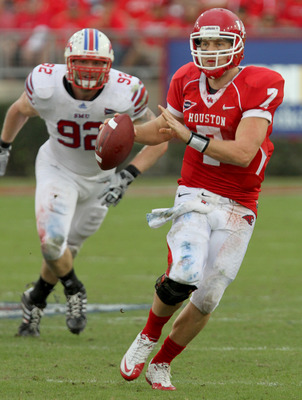 Thomas B. Shea/Getty Images
Even with their embarrassing loss to the Giants, the 49ers, to me, are the most well-rounded team in the NFL and haven't fully unleashed their offense. So what do you draft for the team that has everything? Certainly not an RB (they've drafted a running back in three consecutive drafts, and last year's second-round pick LaMichael James has yet to be active on game day). While looking at their depth chart, they could use some additional depth along their defensive line. While Justin Smith maybe the league's elite 3-4 DE, he's up there in age and would be 34 next season, so a larger defensive end like SMU's Margus Hunt could be an option.
Wrap Up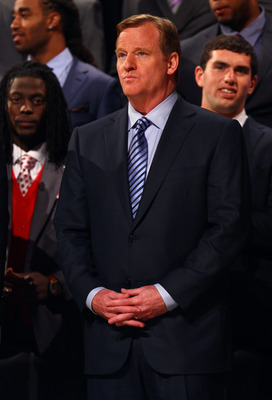 Al Bello/Getty Images
I know there were many players that got left off this early mock; however, between now and the actual draft date, dozens of players will decide either to declare or to stay in school.
For all of those who don't like to read….
Quick draft:
1. Kansas City Chiefs – QB Matt Barkley USC
2. Cleveland Browns – DT Star Lotulelei Utah
3. Jacksonville Jaguars – OLB/DE Jarvis Jones Georgia
4. Carolina Panthers – DE Bjoern Werner Florida State
5. Oakland Raiders – DE Barkevious Mingo LSU
6. Buffalo Bills – QB Geno Smith WVU
7. Tampa Bay Buccaneers – LT Luke Joeckel Texas A&M
8. St. Louis Rams – LT Taylor Lewan Michigan
9. New York Jets – OLB/DE Sam Montgomery LSU
10. St. Louis Rams (via Washington Redskins) – WR Keenan Allen Cal
11. Detroit Lions – MLB Manti Te'o Notre Dame
12. Cincinnati Bengals – RB Marcus Lattimore South Carolina
13. Indianapolis Colts – G Chance Warmack Alabama
14. Arizona Cardinals – QB Aaron Murray Georgia
15. Tennessee Titans – CB Dee Milliner Alabama
16. Miami Dolphins – WR Justin Hunter Tennessee
17. San Diego Chargers – OT Jake Matthews Texas A&M
18. Dallas Cowboys – S TJ McDonald USC
19. New Orleans Hornets – DE Damontre Moore Texas A&M
20. Minnesota Vikings – MLB Alec Olgetree Georgia
21. Philadelphia Eagles – OL Dallas Thomas Tennessee
22. Pittsburgh Steelers – NT Johnathan Hawkins Ohio State
23. Baltimore Ravens – CB/S David Amerson NC State
24. Denver Broncos – NT Jonathan Jenkins Georgia
25. Seattle Seahawks – WR Aaron Dobson Marshall
26. Chicago Bears – G Jonathan Cooper North Carolina
27. New York Giants – DE Corey Lemonier Auburn
28. Atlanta Falcons – DE Dion Jordan Oregon
29. New England Patriots – CB Johnthan Banks Mississippi St.
30. Green Bay Packers – DT Sylvester Williams North Carolina
31. Houston Texans – S Kenny Vaccaro Texas
32. San Francisco 49ers – DE Margus Hunt SMU
You can follow me on twitter @Metta_Colin and read all my work at my site www.mettachronicles.com.
Keep Reading