Big 12 Football: Week 9 Preview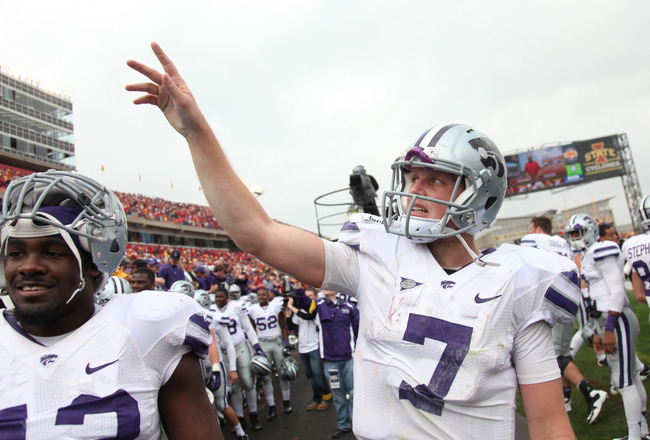 Kansas State QB Collin Klein has leapt headfirst into the Heisman race.
Matthew Holst/Getty Images
What a weekend coming up we have in the Big 12.
West Virginia gets the week off to try and pick itself up off the floor after back-to-back thumpings by Texas Tech and Kansas State.
Oklahoma takes a "break" from conference play by welcoming the fifth-ranked Fighting Irish of Notre Dame to Norman.
Meanwhile, the rest of the conference buckles down and continues the grind that is Big 12 conference play.
While there is only one head-to-head meeting of BCS Top 25 teams (excluding the OU/Notre Dame game) this Saturday, there are still some intriguing and exciting matchups to look forward to.
Lets take a look at the action.
No. 23 Texas @ Kansas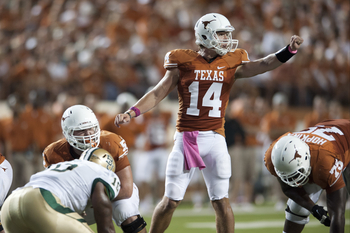 Texas QB David Ash
Cooper Neill/Getty Images
This is an interesting game because of the matchup of inadequacies it appears to provide.
Kansas has had a rough go at this season, mainly due to an entirely inept offense that can neither move the ball nor hold onto it.
The Jayhawks' defense has not played all that poorly (aside from blowout losses to Kansas State and Oklahoma), surrendering only 40 points total against TCU and Oklahoma State, both of which boast solid offenses.
On the other side of the ball, Texas has struggles of their own, mainly due to a surprisingly soft and porous defense.
Texas has not struggled at the same level as Kansas, is still 5-2 (2-2) on the season, and the Longhorns' offense has played well on the season with the exception of the Oklahoma game.
Kansas will win if...it somehow manages to take advantage of Texas' defense (or lack thereof) and put some points on the board, while slowing down David Ash and Texas' running game just enough to stay in the game until late.
Turning over the football is not an option.
Texas will win if...it shows up to play.
The Longhorn program is teetering on the brink of irrelevancy, and it cannot afford to go on the road and not be prepared against any opponent, even a seemingly helpless Kansas team.
The line: Texas -19
Notable injuries:
Texas is expecting Malcolm Brown (RB) to return Saturday, while Jackson Jeffcoat (DE) is out for the season.
Kansas' Daymond Patterson (WR) is questionable for Saturday.
My prediction: Kansas keeps the game close for a quarter and a half, and the Longhorns slowly pull away beginning late in the second quarter.
Texas 38 - Kansas 21
TCU at Oklahoma State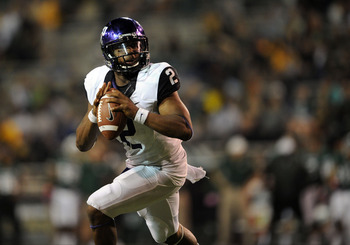 TCU QB Trevone Boykin
Jerome Miron-US PRESSWIRE
Earlier this week, the program announced that quarterback J.W. Walsh is done for the season with a knee injury.
Circumstance begs the question: Who in the world will start at QB for the Cowboys?
Obviously the choice will be either a returning Wes Lunt, or junior backup Clint Chelf, but who really knows for sure?
Head coach Mike Gundy is notoriously close-lipped when it comes to discussing injuries, so we won't know for sure until the teams take the field tomorrow.
TCU QB Trevone Boykin is starting to come into his own, posting a solid outing against Texas Tech last week, and will need to exercise his newly-honed leadership skills to take down an overlooked but solid Oklahoma State team.
The Horned Frogs need to bounce back after a heartbreaking triple-overtime defeat at home against Texas Tech, and Oklahoma State's revolving door at QB may be a stroke of luck that helps TCU regain their confidence.
Oklahoma State will win if...whoever steps in at QB this week doesn't make too many mistakes and protects the football against a solid TCU pass rush.
The Cowboys will also need a lot of help from their running game this week, and the Horned Frogs defense is far from a slouch.
TCU will win if...they refrain from turning the ball over and can keep the Oklahoma State running game in check.
This game sets up nicely for the Horned Frogs with all the trouble the Cowboys are having with keeping a consistent starter at QB.
The line: Oklahoma State -7.5
Notable injuries:
Waymon James (RB) is out for the season, but Stansly Maponga (DE) could return Saturday for TCU.
J.W. Walsh (QB) is out for the season, Wes Lunt (QB) is questionable (probable?) for this week, and Isiah Anderson (WR) could also return tomorrow for Oklahoma State.
My prediction: TCU comes out strong and takes advantage of Oklahoma State's inconsistencies. Trevone Boykin has another solid outing against a suspect Cowboy secondary.
TCU 34 - Oklahoma State 31
No. 14 Texas Tech at No. 3 Kansas State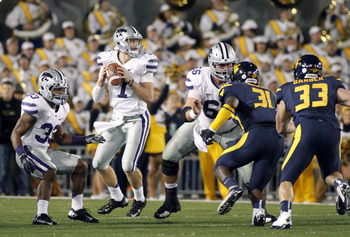 Kansas State QB Collin Klein
Justin K. Aller/Getty Images
Can Texas Tech dash the Heisman hopes of another quarterback this week?
If they hope to take down Optimus Klein and the Kansas State Wildcats, they will have to bring their A-game in every phase of the game.
Kansas State is one of those teams like (dare I say it?) Alabama that beats you by playing mistake-free football and out-muscling-out-hustling you at the line of scrimmage.
It's not flashy, it's not always pretty, but it gets the job done. That's simply how the Bill Snyder brand of smash-mouth football works.
Texas Tech is coming off of an emotional roller coaster of a triple-overtime victory on the road against a then-ranked TCU team, and will need to stay focused and play disciplined football against the Wildcats if they hope to win.
Kansas State is also riding an emotional high, but their steamrolling of West Virginia last Saturday wasn't nearly as stressful and draining as Texas Tech's game was. You have to wonder how much the Red Raiders still have in the tank.
Texas Tech will win if...it can force Collin Klein to throw the ball more than he wants to by limiting the Wildcats' running game.
They will also need to make fewer mistakes than Kansas State. Both of those keys are a tall order for any team this year. Turnovers would be devastating in this game.
Kansas State will win if...it can keep Seth Doege consistently uncomfortable with a solid pass rush.
Oklahoma kept Texas Tech in check by not letting Doege sit in the pocket and pick them apart, and sustaining long drives.
If the Wildcats can do this, I can't see Texas Tech beating them in Manhattan.
The line: Kansas State -7.5
Injury report:
Kansas State is as healthy as an ox.
Bradley Marquez (WR) and Javon Bell (WR) are both out for the season. Jace Amaro (TE) and Cornelius Douglas (CB) are expected to see at least some time on Saturday.
My prediction: This game should be a good one, and will come down to who makes the fewest mistakes.
Kansas State's track record favors them in this department, and it should help them hold off the Red Raiders.
Kansas State 31 - Texas Tech 24
Baylor at Iowa State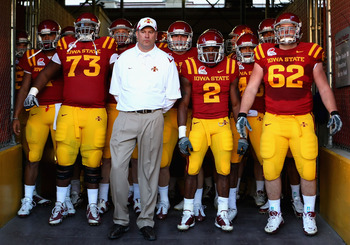 Iowa State head coach Paul Rhoads
Christian Petersen/Getty Images
If only Iowa State could wrangle itself a good offense.
Conference play has been full of ups and downs for the Cyclones this year.
On the other side, Baylor has had few ups and plenty of downs on their way to an 0-3 conference record after starting 3-0 on the season.
After losing a close game at home to Texas Tech, Iowa State went on the road and beat a solid TCU team in Fort Worth.
The next week they lost a close game to the best team in the conference, and followed that up by being effectively routed by Oklahoma State in Stillwater.
Baylor has shown flashes of brilliance on offense, but have thus far displayed a defense that hasn't tackled an opposing player in weeks, and their offense was effectively shut down by the only respectable defense they have played so far in 2012.
For the second week in a row, Baylor is playing in a game that is a must win for both teams.
They couldn't handle the pressure last week, perhaps this week will be different.
Baylor will win if...they can at least pretend to play a little defense this weekend.
Aside from Kansas, Iowa State has the most suspect offense in the conference and these next two games are probably their only "good" chances to get a conference win, as the schedule becomes a gauntlet in November.
Iowa State will win if...they win the turnover battle and limit the Baylor offense to 24 points or less.
With their defensive prowess, I don't believe this is that tall of an order for the Cyclones. Not giving Baylor short fields and second chances will be critical.
The line: Iowa State -3
Injury report:
Baylor could get Mike Hicks (S) back for Saturday. Demetri Goodson (DB) is still out with a broken arm.
James White (RB) and Josh Lenz (WR) are both questionable this week for Iowa State.
My predicton: Iowa State's defense will keep Baylor in check in similar style to what TCU did to the Bears in Waco.
The Cyclones will force two turnovers and that will be the difference in the game.
Iowa State 42 - Baylor 31
No. 5 Notre Dame vs. No. 8 Oklahoma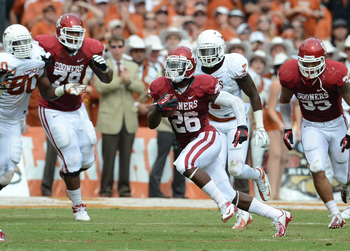 Oklahoma RB Damien Williams
Matthew Emmons-US PRESSWIRE
Oklahoma, since losing at home to Kansas State, has been incredibly impressive. You can go ahead and place me in the group that believes the Sooners got a huge wake-up call in that game.
The Sooners have been a flat-out different team since that day. Bob Stoops has lit a fire underneath his players' collective backsides and they are playing with purpose and focus.
The player that has most impressed me has been running back Damien Williams.
He didn't get many carries against Kansas, but his systematic dissection of the Texas Longhorns front seven in the Red River Rivalry was beautiful to watch.
What about Notre Dame?
I don't want to dance around the issue, so lets just get this out in the open: Notre Dame is overrated.
I'm sorry, Irish fans, but Notre Dame is not a top five team, plain and simple.
The Fighting Irish have three "notable" wins this season: An upset over a then Top 10 Michigan State team that is currently 4-4, a squeaker over a very average Michigan team, and an overtime win over a very average Stanford team.
I'm not buying it.
Notre Dame will win if...Oklahoma doesn't show up prepared.
As unlikely as that scenario may be, it's not impossible.
Bob Stoops teams have fallen flat on their faces in big games before, and Notre Dame has the defense to keep them in the game even if they don't.
Oklahoma will win if... they score 20 or more points.
As good as Notre Dame's defense is, their offense is very average. Oklahoma's defense is very good, and I really can't imagine a scenario (that doesn't involve multiple Sooner turnovers) in which the Irish score more than 20 in Norman.
The line: Oklahoma -12
Injury report:
Oklahoma has a few suspensions (most notably Jaz Reynolds), but otherwise are pretty healthy.
QB Everett Golson should be back for Notre Dame after suffering a mild concussion against BYU last week.
My predicton: Oklahoma's powerful offense will eventually wear down Notre Dame's defense, and Notre Dame will be unable to keep up offensively.
The Irish simply do not match up well against Oklahoma.
Oklahoma 33 - Notre Dame 17
Keep Reading