Who Are the NFL's Sloppiest Teams at Midseason Mark?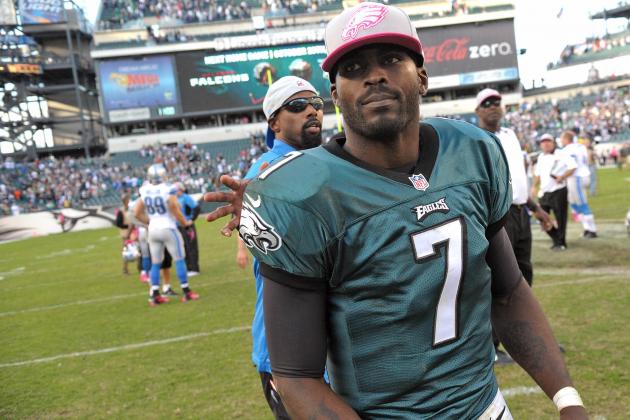 Eric Hartline-US PRESSWIRE

No team can play perfect each week, although consistently winning in the NFL does require near flawless execution.
And if an offensive play-call, defensive scheme, stupid penalty or turnover becomes a constant factor, it's not surprising to see certain teams fail—or at the very least, not live up to expectations.
Michael Vick of the Philadelphia Eagles is a prime example as we head into Week 8 of the 2012 season.
His case of the fumbles and forcing passes has cost Philly's offense quite often in 2012. Somehow the Eagles are 3-3; however, this record could just as easily be 5-1 or 1-5 depending on Vick's weekly outing.
Philadelphia is not the only team playing sloppy right now, either. Therefore, let's check out the Eagles along with other teams whose undisciplined play has been detrimental to success this fall.
Begin Slideshow

»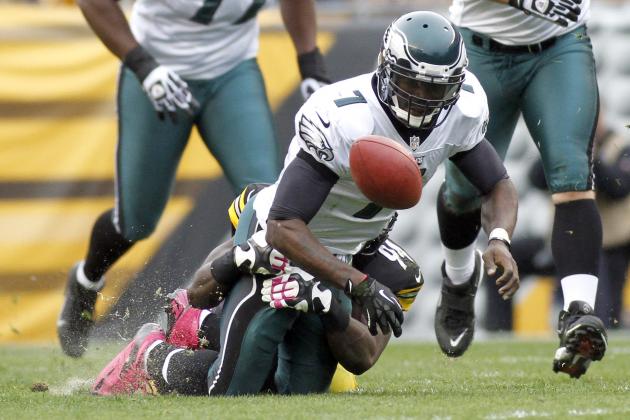 Justin K. Aller/Getty Images

Okay, so Michael Vick has thrown eight picks, fumbled nine times and is struggling with a 58.9 completion percentage.
Vick has most definitely been a major contributor to Philadelphia's sloppy play to this point. That said, we could also factor in sloppy play-calling. In all three of the Eagles' wins, LeSean McCoy has carried the ball 20-plus times.
In the three losses, McCoy was fed no more than 16 times. So until Shady earns more carries on a consistent weekly basis, the offense is going to underachieve. Altogether the Eagles are minus-9 in turnover differential because the defense has also failed to force fumbles and rack up sacks.
With guys like Trent Cole and Jason Babin, Philly has just seven sacks in 2012. Compared to 2011 that is a steep nosedive. Add in an average of over 60 penalty yards per game and it's no wonder the Eagles sit at .500.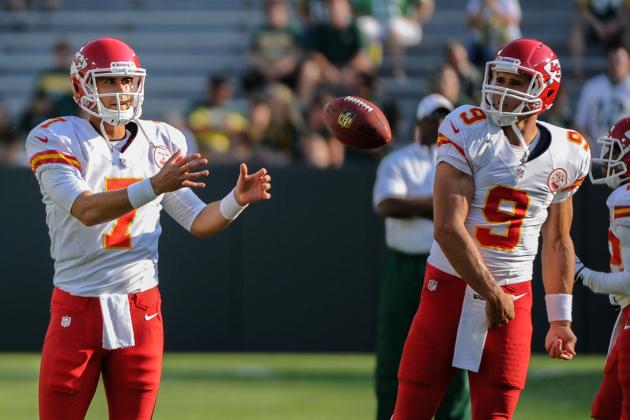 Benny Sieu-US PRESSWIRE

If there's any reason for the Kansas City Chiefs being 1-5, the NFL's worst turnover differential of minus-15 definitely sticks out.
Jamaal Charles has already fumbled three times, losing two, and both quarterbacks have combined for 11 interceptions and a 58.8 percent completion percentage. Clearly the offense lacks balance, explosion, ball control and reliable execution.
In short, K.C. averaging just 17.3 points per game is not surprising.
Unfortunately, the defense has not helped a bit either. Although six fumbles have been forced, only two have been recovered, and giving up 30.5 points per game significantly proves that the Chiefs cannot stop anyone—not to mention Romeo Crennel's team has allowed over that average four times.
The small penalties are, then, even more irritating. Because although K.C. only averages six penalties per game, it also averages nearly 50 penalty yards allowed per game.
When they can't win the field position battle from offense or defense, the laundry stings that much more.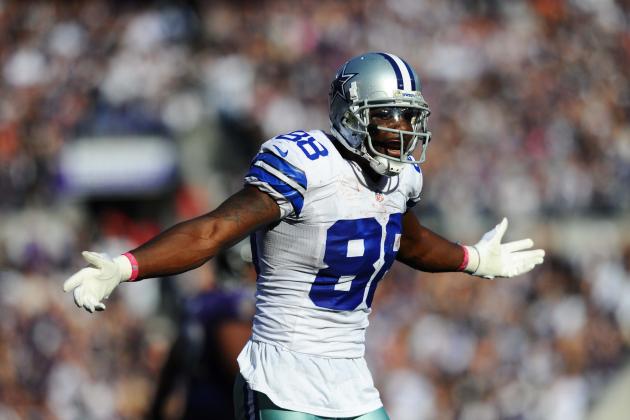 James Lang-US PRESSWIRE

The Dallas Cowboys have been sloppy, both from a communication standpoint and from small mental errors.
Dropped passes have continued to be an issue throughout the 2012 season, as does 62 penalty yards per game. Considering that the offense has yet to really find a stride in the aerial assault and consistency on the ground, Tony Romo and company have cost their defense a lot.
And the unreliability of an offense really takes its toll on a defense. With a stud pass-rusher such as DeMarcus Ware, his presence off the edge becomes more evident when the Cowboys offense is moving the ball.
It puts the pressure on the opposing offense to move, and when blocking schemes then gear toward Ware, someone else can step up. That, however, has not happened in 2012, and recording only two interceptions doesn't offer much in return to Romo.
Let's not forget about clock management woes continuing to haunt Jason Garrett, and the floodgates may open this week at home against the New York Giants.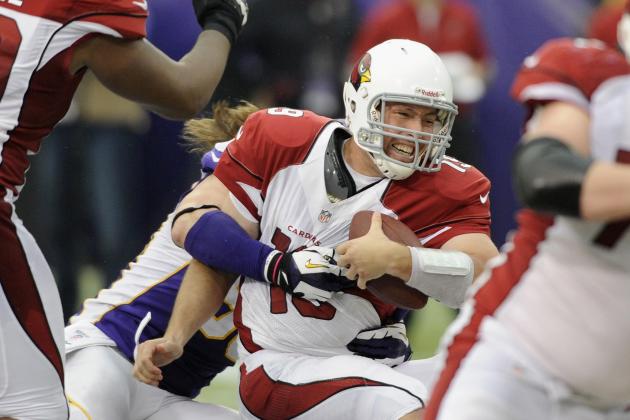 Hannah Foslien/Getty Images

Yes, the Arizona Cardinals have a winning record.
They are also one goal line stand against the Seattle Seahawks, one Steve Gostkowski missed field goal and one fourth down against the Miami Dolphins from being 1-6.
Now, it most certainly does take discipline to find success on a goal line stand and to convert a fourth down to force overtime. Nevertheless, allowing 35 sacks and gaining less than 300 total yards per game is proving to hurt Arizona.
Sure the defense is stout, but they are vulnerable to the run—allowing 4.2 yards per carry—and the team gives up 64 penalty yards per game. The Cardinals lack any sort of running game to set up the pass, and the gradual decline is only getting worse.
It's not so much about turnovers in Arizona as it is the absence of execution and controlling the game's tempo. As the season progresses, we'll see that impact more as the Cards face San Francisco, Green Bay and Atlanta over their next three contests.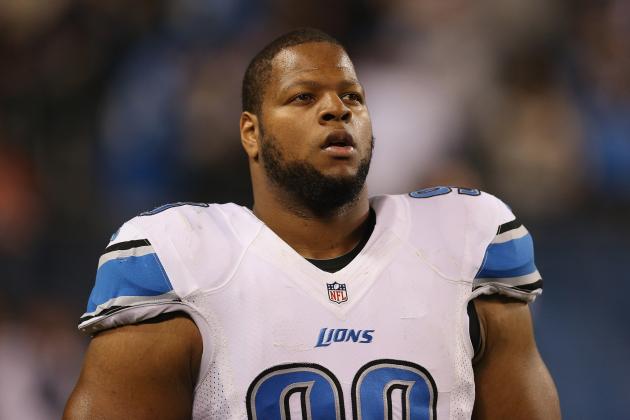 Jonathan Daniel/Getty Images

Penalties are at the forefront of what's really hurting the Detroit Lions.
Through six games the Lions average over 70 penalty yards and nearly eight flags per game. All that says is Detroit is losing the field position battle, which is so vital to winning in a tough division.
It also kills to see the ineffectiveness when inside the red zone. Despite the Chicago Bears fielding one of the NFL's top defenses, the Lions had their fair share of scoring opportunities on Monday. Failing to reach the end zone until the final 30 seconds was just a glimpse of why the Lions have struggled in 2012.
Matthew Stafford has more picks than touchdowns, and the running game has yet to really assist the offense. And for as strong of an effort as Ndamukong Suh and the defense put on against Chicago, Detroit has only two picks and allows 4.1 rushing yards per carry.
Another minor snapshot of the Lions' overall sloppy play came courtesy of the Minnesota Vikings. The Vikings scored twice on special teams returns which ultimately cost Detroit a win. The Lions have time to turn things around, but the miscues in all three phases, along with penalties, are making 2012 quite frustrating.
Follow John Rozum on Twitter.