After losing to then-No. 2 Alabama in demoralizing fashion, it was easy to kiss Michigan off the BCS radar for the remainder of the season. The Wolverines now control their own destiny, though, and can still make consecutive BCS appearances with a strong finish.
Michigan has been firing on all cylinders for the past few weeks. Since losing 13-6 on the road in South Bend, the Wolverines have ripped off three straight wins over Big Ten competition.
Illinois and Purdue were no match for Michigan, but it was an impressive 12-10 win over rival Michigan State that now has Michigan back into the BCS Top 25. It also marked the team's first win over the Spartans since 2007.
One of the marks of this resurgent performance has been the defense. Michigan is 16th in the nation in points allowed, although the two teams they've faced with the most quality offenses have put up 41 and 25 (Alabama and Air Force).
None of that matters now. Michigan controls its own destiny towards a Big Ten championship run, and with it, a shot at an automatic BCS bid.
It starts this weekend against Big Ten opponent Nebraska. Both schools are in the Legends division, and a win would give Michigan a decided advantage as it prepares for the most demanding part of the conference schedule.
Led by dual-threat QB Denard Robinson, Brady Hoke's offense has survived two losses to ranked teams. Both teams the Wolverines lost to were either on the road or at a neutral site venue, another positive spin on two bad losses for the program.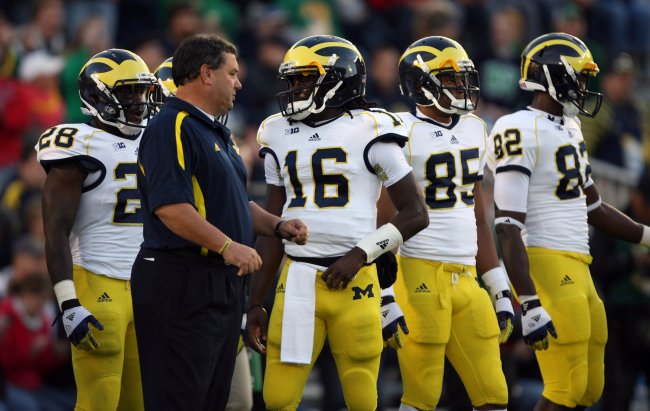 Brian Spurlock-US PRESSWIRE
That begs the addressing of another fun fact: Even with another loss, Michigan can once again make a BCS game in at-large fashion.
The easy way to get there is by winning out.
Nebraska, Iowa, Minnesota, Northwestern and Ohio State stand in Michigan's way towards a Big Ten title. Michigan then has to beat whoever comes out of the Leaders division, which is likely going to be Wisconsin, since Ohio State and Penn State aren't eligible for postseason play.
Will Michigan make a BCS bowl this year?
Against Nebraska, the Wolverines have to slow down Taylor Martinez and the Nebraska offense. Northwestern is capable of putting up points in bunches, and although Ohio State won't effect the overall outcome of the season, the magnitude of their rivalry won't make the game any less important for postseason confidence.
Wisconsin has all but wrapped up their place from the Leaders division. Michigan, should it emerge unscathed from these final five weeks, would play in the second annual game against the Badgers.
Should Michigan trip up, it would be an extremely difficult road back to the BCS. But not impossible, as the 2011 season suggested. Voters might give the Wolverines a pass after losses to teams both currently in the top five of the BCS standings, but the only other loss that could be conceivable would be the final regular season game against Ohio State.
To make things easy, Michigan can just win. Taking down Nebraska would be its most impressive win of the season. More importantly, it would get the train rolling towards a BCS bowl game, while appeasing fans with a second BCS bowl in as many seasons under Hoke's tenure.