6 Reasons Rory McIlroy Is Now Completely Untouchable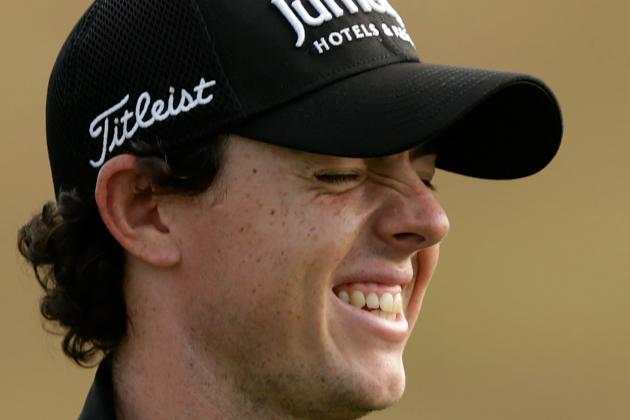 Scott Halleran/Getty Images

Rory McIlroy is the No. 1 ranked golfer in the world.
He has made his presence felt in Europe and North America and he has a chance to walk with the giants of the game.
McIlroy, 23, has already won two major championships and he should be on track to pick off more major titles on an annual basis.
While Tiger Woods was the standard by which all other golfers measured themselves for years, it appears that McIlroy holds that crown right now.
Golf fans would love to see a resurgence by Woods, so that the game's two superstars could compete against each other while both playing at their highest level.
Woods could get there again. McIlroy is already at that level.
McIlroy is simply untouchable right now.
Begin Slideshow

»
Rory McIlroy is not a very imposing athlete.
He looks like an average man, checking in at 5'10" and 160 pounds.
Yet, when he steps to the tee, he performs as a giant.
McIlroy was fifth on the tour in driving distance, hitting his average tee shot 310.1 yards. While he did not hit it quite as far as Bubba Watson, Robert Garrigus or Dustin Johnson, McIlroy's ability to walk up to the tee and launch the ball high, far and deep is his signature.
McIlroy's consistency with the driver in big tournaments sets him apart from his competition. He sets the tone with his driver and then lives up to that level through the rest of his round.
Rory McIlroy has confidence in his ability to perform on the golf course.
He has been playing since he was two years old and been working at his game in a serious manner from a very young age.
He believes in himself because he has worked hard in practice. His goal has been to get better and to become an improved golfer every time he tees it up.
Even though he is young and at the top of the world rankings, he has had his share of disappointments.
The biggest came at the 2011 Masters, when he led going into the final round, but saw it all slip away from him.
McIlroy believes that the final round was the turning point and has made adjustments in his game that allow him to come through in clutch situations.
He followed his Masters collapse by winning the U.S. Open and the 2012 PGA for his second major championship.
This is one of the most difficult-to-define, intangible characteristics of them all.
If you are attending a professional golf event, you have an inclination to see the stars play.
You are drawn to players like Rory McIlroy and Tiger Woods, and want to see how they play.
But that's not the full story.
You want to see how they carry themselves, how they prepare for each shot and how they strut around the course.
It's all part of the experience of watching the best players compete.
It's not just a question of talent or ability. Charisma is that extra characteristic that gives a golfer that "look at me" quality.
McIlroy undoubtedly has it.
McIlroy has the stamp of greatness.
You probably knew that the first time you saw him play on television.
However, he also has the official stamp of greatness. He won four tournaments on the PGA tour this year, more than any other competitor.
One of those tournaments was the PGA. It was his second major.
Only the game's greatest players have won multiple majors. In the history of golf, 77 players have won two or more majors (source: golftoday.co.uk).
McIlroy has already joined that group and should be on track to win many more.
Rory McIlroy is not going to let an opportunity for victory slip through his grasp.
He proved that at the 2012 Ryder Cup on the final day of competition when he was pitted against emotional American Keegan Bradley in the singles matches.
McIlroy struggled to get to the course on time, but he raced to the tee to avoid disqualification. While he had no time to warm up or practice, he just went to work with his steady game.
When Bradley struggled on the final holes of the match, McIlroy took advantage and secured a 2 and 1 victory for Europe.
That triumph helped Europe rally from a huge deficit and retain the Ryder Cup.
McIlroy remains calm and keeps his game at a high level and takes advantage as his opponent opens the door.
In the past, there were always a few concerns about Rory McIlroy's putting.
That has changed in the last two golf seasons.
McIlroy led the PGA tour with an average of 4.20 birdies per round in 2012. He ranked 40th in that category in 2011 with an average of 3.74 birdies per round.
Great golfers take advantage of their birdie opportunities. McIlroy has certainly proven he can do that throughout the past two seasons.
His strong putting allowed him to lead the tour with a scoring average of 68.87 in 2012.