Saints vs. Broncos: Final Report Card, Grades for New Orleans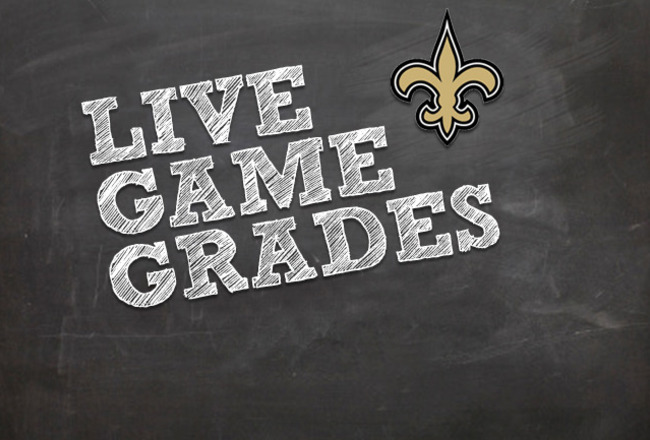 Final
The New Orleans Saints walked into Denver thinking they could up their record to 3-4 and maintain at least the slightest of playoff chances for 2012. Instead, they left the Mile High City poor losers, having put forth possibly their worst effort of the 2012 season.
It was ugly in the two main phases of the game, and special teams did not make the impact plays needed to keep the team in the game.
The 34-14 loss dropped the Saints back into third place in the NFC South and seemingly ended any hope the Saints had of making the 2012 NFC Playoffs.
Quarterbacks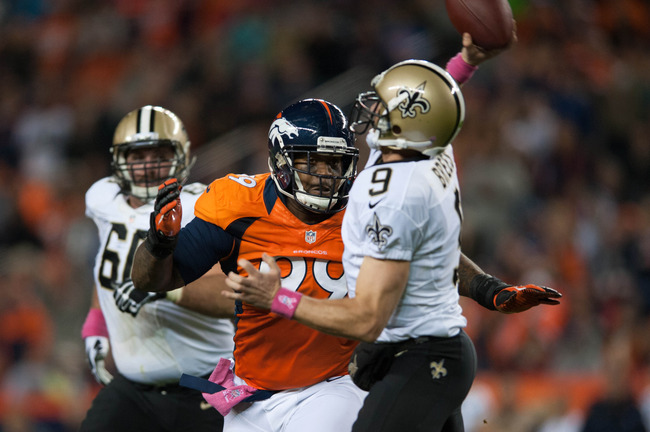 Dustin Bradford/Getty Images
Overall Game Grade--C-
It would be lazy journalism to say Drew Brees' numbers made this a poor outing. But it would be fair to say that Drew Brees had very few throws that looked like Brees throws. He had few reads that were precise, and even fewer big plays.
It's hard to blame Brees for an interception on fourth down or for poor pass protection which led to sacks. It is possible to blame him, though, for making poor reads, throws and not bringing the fire to the offense we've all come to expect over the years.
Running Backs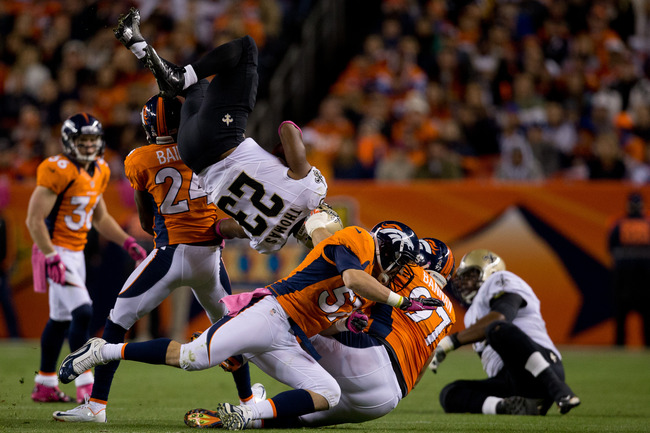 Justin Edmonds/Getty Images
Pierre Thomas—Grade—B+
In what was a common sentiment early in the season, Pierre Thomas was by far the best player on the field for the Saints Sunday night. Sadly, the team failed to take advantage of his marvelous effort.
Mark Ingram—Grade—C
I love Mark Ingram. At this point, it seems I'm one of the few Ingram apologists remaining. But in this game, it's difficult to back him up. It's not that Ingram played poorly. The Saints did not give him many opportunities, and he did little with the ones he was given.
Darren Sproles—Grade—B+
Darren Sproles did little in this game in comparison to the amount of opportunities he was given in the short passing game. But he did manage the Saints' lone touchdown that mattered in the second quarter. He scored it on a simple "Texas route" out of the backfield. Unfortunately, that was all she wrote in terms of Sproles' production in this game.
Chris Ivory—Grade—Incomplete
It was only Ivory's second game on the active roster in the season's first seven games. He did not see an offensive snap, though.
Travaris Cadet—Grade—Incomplete
Cadet played, and even saw an offensive snap, but did nothing of note (good or bad)—just like last week.
Wide Receivers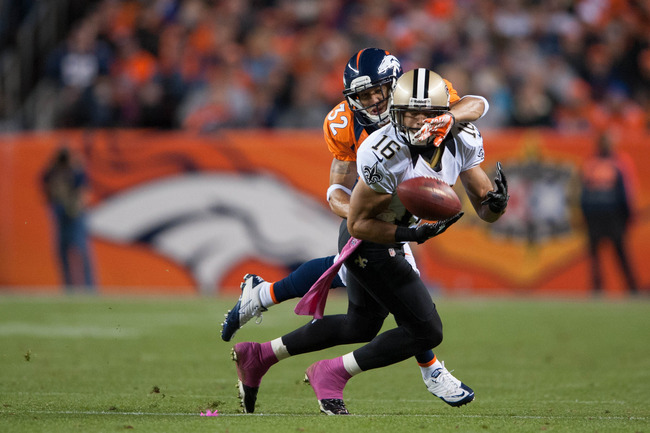 Dustin Bradford/Getty Images
Marques Colston—Grade—B
After having the best three-game stretch in New Orleans Saints franchise history, Marques Colston came back to earth for a moment in the game against Denver. Colston may have been the team's most productive wide receiver in this game, though.
Lance Moore—Grade—A+
Coming off a great game last week against Tampa Bay—and a favorable matchup versus the Broncos—Lance Moore seemed destined for a big game Sunday night. Instead, he put in a pedestrian effort against the Broncos' soft pass coverage (though the secondary played great Sunday night).
Devery Henderson—Grade—C
Devery Henderson had two really good games preceding this one. Sunday night, he was nearly an afterthought. Without looking at the numbers, it didn't even seem as if Henderson caught a pass. That tells you more than you need to know, if you're even a casual observer.
Joseph Morgan—Grade—N/A
Unfortunately Joe Morgan was inactive. It's possible his presence may have helped the offense. But it's unlikely the group would have been much better with him.
Courtney Roby—Grade—B
Courtney Roby left the game late in the first half. While in the game he did a great job as a blocker on offense and was excellent on special teams.
Tight Ends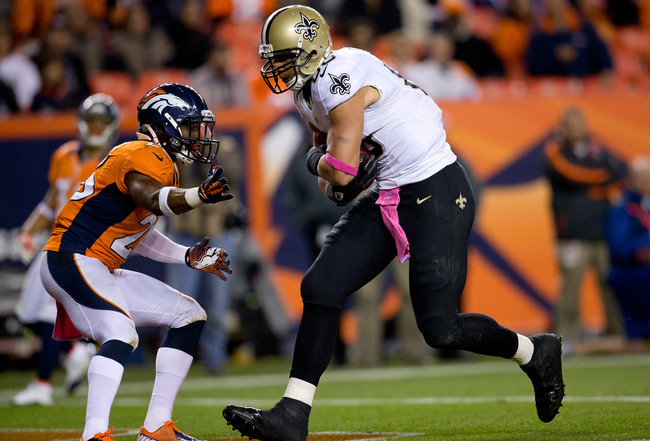 Justin Edmonds/Getty Images
Jimmy Graham—Grade—C+
Sure Jimmy Graham was returning from injury. But he looked rusty and could not catch the ball with any regularity. Graham—as an NFL tight end—should catch the football when it's thrown near him.
David Thomas—Grade—B
Thomas dressed but was rarely seen in the lineup and plays where he was even noticed were scarce.
Daniel Graham—Grade—N/A
Graham did not practice all week and did not play.
Offensive Line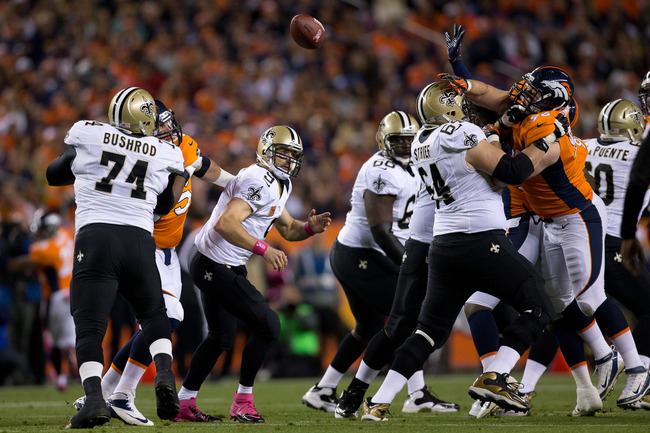 Justin Edmonds/Getty Images
LT Jermon Bushrod—Grade—B
Jermon Bushrod actually did a nice job in this game against some of the best front seven players in the league. His play in the running game—combined with left guard Ben Grubb—was exemplary. He was far from the problem.
LG Ben Grubbs—Grade—B+
Ben Grubbs combined with tackle Jermon Bushrod to open a ton of holes in the running game. And together they managed to keep Drew Brees fairly upright.
C Brian de la Puente—Grade—C
Brian de la Puente was not the problem for the offense in this game. Could he have played better? Probably. Then again, every offensive player, other than Pierre Thomas, could have played better.
RG Jahri Evans—Grade—B
Jahri Evans wasn't bad in this game. In fact, he opened some holes in the running game—and for the most part kept No. 9 upright.
RT Zach Strief—Grade—B-
Strief played well in the game. Combined with help from reserve tackle Charles Brown, Strief and the offensive line kept Von Miller and Elvis Dumervil from truly effecting the football game. Unfortunately for Strief and his mates, the discrepancy was with the Saints' skill players.
Defensive Line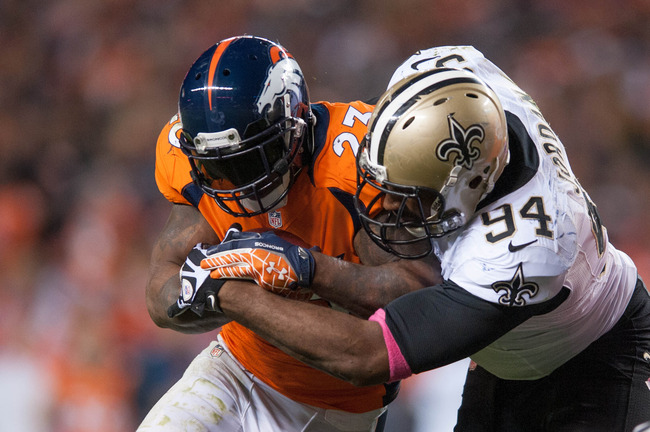 Dustin Bradford/Getty Images
DE Will Smith—Grade—D
Will Smith was unnoticeable in this particular game. He was clearly on the field, but I do not recall him making a play. And for that matter, I'm not even sure he was around the football. It was an odd game for one of the Saints' best defensive players.
DT Brodrick Bunkley—Grade—N/A
Bunkley was a healthy scratch.
DT Sedrick Ellis—Grade—D
Sedrick Ellis is great at one thing—sitting the bench, which he did for stretches at a time in this contest. Ellis ended up around the football on a few occasions, but that was mainly because Broncos linemen accidentally pushed him near the ball-carrier approximately 10 yards down the field.
DE Cameron Jordan—Grade—C
Cameron Jordan did the best he could playing inside on the majority of snaps. He essentially started at defensive tackle in the place of Brodrick Bunkley as the Saints played nickel on nearly every snap. The truth is that he was playing out of position against an offense that, while aligning in nickel personnel and formations, plays as a base offense in such alignment.
Jordan needs to back to the end position where he excelled in the season's first six games.
DT Tom Johnson—Grade—C
Despite the absence of Brodrick Bunkley, Tom Johnson did not see the snaps at defensive tackle that seemed like the natural progression of sitting Brodrick Bunkley. When he was in, he did not provide his usual spark.
DT Akiem Hicks—Grade—C
Making his first career start, Akiem Hicks was largely ineffective. The defensive line was mostly ineffective and Hicks is included in that group.
DE Junior Galette—Grade—C
Galette did nothing to impress anyone. Not that anyone on the defense impressed, but you would have hoped Galette could against the Broncos' young right tackle whose last name is Franklin. On film he looked susceptible. Galette did not expose him, even to the least degree.
DE Martez Wilson—Grade—C
Martez Wilson played a great game a week ago. This week—he maybe one great defensive play. Every player gets a "C" or lower grade. Wilson did nothing better than anyone else—that much is for sure.
Linebackers
Streeter Lecka/Getty Images
MLB Curtis Lofton—Grade—C+
Curtis Lofton was regularly around the football. Sadly that was mostly due to the poor play around him. Someone had to make the tackles. Lofton is far from the problem on this defense.
OLB Scott Shanle—Grade—N/A
Scott Shanle did not play in this game.
OLB Will Herring—Grade—Incomplete
Herring didn't play enough to warrant a grade. Though he was technically a starter, he may not have seen a snap as the Saints started the game in nickel and stayed in all night long.
Jonathan Casillas—Grade—Incomplete
Casillas played mostly on special teams. As a linebacker, he did very little.
Jon Vilma—Grade—C
Jon Vilma played in this game. I'm not even sure I remember him making a tackle. That may be because he did very little at all.
Defensive Backs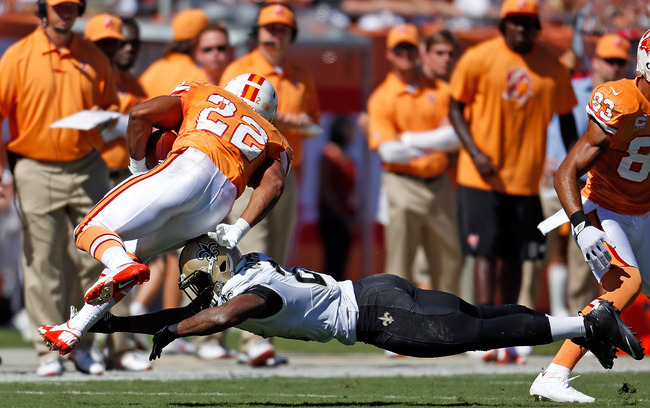 J. Meric/Getty Images
CB Jabari Greer—Grade—C-
Jabari Greer has had better days. He regularly got beat in coverage. Of course his play was far from the worst in the Saints' secondary.
CB Corey White—Grade—C
For once the Saints' rookie corner was not the one being burnt with regularity. In fact, I cannot even remember White getting burnt.
CB Patrick Robinson—Grade—F
Patrick Robinson was pretty good a week ago against Tampa Bay. This week, he was destroyed. Though Jabari Greer was also taken advantage of, Robinson was the primary victim of Peyton Manning and his aggressively smart passing game. It was a big problem Sunday night for the Saints defense. And the primary culprit was Robinson.
S Roman Harper—Grade—C-
Roman Harper was beat on one notable deep pass play from the Broncos. And then he was taken out of the game to check for a possible concussion. All in all, Harper played solid football. Even saying that, though, seems unfair in this game.
S Malcolm Jenkins—Grade—C
Malcolm Jenkins was far from the worst defender the Saints' team put out on the field Sunday night. That should be enough to keep fans off Jenkins' back for a week, I hope.
Special Teams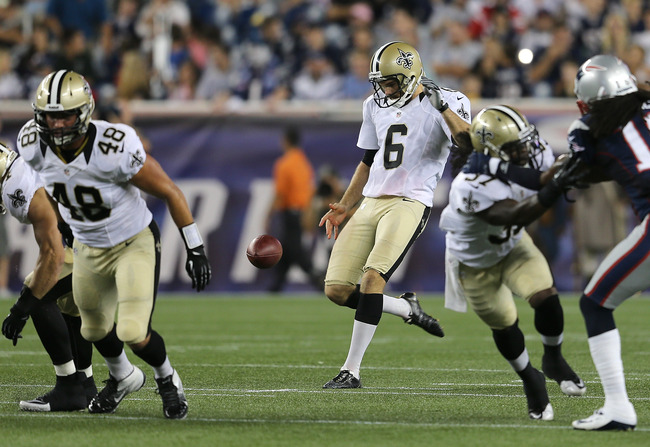 Jim Rogash/Getty Images
Overall Game Grade--B
All in all, the special teams was solid. The punt coverage unit struggled despite great placement and hangtime from Thomas Morstead. Undoubtedly, Courtney Roby's absence did not help any matters.
The kick coverage was more than solid though, as it often held the Broncos inside the 20 on kickoffs. Also, the return game did little of note.
Coaching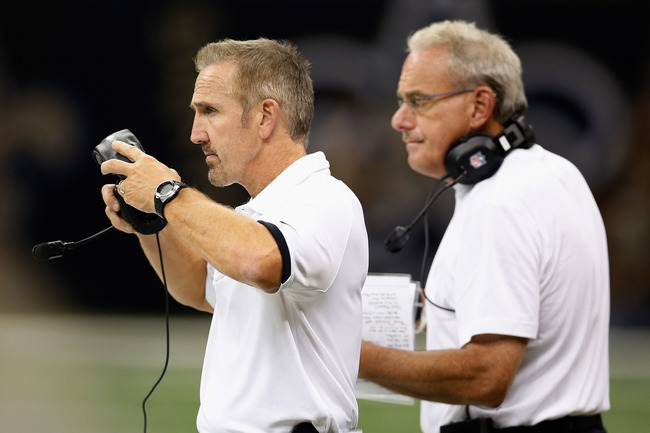 Chris Graythen/Getty Images
Overall Game Grade--C
It's really easy to complain about the schemes or lack of execution. The biggest problem in this game seemed to be the energy level and passion the team showed. Some of those issues need to be placed on the coaching staff as a whole.
Offensively, the coaches worked up a solid game plan to run the football. Unfortunately, it was unrealistic to maintain that given the nature of the game.
Defensively, the unit lacked energy and tackled poorly. Little of that is due to coaching ultimately. Some of it is motivation on the part of the players themselves. Some of it may be coaching-related, though.
Keep Reading

New Orleans Saints: Like this team?