Texas vs. Kansas: Live Scores, Analysis and Results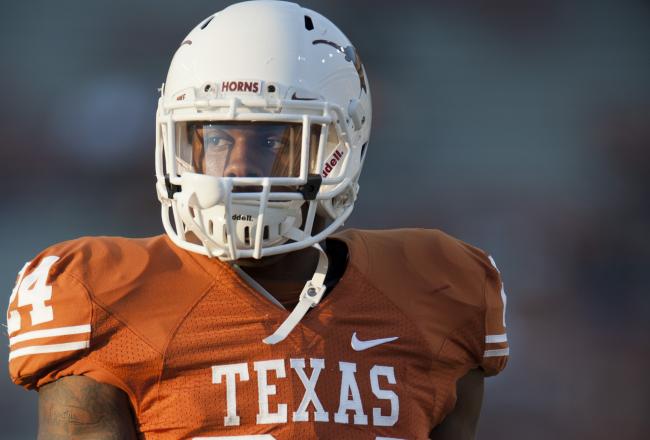 Cooper Neill/Getty Images
Texas 21, Kansas 17 -- FINAL
It took every minute of the game to determine a winner between the Longhorns and Jayhawks, but thanks to two touchdown drives engineered by backup quarterback Case McCoy, Texas barely topped Kansas in Lawrence.
In an otherwise brilliant performance from the now 1-7 Jayhawks, Kansas did beautifully on the ground and set itself up to win the game.
For Texas, it was never pretty, and although plenty of banter will follow the victory, Mack Brown and the Longhorns will surely take the W.
Keep it here for all live scores, results and analysis.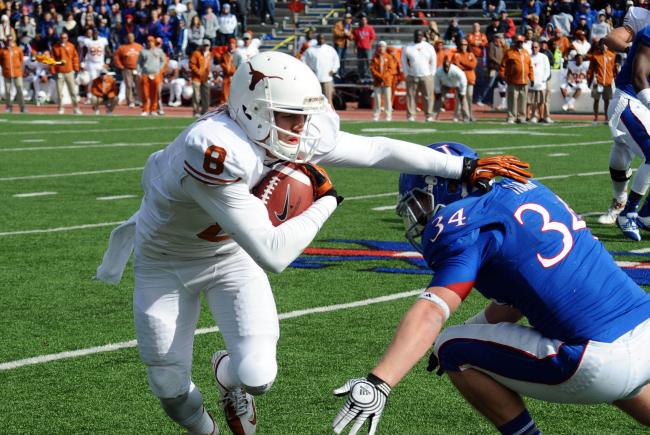 Check out 10 things we learned for Texas.
From the Box Score
-KU ran for 234 net rushing yards.
-UT gave up at least 200 net rushing yards for the fourth time in five games.
-UT, one of the best teams on third down, converted just 4-of-12 attempts.
-KU ran 65 total plays, and 59 of them were runs.
-UT rushed for 210 net rushing yards on 35 carries, but two of them amounted for 72 of those yards.
-KU RB James Sims rushed 28 times for 176 yards, a career-high.
-UT RB Johnathan Gray topped 100 yards for the first time in his career, finishing with 109 yards on 19 carries.
-UT WR Jaxon Shipley looked livelier than usual, hauling in six catches for 66 yards.
-UT TE D.J. Grant caught just one pass on the night, but his 1-yard touchdown was the game-clincher.
-KU completed just three passes for 39 yards.
-KU won the time of possession 32:48 to 27:12.
-KU won the turnover battle, finishing +1.
-UT uncharacteristically committed five penalties for 65 yards, where as KU had a single flag for five yards.
Post-game Thoughts
-Kansas was the better team for 45 minutes.
-Texas looked energized with Case McCoy in the game, at least moreso than it did with David Ash at the helm.
-For the second time in three weeks, McCoy led two scoring drives late in the game, and this time, engineered a victory for the Longhorns with some gutsy completions down the field.
-Kansas has to be kicking itself for dropping this game.
-For the most part, the Jayhawks did everything right to win the game, but one too many let-ups at just the right time cost them their first conference win in two years.
-Texas is smiling, but wiping gallons of sweat from its forehead.
-From a Texas perspective, there was little that was pretty about this win, save for three of McCoy's five completions.
-There are almost no more buttons to push on the interface that reads "Issues with Texas' Defense."
-Kansas' RB James Sims put in an impressive day, but it looks mighty sour with the loss.
-If I'm Texas, I don't even know how to feel about the win. On the one hand, you take it and become bowl eligible, but on the other, it comes against a now 1-7 Kansas team that has been shredded by virtually every opponent on its schedule.
-If I'm Kansas, I don't know what I have to do to get a close win.
-Almost everything that happened in the game was the opposite of the expectation in the Big 12.
We are final in Lawrence!
Case McCoy just saved Texas from one of the most embarrassing defeats in the program's history.
Touchdown Texas
Case McCoy looks to be the hero, completing a 1-yard touchdown pass to D.J. Grant
UT 21, KU 17 -- :12 4th QTR
Kansas just took a huge shot in the gut, but credit Case McCoy for coming through twice with big plays, once on a fourth down to Jaxon Shipley and another down the sideline to Mike Davis on a bulls-eye.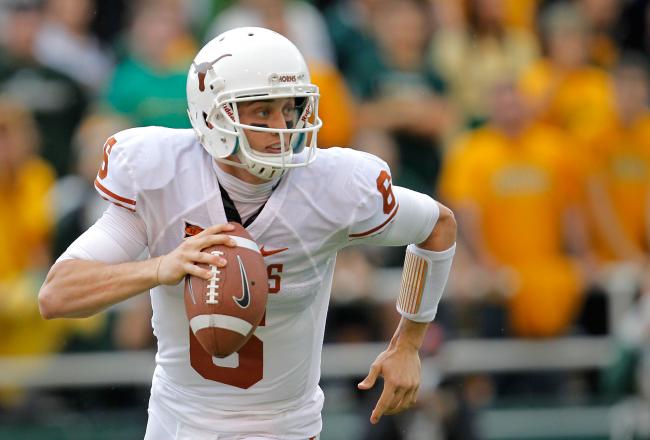 McCoy to Shipley for a first down. Now, there is something Texas fans have heard before.
Not a very determined series of plays for the Longhorns.
Obviously the clock is not on their side, but trading two bad incompletions in place of a couple of decisive runs to the outside, where lanes have been open all game, is not a good exchange.
Texas is driving into the wind, so any field goal attempt is a straight-up challenge.
29-YD Field Goal Attempt: Good for Kansas
The Jayhawks regain the lead after a determined drive.
UT 14, KU 17 -- 2:28 4th QTR
Kenny Vaccaro is missing part of the Longhorn decal on his helmet, and it's not the first time this season.
Clock management, which hasn't been so great for Texas, will be critical regardless of the result of this Kansas drive.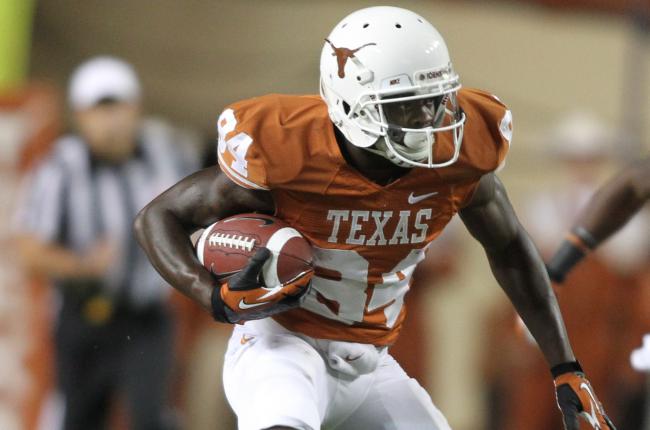 On that scoring drive, Marquise Goodwin and D.J. Monroe got critical touches. You would think Texas could get them the ball a little more often...
Touchdown Texas
Marquise Goodwin gets two huge touches takes it in from 12 yards out for a touchdown.
UT 14, KU 14 -- 9:41 4th QTR
The Longhorns look poised to score on this drive, and all Case McCoy is doing is handing off the ball.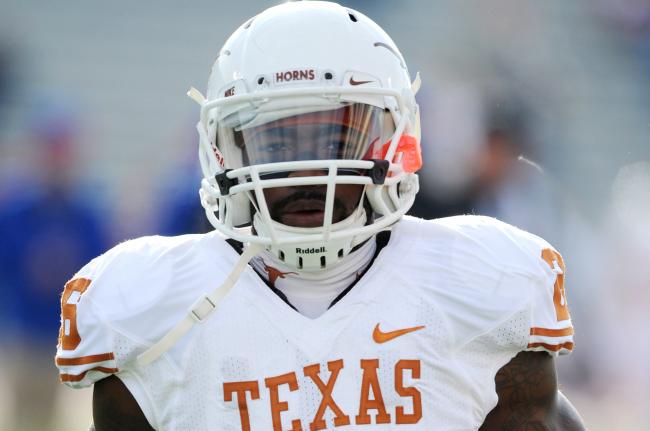 D.J. Monroe is the absolute favorite for the most underused talent in college football.
You can only wonder if this is where Case McCoy earns his stripes...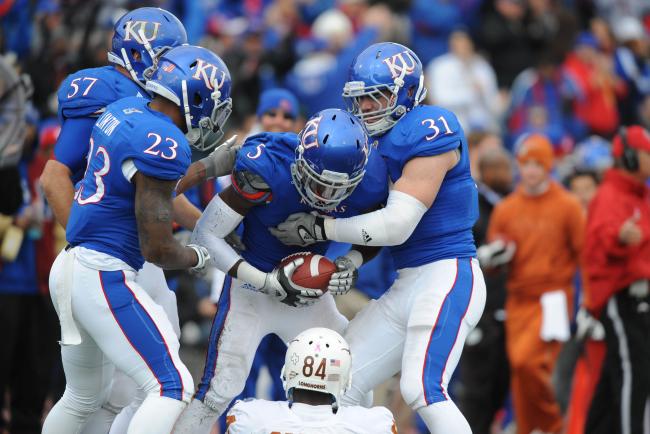 Kansas has thrown the ball five times and has completed two of those attempts. If you didn't know any better, you would think Texas was playing Navy.
So despite Kenny Vaccaro dislodging the ball on that big hit, his tackling form was absolutely abysmal.
In almost every facet of the game, Kansas has executed to a tee, which is more than anyone can say about Texas.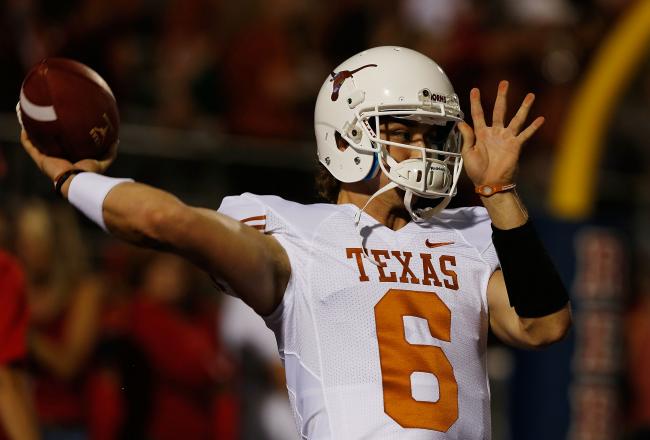 For what it's all worth, Case McCoy did come into the Oklahoma game late and throw two touchdown passes like he was in midseason form.
The execution of that screen pass was actually really good, and a pinpoint throw easily goes for a first down, if not more.
Interception Kansas
A lapse in focus from David Ash leads to a bad throw on an inside screen, and the tipped ball falls right into the arms of a Kansas defender.
This article is
What is the duplicate article?
Why is this article offensive?
Where is this article plagiarized from?
Why is this article poorly edited?

Texas Longhorns Football: Like this team?