NHL Lockout: 4 Schedule Formats the NHL Could Use for a Shortened Season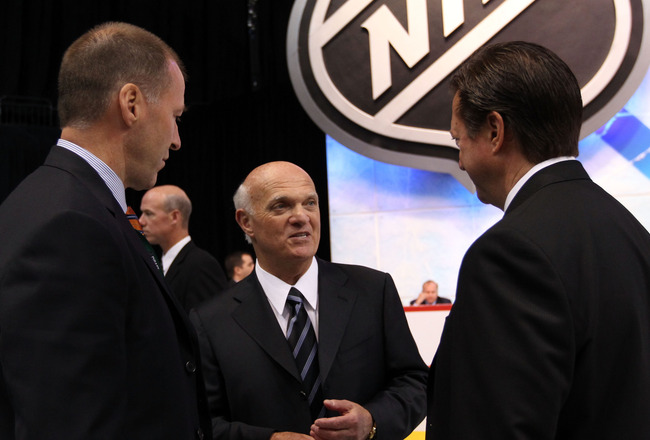 Bruce Bennett/Getty Images
Still holding out hope for a full season? Throw any remaining fantasies out the window.
Yesterday marked the passing of the NHL's unofficial deadline that ruled out the possibility of an 82-game season in 2012-2013. Then, on Friday, the league cancelled all previously-scheduled games through Nov. 30.
If the two stubborn sides ever fall in and settle on a CBA that will preserve at least a partial campaign, the league's schedule-makers will have a difficult time reformatting and recreating a new slate in time. The NBA is already occupying many of the NHL's arenas, the season will be restricted to a conclusion by late April and any redrawn formatting is sure to draw criticism from at least a few teams.
In a full season, teams play six games against each of four divisional opponents, four games against each of 10 non-divisional, in-conference opponents and 18 total games against the 15 teams of the opposite conference.
Naturally, cuts will have to be made from at least one of those categories to reduce the season's length, but finding the correct department in which to reduce matchups, could result in a surprisingly controversial decision.
Long before a known starting date and preferred season length is known, we offer four different formats that could satisfy the league's necessary shortening. From a slightly-reduced 72-game campaign to a last-resort 26-game marathon, consider the handful of season-reducing schedule format on the coming slides.
72-Game Season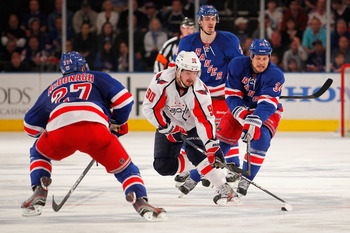 This format would reduce in-conference games, such as this rivalry between the Southeast Division's Capitals and Atlantic Division's Rangers.
Paul Bereswill/Getty Images
Games vs. Division Teams: 24 (Six per opponent)
Games vs. Conference Teams: 30 (Three per opponent)
Games vs. Non-Conference Teams: 18 (One vs. 12 opponents; Two vs. three opponents)
A 72-game season may well be the best-case scenario at this point—a mid- or late-November opening day, only 10 games cut out of the schedule and hardly an asterisk in the history books.
Such a format could be accomplished simply by cutting season series against non-divison, in-conference teams from four games to three. While home-and-away balances would be imbalanced within the series, all teams could play 36 home games over the course of the season and barely notice a difference in their scheduled workload.
60-Game Season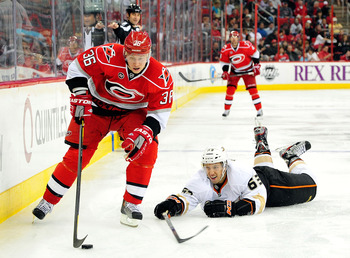 This format would reduce non-conference games, such as this contest between the East's Carolina Hurricanes and West's Anaheim Ducks.
Grant Halverson/Getty Images
Games vs. Division Teams: 20 (Five per opponent)
Games vs. Conference Teams: 30 (Three per opponent)
Games vs. Non-Conference Teams: 10 (One per opponent in two divisions)
If the NHL lockout continues to follow the course of the NBA's 2011 work stoppage—optimism during the summer, increasing distress over the course of the fall and an eventual resolution before New Years' Day—a 60-game campaign could be a likely resolution.
Teams could play five-game series against in-division rivals and three-game series against foes in their conference's other two divisions, allowing every series to, interestingly, produce a definite winner.
In non-conference play, the NHL could use an expanded version of the NFL's system and assign each division two non-conference divisions to play. For example, the Northeast Division could play the 10 teams from the Central and Northwest Divisions but not the five teams of the Pacific Division.
40-Game Season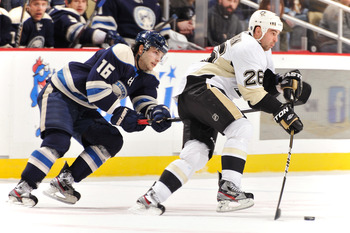 This format would limit teams to only four non-conference games; pairings of regional proximity, such as Columbus-Pittsburgh, could be preserved.
Jamie Sabau/Getty Images
Games vs. Division Teams: 16 (Four per opponent)
Games vs. Conference Teams: 20 (Three per opponent)
Games vs. Non-Conference Teams: 4 (One vs. four select opponents)
If, with a full season no longer a reality, the NHL resorts to an extended negotiations plan that would result in a half-length season, this 40-contest system could become the default plan.
Each franchise would play its' divisional foes four times each and its' other conference adversaries three times each. The crucial focus of this format would be the non-conference slate, as each team would be assigned four particular opponents to provide a small dose of cross-continent travel to the schedule.
Cross-conference teams with relative closeness (Carolina vs. Nashville, Winnipeg vs. Minnesota, Pittsburgh vs. Columbus, Toronto vs. Detroit) would certainly be preserved, in addition to a small handful of Boston vs. San Jose-type coast-to-coast matchups.
26-Game Season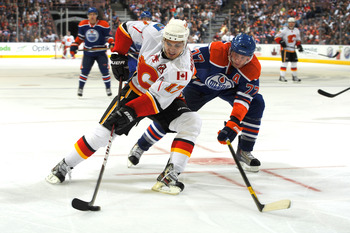 This last-ditch format would compose primarily of in-division rivalries, like the Battle of Alberta between Calgary and Edmonton.
Dale MacMillan/Getty Images
Games vs. Division Teams: 16 (Four per opponent)
Games vs. Conference Teams: 10 (One per opponent)
Games vs. Non-Conference Teams: None
No one would be remotely satisfied with a merely 26-game schedule, but, as this almost happened during the 2005-06 NHL lockout, it could be used as a last-ditch effort beginning in February.
Over half of the 26 contests would be against just four divisional opponents, reforming the season into, primarily, a contained in-division competition. Only ten games, one against each division's other 10 conference opponents, would add some spice to the schedule.
However, if it truly came down to it, 26 games are better than none.
Keep Reading