Derek Jeter's Top 10 Yankee Moments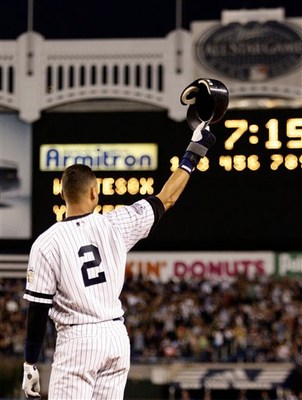 Derek Jeter has been one of the most beloved professional athletes in New York's illustrious sports history.
He has also been one of the most respected athletes in the history of sports.
Jeter has been involved in countless moments that will live on forever, and be told to sons and grandsons for generations.
Though it is virtually impossible to break down Jeter's 14-year career into just "The 10 Greatest Moments," I will attempt to shoulder the burden as best I can.
There are many more that have slightly fallen short of the list, and may have even touched fans enough to make it their personal favorite.
Starting No. 10 and counting down to No. 1, here are some of the moments that helped Jeter capture our hearts (or ripped yours out and stomped on it):
No. 10 Jeter Collects His 2000th Career Hit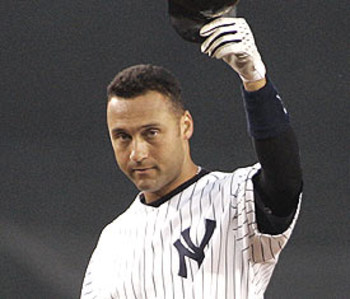 On May 26, 2006, Jeter chopped a slow-roller down the third base line off of Royals starting pitcher Scott Elarton.
He beat it out for an infield single and became the eighth Yankee to achieve the milestone.
It was fitting that Jeter did not reach 2,000 hits with a home run but rather a soft single.
I was, thankfully, at the game.
No. 9 Jeter Becomes Captain
On June 3, 2003, Jeter was crowned the 11th captain in New York Yankees history.
He was the only possible replacement for the beloved Don Mattingly, who vacated the position upon retirement in 1995.
Needless to say, he has lived up to his title time and time again.
No. 8 Passes Lou Gehrig for Most Hits in Yankee Stadium History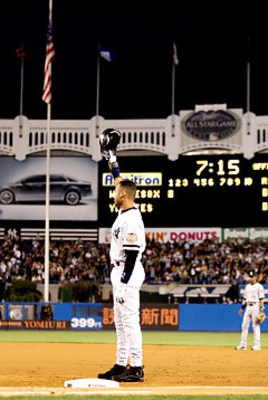 Jeter passed Gehrig's longstanding Yankee record on September 16 of last season by collecting his 1270th hit in the stadium.
He singled off of Chicago White Sox starter Gavin Floyd to reach the milestone.
No. 7 Jeter's Girlfriends: Jealousy Personified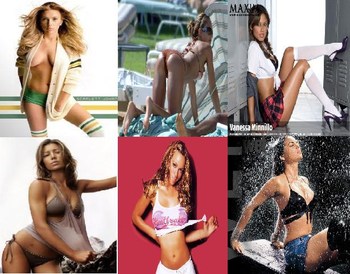 Jeter has proudly held New York's "Most Eligible Bachelor" title for over a decade. During that time, he has dated some of the most beautiful girls to walk the Earth.
In order to save space and time, I have only selected six of the most famous and well-known love affairs.
This picture collage includes Scarlett Johansson, Jessica Alba, and Vanessa Minnillo on the top row. The bottom row includes Jessica Biel, Mariah Carey, and former "Miss Universe" Lara Dutta.
Some may argue that his dating life does not belong on Jeter's top moments. Others may argue that these people are envious and bitter at Jeter's ability to close.
No. 6 Yankee Stadium Farewell Speech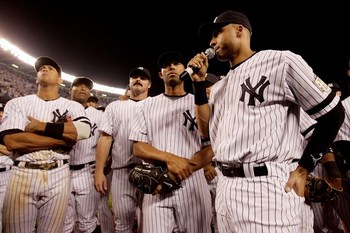 No one else could have possibly delivered the final speech at "The House that Ruth Built."
This stadium had seen some of the most memorable speeches in sports history, including Lou Gehrig's emotional goodbye in which he stated he was "the luckiest man on the face of the earth."
Jeter tapped into the fans' emotions during the speech and gave over 80 years of memories their justice.
Providing a second home to many fans for their entire lives, the original stadium will never be forgotten.
No. 5 Jeter Dives into the Stands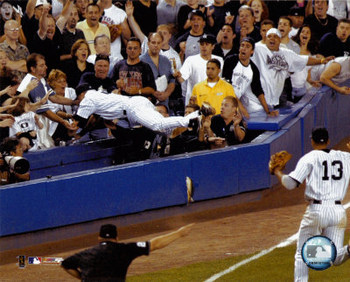 On July 1, 2004, Jeter made one of the most courageous defensive plays in Yankee history against the rivaled Red Sox.
He went on a full sprint toward the third base line on a Trot Nixon popup and made an excellent backhanded grab.
His momentum carried him three rows deep into the stands as Alex Rodriguez looked on as if to wonder, "How can a player be so selfless? He already got his big contract."
As he emerged from the stands bloodied and bruised, Jeter won over even the most hateful of Boston fans.
No. 4 Jeter Wins the 2000 World Series MVP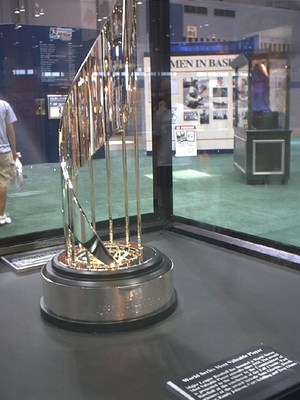 In capturing its fourth World Series title in a span of only five years, the Yankees defeated the New York Mets 4-1 in an overly hyped "subway series."
Jeter hit .409 with a .480 on-base percentage, while also hitting two home runs and scoring six times.
"Captain Clutch" lived up to his nickname during the most important World Series victory of the dynasty years.
If they won, it was predictable and uninteresting. If they lost, it was unforgivable.
No. 3 Jeffrey Maier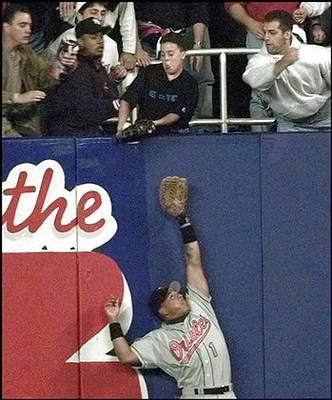 During Game One of the 1996 ALCS, Jeter lifted a fly ball deep to right field.
It appeared to be headed for the stands. Then it appeared that Orioles right fielder Tony Tarasco had a beat on it.
Luckily for the Yankees, 12-year-old Yankees fan Jeffrey Maier had brought his glove to the game that day.
He reached over the wall and pulled Jeter's fly ball into his lap. After much protesting and deliberation, it was ruled a home run.
The Yankees continued their storybook season on their way to capturing they first title in 18 years.
No. 2 Mr. November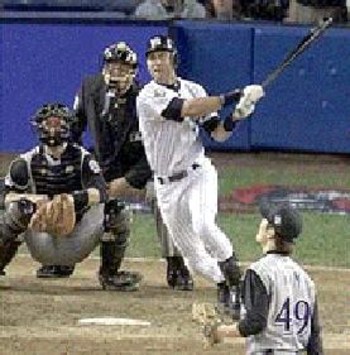 Due to the September 11 attacks on New York City, the baseball season was stretched out longer than originally anticipated.
As a result, the World Series entered a month it had never seen before during a magical Game Four in the Bronx.
As the clock struck midnight during an extra inning game, it had officially become November 1, 2001.
Jeter then deposited an offering from Diamondbacks closer Byung-Hyun Kim over the right-field wall for a walk-off homer.
Forever earning the nickname "Mr. November," Jeter then tied the series at 2-2 and temporarily kept the team's dreams alive.
No. 1 Flip Play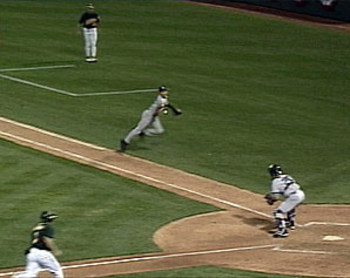 Jeter made his greatest defensive play as a Yankee during Game Three of the 2001 ALDS against the Oakland Athletics. It became known across baseball as "the flip".
After a double down the right-field line, Yankees outfielder Shane Spencer badly overthrew the cutoff man while attempting to stop a critical run from scoring.
Jeter came out of nowhere to scoop up the errant throw and ultimately saved the Yankees from elimination by shoveling it to Jorge Posada for the out.
He had no business being in the area as a shortstop, but his instincts and play-making ability took over.
FOX announcer Thom Brennaman's play-by-play:
"That is fair, down the right field line. Giambi on his way to third, and they're gonna wave him around! The throw misses the cutoff man—shovel to the plate! Out at the plate! Derek Jeter with one of the most unbelievable plays you will ever see by a shortstop!"
http://heartbeatofthebronx.blogspot.com/
Keep Reading

New York Yankees: Like this team?