2013 NFL Mock Draft: Week 10 Edition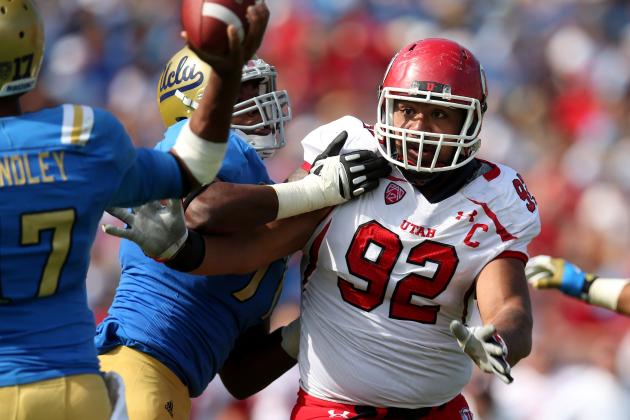 Stephen Dunn/Getty Images

Wow, it's Week 10 already. It seems like just yesterday that the Dallas Cowboys looked like they grew a set in beating down the defending champion New York Giants in the season opener. Well that didn't really stick, did it?
Anyway, the anticipation for the 2013 NFL Draft has to be building as we head into yet another week of football, especially for the fans of those one and two-win teams.
So what college prospects are on track to be called on day one of the draft?
Find out in my Week 10 edition mock.
*Order based on standings and opponent W-L percentage.
Begin Slideshow

»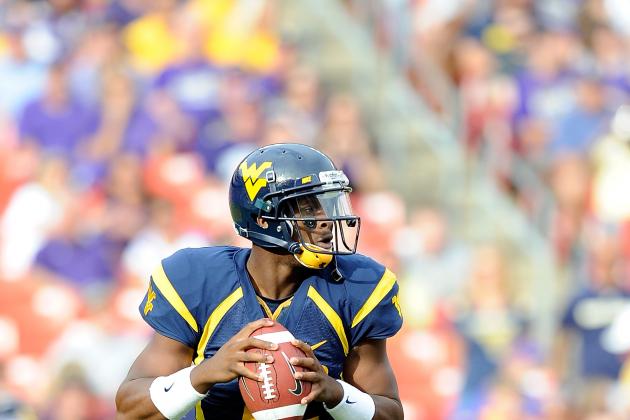 Patrick McDermott/Getty Images

Season stats: 162.99 RAT, 2,674 YDS, 29 TD, 3 INT, 71.9 Comp %
Although it was terribly ill-mannered, perhaps the Chiefs fans were trying to send a message to the front office. Matt Cassel is clearly not the answer.
Geno Smith, however, can be.
Throughout his impressive 2012 campaign, Smith has shown plenty of franchise quarterback-type ability. He has exhibited incredible arm strength, great accuracy and often remains very poised in the pocket. Smith does, however, need to improve on his footwork to enhance his rushing game.
The Heisman candidate has looked a bit more human as of late but is still clearly the top quarterback prospect in the class.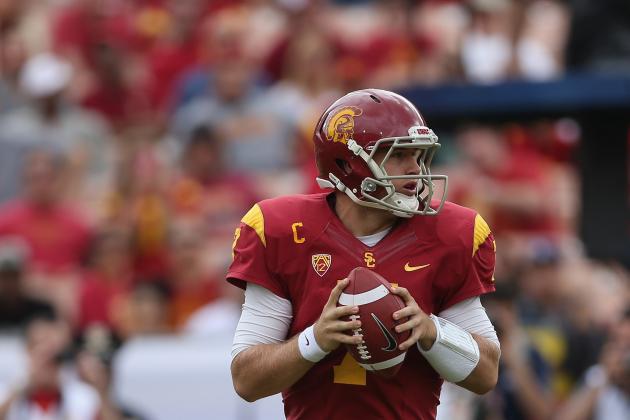 Jeff Gross/Getty Images

Season stats: 163.30 RAT, 2,750 YDS, 30 TD, 10 INT, 65.2 Comp %
Before the 2012 campaign started, Barkley was the consensus No. 1 overall selection. But due to some annoying struggles and stellar play from fellow QB Geno Smith, Barkley has slipped down to be the draft's second-best play-caller.
Regardless, this guy has all the signs of becoming a franchise quarterback at the next level.
Barkley sees the field very clearly, operates well under a pro-style offense and possesses numerous intangibles needed for the pros.
He doesn't have a cannon for an arm nor does he exactly scare teams if he chooses to take off and run. But Barkley does have a slightly above-average arm that has been NFL-ready for two years.
Even though picking Barkley here is quite a reach, it appears as though Jacksonville will be bringing in new management come next season. In a recent statement, owner Shad Khan all but announced his intentions of firing general manager Gene Smith.
A new regime means a new quarterback.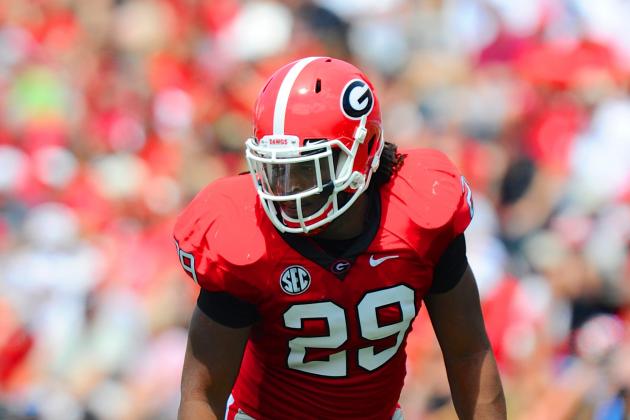 Dale Zanine-US PRESSWIRE

Season stats: 52 Tackles, 15.0 TFL, 8.5 Sacks, 1 INT, 5 FF
With Mike Holmgren on his way out, I'm assuming the new regime over in Cleveland would probably want to start fresh with their own quarterback. Unfortunately, Smith and Barkley were just snagged. And quite frankly, there's no way to justify reaching for Tyler Wilson with the third overall selection.
So at this point, they'll have to opt for the best available talent.
Just because Geno Smith is mocked as the first overall selection doesn't mean he's the best player in this draft class. As of now, that honor goes to Georgia's Jarvis Jones.
Jones is one of, if not the best, pass-rushers in this class. He exhibits excellent burst off the snap, which is just one of his many advanced skills in the pass rush game. Add that to his explosive speed and non-stop motor and you have a heck of a prospect.
This outside linebacker, has in fact, drawn some eerie similarities and comparisons to Denver's Von Miller.
Jones is even considered an above-average defender against the run and in coverage.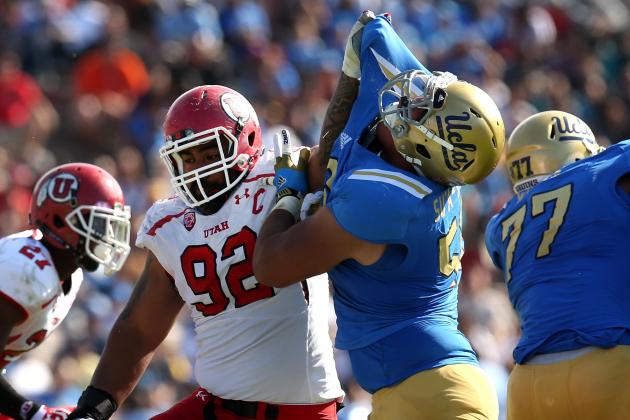 Stephen Dunn/Getty Images

Season stats: 31 Tackles, 8.0 TFL, 3.0 Sacks, 3 FF
Carolina's offense certainly has a promising future. Their defense, however? Eh, not so much.
With the exception of a few bright spots, the Panthers' defense has been less than stellar over the past two seasons. In fact, it may have been the anchor holding them down from an eight- or nine-win season a year ago.
So, with a chance to finally add an interior defensive presence they've been sorely missing since the departure of Kris Jenkins, the front office would be ecstatic to see Utah's Star Lotulelei on the board here.
Lotulelei possesses ridiculous physical attributes. He's huge, he's powerful and he's rather quick for a man his size. Lotulelei is extremely explosive off the snap and creates nothing but havoc when penetrating past opposing offensive lines.
Kevin Jairaj-US PRESSWIRE

Season stats: ---
I bet if you say "Jason Smith," a Rams fans somewhere in the country will cringe. But besides wasting the second overall pick on that bust back in 2009, the Rams' offensive line problems have been rather extensive over the past handful of seasons.
So spending the first of their two picks in this round on a lineman would probably be a smart move.
Luke Joeckel of Texas A&M is at the very top of a considerably thin class of offensive linemen. Joeckel, 6'6" and 310 pounds, will most likely end up as someone's franchise left tackle. He's quick, light on his feet and possesses the agility to evolve into a top-notch pass protector.
The tackle also is very solid in the run game.
The Rams can fill a huge void here and wait for either Keenan Allen, Robert Woods or Justin Hunter with their second of two first-rounders.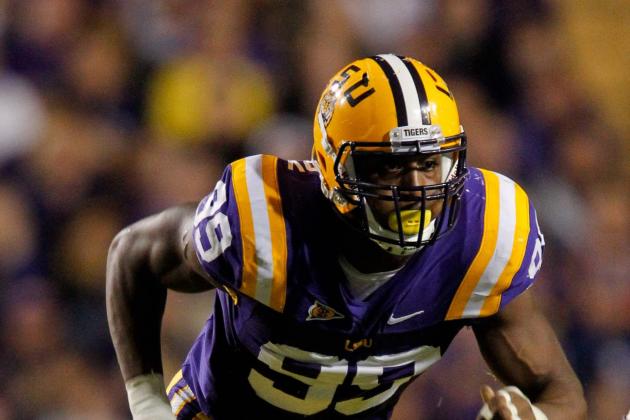 Derick E. Hingle-US PRESSWIRE

Season stats: 26 Tackles, 10.0 TFL, 5.0 Sacks, 1 FF
Tennessee should be able to take the top available prospect here. And with a need for some kind of effective pass rush, LSU's Sam Montgomery fits the bill for need as well.
Montgomery is long, athletic and has a non-stop motor. With a little more work, his game should translate well onto the next level given his rush defense and bull-rush abilities.
The Titans should look to help out Kamerion Wimbley and Derrick Morgan in their pass rush. Montgomery would do just that.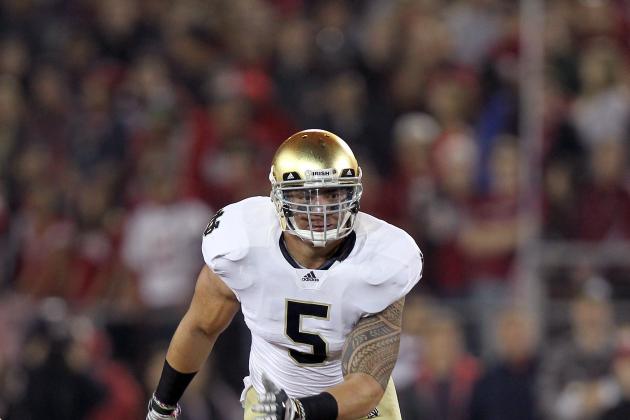 Ezra Shaw/Getty Images

Season stats: 87 Tackles, 5.5 TFL, 1.5 Sacks 4 INT
This year's version of Luke Kuechly is Notre Dame's Manti Te'o. Actually, Te'o looks as though he'll translate much easier into the NFL.
At this point in the draft, Te'o should be the best player left on the board. And given Cincinnati's inconsistencies at the linebacker position, the front office shouldn't mind investing in the Notre Dame product.
Te'o is an all-round appealing prospect. He has good instincts, an advanced run defense and very solid, great athleticism. Te'o also shows flashes of brilliance in the pass rush with his reads and closing speed.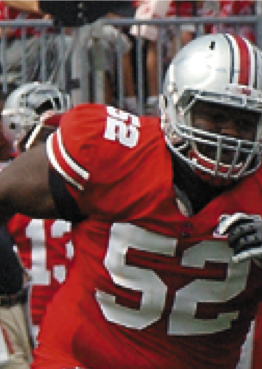 Photo credit: TheOtherPaper.com
Season stats: 50 Tackles, 4.0 TFL, 1.0 Sacks
Oakland would have the luxury of being open to the best available player when its turn comes around. And being that defensive tackle Tommy Kelly has about a zero percent chance of returning next season, perhaps the Raiders will opt for a big body to fill that void.
It so happens the best player available at this point would be a defensive tackle.
Hankins, 6'4" and 325 pounds, possesses a very desirable skill set from the looks of his one-and-a-half seasons as a Buckeye. In addition to being the traditional big-man run-stuffer, Hankins does often exhibit some explosiveness en route to breaking down opposing lines.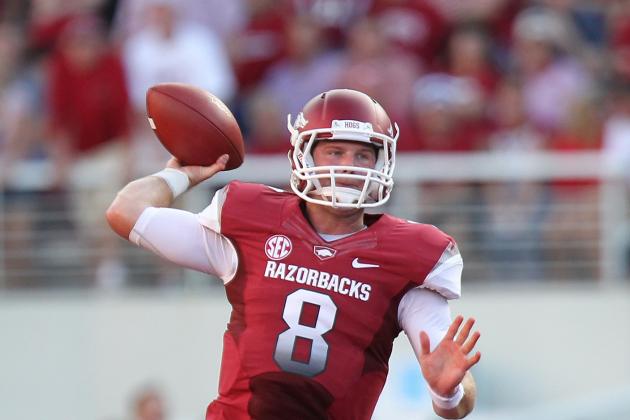 Nelson Chenault-US PRESSWIRE

Season stats: 149.82 RAT, 2,526 YDS, 16 TD, 8 INT, 60.6 Comp %
Despite throwing wads of cash at their current quarterback, the Bills should be intelligent enough to realize that Ryan Fitzpatrick is far too inconsistent to lead them anywhere. That should make the third highest-rated quarterback of the class, Wilson, rather appealing.
Tyler Wilson, a senior, has flown a tad under the radar this year as has the rest of the Arkansas squad. (But to his credit he is missing his top three receivers as well as his head coach.) Regardless, he appears to possess that next-level ability.
He is a good decision maker, he reads defenses well and often exhibits a professional style intellect. Wilson also has a strong and accurate arm to add alongside his scout-friendly physical attributes.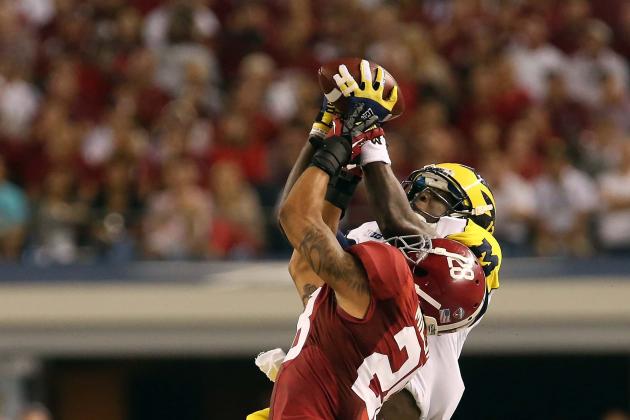 Kevin Jairaj-US PRESSWIRE

Season stats: 34 Tackles, 3.5 TFL, 1.5 Sacks, 2 INT
With the future of their secondary looking rather foggy at the moment, perhaps the Eagles should opt for some help. Nnamdi Asomugha hasn't looked terribly impressive as he once was and Philly could lose Dominique Rodgers-Cromartie to free agency.
The top corner in this draft is Alabama's Dee Milliner.
Milliner, 6'1", has surpassed David Amerson as the No. 1-rated cornerback in the draft. In fact, he has worked his way into the top 10 list of the entire class.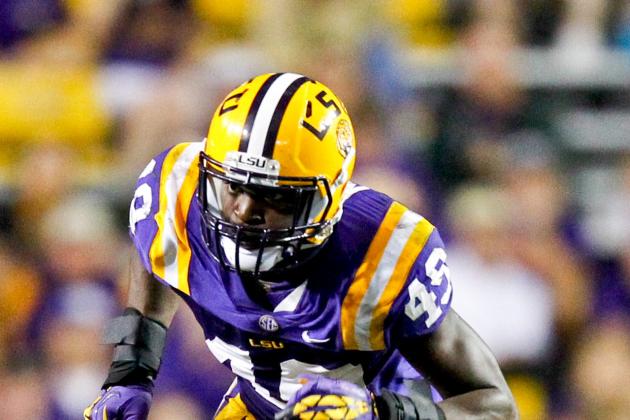 Derick E. Hingle-US PRESSWIRE

Season stats: 25 Tackles, 4.5 TFL, 3.0 Sacks
If Jarvis Jones is the draft's top pass-rusher, this guy may very well be a close No. 2. Barkevious Mingo of LSU is a straight-up beast when it comes to getting to opposing quarterbacks.
The skills that cannot be taught are exactly what Mingo possesses. He has ridiculous size, incredible speed and great athleticism. He utilizes that speed to burst off the line and close in on the offense.
There's no doubting the upside of this outside linebacker. Mingo has the physicality and skill set to become a top-flight pass-rusher in the NFL.
Rex Ryan and his defense can certainly use some more pressure. Although Mingo appears to be slipping down quite a few draft boards, the Jets shouldn't mind scooping him up here.
Kevin Jairaj-US PRESSWIRE

Season stats: ---
This pick should come down to a defensive lineman and an offensive lineman. But being that the offensive line is in much worse shape in Dallas, it'll be hard to believe that the Cowboys will pass up the best interior offensive lineman in this group.
Chance Warmack is the top guard of the draft class. He has the power, athleticism and attitude to assure himself a first-round selection come April.
If the Cowboys are looking to re-sign Tony Romo after season's end, they might as well invest in some protection for him.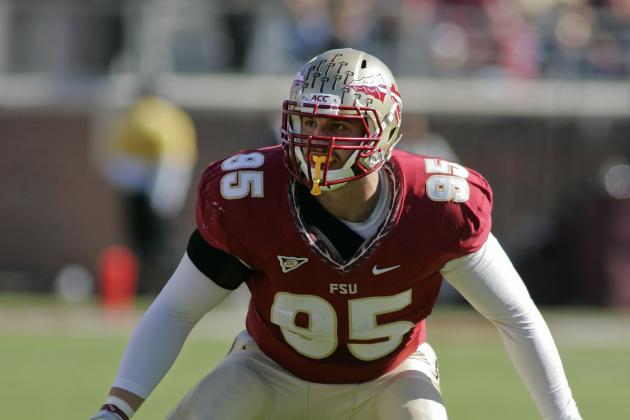 Phil Sears-US PRESSWIRE

Season stats: 27 Tackles, 12.5 TFL, 8.0 Sacks, 1 FF
Defensive end Will Smith is not as good as he used to be and is owed $10 million come next season. So what does that mean? You guessed it; he won't be back.
So in an effort to fill that spot in otherwise weak pass rush, New Orleans could opt for Florida State's Bjoern Werner.
Werner, 6'4" and 273 pounds, is an incredibly promising prospect. For one, he's very explosive off the snap. Werner uses his great combination of speed and physicality to burst through opposing lines.
The Florida State Seminole also possesses nice closing speed, which has him disrupting teams' backfields.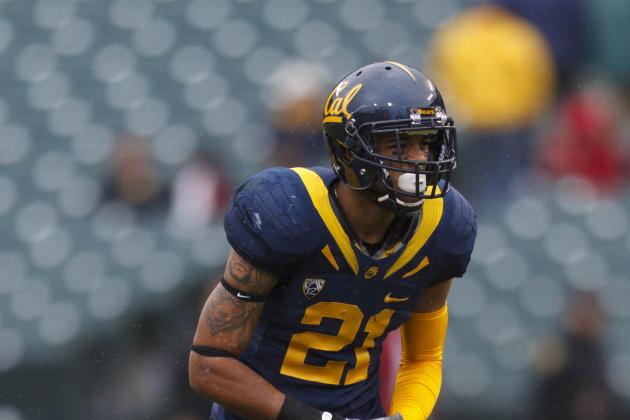 Jason O. Watson-US PRESSWIRE

Season stats: 61 REC, 737 YDS, 6 TD
California's Keenan Allen is the top pass catcher in the class.
Allen has quite a bit of talent and seems to be the complete package. He isn't your tallest guy, but he has got a lot of tools many scouts drool over. Allen is considerably strong, runs his routes very well and is very adept at picking up yards after the carry.
He's extremely aggressive and has big-time playmaker ability.
The Rams need a No. 1 for Sam Bradford. Here he is.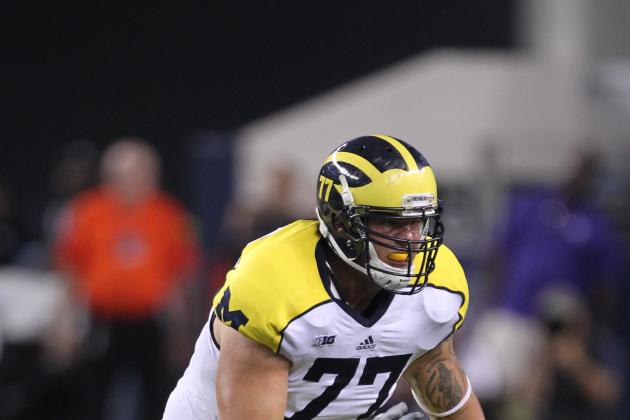 Matthew Emmons-US PRESSWIRE

Season stats: ---
The Arizona Cardinals and their "quarterbacks" have been suffering from ineffective line play for a few seasons now. Hopefully for them, they'll be able to snag one of the three big offensive tackles in the class.
Taylor Lewan of Michigan could be available.
First off, Lewan is a physical monster. The guy stands at an outstanding 6'7" and 310 pounds. If Lewan continues to impress this year, he may go even higher than the late first.
Lewan has surpassed Jake Matthews of Texas A&M as the second-highest rated lineman in the class.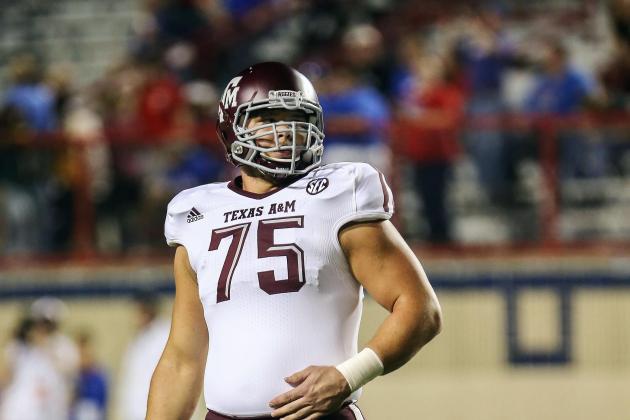 Kevin Jairaj-US PRESSWIRE

Season stats: ---
Raise your hand if you think San Diego needs some offensive line help. I guarantee Philip Rivers raised his hand on that one.
Anyway, the O-line struggles for the Chargers haven't been exactly transparent. Their protection ranks 28th this season, allowing Rivers to taste the turf 18 times in six games.
Texas A&M's Jake Matthews, second only to fellow teammate Luke Joeckel, can certainly help.
Matthews is quick and athletic. He often exhibits great instincts, intellect and should fit well into any NFL blocking scheme.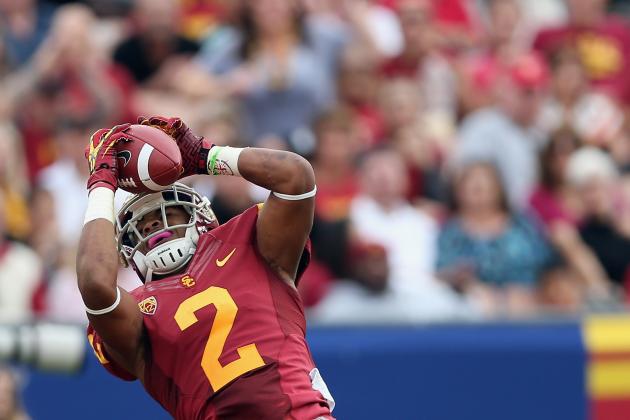 Jeff Gross/Getty Images

Season stats: 59 REC, 656 YDS, 10 TD
Not many people saw it from his college days, but perhaps Ryan Tannehill could be a franchise quarterback for the Miami Dolphins. And given his fair amount of success in his rookie season, the front office should look to build around him.
That all starts with getting Tannehill a wide receiver to grow with.
Robert Woods of USC could be a very nice fit in South Beach.
The USC product has ridiculous speed, soft hands and nice size. He runs routes very well and picks up plenty of yards after the catch.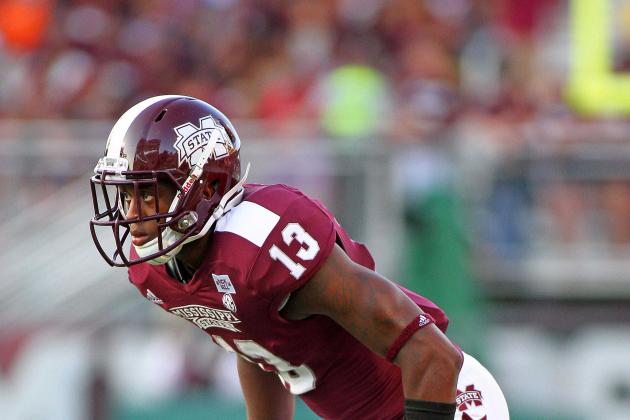 Spruce Derden-US PRESSWIRE

Season stats: 45 Tackles, 2.0 TFL, 4 INT
Most fans will tell you that Greg Schiano and the Bucs have something sweet brewing down in Tampa Bay. They have drafted rather well the past few seasons, cementing the likes of Doug Martin, Adrian Clayborn and Mark Barron into their bright future.
But with Ronde Barber inching towards retirement and Aqib Talib now gone, there must be some additions made to the cornerback spot. And quite frankly, the secondary has just been plain horrific the past few seasons anyway.
Johnthan Banks has a very solid skill set and has seen some top-tier competition playing in the SEC. He has nice size, good ball skills and is very physical. Banks has no problem keeping up on routes and is very effective in his defense against the fade.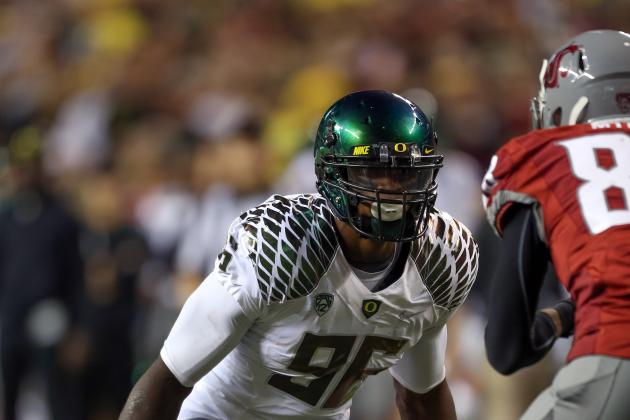 Otto Greule Jr/Getty Images

Season stats: 36 Tackles, 8.5 TFL, 5.0 Sacks, 3 FF
If Detroit can't grab Dee Milliner or Johnthan Banks, then there's no need to jump the gun this early for a corner. They should have no problem, however, grabbing the physical freak otherwise known as Dion Jordan.
Consider Jordan this year's version of Bruce Irvin. The only difference is that most people will hear Jordan's name before the draft.
At 6'6" and 246 pounds, the guy specializes in running down opposing quarterbacks. He has great burst, speed and athleticism. Jordan can rush the quarterback from multiple spots and chase down tight ends and halfbacks in man coverage.
Given his tremendous upside, expect to hear a lot more of Oregon's freakish pass-rusher heading into April.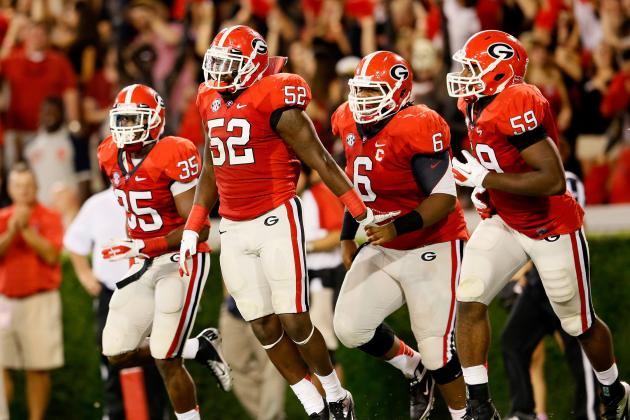 Kevin C. Cox/Getty Images

Season stats: 28 Tackles, 1.0 TFL
John Jenkins, 6'3" and 351 pounds, is your prototypical nose tackle. He has tremendous strength and is extremely light on his feet for a player his size. Jenkins is solid off the snap, draws plenty of double-teams and utilizes his extension well to fend off blockers.
Minnesota should be looking to bulk up the middle of its defensive line this offseason. Kevin Williams will be turning 33 in August and does not have an effective tackle next to him on the line.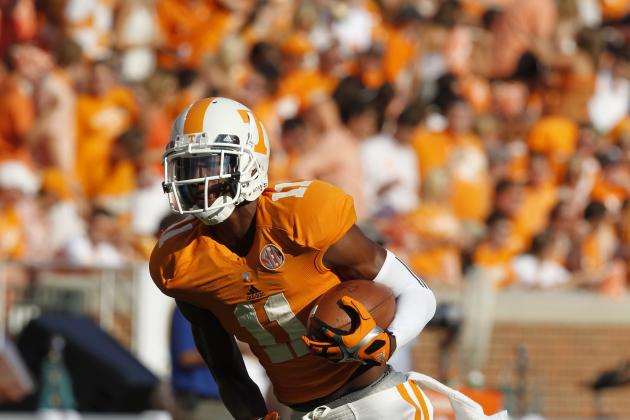 John Sommers II/Getty Images

Season stats: 56 REC, 838 YDS, 7 TD
With an average of under 200 passing yards per game, the Seattle Seahawks currently have the fourth-worst aerial attack in the league. Can we blame that on Russell Wilson? Perhaps.
But to really see what this guy has to offer, he needs a little more help than what he has now.
Sidney Rice and Golden Tate are pretty good players in their own respect. Are either of them a No. 1 though? Nope.
Plain and simple, Justin Hunter is an athlete.
In addition to being an incredibly athletic football player, Hunter was actually a track star. He possesses a great combination of size, speed and skill. Hunter uses his burst to fend off defenders and adjusts very well to the ball.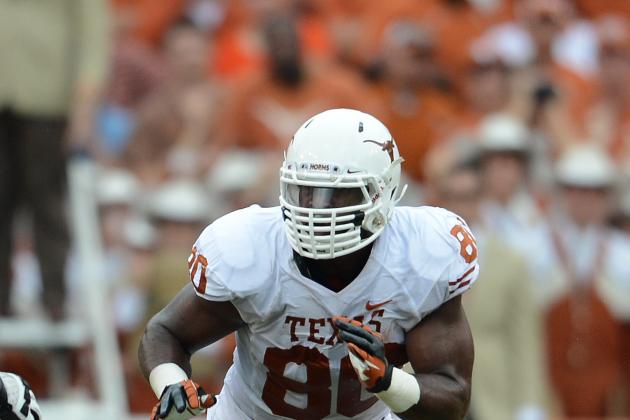 Matthew Emmons-US PRESSWIRE

Season stats: 43 Tackles, 10.5 TFL, 8.0 Sacks, 3 FF
If he falls here, then Alex Okafor should be snatched up by Pittsburgh. The Steelers could refine their defense with a versatile talent.
Okafor has great speed on the edge, is very solid against the run and can play in a number of spots on defense.
With the team already having two quality defensive ends, Okafor should fit well as an outside linebacker in this system.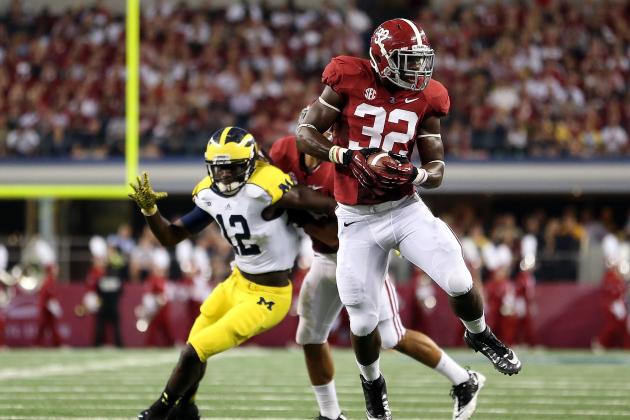 Ronald Martinez/Getty Images

Season stats: 69 Tackles, 4.0 TFL, 3.0 Sacks, 2 INT, 1 FF
With the Colts' offense looking a lot clearer at the moment, the Colts front office should seek to do the same for their defense.
The best available defensive player at this point should be Alabama's C.J. Mosley.
Mosley doesn't have incredible size but does have the skill set to succeed in the NFL. He's very productive, versatile and may very well be the best pure linebacker in the class according to Bleacher Report's Matt Miller.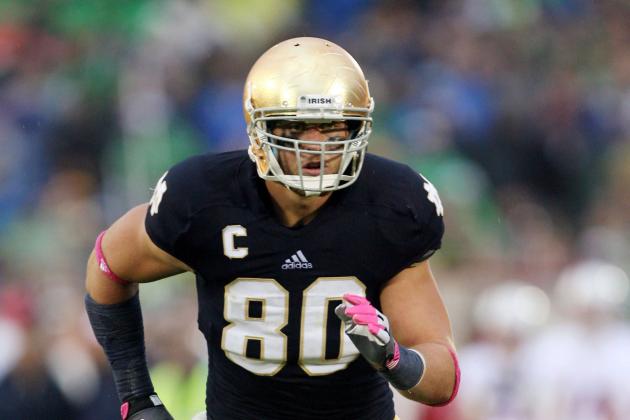 Brian Spurlock-US PRESSWIRE

Season stats: 28 REC, 403 YDS, 3 TD
Despite whatever has been said, Jermichael Finley is probably on his way out in Green Bay. In addition to the chunk of cash he's owed next season, it seems as though Rodgers doesn't even bother with the tight end.
A nice replacement for Green Bay could be Notre Dame's Tyler Eifert.
Eifert runs solid routes, has great hands and could be an effective blocker at the next level. Although his numbers don't show it, Eifert should develop into a very useful tight end in the NFL.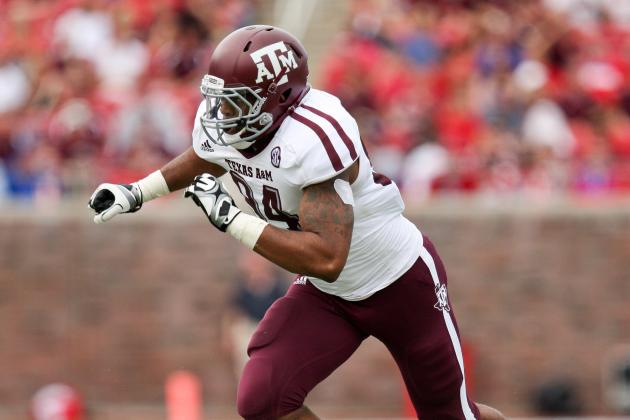 Thomas Campbell-US PRESSWIRE

Season stats: 69 Tackles, 19.0 TFL, 11.5 Sacks, 1 FF
Denver could use some more pressure on their defensive line. And given that Damontre Moore is the best available talent at this juncture, the rising prospect could be a smart investment.
Moore, 6'4" and 250 pounds, has been climbing up many draft boards as of late. He's been extremely productive in the nation's top conference and should be ready to hear his name called on Day 1 if he continues to do so.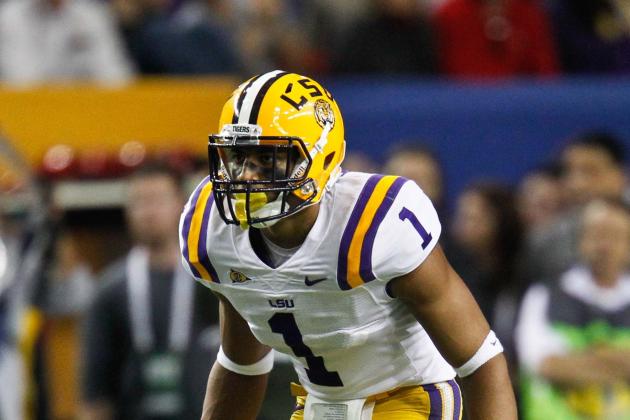 Derick E. Hingle-US PRESSWIRE

Season stats: 57 Tackles, 1.0 TFL, 2 INT
Despite the additions made by New England in last year's first round, the Patriots secondary still needs to improve.
Eric Reid is one of the top secondary players in the class. He's very well-rounded against both the run and pass and can cover some good ground.
Reid has speed, power and the instincts to be successful in the NFL.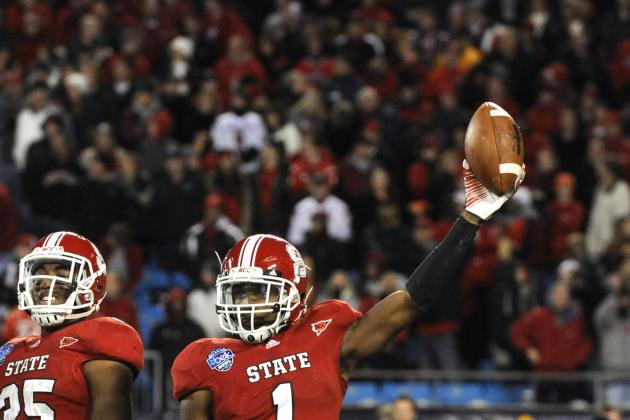 Sam Sharpe-US PRESSWIRE

Season stats: 38 Tackles, 0.5 TFL, 4 INT
David Amerson, formerly the No. 1-rated corner in the draft, should be there for New York. He has good ball skills, great size and advanced leaping ability. Amerson is very athletic and often tricks quarterbacks into throwing the ball his way.
The North Carolina State product would give the Giants some much needed depth in an oft-injured secondary.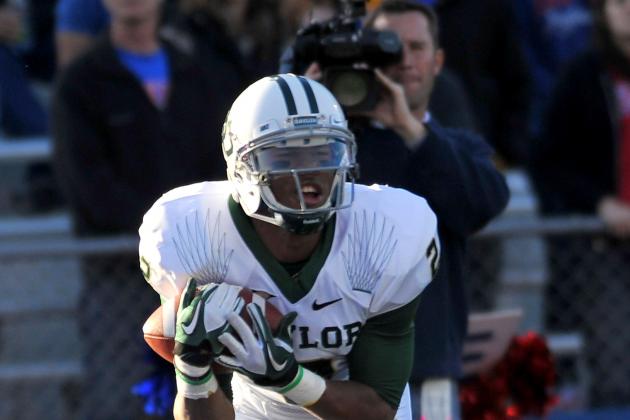 Denny Medley-US PRESSWIRE

Season stats: 71 REC, 1,340 YDS, 10 TD
Baylor's Terrance Williams has just been straight-up scary this season. In addition to having great physicals (tall, lanky, long), Williams is a burner when it comes to straight down-the-field routes. His speed and leaping ability make him a nice red-zone threat.
The Niners could be looking to help out Alex Smith here. I doubt Randy Moss will be back next season. So taking a wide out with some first round talent is a smart move.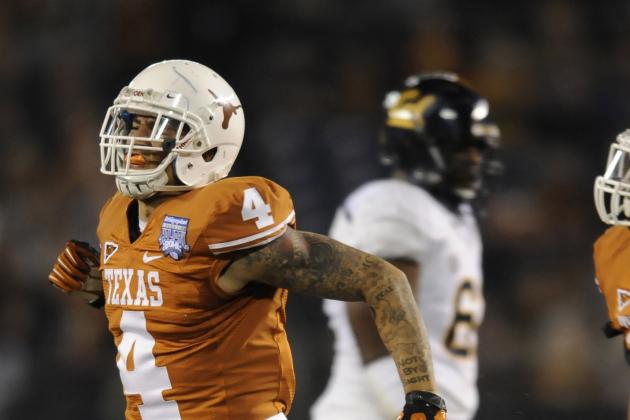 Christopher Hanewinckel-US PRESS

Season stats: 65 Tackles, 3.5 TFL, 2 INT, 1 FF
Ed Reed has been teasing retirement for quite some time now. So before the Ravens get burned by Reed, they should look for his successor.
Kenny Vaccaro possesses great instincts as he is always around the ball. He covers plenty of ground, has good size and can utilize his quickness to run down the offense.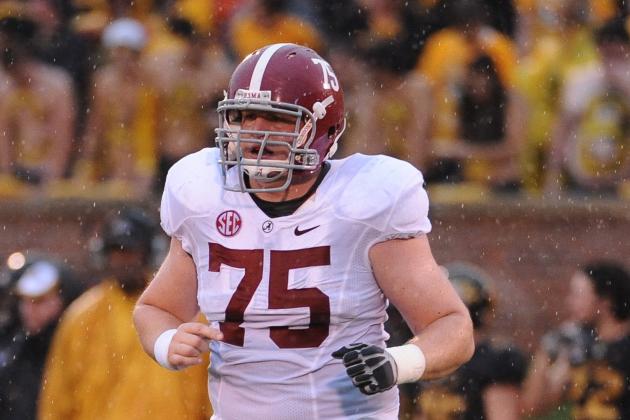 Dak Dillon-US PRESSWIRE

Season stats: ---
Barrett Jones' skill and versatility will make him an interesting commodity for teams who boast weak O-lines. Jones can play anywhere on the line. That should interest Jay Cutler, no?
He has great form, uses his hands well and is constantly developing his technique. Jones is extremely valuable in pass protection and plays the role of drive blocker for the ground game.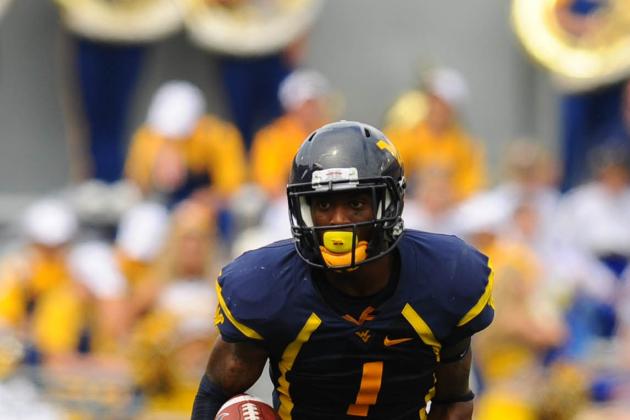 James Lang-US PRESSWIRE

Season stats: 84 REC, 896 YDS, 10 TD
The Houston Texans look absolutely great this season. One problem, however, that has been bothering them is the lack of depth behind Andre Johnson.
West Virginia's Tavon Austin could very well work his way into the first round come April. Although undersized at 5'9", Austin is easily one of the top playmakers in the nation. He has great speed, solid hands and will fit well into the slot position.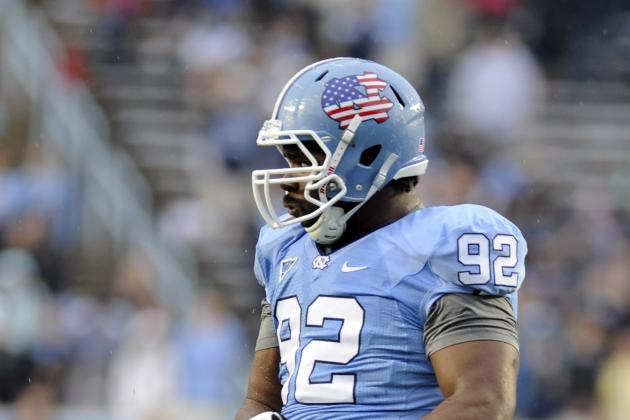 Liz Condo-US PRESSWIRE

Season stats: 29 Tackles, 9.5 TFL, 5.0 Sacks
Look for Atlanta to add to its pass rush. Ray Edwards hasn't been great so far and John Abraham can be cut given the deal he was signed to.
At 6'3" and 320 pounds, North Carolina's Sylvester Williams is easily one of the top interior linemen in the draft.
The big man has catapulted himself up draft boards with a huge improvement in his pass-rushing ability this year. After racking up only 2.5 sacks a season ago, Williams has already doubled that total halfway into the 2012 campaign.
The UNC Tar Heel certainly possesses the size and athleticism needed to translate successfully to the NFL.