Washington Redskins: Analysis and Observations Against the Giants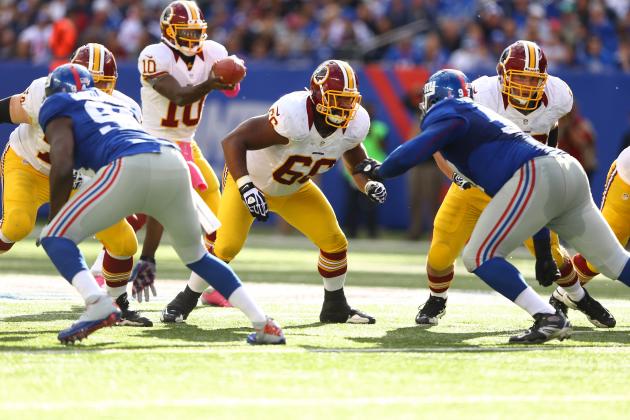 Al Bello/Getty Images

The New York Giants are a better football team than the Redskins. There's nothing wrong with that either.
They are the defending Super Bowl champions and were coming off a very impressive win against the 49ers.
The Redskins on the other hand are one dimensional. Robert Griffin and his new look offense have taken the NFL by storm, but the defense is on pace to break an NFL record for passing yards given up.
All of that considered, the Redskins proved to the NFL that they can keep up with anyone, even a team as superior as the Giants.
The Skins had four crucial turnovers, a couple boneheaded plays from Leonard Hankerson, an "illegal motion" from Fred Davis that negated a touchdown, one phantom "leg sweep" penalty and still were in position to win the game with less than two minutes to play.
Losses like this have gone increasingly frustrating, but it is at least motivating to the team know that they can compete with top-tier franchises.
Anyway, here are my evaluations from last Sunday's 27-23 loss in New York. As always, this is written in a note-like form. (Just a disclaimer)
Begin Slideshow

»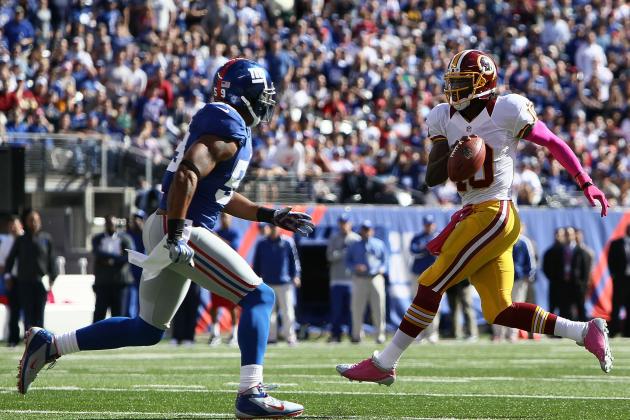 Alex Trautwig/Getty Images

I've been complimentary of Leonard Hankerson in the past. I've liked his potential and remained curious because we really haven't seen a lot of him.
With Garcon's foot injury appearing worse than it really is, Hankerson is going to have a heavy work load. He had a decent game and is a good downfield blocker, but there are only two plays that stick out to me.
Griffin's deep ball attempt that Hankerson refused to dive for is one of them. I know it would have been a difficult pass to haul in, but you at least have to attempt it.
The second play is him diving a yard short of the first down marker. Those are two careless errors that could have changed the outcome of the game.
Plays like that are what put you on the bench, but, with the lack of talent amongst the receiving corps, Hankerson will continue to get reps.
Santana Moss continues to impress in limited action. He's like the sixth man of the offense. With that being considered, I think it's time we get more out of Santana Moss.
Josh Morgan has been decent at best, but has struggled to create separation from defensive backs. Moss appears to have regained his burst from years past and been effective in a variety of routes.
Fred Davis has had a rough 10 months or so. Last season he was having a career year until a suspension basically ruined his chances of earning a multi-year contract. Now he has a torn Achilles, thus decreasing his chances of signing a hefty contract yet again.
As we approach the midway point of the season, it appears that this new offense doesn't need a superior tight end.
I also have to go on just a little rant. It really bothers me when Mike Shanahan goes on these tangents of what he believes to be "talent".
Remember Shanny "staking his reputation" on John Beck and Rex Grossman? Well this year, Niles Paul was his new project.
The special teams ace transitioned from wide receiver and it's certainly been an uphill battle. While he remains an effective special teamer, Paul looks lost on offense.
Athleticism can only take you so far, his technique has been poor and he hasn't been creating matchup problems against linebackers.
On the other hand, Logan Paulsen is working his way to being labeled a "Redskin" (a personal favorite of mine). Paulsen has worked his way up over the past three seasons. He has made the roster as an excellent blocker and has developed a good rapport with Robert Griffin.
I call him a "Redskin" because he does all the little things that go unnoticed. He's a "dirty work" kind of player.
Despite Paulsen's progression, that doesn't make him the answer at tight end with Fred Davis injured. I would expect Cooley to work his way in over time.
Trent Williams didn't have his best game, which is understandable considering that he was matching up against the most dangerous pass rushers in the NFL.
As mentioned before, we need stellar play from the talented left tackle every single game. This will be another huge test for Williams against the Steelers pass rush.
Tyler Polumbus can be a liability in pass protection, but his run blocking has been great. Alfred Morris deserves a lot of credit for his production thus far, but Polumbus and the rest of the linemen have been certainly helpful.
Onto Alfred Morris, who would have predicted this? The rookie sixth round draft pick who was originally projected as a fullback is now the leading rusher in the NFC.
What he lacks in speed he makes up for it in power. He shows tremendous amount of patience while reading his holes and then accelerates through them.
I almost feel bad for Evan Royster. In limited action, Royster was incredible as the team's starting running back last year and deserves to get more playing time, but Alfred Morris isn't going to let that happen.
Even though Alfred Morris is playing at a Pro Bowl rate, I am aware of what wear and tear can do to a running back. Mixing in Evan Royster a little more would seem to be an effective scheme.
It wasn't very successful, but I really like incorporating Darrel Young into the running game. It will make the opposing defense have to focus on yet another runner.
Young has proven before that he can be efficient in short-yardage plays, so I would expect that to continue.
Of course I have to save RGIII for last. His performance last Sunday was great as always. He threw a costly interception and fumbled, yet he still had a great game.
What I've noticed throughout the season is his improved ability to read his progressions. He's making the smart plays that are needed to manage the offense. He's been deadly accurate and he's finally running out of bounds.
The Steelers may not have the same defense as they did in years past, but this is still going to be a major assessment for Griffin.
The Steelers send more rushers to the quarterback than any other team in the league, we'll be seeing a lot of screens to counteract the blitz, along with other misdirection plays.
Week by week, there is continued film on Robert Griffin. I remain increasingly curious to see how defenses will play against him and how Kyle Shanahan will scheme against it.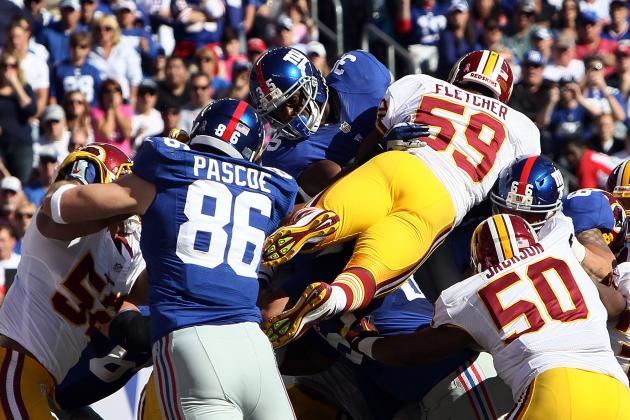 Alex Trautwig/Getty Images

Barry Cofield had one of his better games as a Redskin. He was useful in stunts with Stephen Bowen and was productive against the run.
Ryan Kerrigan hasn't been what I expected this season. I've given him the benefit of the doubt when Brian Orakpo went out with an injury, but when you get beat by Shaun Locklear more often than not, then we have a problem.
Yes, Kerrigan remains great against the run, but he wasn't drafted in the first round for that. The Redskins defense will remain a joke without generating a consistent pass rush and Kerrigan needs to be held the most responsible for it.
Rob Jackson had his best game. He was able to get Eli Manning on the ground, which has been a legitimate task for opposing defenses and he made a great play on that interception in the flats.
He doesn't have the same talent as Orakpo, but it's improvements like that that will get you more playing time.
Perry Riley has been solid as an inside linebacker, but I have yet to say "wow". He still has less than a year under his belt as a starter, but his game is going to need to get even better with London Fletcher's apparent injury.
I hate to say this, but Fletcher seems to have lost a step. Even before his injury, tight ends have been routinely beating him all season. Ahmad Bradshaw trucked him on one rushing attempt and he also missed Bradshaw on a key third down conversion that led to a Giants touchdown.
Plays like that wouldn't have happened in years past.
I know we've been spoiled by Fletcher for years now, but I think he's finally starting to show his age. Can I also mention how hard it is for me to write that? Fletcher is the best free agent signing in Redskins history.
Every year there's a Redskin that I constantly feel the need to pick on. One that I'm always yelling at on the TV screen; players like Brandon Lloyd, Carlos Rogers and Rod Gardner just to name a few.
This year it's Josh Wilson. Take the interception out and he continues to struggle. Not only is he giving up big plays, but opposing receivers are wide open against him.
I know the Cruz touchdown was a mutual mistake between Wilson and Madieu Williams, but the fact is that Wilson has continued to be involved in bad plays.
We need a major upgrade at cornerback.
We also need a major upgrade at both safety positions. Madieu Williams proved last Sunday why he was a backup last season. It's not a mental thing either, Williams lack of speed is enabling him from making the proper play.
I wonder how much of an upgrade Brandon Meriweather is going to be when he's fully recovered, we can't get much worse.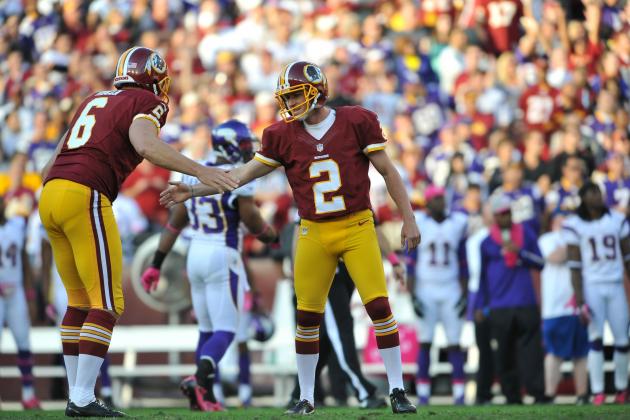 Larry French/Getty Images

Kai Forbath has been great so far. I don't want to say anything else because I live in fear of kickers. To quote Will Smith in Hancock "Good job!".
Brandon Banks really didn't have an opportunity to make a play so I'm not going to give him a hard time tonight, I'm still waiting though.
However, how much longer do we have to wait? If he's going to do a mediocre job than put Niles Paul out there on kickoffs and Richard Crawford on punt returns and now we have an extra and more versatile player to add on the roster.