Analyzing the Indiana Pacers' Bench Strength for the 2012-13 NBA Season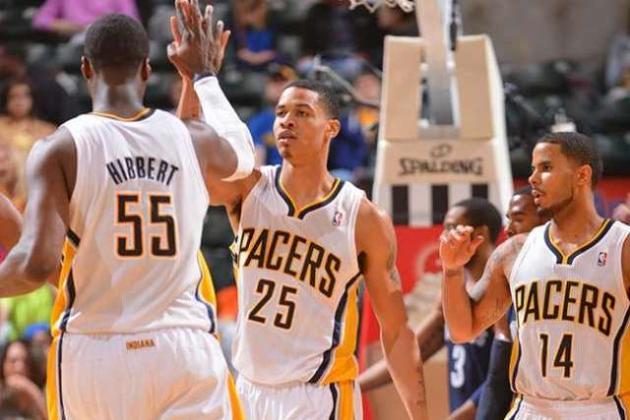 Roy Hibbert and the Indiana Pacers should benefit from a new crop of role players which include Gerald Green and D.J. Augustin.
The Indiana Pacers made significant strides in 2011-12. After a dismal 37-45 record the previous season, the team signed battle-tested veterans George Hill, David West and Leandro Barbosa to fortify its lineup and go deeper into the playoffs.
The Pacers finished with a 42-24 record in a lockout-shortened season and were actually up two games to one against the eventual champion Miami Heat in the Eastern Conference semifinals before succumbing in six hard-fought games.
Now, the bigger question looms—Will the Pacers take another step forward, or will they regress?
One factor that should be considered is their bench strength. For this Indiana team to earn homecourt advantage in the postseason, their fortified bench has to step up during the regular season to help the team win as many games as possible. Come playoff time, it will also be relied on to spell the Pacers' starters and make key plays.
Here are the key losses from the 2011-12 bench:
Dahntay Jones (5.3 ppg, 1.8 rpg, 0.97 apg): This veteran swingman never really got it going. Jones was traded to the Dallas Mavericks, along with former starting point guard Darren Collison on July 12 in exchange for backup center Ian Mahinmi.
Leandro Barbosa (8.9 ppg, 2.2 rpg, 1.5 apg): When the Pacers lost their chance at signing Jamal Crawford in the 2012 offseason, they made an attempt to acquire more veteran leadership and an additional scoring punch at the 2 spot by signing Barbosa on March 15. He was acquired by the Boston Celtics on October 18.
Louis Amundson (3.6 ppg, 3.7 rpg, 0.2 apg): Amundson played a bigger role when 13-year veteran center Jeff Foster announced his retirement on March 21 due to nagging back problems. Amundson filled in admirably, even showing occasional flashes of brilliance on the offensive end. He signed with the Minnesota Timberwolves on September 24.
A.J. Price (3.9 ppg, 2.0 apg, 1.4 rpg): Price was the designated third point guard. He showed some poise, maturity and improved leadership when called upon. He signed with the Washington Wizards on July 30.
Kyrylo Fesenko (2.7ppg, 3.0 rpg, 0.3 apg): The Ukrainian-born center was fourth in the 5-spot rotation behind Hibbert, Amundson and Jeff Pendergraph. He was acquired by the Pacers mainly for his size (7'1" and 280 lbs). Fesenko was on the Chicago Bulls' 2013 preseason rotation before he was waived on October 18.
A short breakdown of the Pacers' new additions and what they bring to the table will help analyze their bench strength further.
Begin Slideshow

»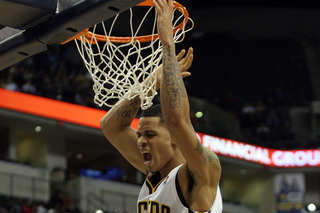 Gerald Green has brought his impressive dunking arsenal to Indiana.
Together with starting shooting guard Paul George, this high-flying swingman will bring an exciting dimension to Indiana Pacers basketball.
Green left the NBA in 2008, played overseas for a few years and returned to the league in 2011 with the New Jersey Nets. After his short hiatus, he established career highs in scoring (12.9 ppg) and three-point shooting accuracy (39%) in the 2011-12 season.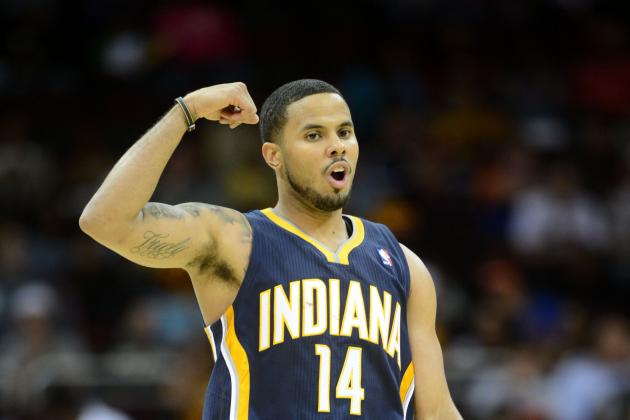 Eric P. Mull-US PRESSWIRE
D.J. Augustin is expected to be the second option at the point guard spot behind George Hill.
The Pacers were primed to take Augustin in the 2008 draft; however, the Charlotte Bobcats selected him with the ninth pick overall out of the University of Texas. Indiana wound up with current starting center Roy Hibbert with the 17th pick.
Augustin will fill the void left by Darren Collison as the primary backup point guard after signing a one-year contract with the Pacers on July 13.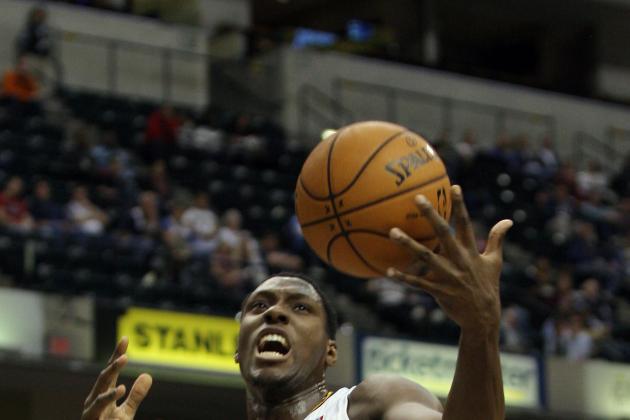 Pat Lovell-US PRESSWIRE
Ian Mahinmi proved to be a capable backup center with the Mavericks and will continue to blossom in that role for the Pacers.
Ian Mahinmi was the main backup at the 5 spot with the Dallas Mavericks in the 2011-12 season. With the team's losses of Foster to retirement and Amundson to free agency, in addition to Jeff Pendergraph's lack of experience, a glaring need for Hibbert's backup became all the more evident.
He is expected to take on this role in the upcoming 2012-13 season.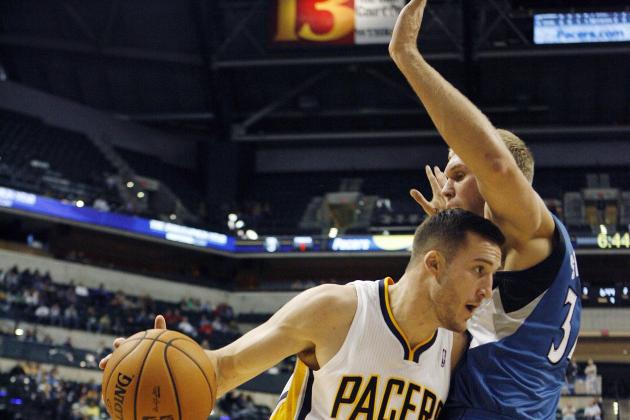 Brian Spurlock-US PRESSWIRE
Miles Plumlee will shore up Indiana's defense and rebounding in 2012-13.
Many draft analysts and experts criticized the team when Plumlee was drafted 26th overall in the 2012 NBA Draft out of Duke University. They felt Indiana would have been better off selecting bigger-name talents such as Perry Jones and Arnett Moultrie.
Plumlee, whose vertical leap was registered at 41 inches, was observed in pre-draft workouts to have good quickness in the post. He is expected to be more of a rebounder and a presence on the defensive end.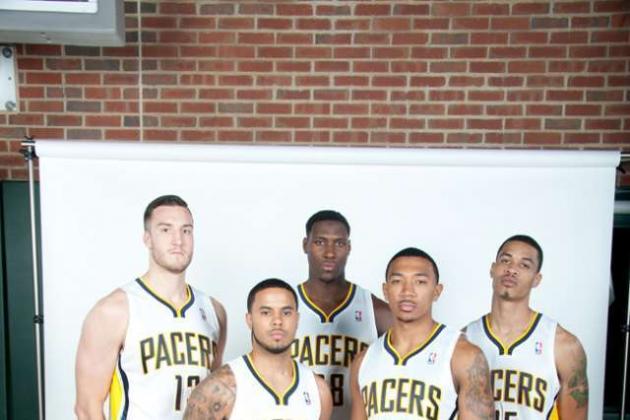 Plumlee, Augustin, Mahinmi, Orlando Johnson and Green
Other players who are currently vying for roster spots include Lance Stephenson, Ben Hansbrough, Orlando Johnson and Sam Young.
Based on the previous season's statistics, the Pacers' bench for 2012-13 will provide more scoring punch, particularly in Green and Augustin.
Augustin is a much better outside shooter than the departed Collison. Both he and Green will contribute mightily to the team's already solid three-point shooting of 36.8 percent, which stood at sixth overall in 2011-12.
Mahinmi, who is not really seen as a scoring threat, can step up as needed. If the 17 points, eight rebounds and two blocks he tallied against Minnesota in a preseason game on October 13 are any indication, he will be a force to be reckoned with down low.
On the defensive end, Indiana allowed only 94.4 points last season—good for 10th overall. If the bench can step it up defensively as well, the Pacers will remain legitimate beasts in the East for years to come.