5 Reasons the Oakland A's Don't Need Brandon McCarthy Back in 2013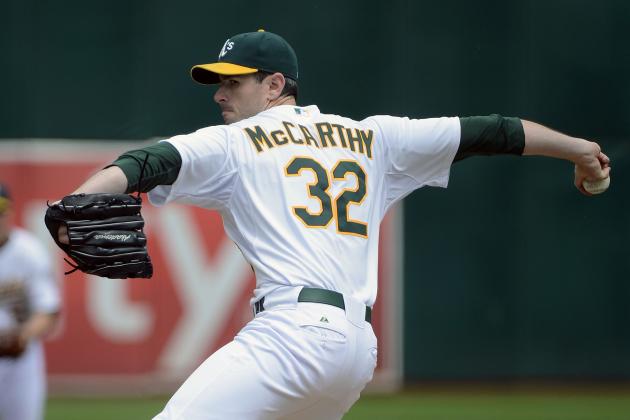 Thearon W. Henderson/Getty Images
One of Oakland's most important decisions: Re-sign Brandon McCarthy, or not?
Former Oakland A's ace Brandon McCarthy is a free agent for the second time in two years, and although it certainly wouldn't hurt to have him on the roster, there's a case to be made that the A's don't necessarily need him.
Let me stress, this isn't to say the A's shouldn't re-sign McCarthy.
First, he's a quality pitcher. Second, after suffering a season-ending injury, the guy made it a point to stick around and be in the dugout as soon as possible to support the team in the postseason. He's had nothing but positive things to say about Oakland's clubhouse, is clearly dedicated to his teammates and has such a wonderful personality, it makes a ton of sense to keep him around.
But to be fair, there's always a counter to every argument.
Take his off-field qualities away and there are actually a handful of reasons not re-signing McCarthy makes sense.
And for the last time, should the A's re-sign him and do they want to? Probably. Do they need to, though? Not really. Here's why.
Begin Slideshow

»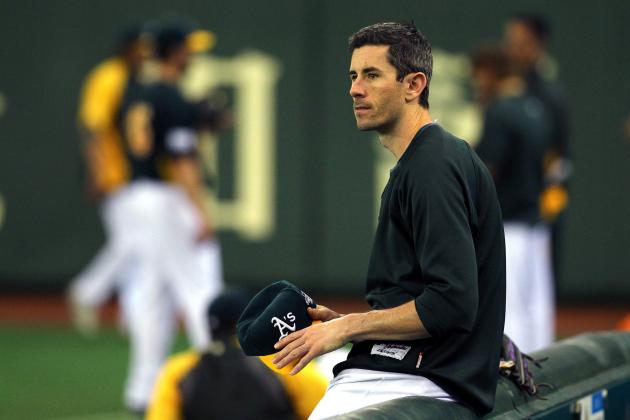 Koji Watanabe/Getty Images
McCarthy watches teammates warm up.
Brandon McCarthy doesn't turn 30 until July 2013—that's midseason.
Obviously, that's not ancient. But in the sports world, it's an age in which a closer eye is being kept on an athlete. Typically, not many get better after they turn 30. Rather, it's "all down hill" as they say.
Does that mean we should throw in the towel on his career now? Absolutely not.
It just means that the likelihood of McCarthy getting better is slim and he's no longer a player the team should deem untouchable or build around.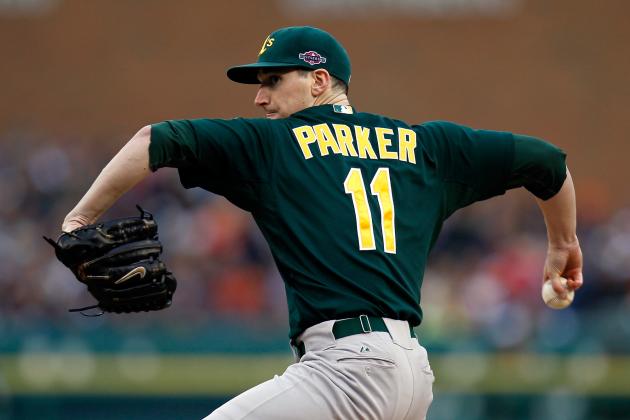 Gregory Shamus/Getty Images
Parker went toe-to-toe in ALDS Game 1.
During the final push to get into the postseason, Oakland's rotation consisted of Jarrod Parker (23), Tommy Milone (25), A.J. Griffin (24), Brett Anderson (24) and Dan Straily (23).
Could the rotation use a veteran arm? Sure.
But did they get it done without a veteran arm? They sure did.
Granted, some will make the argument that because they were rookies, hitters didn't know their tendencies or have a feel for them yet, but as they pitch, hitters will become better.
There's two holes with that argument.
The first is, if they only did well because they were rookies, then by that argument, every rookie should have a phenomenal year. Second, if everyone was figured out sooner or later, then there would be no Justin Verlanders or Jered Weavers in the league.
Re-signing McCarthy would bump Straily, and that wouldn't be awful. But it wouldn't necessarily be a terrible idea to give Straily a whole year to see if he can maintain success in the fifth spot of the rotation either.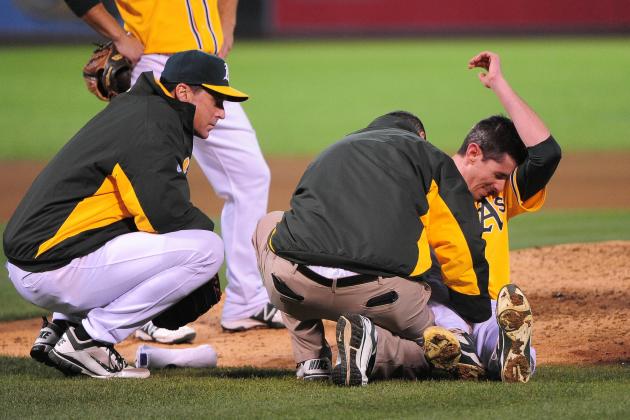 Kyle Terada-US PRESSWIRE
McCarthy is attended to by the athletic trainer.
Let me be clear, I am not counting the most recent injury from a line drive to his head as a factor here. That was a freak accident that could have happened to anyone, and there was no way he could have avoided that.
However, there are too many other cases that point to Brandon McCarthy being injury prone.
It's also not really his fault, but McCarthy has suffered from several shoulder problems. In 2007 he first missed time due to a stress fracture. In 2008, he pitched in just five games due to an elbow issue. He missed further time in 2009, appearing in 17 games.
Then came 2010.
McCarthy spent the year in the minor leagues, though in all honesty, he spent most of his time on the disabled list.
But that was then, and this is now—right?
In his first year with the A's, McCarthy pitched a career-high 25 games and 170.2 innings. The A's decided to give him yet another one-year, incentive-laced deal. Even this season, he landed on the DL yet again. And yet again, it was with shoulder problems.
This is not to pick on the guy. It's not like he asked for any of this.
But it's a realistic thing to consider and, coupled with his age, an issue that doesn't appear to be going away overnight.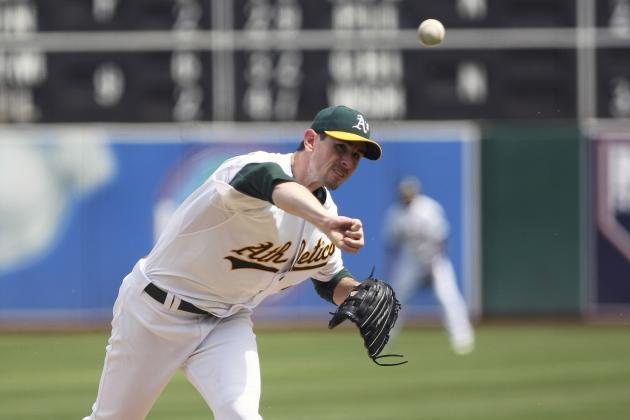 Kelley L Cox-US PRESSWIRE
McCarthy is solid. But how many other teams would use him No. 1?
How many wins is Brandon McCarthy truly good for? The most he's ever won in a season is nine. Not once has he gone into double digits. In fact, his best win-loss percentage is .636. That was during 2009, when he went 7-4.
In two seasons with the A's, he's kept an ERA lower than 3.50, but in the five years prior his ERA fluctuated between 4.03 and 4.87.
The same goes for his K/BB ratio.
The last two seasons saw McCarthy maintain an average of four strikeouts to every walk. Consider his career average, though, and the number looks more like 2.5.
To be fair, he could realistically be "finding it."
In that case, it would negate the first slide (age)—though the organization still wouldn't build around him—and cause implications you will see on the next slide.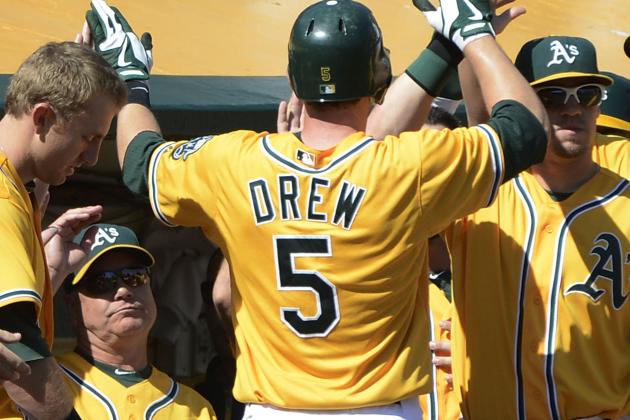 Thearon W. Henderson/Getty Images
Yet another important decision—re-sign Stephen Drew?
Let's face it: The Oakland Athletics lack in monetary support.
The fact that Brandon McCarthy is effective when healthy and arguably an invaluable clubhouse leader means he should command decent money.
In 2012, the A's paid him an incentive-laced deal with a base of $4.27 million. A desperate team might be willing to give McCarthy $6 million to $7 million for another year. Oakland won't be desperate.
There's other needs that are more important.
If the A's don't re-sign Stephen Drew, they'll need a shortstop. If they do re-sign Drew, he could cost a minimum of $5 million. Oakland recently acquired Chris Young as well, who is set to make around $8 million in 2013.
Catcher George Kottaras may not return, and if he does not, the position should be a need as well. Derek Norris is very young and showed inconsistency in 2012. Oakland should look for a veteran catcher to mentor Norris and help the young pitching staff.

Pitching got the A's to the postseason. A lack of hitting removed them from it.