Nick Lembo Remembers His Close Friend Jeff Blatnick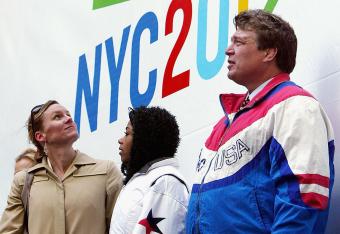 Mario Tama/Getty Images
After yesterday's news of the passing of Olympic gold medalist and former-UFC Commissioner, Jeff, Blatnick, I immediately emailed NJSACB Counsel Nick Lembo to not only pay my respects, but also to send my condolences.
Jeff Blatnick and Nick Lembo were extremely close friends and I knew that if there was anyone that was truly affected by Jeff's passing, it would be Nick. Part of me didn't want to include the email below, as my relationship with Lembo has always been more of a friendship than of journalist/commissioner.
The words below are those of my friend remembering the best of his dear, departed friend. After reading it over, I decided that there is no one in MMA that could tell you who Jeff Blatnick was better than Nick Lembo.
Below is the full email. It is completely unedited, but given with Nick's full blessing. By posting this I hope that you can walk away knowing who Jeff Blatnick really was.
On Wednesday, October 24, 2012, the MMA community lost one of the sport's founding fathers. He was 55. He is survived by his wife Lori, his daughter Niki, and his son Ian.

Jeff was a well regarded professional MMA judge and judge trainer with the New Jersey ACB as well as a licensed referee here.

He had judged UFC and other major events in Calgary, Kentucky, Louisiana, Michigan, Minnesota, Mohegan Sun, Nebraska, New Jersey, Ohio, Pennsylvania, Toronto and Virginia.

But there was so much more, whenever you say the words "mixed martial arts," think of Jeff Blatnick. He is the person who coined that term. He explained on a broadcast that the "athletes were mixing the martial arts." He would urge people to stop calling the sport No Holds Barred, in order to help it grow and gain acceptance.

He served as a commentator for 29 UFC events (UFC 4- UFC 32). He was named Commissioner of the UFC at UFC 17.

Blatnick drafted the UFC's Mixed Martial Arts Council (MMAC) manual while serving as that body's chair. He was a critical party involved with the drafting of the sport's unified rules.

He was a tireless advocate attempting to get MMA legalized in his home state of New York, quietly meeting with legislators and those with influence.

Born in Niskayuna, New York, Blatnick became a high school wrestling champion in 1975. He never wrestled prior to being convinced to start by his high school coach who needed a heavyweight in 1973.

He then earned a pair of NCAA Division II wrestling titles in 1978 and 1979 while attending Springfield College in Massachusetts. He was a three time All-American. At that time, Division II athletes could advance to Division I nationals, Blatnick placed third and sixth in two visits there.

Blatnick was the 1980 and 1981 AAU super heavyweight wrestling champion.

He was a three time national champion in Greco-Roman, won eight Greco-Roman All-American awards, two World Cup medals, and two Freestlye All-American honors.

Blatnick made the 1980 Olympic Wrestling team but didn't compete due to the United States' boycott of those Games held in Moscow.

In 1982, Jeff was diagnosed with Hodgkin's lymphoma. He said, "if you can win in adversity, you can win anywhere."

After fighting radiation treatments and having both his spleen and appendix removed, he battled through to make the 1984 Olympic wrestling team and win the gold medal. The first gold medal for an American heavyweight in Greco-Roman history.

Blatnick was chosen by his teammates as the representative to carry the American flag at the closing of the 1984 Olympic ceremonies.

Of that, Jeff stated, "If I didn't have cancer, nobody would know who I was, not a lot of wrestlers make the news.

Blatnick never set out to be an Olympian, it was simply about giving his best every time he stepped on the mat.

He stated "I learn to win by learning to lose, that means not afraid of losing."

Blatnick retired from wrestling in 1988 after a second bout with cancer.

He served on USA Wrestling's Board of Directors.

He continued on as a coach of the Burnt Hills High School wrestling team and the Journeyman wrestling club.

He worked as a wrestling analyst for NBC for the 1988, 1992, 1996 and 2000 Olympics. He also was a commentator for ESPN's coverage of the NCAA Division 1 wrestling tournament.

He was inducted into the National Wrestling Hall of Fame in 1999.

He was appointed by President Clinton to the President's Council on Fitness and Sport at a Rose Garden Ceremony.

He was also an honorary coach with the New York Special Olympics and very active with the American Cancer Society.

Nick Lembo
This article is
What is the duplicate article?
Why is this article offensive?
Where is this article plagiarized from?
Why is this article poorly edited?