Oregon Football: Let's Talk Ducks' Defense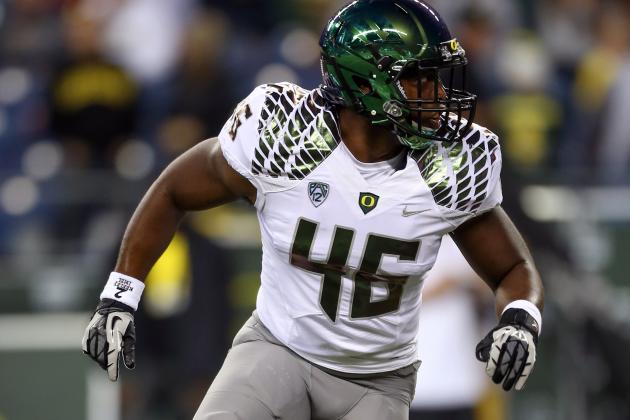 Otto Greule Jr/Getty Images

If you are a Ducks fan and you've been paying attention this year, you are sick and tired of other teams' fans assuming that Oregon has no defense. That the Ducks are all flash and dash.
Electrifying, punishing offense?
Yeah, yeah, yeah. Blah, blah, blah.
Perhaps it might be useful here to share some defensive statistics on this Oregon team with the uninformed masses out there. And, if you happen to run a BCS computer ranking service, you should do football fans across the nation a big favor and study the next few slides.
Begin Slideshow

»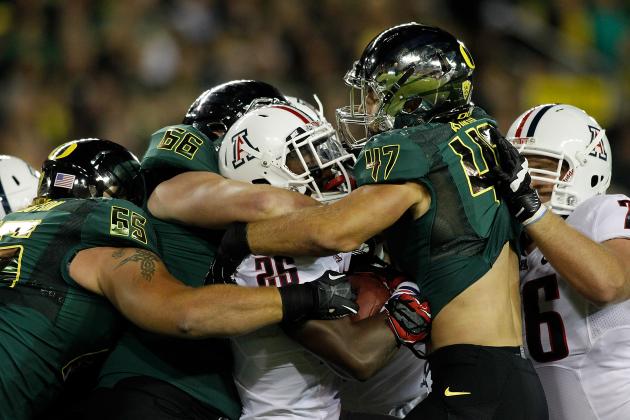 Jonathan Ferrey/Getty Images

According to the Oregon Weekly Football Release, 37 different defensive players have made tackles for the Ducks in the first seven games this season. Eleven players have 20 or more tackles. That's called balance, people.
Senior linebackers Michael Clay and Kiko Alonso have led the way, both averaging a minimum of six tackles per game.
When you watch the Ducks on defense, it's like a swarm of bees to the ball. Oregon's defenders are big and strong, but they are also exceptionally fast. The front seven have been like one big heat-seeking missile since conference play has started.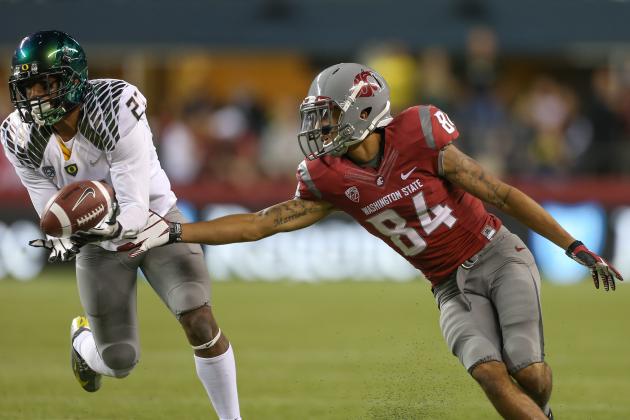 Otto Greule Jr/Getty Images

Nationally, Oregon is tied for 10th in numbers of quarterback sacks so far this season with 22. Some of those QBs weren't chopped liver either. Matt Scott of Arizona and Taylor Kelly of Arizona State were both highly ranked quarterbacks, at least, they were before they played the Ducks.
You'd better protect the ball when you play Oregon. The Ducks are tied for third nationally with 14 interceptions on the year. Only Fresno State (15) and SMU (16) have more picks than Oregon.
Just for the record, mighty 'Bama's defense has 19 sacks and 13 interceptions. I guess Mr. Saban should be on the lookout for some bigger, faster, smarter defenders, huh?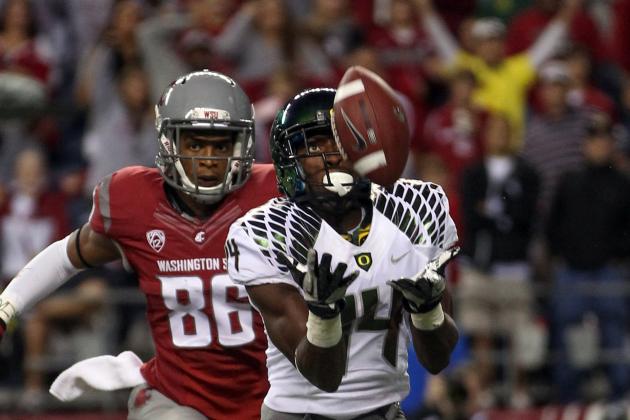 Otto Greule Jr/Getty Images

The Ducks' defense doesn't just intercept passes, they often run them back to the house. Four times in seven games, to be precise, tying them for third most "pick-sixes" in the country.
Cornerbacks Ifo Ekpre-Olomu and Troy Hill each have one touchdown off an interception, and safety Avery Patterson—who has been on a real tear lately, nabbing three interceptions in three straight games—has two touchdowns off his picks.
One gets the feeling watching the Ducks' secondary that these guys are playing a game-within-a-game to compete for the most interceptions. If you love defense, you love this Oregon secondary.
Will Avery Patterson get his fourth straight this Saturday?
Yep.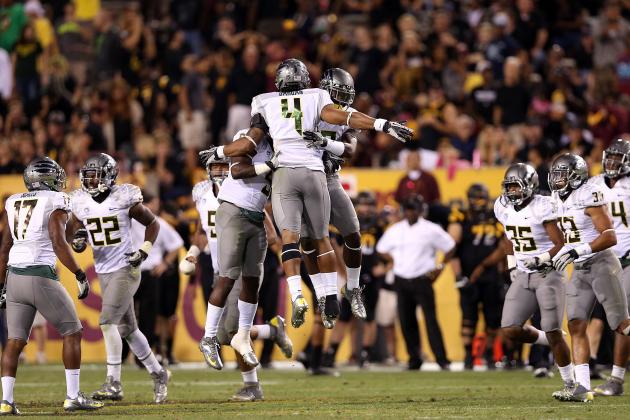 Christian Petersen/Getty Images

Oregon's defense has been terribly stingy in the red zone this year. Almost rude, you could say.
According to GoDucks.com, opponents have ventured into Oregon's red zone 29 times in seven games, and the Ducks have only allowed 15 scores. That 51.7 percent ratio makes Oregon the national leader in red zone defense.
Further, in Pac-12 Conference play, Duck opponents have scored only four touchdowns in 19 tries inside the 20-yard line. Oregon's defense has allowed just six red zone scores in the first four conference games, the best percentage in the FBS, according to GoDucks.com.
Take that, Tide.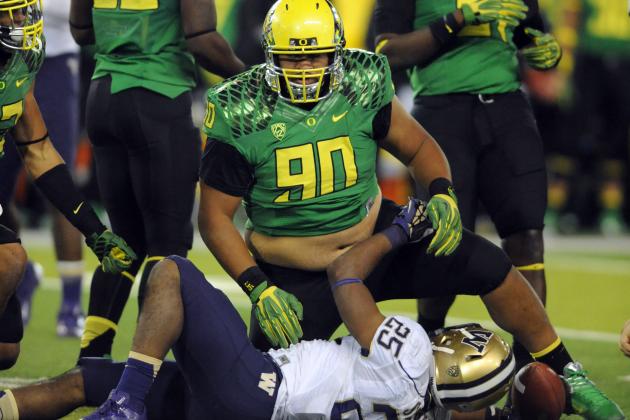 Steve Dykes/Getty Images

What's truly amazing about these stats is that Oregon's starting defenders are usually done for the night by halftime. Most of the scoring by the Ducks' opponents has come in the second half when Oregon has emptied its bench.
Teams who only focus on how to beat Oregon's offense and ignore how they are going to outwit the Ducks' defense will lose.
Case in point: 7-0.
https://twitter/KayJenningsPDX.com