2012 College Hoops Inspired Halloween Costumes (Easy to Make)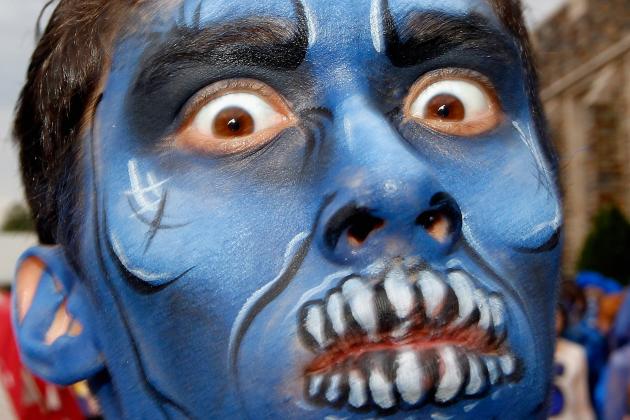 Streeter Lecka/Getty Images

Halloween is less than a week away, and let me guess, while you've mastered your Gangnam Style dance moves for any upcoming parties, you still don't have a costume? No need to worry, as I got you covered with 10 easy-to-make, last-minute Halloween costumes with a college hoops-inspired twist.
If it's the other way around and you have a costume, but haven't been practicing your Gangnam Style dance moves, the following videos links have college basketball teams and coaches showing you how to do it right: Georgia, Colorado, Hawaii, Marquette, UNC, UAB, Minnesota, Columbia and a whole host of others.
But back to the costumes: The added bonus of a college basketball-themed costume is that the fun doesn't have to end on Oct. 31. You can easily get away with wearing some of these costumes to games this season, especially if you're sitting in a student section.
Who knows, you may even end up being seen on national television like some the hoops fans that inspired a couple of these ideas.
And really what better way is there to kick off the 2012-13 college basketball season than showing your team pride in the form of a semi-creative but still easy-to-make costume? (Yes, that question was rhetorical.)
Of course you could always just throw on a jersey or go as a sexy ref, cheerleader, etc.
But if you want to stand out a little more, click through this slideshow to get a few more inspired college hoops-themed costumes.
Begin Slideshow

»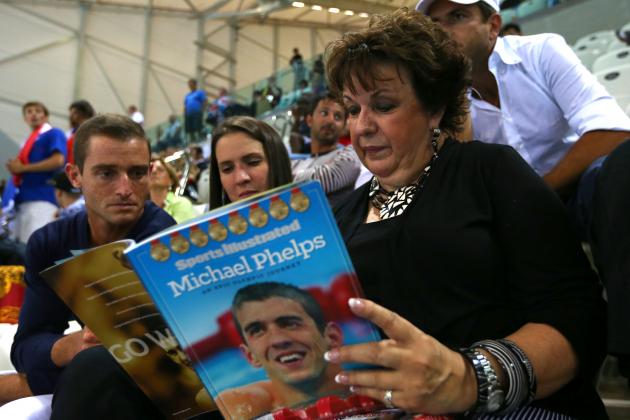 Ezra Shaw/Getty Images

To make this simple costume, print out a poster-size college basketball image at a copy-and-print store. Glue the image onto a piece of poster board or a piece of cardboard and cut a hole for your head to stick through. To see an example of a magazine cover costume click here.
Since this costume requires so little work, it's important to get creative with the headline.
If you have a hated rival team you can use something like, "NCAA Bans (player's name)," "Coach X Cheating Exposed."
Want to add a Halloween twist? Was your team or conference down last season but looking to make a big comeback this year? Paint your face as a zombie basketball player or coach and use the headline "(Team) Back From the Dead."
Alternatively you can find an epic college hoops-related photo and come up with a hilarious caption to go with it. One such example is this recent photo of West Virginia's Huggy Bear standing out among a sea of suits at the Big 12 media day (h/t Reddit).
You get the picture.
Everyone and their grandmother saw pictures of Alabama student, Jack Blankenship and his giant face earlier this year, but why should he be the only one having fun?
This costume is a little less original after Blankenship took his mug everywhere this last year. It's also possible that your face may be one that only a mother could love, so proceed with caution.
To make this costume take a photo of your face while giving your best "Blue Steel" or any other awkward look.
Like with the previous costume, head to a print shop and get a giant poster-size print out of it. Glue it to a piece of poster board or cardboard and cut the face out. Put on a T-shirt with your team's name on it, and you're good to go.
This one is not for everyone, as you literally have to have the stomach for it.
However, if you can pull this one off, or your team has their own version of a Wild Bill fan that you can go as, you can guarantee that you will both scare and titillate everyone you come in contact with.
To make this costume, first prep all year by eating and drinking in extreme excess to build the proper amount of padding. Next go to any store and buy a little kid's costume.
Cut it and use safety pins or whatever will allow you to squeeze into it. Then watch "Goonies" to learn how to give a perfect "Truffle Shuffle" for your soon-to-be fan club, you sexy beast.
Don't have the body for this costume? You can always go as a painted-up super fan. Paint your body and face like the Duke Blue Devils fan (seen in the image at the start of this slide show) or something along those lines. It's never too early to work on your body-painting skills, so that they are perfected come March Madness.
Don't have the time, energy or the desire to be a bear, cat, Billiken or whatever your school's mascot is?
Borrow someone's! Just make sure it's a fun mascot that almost everyone will enjoy.
One potential mascot idea sure to get a laugh or two is Dartmouth College's unofficial mascot, Keggy the Keg.
If you don't know who Keggy is, you can see him here leading the school's scramble band in a rousing rendition of "Tequila" past an unsuspecting Ivy League tour group.
To make this costume, get a plastic barrel, trash can or any round container and paint it silver. Put a keg tap on top and cut some holes for your arms to go through and so that you can see out of it. Add giant eyes, a nose and a mouth to finish the look.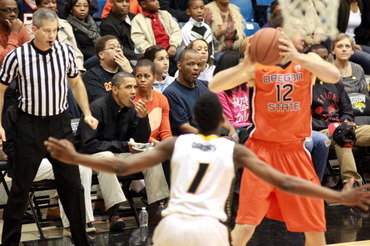 Pool/Getty Images
Obama at an Oregon State game
Those of you outside of the Pac-12 conference may not know that 1) Oregon State's colors are the same as those of Halloween, orange and black, and 2) the head coach of Oregon State men's basketball, Craig Robinson, is President Obama's brother-in-law.
A big fan of college basketball, Obama had a decent (better than mine) 2012 NCAA tournament bracket prediction. The President and First Lady even attended the first-ever Carrier Classic in which UNC beat Michigan State. This game might explain why he picked UNC to win it all last season over the team that did win it all, Kentucky.
To pull this costume off, buy or borrow an Obama mask, paint the words "Oregon State" on an orange T-shirt and cut-off the sleeves to give a jersey appearance.
Of course no one outside of Corvallis, Ore. will get what your esoteric costume is. However that is your punishment for going with a political figure costume (like nearly everyone else will be wearing) this close to an election.
In any case it will be leaps and bounds better than just a suited-up Obama costume, especially if you can dunk a ball while wearing it.
Scott Halleran/Getty Images

You knew this one was coming. But if you've ever wondered what it would be like to be the No.1 NBA Draft pick and win an Olympic gold medal in the same summer, this is your chance.
Making this costume is simple, with the most important aspect being the unibrow. If you can, go to a store and pick up two bushy fake mustaches and stick them together over your mere mortal brows, making one brow to rule them all. Alternately you could paint a unibrow on or make one out of black paper, but remember that since this is the main aspect of your costume you really need to go big or go home.
If you have a Kentucky, Team USA or Hornets jersey, throw that on. If not make one by cutting the sleeves off of an old t-shirt and with paint or a marker write the team name and Davis' number on it.
Adding some accessories like a gold medal might help take this costume up a notch from lazy to looking like you actually put some effort into it.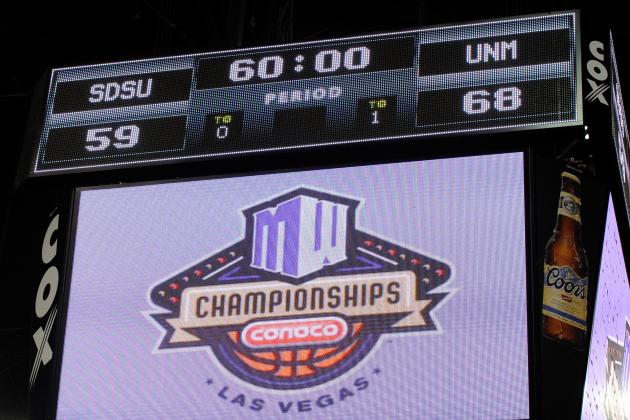 Ethan Miller/Getty Images

If you're running low on time, this one can be put together in pretty much no time at all.
Take two poster boards or pieces of cardboard and make a sandwich board out of them by using string or ribbon to connect them such that it will lie comfortably on your shoulders.
Add some detail such as your team name and that of your biggest rival to it. Make the game score a blowout with the visitor's foul total being high enough to show how dirty they really play.
Similar alternatives to this costume include being an NCAA tournament bracket, basketball court, game ticket or, if you have slightly more time, a jumbotron.
For the jumbotron costume, take a large cardboard box and glue aerial pictures of your team's home court on it to give the illusion of video screens. Add the score and team logo. Attach strings or use suspenders to hold the box up on your shoulders.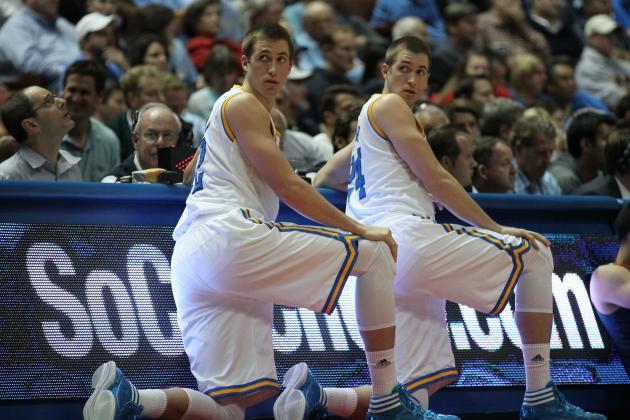 Stephen Dunn/Getty Images

Pick your favorite pair of twins that play for or have committed to the same team (Harrison, Wear, etc.) and grab a buddy to help you pull off this costume.
You could dress in identical outfits, or if you want to add a spin to it, then try going as conjoined twins instead.
Take two identical jerseys and cut the side seams on the left side of one and on the right side of the other. Sew the two jerseys together to make a single giant jersey that you both can fit in. Do the same thing with two pairs of basketball shorts or warm up pants for the bottom half of your costume.
Add some matching shoes and get the same haircut for a completed look, and you'll be guaranteed to have a wingman at your side to assist you all night long.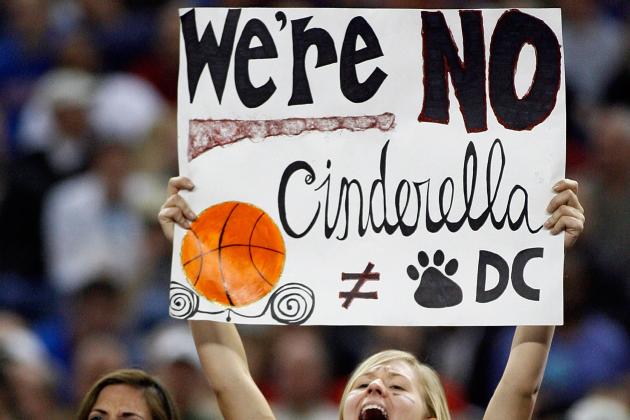 Gregory Shamus/Getty Images

I get it. You're no longer Sweet 16, and now that you're in college, it's your Final Four years of fun before entering the real world.
If you insist on going the sexy costume route, try to be a little more inventive than just putting on a cheerleader top.
For this costume, get a baseball cap with any mid-major team on it, attach a princess tiara to it and put it on your head.
Finding the right size Cinderella dress may be tricky as you'll probably be looking for something a little tighter and more revealing than you're used to wearing.
You could always go spend a semester's worth of book money on a adult Cinderella costume. But who are we kidding, you really only need something form fitting and that slightly gives off a princess feel to it.
You'll know you found the perfect dress when while trying it on an image of your dad telling you to, "Turn around and march right back up those stairs and change" pops up in your head.
If you're still not sure, ask some of your girlfriends if the dress makes you look slutty, if their response is a slightly sarcastic, "No, you look super cute" say yes to the dress.
Optional accessories include: NCAA tournament bracket lines painted on your finger nails, white gym shoes and a mini pumpkin painted to look like a basketball.
If you have only 10 minutes to throw together a costume and no money, but you have access to a color printer and the Internet, you are golden.
Find a picture of the player or coach you wish to go as with a clear view of their face.
Since this costume requires practically no effort, the details become all that more important. I would recommend a photo in which the person is making an unflattering, yelling or awkward facial expression.
Crop the head and blow it up so that it is big enough to cover your face. Print the picture and cut out the head to make a mask. Attach a piece of string, or rubber bands to go around your ears and hold the mask up. Cut holes for your eyes, throw on some appropriate matching clothing, and you are good to go.
For a free added touch certain to "shock the world," have someone shave the player's team logo on the back of your head similar to Nerlens Noel.