With the announcement that David Stern will be retiring in February of 2014, there seems to be a lot of scrambling to really nail down what Stern means to basketball and the sports world in general.
Stern will be remembered for many things, and nearly every aspect of today's NBA has his fingerprints on it. This dates all the way back to the implementation of a salary cap and the start of the league's drug-testing policy in 1980, when he was the Executive Vice President of the league.
He and Michael Jordan came into power together—Stern taking over for Larry O'Brien in February of 1984 and Jordan getting drafted in June of that same year.
A year later came the landmark moment in Stern's career that people always seem to point to as the beginning of his death grip on the league. That moment was, of course, the 1985 NBA Draft, better known as the bent envelope draft that landed Patrick Ewing for the New York Knicks.
From there, his legacy goes in multiple directions.
Stern oversaw the creation of seven new teams, the relocation of six other teams (for better or worse), the globalization of the league, four lockouts (two of which resulted in shortened seasons), the most immediate and impressive acceptance of the internet for game-film availability, the WNBA, the dress code, the Tim Donaghy Scandal and endless conspiracy theories.
With that, there's a lot to be worked out if you were to have an intimate conversation with Stern about his career. And from that, were he to give a complete and truthful answer, what question comes to mind as the most important question to ask Stern?
What question speaks to the history of the league and the legacy of Stern as a whole?
Like Stern's career, there are many different directions to take this question.
For what will Stern be most remembered?
I wouldn't want to get too general with the question by asking Stern to sum up his legacy or to ask him about his biggest success or failure as commissioner. Those are things that could be gleaned from his day-to-day reactions and notions into the human psyche as a whole.
From there, it's easy to go to the 1985 Draft and want some kind of answers. Knowing the truth about a conspiracy that has dogged Stern for years would be interesting, without a doubt.
But there's something I've realized about the conspiracies surrounding Stern that will basically bookend his career, now that the past two drafts have at least a whisper of foul play: In the end, who cares?
The most likely scenario is that he and the league had nothing to do with fixing those drafts, and even if he did, knowing the truth would kind of ruin the mystery surrounding Stern.
Knowing exactly what happened in 1985 will ruin a fun story that, in the end, has little to do with anything, except for how tight Stern's grip on the league is.
What I would want to know, and what it seems every fan would want to know above all else, is simple: What power does Stern and the league front office hold over the referees?
This is the question that gets asked every few years or so when a playoff series is swung, one way or another, seemingly by the hands of the referees. Are the Tim Donaghy accusations of "company men" true, or at least dipped in truth? Or is it a jabbing accusation of a man grasping at straws?
If there's anything that would either clear or ruin David Stern's legacy in a single tweet, it's the answer to this question.
Knowing things like his exact reasons behind vetoing the Chris Paul trade to the Lakers, his clear opinion of LeBron James and "The Decision," how superstars are taking over the league or even how he would have preferred to deal with the lockout are all seemingly inconsequential in comparison.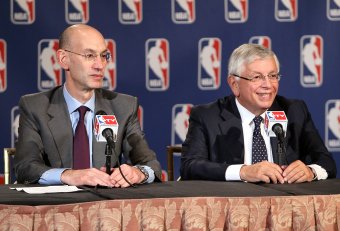 Alex Trautwig/Getty Images
There's enough evidence behind referee manipulation for it to be a legitimate question, unlike draft-lottery manipulation. This issue also has an impact that penetrates deep into the core of the sport, calling into question the outcome of at least the Lakers-Kings series of 2002 and the Mavericks-Heat Finals of 2006.
It would be even better if we find out, with complete honesty, that the league's control over referees is minimal and would never affect the outcome of a series.
That would just mean that referees suck in general—which is something we've always known.
Stern will ultimately be remembered as perhaps the most important commissioner of any sports league since Happy Chandler presided over the integration of Major League Baseball.
Whether it was positive or negative, Stern was at the forefront of every major basketball-related event for nearly 30 years, and he's created the NBA that we know and love today.