Saints vs. Broncos: Sketching Out a Game Plan for Denver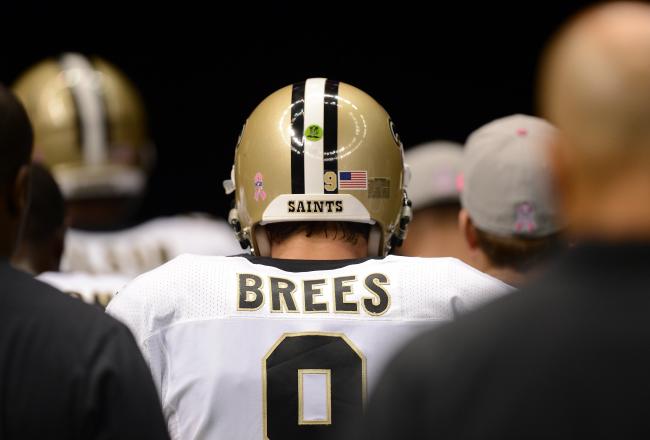 Stopping Drew Brees is the key to victory for the Broncos.
Harry How/Getty Images
It will be promoted as Peyton Manning vs. Drew Brees, but we all know that's not totally accurate. Manning and Brees will never be on the field at the same time and the two won't be in shorts throwing passes through tires on Sunday.
The Manning vs. Brees game really comes down to defense. The defense that slows the opposing quarterback down enough will probably win the game. It's not easy, but it has been done four times this season.
The Redskins and Chiefs slowed down Brees, and the Falcons and Texans slowed down Manning. Despite their status as elite quarterbacks, there's a reason why Manning and Brees have combined for seven losses in 2012, two more than they had when they met in the Super Bowl back in 2009.
Slowing down Brees isn't simple, but the Chiefs successfully slowed him down by bracketing tight end Jimmy Graham with a linebacker and safety and having a defensive back and not a linebacker cover running back Darren Sproles. This defense puts a lot of pressure on the cornerbacks and usually leaves them in man-to-man coverage with only a single safety deep.
The Chiefs used safety/cornerback Travis Daniels (No. 34) to help on Graham, with Derrick Johnson (No. 56) drawing the main coverage. Eric Berry (No. 29) shadows Sproles out of the backfield. Johnson does his best to disguise his coverage and lines up inside Justin Houston who has his hand in the dirt.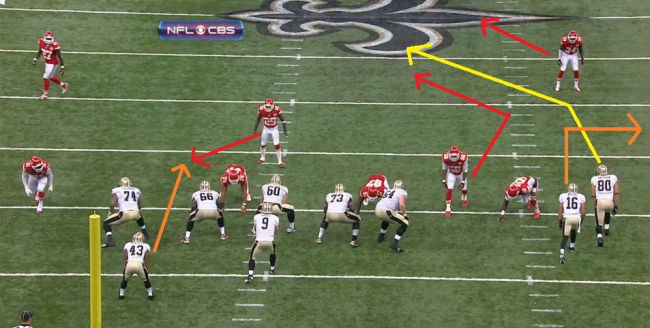 Brees saw this as an opportunity to get the ball to Graham between the two defenders, but because of the bracketed coverage he had to make a perfect throw.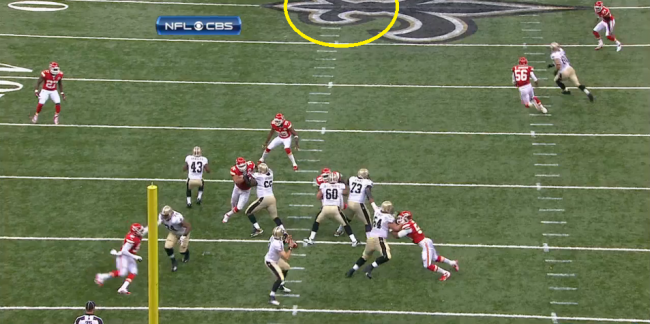 Bracketing Graham with a linebacker and a safety worked perfectly, and Graham dropped the pass. Graham caught just four passes for 16 yards in the game against the Chiefs. Obviously, if Graham is not able to play, the Broncos can turn to more conventional methods of covering Lance Moore, Marques Colston and Devery Henderson.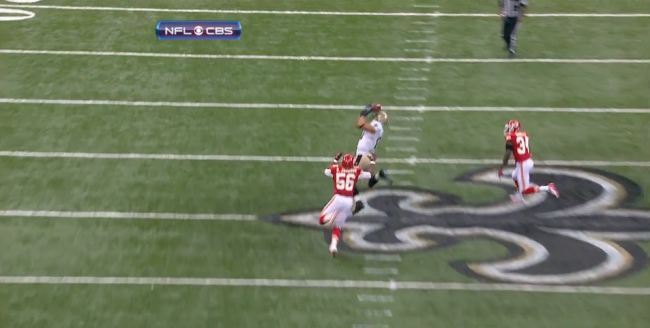 The Chiefs let Sproles break a long run, but held him without a catch. A big reason the Chiefs were successful against Sproles in the passing game was because they used a safety to cover him and not a linebacker.
Sproles is too quick and agile to be covered by a linebacker, which is something the Redskins learned the hard way.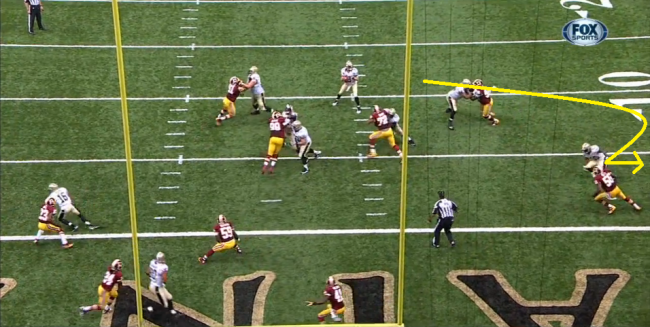 The linebacker had to respect the speed of Sproles and opened his hips to the inside when Sproles made his initial move. Once the linebacker turned his hips, Sproles reversed direction and Brees hit him for the easy touchdown.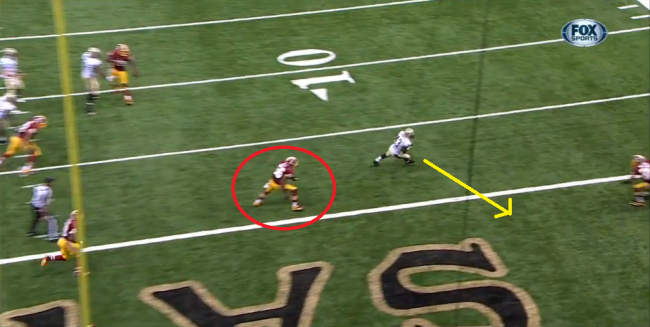 Most linebackers are not athletic enough to handle Sproles in the passing game. The exception would be a guy like Woodyard, who will only be available to cover Sproles if Graham doesn't play.
In either case, the Broncos could use a big nickel alignment and try to get three safeties on the field together instead of exposing Joe Mays or Keith Brooking in coverage. The Broncos tried something similar two weeks ago against Antonio Gates and were burned for 81 yards and two touchdowns. The Broncos certainly made a few adjustments over the bye week.
The Saints have adjusted the past few weeks by throwing more to Colston, Moore and Henderson. They've been successful largely because they played two terrible pass defenses in San Diego and Tampa Bay. Even without Tracy Porter the Broncos have three good cornerbacks that match up well on the outside with the Saints.
Manning could probably beat this New Orleans defense in his sleep, but a failure to stop Brees could be a disaster. The Broncos have a habit of getting down early and the Saints are a team that can put up a lot of points quickly and put the game away. A loss to a flawed team like the Saints is certainly not something the Broncos can afford in a tight AFC West.
This article is
What is the duplicate article?
Why is this article offensive?
Where is this article plagiarized from?
Why is this article poorly edited?

Denver Broncos: Like this team?