New York Jets: Building the All-Millennium Team
Jeff Zelevansky/Getty Images

I know it's the middle of the season, but I for one always wanted to try something like this. I am a huge fan of personnel chemistry and the offseason, so I wanted to make an all-star team.
In this edition, I add my own creative spin. Rather than picking the best players of each position, I pick players that would mesh well together with the strategies of the various coaches.
If you disagree with me, or think I could improve this article, please leave a comment. Thanks!
Begin Slideshow

»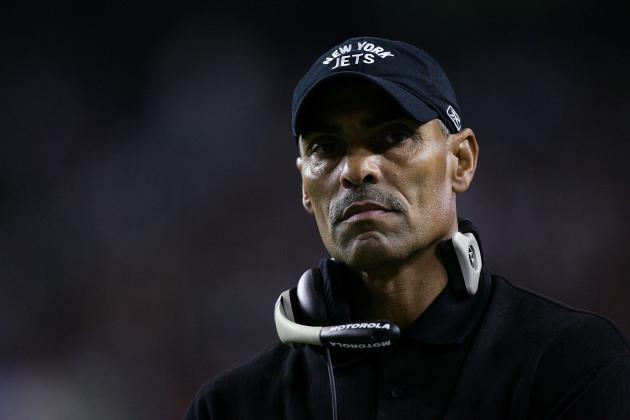 Streeter Lecka/Getty Images

Head Coach—Herm Edwards
Why? He only went 39-41 as a coach, which is a worse percentage than all other coaches. He also coached the Jets at one of the Jets's brighter times of this century, with Curtis Martin, Chad Pennington, Shaun Ellis, Ty Law, Kevin Mawae, and other stars.
So why does he go here? Because you play to win the game. I think that Rex's bravado is a little too much for the team that I've produced here.
Offensive Coordinator—Tony Sparano
He should be successful in the ground and pound, and personally, I like his play calling. With a star RB corps, he should have no trouble.
Defensive Coordinator—Donnie Henderson
This is a bit of an odd choice, right? Not really. He's one of the few coordinators for the Jets to have successfully run the 4-3 defense. With studs on the defensive line and in the linebacking corps, this would be a breeze for him.
Special Teams Coordinator—Mike Westhoff
No other option, and no reason to pick anybody else.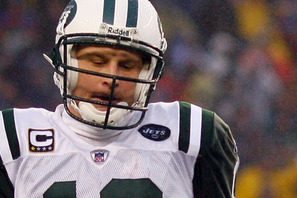 I could imagine the phone call now:
Mike Tannenbaum: "Hey Chad, I know that I threw you to the side for Brett Favre. But we know that you are the best Jets quarterback to take the field in a long time, and with Sanchez's struggles, I was wondering if you coul-"
Chad Pennington: "Say no more. I'll be in New Jersey by tonight."
While hanging up the phone, Chad Pennington re-injured his shoulder.
But in all seriousness, Chad Pennington is far and away the best Jets starting quarterback from this decade. And in this offensive scheme, he has the receivers, the line, and the backs. He just needs to keep his shoulder in tact and maintain his well-known strong decision making.
On this squad, Pennington would be a game manager, not a game leader. Dinky third down passes and play actions would be considered the norm.
Other candidates: Mark Sanchez (a poor man's Chad Pennington), Vinny Testaverde (Not as good in the 2000's as Chad was)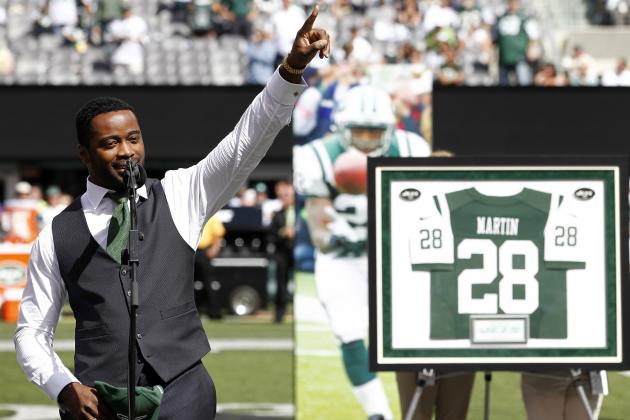 Jeff Zelevansky/Getty Images

When they were playing, Curtis Martin and Tony Richardson were considered the best at their respective positions. So why not put them together and make a super running back duo?
Curtis Martin has the fourth most rushing yards of all time before his career was cut short by a leg injury. He would be one of the members of this team's ground and pound system. The others? Leon Washington and Lamont Jordan.
Tony Richardson could very well be the reason why Thomas Jones had such success on the Jets, and Shonn Greene didn't. He deserves a spot on this team over Jerald Sowell and B.J Askew.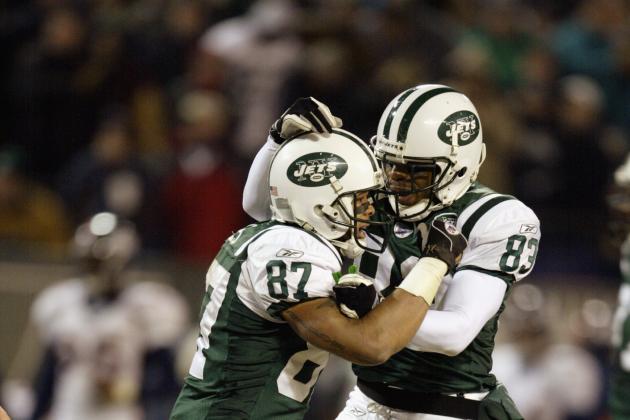 Al Bello/Getty Images
The dynamic duo: Coles (left) and Moss (right)
The Jets wide-receiving corps actually seems a little bit weaker in this all-millennium team than it was in 2010. However, with the four different styles of the four targets, this group is pretty stellar in a way. I'm going to look at them each individually, then as a team:
1. Laveranues Coles: A tough possession receiver not afraid to go all out. He had six seasons out of 10 with above 70 catches. Only twice did he have less than four TD receptions. He'll never be considered elite, but a serviceable No.1 or No.2 wide receiver. With the Jets: four years out of seven he surpassed 70 receptions; besides his rookie year, he averaged 950 rec. yards as a Jet.
2. Santana Moss: A vertical threat with surefire home run ability. Although he only spent three seasons with the Jets, he averaged 800 receiving yards, and his track record as a Redskin is great: he had eight consecutive seasons with at least 750 receiving yards. A great deep threat to be thrown into the corps.
3. Jerricho Cotchery: I was choosing between him and the classiest Jet, Wayne Chrebet, but overall I just had to go with J-Cotch. He gave it all on every single play in every single game. He caught a pass by turning around, diving backwards, all with a severely injured back. In his five seasons starting, he averaged 850 receiving yards. He would be a tremendously valuable slot receiver for Chad Pennington.
4. Braylon Edwards: Lanky run blocker who is an undeniable deep threat. He was really getting a rapport and improving until the Jets refused to re-sign him. Instead of giving him $2 million per year (what he received in San Francisco) they paid Santonio Holmes $10 million per year. That move still bothers me. In one full season as a Jet, he showed great run blocking, a nose for the end zone (seven TDs) and some beautiful facial hair. He'd be a huge asset to this all-millennium team that sorely needs height.
Honorable Mentions: Wayne Chrebet (not enough statistical output in the 2000s to gain a spot), Santonio Holmes (We're trying not to have a team of overpaid babies).
Karl Walter/Getty Images

This tight end group is pretty straightforward: There's a vertical threat (Dustin Keller) and a stay at home blocker in Ben Hartsock. There have been a lot of transactions at the tight end position, but I feel like these two are the best of their kind.
In the Jets' system with Chad Pennington, there isn't much need for a deep target like Dustin Keller, but he is a fast receiver with solid hands, and has more potential than other tight ends like Chris Baker and Josh Baker.
Honorable Mentions: Chris Baker (slow moving target with decent hands) Anthony Becht (first-round bust), Bubba Franks (old and useless).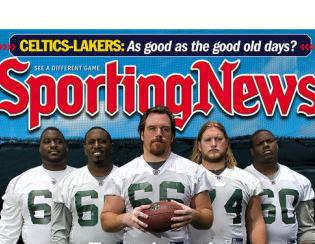 Switch Big Nick Mangold with Kevin Mawae
The Nick Mangold vs. Kevin Mawae choice was my most difficult decision of the article; overall, I went with Kevin Mawae because of his off-the-field popularity and his leadership.
D'Brickashaw Ferguson is one few left tackles that the Jets have had this millennium and is a pro-bowl caliber LT.
Alan Faneca is an elite left guard and his addition to the Jets was one of their biggest moves in the past five years. He revitalized Thomas Jones's career.
Kevin Mawae was the best center in the NFL in the past 12 years. He's an all-around sound center and would provide amazing leadership.
Brandon Moore is the only Jets RG of the past eight years. He is by far one of the strengths of the team year in, year out. There is no reason to replace him with any of the other shoddy players.
Damien Woody is a really good right tackle, but there's no reason to substitute him with Jason Fabini, Wayne Hunter, or Austin Howard. He came to the Jets with extensive experience at all positions on the line, but took his new position (RT) incredibly well.
In a ground and pound system, these five linemen will need to be really strong run blockers. Fortunately, all of them are elite in their respective positions.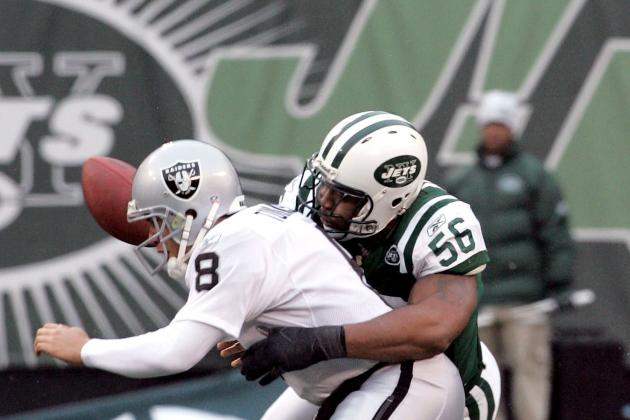 Jim McIsaac/Getty Images

These Jets are going to be running a 4-3 defense. As a result, the need for quick, pass-rushing defensive is at a high. Due to the fact that the Jets have never had a strong 3-4 outside linebacking corps, I am going with the 4-3.
This was definitely one of my top-3 difficult choices that I had to make. Instead of going with a consistently strong Shaun Ellis, I chose the high upside Mo Wilkerson.
The two of them on opposite sides could give opposing QBs fits.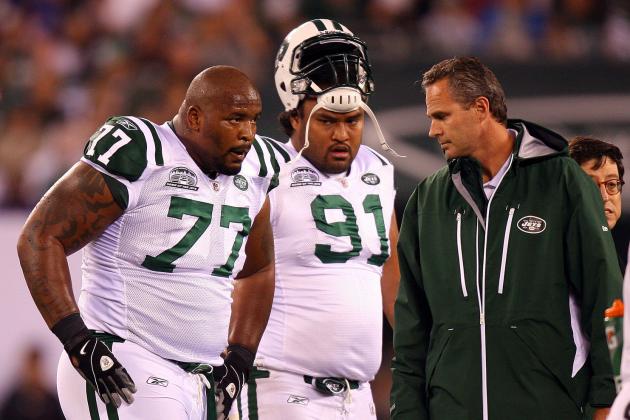 Andrew Burton/Getty Images

Even in a 4-3, I'm going with two 3-4 nose tackles. Why? Because nobody else is really that good. There would be absolutely zero pass rush coming from the middle of the line, but the run stopping ability would definitely make up for it.
With two ferocious defensive ends, there's little room for any offensive linemen to double team Kris Jenkins.
These two run stoppers would make up for their lack of speed and pass-rushing ability by clogging the holes and scaring quarterbacks.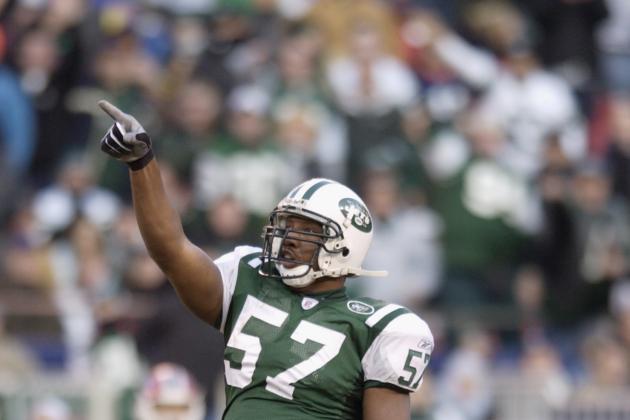 Ezra Shaw/Getty Images
The real #57
Just like the defensive tackles, the outside linebackers will not provide much pass rushing prowess either. Both outside linebackers were absolute studs for the Jets in the early 2000s. Each of them picked up over 100 tackles as Jets multiple times.
One tough decision here? Eric Barton or Sam Cowart. Based on the talent of the inside linebackers I was contemplating using the 3-4 and keeping Cowart and Lewis out of position.
Honorable Mention: Eric Barton (he just missed out)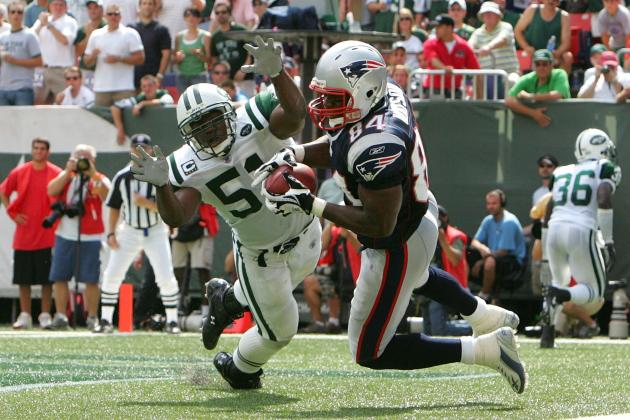 Nick Laham/Getty Images

This was another really tough decision. This was either going to be Marvin Jones or David Harris. I do remember that David Harris didn't fit into a 4-3, and I do remember all of the distinctions that Vilma had as an MLB for the Jets.
He was a former defensive rookie of the year. He averaged 91 solo tackles in his three full seasons as a Jet. He definitely deserves a spot on this list.
Obviously honorable mention is Marvin Jones.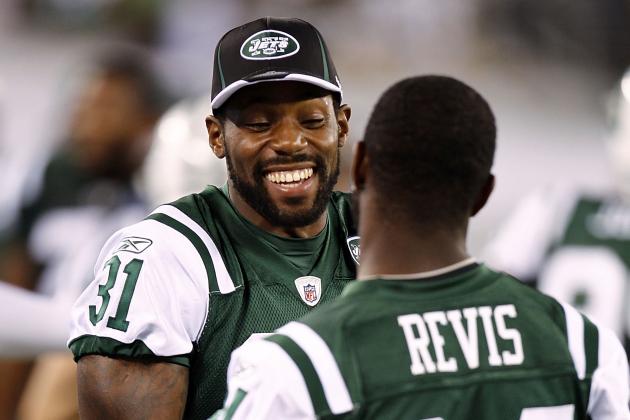 Jeff Zelevansky/Getty Images

This is obviously the Jets' strong suit in this 4-3 defense. With Darrelle Revis taking down half the field, it's now up to the Jets's shoddy No. 2 cornerbacks from the past decade and a half to step up and control the other side.
The number two cornerback is without question Antonio Cromartie. The way he has played lately makes him look like an All-Pro cornerback again. He should be a mainstay on this team for a long time. He has 10 interceptions in 2.5 years as a Jet.
The number three cornerback may seem shocking if you don't remember him, Ty Law was the king of ball hawking. His 10 interceptions in his only season as a Jet is more than Antonio Cromartie has in his 2.5 years on the team. He definitely deserves a spot on this all-millennium team.
There are some cornerbacks who missed the cut, but they really didn't have a chance:
Donnie Abraham (not as good as Law or Cromartie), David Barrett (never a good starter), Lito Shepphard (not a good Jet)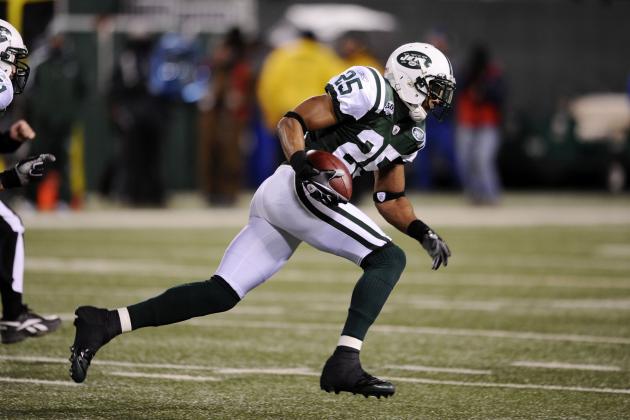 Jeff Zelevansky/Getty Images

This would be a fun defensive backfield with the cornerbacks, but even the safeties are great.
In this edition, I moved LaRon Landry to his true position, strong safety. I therefore moved Kerry Rhodes to his strong position, free safety.
I think that Kerry Rhodes has good coverage skills and should be able to keep up with the tight ends of New England, while LaRon Landry can put a good licking on whoever has the ball in the backfield.
Although, because Rex Ryan is not in control of the defense, don't look for him to play a hybrid OLB/SS position like Antonio Allen and Yeremiah Bell sometimes play.
The only honorable mention spot goes to Jim Leonhard, but he is too short to keep up with Rob Gronkowski and Aaron Hernandez, and he will not make up for Landry's faulty coverage.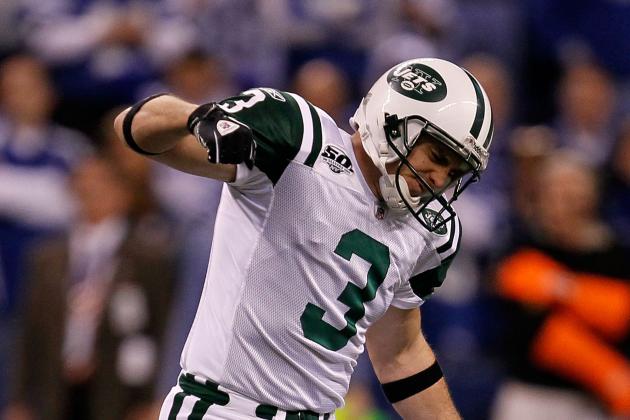 Jonathan Daniel/Getty Images

Kicker: Jay Feely: This one's easy, he nailed the kicks he was supposed to make, was a big hitter and was a veteran leader who was essential to the team's locker room.
Punter: Robert Malone: Man, this guy can really boom it; almost as well as Ben Graham could as a Jet, but he's far younger, more accurate, and can pinpoint the opposition to their 20. Honorable Mention (Ben Graham)
Returner: Leon Washington: Any one of Mike Westhoff's returners would work here, but Leon Washington is already on the team so I keep him for the sake of a roster spot.
What do you think of the all-millennium team? They would definitely mesh well together if you ask me. Tell me what you think. Leave a comment so I can hear your opinion. Thanks for reading!