Midseason Report Card Grades for Every NFL Rookie Class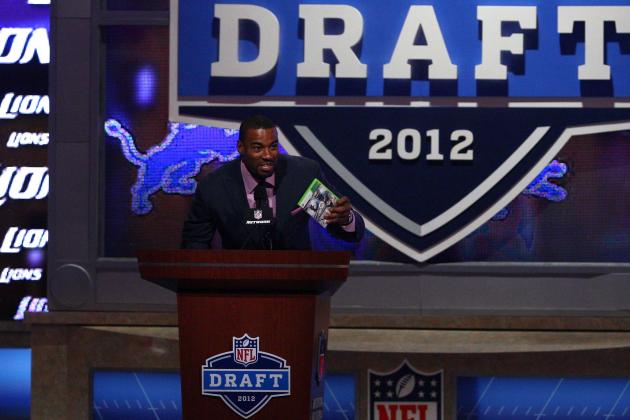 Chris Chambers/Getty Images

It's that time in the season where we take a good look at each team's rookie draft class to get a better look at who the winners and losers are from April.
In order to do this properly, I set up a simple yet tedious system that awards points to players for performance as well as potential. For the performance aspect I weighted certain statistical categories based on importance and then gave each statistical category a numeric value.
The stats included for the point system ranged anywhere from factoring in the total grade of each rookie courtesy of Pro Football Focus, which grades every play of every player throughout a season, to rushing yards, touchdowns, sacks, tackles, interceptions, etc.
Basically, I weighted and considered every major statistical category, including some advanced metrics, in order to create a fairly inclusive number score for each player.
For potential, I utilized my preexisting prospect ranking list based on their college production and testing times to give a little bit of weight to a player's untapped pro potential. I then added those numbers up for each team to generate a team number score that was later transferred into a letter grade based on the total score of each player drafted by that particular team.
For some frame of reference, here is a grading scale and how those numbers should be processed as you read through the slideshow.
Grading Scale for Player Point Totals
Early first-round quality: 30 points and up
Late first-round quality: 20 to 29.9 points
Second-round quality: 8 to 19.9 points
Third-round quality: 4 to 7.9 points
Fourth-round quality: 1 to 3.9 points
Begin Slideshow

»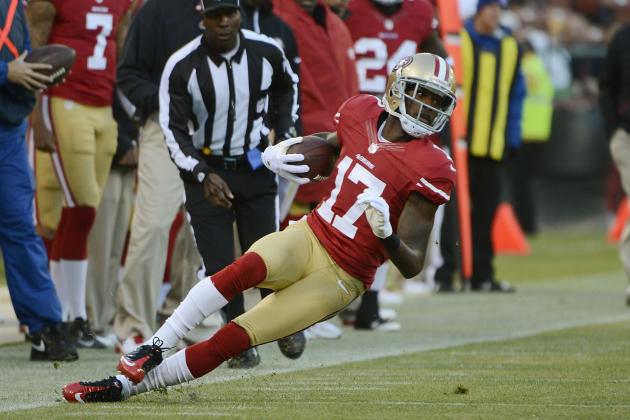 Thearon W. Henderson/Getty Images

Most Promising: A.J. Jenkins—Point total: 7.2
I realize many people out there caught wind of a struggling A.J .Jenkins during offseason minicamps and even into training camp. But once preseason began, he flashed several promising moments of what lies ahead for this raw, yet talented, rookie out of Illinois.
Jenkins is a dynamic weapon with the ball in his hands and will eventually be breaking tackles in the NFL for years to come once he figures out how to be a pro. But as he's a member of a receiving corps that struggles to get Randy Moss on the field, the 49ers clearly can afford to be patient with their first-round selection.
However, his label as "promising" is relative, considering he only graded out as a third-round talent so far.
Most Disappointing: LaMichael James- Point total: 5.8
There is still a lot of hope for James' future in the NFL, but it's disappointing to see he has failed to land a starting role in kick-return duties after a couple of overly cautious returns early in the season. James was a game-breaker during his career at Oregon, yet he has looked timid with contact and relatively slow as a professional compared to his college tape.
Class as a Whole: The 49ers' rookie class of 2012 has not had much of an impact on the franchise after eight weeks of NFL action. Not a single rookie has earned any significant playing time.
In all fairness, this is a team with very few holes and whatever holes they did have, they effectively filled with quality free agents who are having a positive impact on the team thus far.
Perhaps this new crop of 49ers will yield a bigger return next year and for many more after that. Until then, we're forced to analyze this class primarily with speculation and potential, from which case there's still hope for a successful draft class later on.
Midseason Grade: F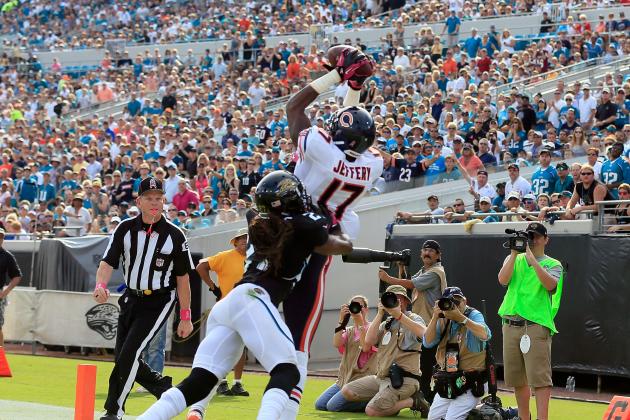 Sam Greenwood/Getty Images

Most Promising: Alshon Jeffery—Point total: 29.6
The 2012 draft class was supposed to have one of the deepest receiver groups in recent memory. However, this class has yet to live up to the hype. Alshon was considered by many to be a first-round talent who slipped into the middle of the second round, where the Bears snagged him off the board at pick No. 45.
Ever since then, he has looked impressive and has already had a very positive impact on Chicago's early-season success. Jeffery has been one of the more productive rookie wide receivers this year and is currently the highest-graded rookie receiver according to Pro Football Focus.
Most Disappointing: No one
Class as a Whole: Shea McClellin, who graded out at 19.5, has looked promising at times but he still needs to improve as a down-lineman in a 4-3-schemed defense. This was not his natural position in college considering the type of player he is, but he still finds a way to make plays.
As for the rest of the Bears draft, it has been a very poor showing for just about everyone. Fourth-round pick and fullback Evan Rodriguez did start a game this year, but he failed to really make any impact before getting hurt.
Aside from Rodriguez, there has not been any real contribution from any of the later-round selections. Heading into the season, I didn't identify any real steals for Chicago, and all indications so far seem to be confirming this.
It's disappointing that not a single guy in the later rounds has stepped up to play even a minor role in the Bears' success so far.
Midseason Grade: C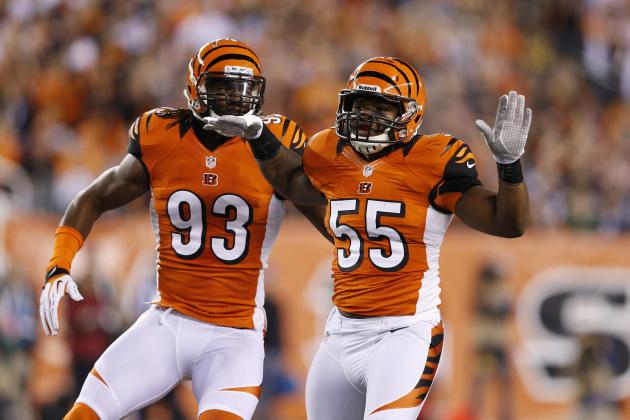 Joe Robbins/Getty Images

Most Promising: Vontaze Burfict- Point total: 27
I'm not necessarily saying Burfict will be the best player in this draft class, but considering the value combined with the production, he is by far the most promising up to this point.
For a rookie to go undrafted yet produce like a first-round draft pick, you really can't ask for anything more than that. Burfict has done a phenomenal job filling in as a starting linebacker for the Bengals.
Many people were wondering whether or not Vontaze was even going to make the team. Well, he has done a lot more than just make a team—he has established himself as one of the most productive rookie defenders of the 2012 season.
Not bad for a guy who nearly squandered his NFL aspirations with one of the worst draft prospect reputations since Maurice Clarett.
Most Disappointing: Dre Kirkpatrick—Point total: 7
Kirkpatrick was the front-runner to establish himself as a key member of the Bengals secondary, but injuries have kept him off the field for most of the year. Now, Dre is finally healthy and we should get a better idea of what he can bring to the table in the second half of the season.
Class as a Whole: The Bengals have assembled a talented group of young talent across the board. This class should yield several major contributors to the organization as well as some big names by which to build around, particularly on the defense.
In all, the Bengals have an impressive nine rookies currently graded out above fourth-round quality.
Midseason Grade: B+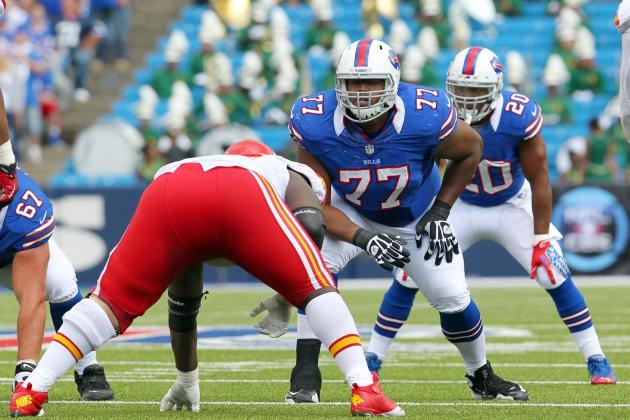 Timothy T. Ludwig-US PRESSWIRE

Most Promising: Cordy Glenn—Point total: 16.4
Don't be alarmed by Glenn's relatively low point total; those are good numbers for an offensive lineman. It's very difficult for an offensive lineman to grade out with a first-round score under this system.
Glenn has done a fantastic job all year establishing himself as one of the best linemen on a team that is already loaded with talent up front. As a result, he is seeing increased playing time and could be on his way to becoming a star in this league.
Most Disappointing: Tank Carder—Point total: Below 0
Considering the defensive troubles this team has had this year, it was really disappointing to see fifth-round pick Tank Carder fail to even make the team. I thought Carder showed a lot of pro potential, specifically in his dominating Rose Bowl performance at TCU.
Perhaps Tank was unable to prove himself in coverage and became too much of a liability to hold onto. Either way, I was surprised to see him released.
The good news is that he has found a home in Cleveland and is a member of the active roster.
Class as a whole: This is a solid group of rookie talent that currently has four players graded at least fourth-round quality.
Stephon Gilmore (29 points) should become a shutdown corner before his career is done. And Nigel Bradham (10.3 points) has been a great value pick in the fourth round, as he clearly has been outperforming his draft position.
Midseason Grade: C+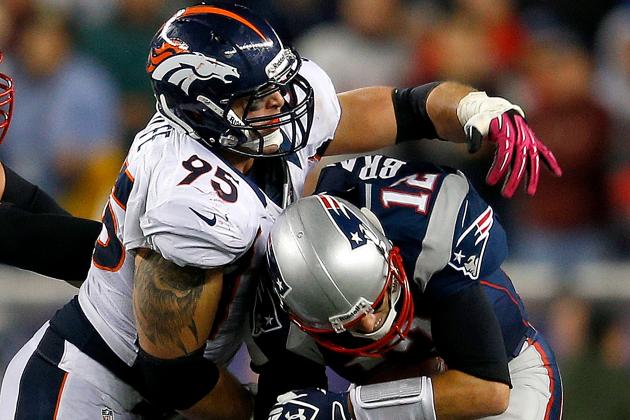 Jim Rogash/Getty Images

Most Promising: Derek Wolfe—Point total: 18.3
Wolfe was the fourth pick in the second round for the Broncos and has been a steady starter on the defensive line. He currently has three sacks on the year, which is impressive for a rookie operating from the interior of the line.
Most Disappointing: Ronnie Hillman—Point total: Below fourth-round quality
Hillman was the 67th overall selection in the draft and was expected to come in and make an immediate impact. Unfortunately for the Broncos, Hillman has failed to even average three yards per carry so far, which has given no reason for the coaching staff to increase his load.
Class as a Whole: Without having a pick in the first round this year, Denver did manage to find a couple of solid defensive linemen in the later rounds. But overall, this draft class has failed to impress.
Midseason Grade: D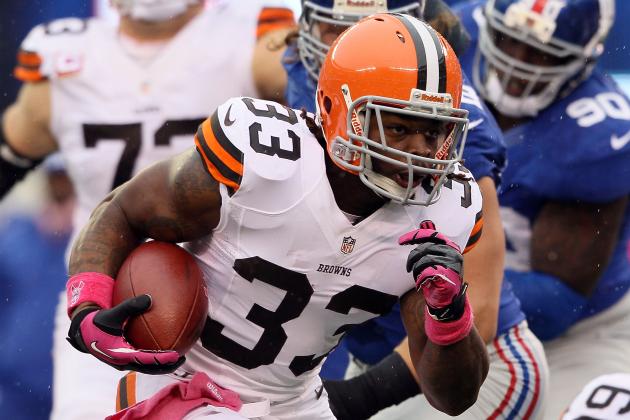 Alex Trautwig/Getty Images

Most Promising: Trent Richardson—Point total: 35.3
Richardson has already demonstrated very rare running ability despite missing all of training camp and preseason action.
He is the complete package of elite strength and quickness, complemented perfectly with a tough, competitive attitude that shines through every time he has the ball in his hands. It seems highly likely that "TRich" will quickly establish himself as one of the best in the NFL and could carry the Browns on his shoulders all the way to becoming a true contender in the postseason.
Most Disappointing: No one
Class as a Whole: This class has been very solid. The Browns currently have two rookies with high first-round grades in Richardson and receiver Josh Gordon (Gordon arrived via supplemental draft).
They also have two guys with second-round grades in quarterback Brandon Weeden and DT Billy Winn. This high level of output by so many rookies is hard to achieve. Mike Holmgren and the Tom Heckert deserve some credit. They may not be getting many wins now, but the talent eventually should come together.
Midseason Grade: A-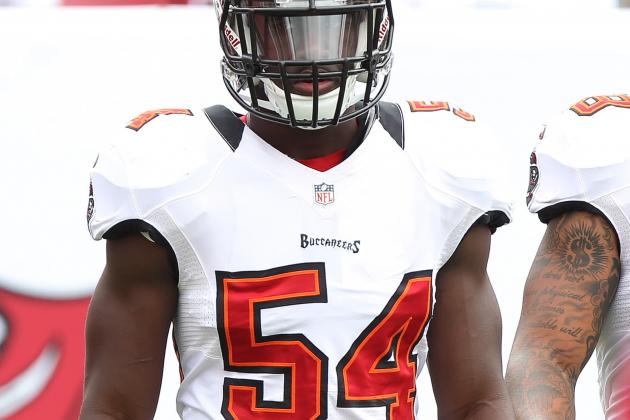 Kim Klement-US PRESSWIRE

Most Promising: Lavonte David—Point total: 44.1
Lavonte David is one of the most athletic and instinctual playmakers I evaluated this year. He is a fantastic tackler who has unique abilities for getting around blockers to make the tackle.
Don't be surprised when David becomes a household name down the road.
Most Disappointing: No one. (Late-rounders who have done very little at this point is all too common to be labeled "Disappointing.")
Class as a Whole: It isn't often that a team is able to milk three first-round-caliber guys out of one draft class, which is exactly what the Buccaneers were able to do. In addition to Lavonte David, there's also running back Doug Martin (35.3) and safety Mark Barron (27.7).
Each of these rookies has managed to not only solidify a starting position, but, with rare playmaking ability, they have also established themselves as valuable assets to the team. The Bucs really seem to be building something special.
Midseason Grade: A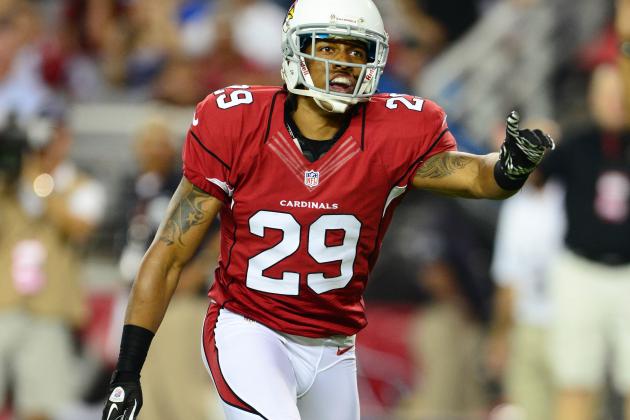 Mark J. Rebilas-US PRESSWIRE

Most Promising: Jamell Fleming—Point total: 8.5
Fleming has been a key part of the Cardinals defense, which has been one of the best units in the league. Jamell is a cornerback out of Oklahoma who has really surprised a lot of people so far.
Most Disappointing: Bobby Massie—Point total: Below fourth-round quality
Although Michael Floyd (9.3) has been disappointing in his own right, it's really hard to overlook the terrible play of the Cardinals offensive line. Few individuals are more responsible than Bobby Massie himself.
In only seven games this year, Massie has allowed an atrocious 12 quarterback sacks by opponents according to Pro Football Focus.. That's almost two sacks a game.
Class as a Whole: There really isn't a whole lot of positives to point to with the Arizona rookie class. But the good news is we are still very early in the evaluation process and many of these prospects may still develop into wonderful pros.
Midseason Grade: F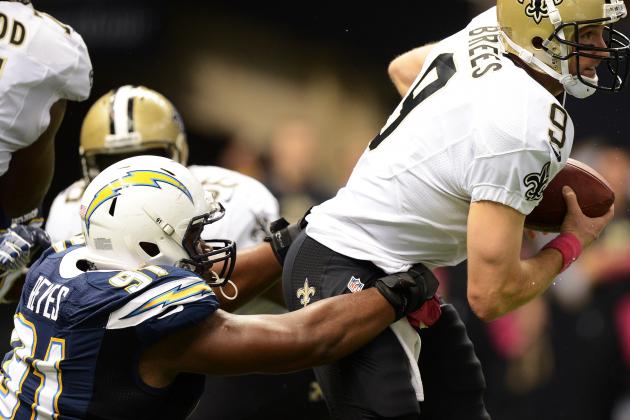 Harry How/Getty Images

Most Promising: Kendell Reyes—Point total: 19.2
Reyes has shown a knack for putting the quarterback on his back this season and is often just a step short of getting his sacks.
Leading up to the draft, I had Reyes ranked as one of the best interior defensive linemen available, and he has shown why all season.
Most Disappointing: Brandon Taylor—Point total: Below fourth-round quality
Not to say I'm surprised by this one pick, but I know many guys who were very high on Taylor. Mike Mayock even considered him to have starting ability at the safety position.
Brandon Taylor has yet to accumulate a single stat in the NFL despite being a top-100 selection in April's draft.
Class as a Whole: Melvin Ingram (15.1) was San Diego's big first-round pick this year but has failed to deliver as a pass-rush specialist, which was the primary reason he was drafted. But there is still a lot of value in Ingram and his best days are likely yet to come.
Aside from Ingram and Reyes, there haven't been too many rookies stepping up to the plate to help save Norv Turner's job.
Midseason Grade: D+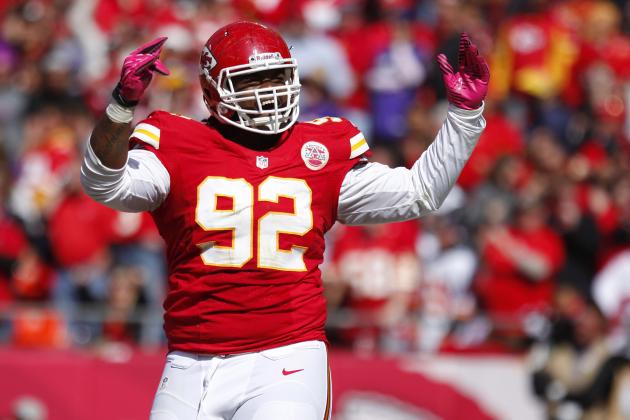 Kyle Rivas/Getty Images

Most Promising: Dontari Poe—Point total: 7
I'm not a fan of Dontari Poe, nor have I ever been. He wins this title by default. Poe has never shown me anything on tape that would demonstrate the ability to play the game of football.
All he has going for him that's promising are his rare physical gifts. Few people possess the type of size, strength and speed combination that Poe has. This alone gives him hope to put it all together and make something of his football career.
Most Disappointing: Devon Wylie—Point total: 1.8
The fact that Devon Wylie has not even recorded a single catch in the NFL is very disappointing regardless of injuries or any other excuses.
Wylie was a speedy slot type receiver who could also return kickoffs and punts. So far, he has yet to do either of those things, as he has only played in one game this year.
Listing Wylie in this category is almost a compliment to his talents and my high expectations of his ability.
Class as a Whole: Few draft classes have been more disappointing than the Chiefs' this season. In a year when Kansas City can use all the help it can get, it has not been able to find much from its rookies, unfortunately.
Midseason Grade: F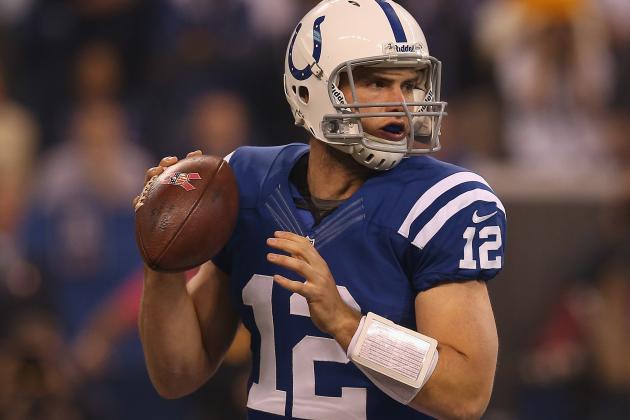 Jonathan Daniel/Getty Images

Most Promising: Andrew Luck—Point total: 31.9
Few People doubt how good Luck is supposed to be. The bar for him is set so high that anything short of a Hall of Fame career would be considered a disappointment.
Luck has shown a lot of ability so far, and as he gets a feel for the speed and complexities of the game, he should become one of the most dominating players to ever play this sport.
Most Disappointing: Josh Chapman—Point total: 7.9
Chapman is coming off a major knee injury, but it seemed as though the Colts were hoping to have him back sometime this season. Apparently he just wasn't ready, which is the sole reason for his season being a disappointing one.
When the nose tackle's healthy and ready to return, he will be a very good player in this league for many years.
Class as a Whole: This is one of the best draft classes in the NFL this year. The Colts managed to add three first-round-quality athletes with TY Hilton (27.6), Coby Fleener (25) and, of course, Andrew Luck.
Midseason Grade: A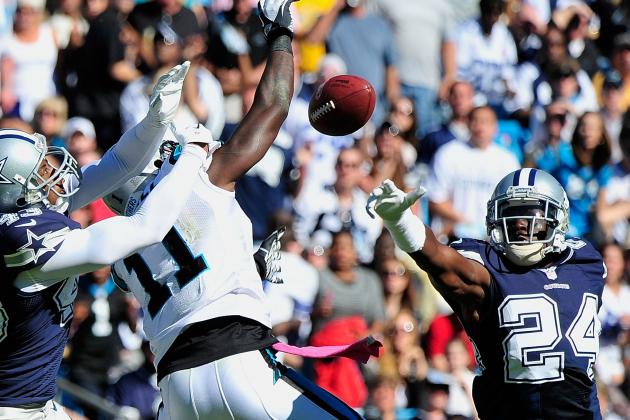 Grant Halverson/Getty Images

Most Promising: Morris ClaibornePoint total: 13.5
Claiborne has done a nice job in Rob Ryan's man-to-man-focused defense, where he has been asked to guard the opponent's best players on a weekly basis. His ball skills are likely what separate him from the competition, but he's also a very sound technician as well.
Most Disappointing: No one (Late-rounders who have done very little at this point is too common to be labeled "Disappointing.")
Class as a whole: The Cowboys didn't hit this one out of the park like they hoped they would back in April. Claiborne has been solid but there haven't been enough contributions from the other rookies.
Tight end James Hanna has looked like a nice value pick so far this season with a point total of 3.6, which is very impressive for a sixth-round selection.
Midseason Grade: F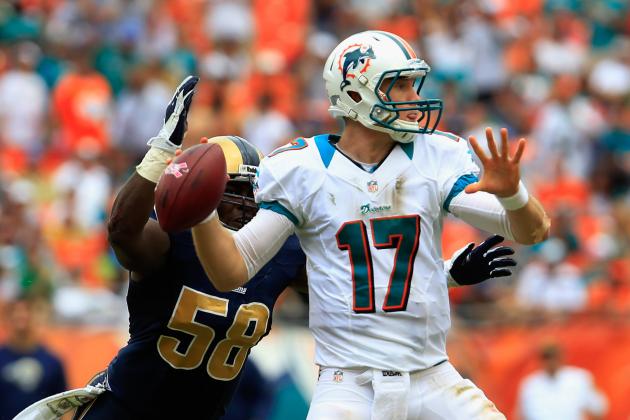 Chris Trotman/Getty Images

Most Promising: Ryan Tannehill—Point total: 17.2
Tannehill has impressed early on in the season despite many critics, including myself, thinking he would need a year or two to develop and to avoid looking in over his head.
It appears the Dolphins have found their quarterback of the future for the first time since Dan Marino.
Most Disappointing: BJ Cunningham
It's odd that a sixth-round receiver would be on the list as most disappointing, but BJ showed a lot of talent at Michigan State and was expected to be a major contributor on a team paper-thin at the wideout position. Instead, Cunningham is no longer with the Miami Dolphins.
Class as a Whole: The Dolphins were able to get some serviceable players throughout the later rounds, which has really helped the team this season.
Third-round pick Olivier Vernon (22) has been a major surprise, playing like a first-round selection at DE.
Midseason Grade: C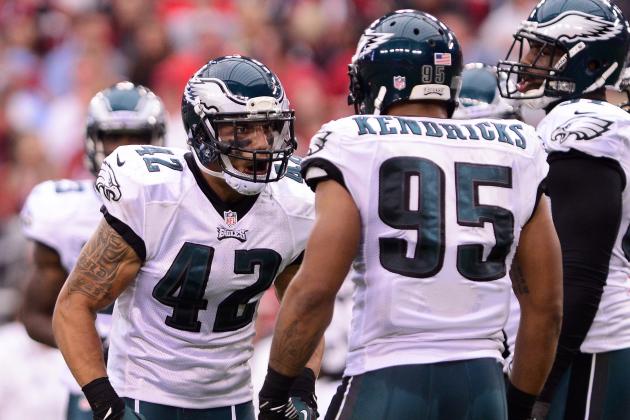 Jennifer Stewart-US PRESSWIRE

Most Promising: Mychal Kendricks—Point totals: 24.3
Kendricks is a fantastic athlete and playmaker who has been a starter for the Eagles since day one. As a second-round pick, Kendricks entered the league as one of the fastest linebackers in the NFL.
With DeMeco Ryans as a mentor, look for Kendricks to show steady improvement as the season wears on.
Most Disappointing: Vinny CurryPoint totals: 8.1
I know the Eagles are loaded on the defensive line, but considering the recent team struggles at getting to the QB, it would seem only natural that Curry be given more opportunities. Unfortunately, Curry has struggled to stay healthy and has not made any contributions as a result.
Class as a Whole: The Eagles accumulated a ton of speed and playmakers on defense. This draft should prove to be one that Philadelphia can build off of for many years to come. Fletcher Cox (21.4) and Brandon Boykin (18.8) highlight the class, along with the previously mentioned Mychal Kendrick.
Midseason Grade: B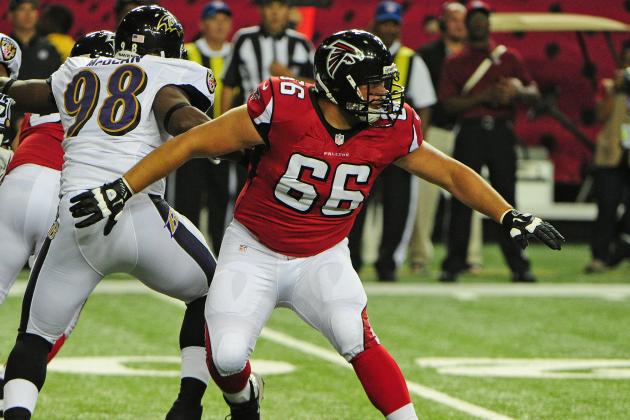 Scott Cunningham/Getty Images

Most Promising: Peter Konz—Point totals: 4.2
Konz has not had a lot of playing time so far, but comparatively, he is the most promising rookie on their squad. He's a solid, physical center out of Wisconsin taken in the second round.
Most Disappointing: No one (Late-rounders who have done very little at this point is too common to be labeled "Disappointing.")
Class as a Whole: The Falcons did not have a first-round selection this year, having gave it away for Julio Jones a year earlier. They also went without a fourth-round pick as well. As a result, the Falcons really have not relied on much help from rookies this year, despite all the success early on.
Midseason Grade: F-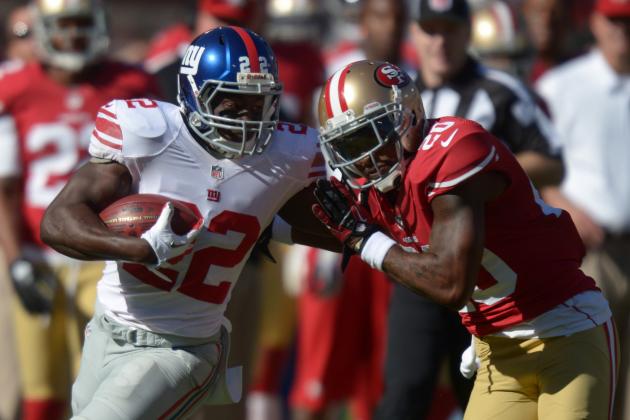 Kirby Lee-US PRESSWIRE

Most Promising: David Wilson—Point totals: 29.9
Sure, Wilson has his issues holding onto the ball, which can drive Tom Coughlin crazy. But Wilson also adds home-run ability every time he touches the ball with blazing speed and impressive vision.
He may not be getting the bulk of the carries, but his impact is still felt nonetheless—be it on special teams or as a receiver out of the backfield.
If the Giants are going to advance deep into the playoffs this year, you can bet they'll need a ton of help from Wilson if they're to have any chance.
Most Disappointing: Rueben Randle—Point totals: 5
Randle was drafted by the Giants to fill a major need at wideout with the departure of Mario Manningham. Unfortunately, he has failed to produce or even see the field as of yet, but he still remains a potential threat when the ball is in his hands.
Class as a Whole: Third-round pick Jayron Hosley has looked impressive while receiving much more playing time than expected due to several injuries in the secondary. Hosley has really maximized his opportunities.
The jury is still out on this crop of rookies, as most of them await their opportunities with the reigning Super Bowl champions.
Midseason Grade: C-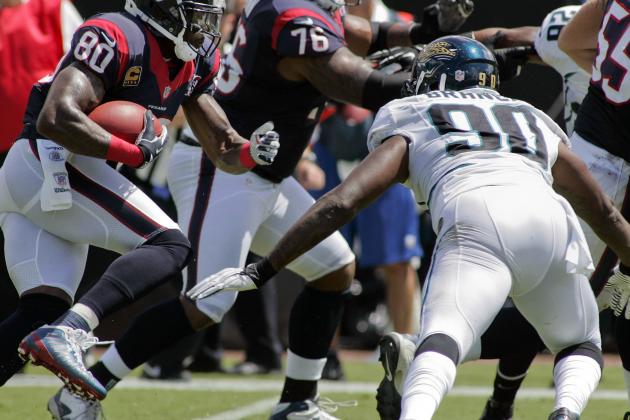 Phil Sears-US PRESSWIRE

Most Promising: Andre Branch—Point totals: 14.9
Production from the Jaguars rookie class has been rather anemic. Unlike most teams with this issue, the Jaguars are actually giving their young guys a ton of playing time—they just aren't making a lot happen.
According to Pro Football Focus, Andre Branch has had 179 pass-rush attempts yet hasn't gotten a single sack in the NFL. As alarming as this may be, Branch actually appears to be the best choiceon the Jaguars roster.
On a positive note, he has done fairly well holding the point of attack against the run while being a reliable tackler.
Most Disappointing: Justin Blackmon—Point totals: 9.7
In all fairness, the Jags haven't really given Blackmon many opportunities to succeed under their current offense. JB has yet to catch a single ball for more than 20 yards, and in 35 balls thrown his way this season he has only dropped three of them.
The big concern with Blackmon's transition into the NFL was been his ability to separate from defenders. This concern may have validity, thus contributing to his pedestrian numbers despite being a starter.
Class as a Whole: Apparently the Jaguars had a feeling about their offensive struggles this year and elected to take a punter in the third round. This is something that just doesn't happen; punters are rarely ever drafted at all, let alone taken in the third round.
But underachieving has been a theme for Jacksonville. If the Jags can't develop a star or two from this group, they could be in for a long rebuilding process.
Midseason Grade: D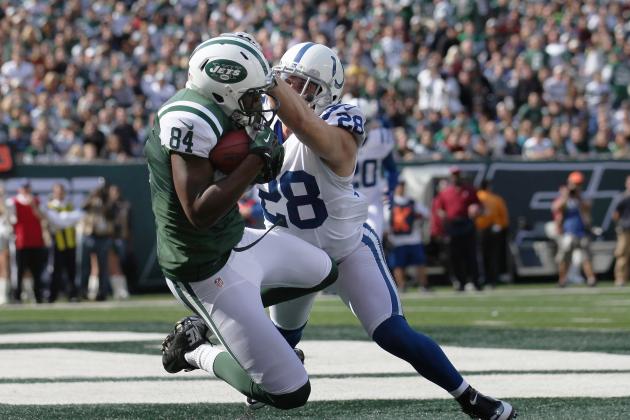 Nick Laham/Getty Images

Most Promising: Stephen Hill—Point totals: 22.4
Wide receiver Stephen Hill was selected in the second round and now serves as the main deep-threat option for Mark Sanchez. Hill has made some big plays this season, along with some crucial dropped passes. But such is to be expected from a rookie who was rarely targeted in college due to the run-option scheme of Georgia Tech.
Hill has managed to be one of the most productive rookie receivers in the league at the halfway point, and his ceiling for growth appears to be unlimited.
Most Disappointing: No one (Late-rounders who have done very little at this point is too common to be labeled "Disappointing.")
Class as a Whole: As thin as the Jets have been this season on offense they really have needed every able body just to compete. Coples has played to first-round potential, grading in at 25.3 points at the midway point.
When you combine this level of production with his dominating performances during the preseason, it's fair to say he has a very productive career ahead of him. But one thing he won't be is a big time pass-rush option; he's simply too slow to consistently bring pressure. His best position for rushing the passer is in the interior of the line.
Demario Davis has provided some depth but has yet to be a major contributor to the defense.
Midseason Grade: C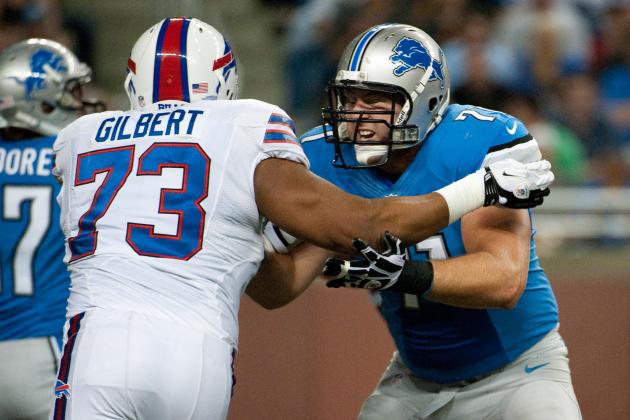 Tim Fuller-US PRESSWIRE

Most Promising: Riley Reiff—Point totals: 13.2
Reiff has been a solid starter for the Lions all season despite some normal growing pains along the way. His tough attitude and effort should carry him into the upper echelon of NFL tackles as long as he can improve his technique and footwork.
According to PFF, Reiff has yet to allow a sack, while he has allowed two QB hurries in 45 offensive snaps.
Those numbers are pretty solid for a rookie in a pass-happy offense.
Most Disappointing: Ryan Broyles (3.1) has been somewhat disappointing as a second-rounder, considering he has only caught a ball in two games all season. But Week 7 against the Chicago Bears was a minor coming-out party for Broyles, as he caught three passes for 51 yards and a TD.
Nonetheless, second-round picks are suppose to generate a lot more offense than that after the halfway point of the season.
Class as a Whole: Detroit really needed Ryan Broyles to come through for them. That really hasn't happened, leaving a gaping hole in the offense where a complementary weapon to Calvin Johnson should be. As a result, defenses can hone in on Megatron and allow single coverage across the board.
Defensively for the Lions, the only rookie with any significant playing time has been Dwight Bentley, though he has struggled in coverage.
Overall there hasn't been much contribution from Detroit's rookie class, which could be a factor in their regression from being a playoff team the year before.
Midseason Grade: D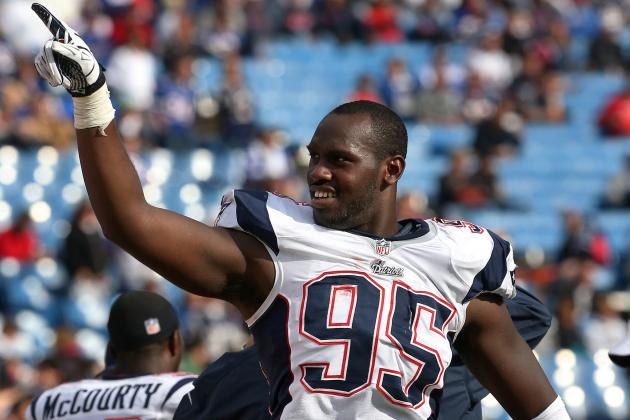 Tom Szczerbowski/Getty Images

Most Promising: Chandler Jones—Point totals: 42
Despite my adamant criticisms of Chandler Jones, he has continued to impress far beyond anything I thought possible. I never even saw Chandler Jones as "draftable" based on the several games I studied of him in college. Yet here we are and Jones is one of the most productive defensive rookies in the entire league.
Chandler is have a fantastic rookie outing on his way to possibly winning Rookie of the Year. So far this year, Jones has five sacks and three forced fumbles, which leads all rookies in both categories.
Most Disappointing: (Late-rounders who have done very little at this point is too common to be labeled "Disappointing.")
Class as a Whole: So far this group of rookies has been sensational. The production has been invaluable to the Patriots on the defensive side of the ball.
The Patriots have yielded the highest total grade of any team in the NFL so far this year with three guys with first-round grades: Jones, Dont'a Hightower (34.1) and Brandon Bolden (20). Plus they have two other guys with second-round grades in Tavon WIlson (14) and Alfonzo Dennard (12).
Midseason Grade: A+
Jonathan Daniel/Getty Images

Most Promising: Casey Hayward—Point totals: 41.6
Hayward is one of the league leaders in interceptions with four on the season. He also has done a great job in coverage, showing well-rounded skill and overall technique. Few receivers have been able to get the best of Casey this season, and the scary part is that he is still just a rookie.
Most Disappointing: No one (Late-rounders who have done very little at this point is too common to be labeled "Disappointing.")
Class as a Whole: Green Bay went all out on defense this year in an attempt to improve one of the worst units in the league. Judging by early indications, it would appear they were successful in doing so.
Nick Perry and Jerel Worthy both graded out as second-round quality with scores of 18.4 and 16.4, respectively. But the contributions don't end there, the Packers safety Jerron McMillian has done a solid job as well while seeing significant playing time.
Midseason Grades: B+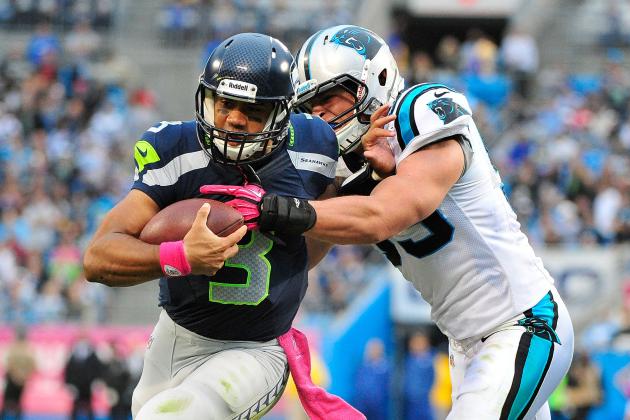 Grant Halverson/Getty Images

Most Promising: Luke Kuechly—Point totals: 34.9
The Boston College rook has been true to form to his playing style in college. This has seemingly carried over into the NFL, with his major strength being his athleticism to always be around the ball.
Once he switched over the his more natural middle linebacker position, he really seemed to thrive.
Most Disappointing: Joe Adams
Adams made his name as one of the most electrifying return men in college football. His ability to avoid and break tackles was uncanny at Arkansas, yet so far in the NFL he has failed to contribute much at all.
Perhaps his slow 40 time is a bigger issue than I initially thought.
Class as a Whole: Regardless of the Panthers' record and the firing of their general manager, they actually had a pretty successful draft all things considered.
This class has yielded one first-round grade and four second-rounders, which is very impressive.
Their fourth-round defensive end selection from Oklahoma, Frank Alexander, has been a major surprise and a steal; he graded out with a solid 15 points.
The Panthers may be struggling this year, but you really can't blame the young guys for it.
Midseason Grade: B+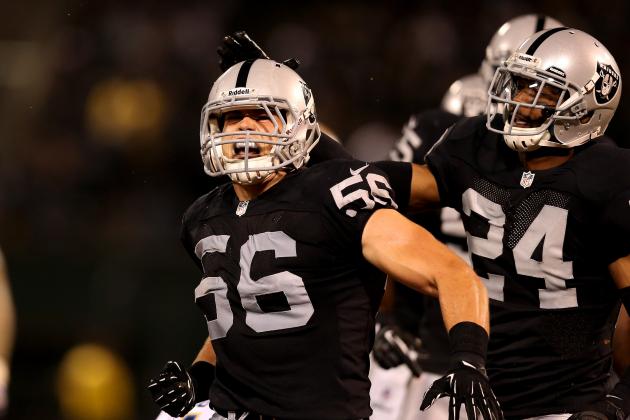 Ezra Shaw/Getty Images

Most Promising: Miles Burris—Point totals: 25.3
Considering he was a fourth-round selection, I'd say it's safe to call the San Diego State product a steal with a first-round grade.
Burris has been a reliable starter at LB pretty much the entire season—not a liability. Heading into the draft I personally thought Burris would be a starter in this league; I just never expected it to come so soon. His hard work and dedication has paid off big time for now.
Most Disappointing: No one (Late-rounders who have done very little at this point is too common to be labeled "Disappointing.")
Class as a Whole: Raider Nation didn't have a pick until the third round thanks to a mind-boggling trade to acquire Carson Palmer out of retirement from the Cincinnati Bengals.
Despite the limitations, it would seem Oakland managed to find some hidden gems who've made some solid contributions this year, including undrafted free-agent wide receiver Rod Streater.
Given what the Raiders had to work with, this was not a poorly executed draft regardless of the midseason grade.
Midseason Grade: D+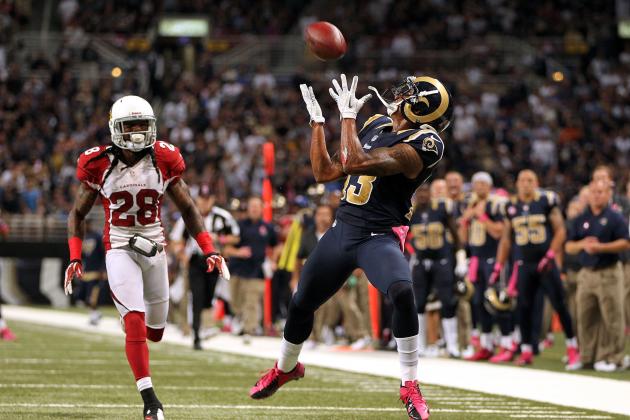 Jamie Squire/Getty Images

Most Promising: Chris Givens—Point totals: 28.3
Givens has been a valuable spark to the Rams offense, bringing the team some much-needed big-play ability. He has been one of the most productive rookie wideouts this season and only appears to be getting better.
For those of you who may be crying for Janoris Jenkins to be in this spot, I shall bring up two things. The first is that he graded out with a solid 16 points, which is good but not as good as Givens. The second thing is a warning to remember Adam "Pacman" Jones and his rookie year. Sometimes the behavior problems start in Years 2 and 3 as a pro after the player has settled in some and gotten comfortable.
Most Disappointing: Michael Brockers—Point totals: 7
Brockers was the first overall selection of the St. Louis Rams and has failed to make much of an impact despite substantial playing time. Typically it isn't good when your first-round pick is grading out as a third-rounder even with significant playing time.
Class as a Whole: Sure they may have missed on their top pick, but the rest of the draft was very successful. Overall the Rams were able to produce two first-round grades and a second-round grade, which should provide a sturdy foundation for the head coach Jeff Fisher to build upon.
One of the biggest surprises and steals of the draft has been seventh-round draft pick Daryl Richardson. Although being taken so late, the RB has graded out with a phenomenal score of 20, which essentially says he's been playing like a first-rounder. Not bad for a guy who almost went undrafted out of Abilene Christian.
Midseason Grade: B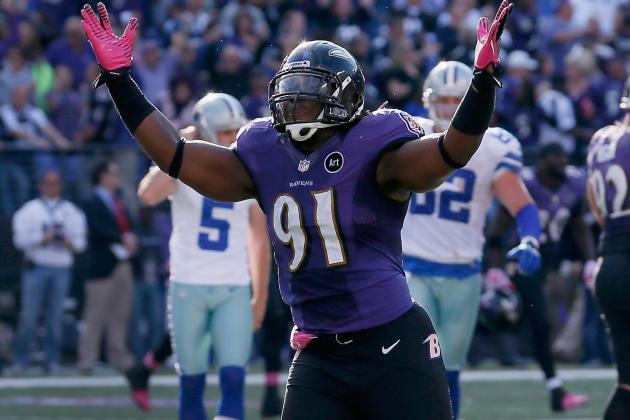 Rob Carr/Getty Images

Most Promising: Courtney Upshaw—Point totals: 35.2
While Terrell Suggs recovered all season from a torn Achilles, Upshaw was making the most of his opportunity for playing time. He has proven to be very sound against the run while still learning how to apply consistent pressure on the quarterback.
Upshaw has great instincts and tenacity, which is why I loved him coming out of college. During the preseason I was worried after he looked considerably slow and overweight, but now he seems to have gotten into playing shape and found his way with the speed of the game.
Most Disappointing: (Late-rounders who have done very little at this point is too common to be labeled "Disappointing.")
Class as a Whole: Baltimore was sans a first-round selection but made the most of their second-round pick taking Upshaw, which, of course, turned into a major need position after Suggs' injury.
This doesn't seem to be a draft with any real stars in it, but a handful of solid contributors can come in handy for the next few years.
Midseason Grade: C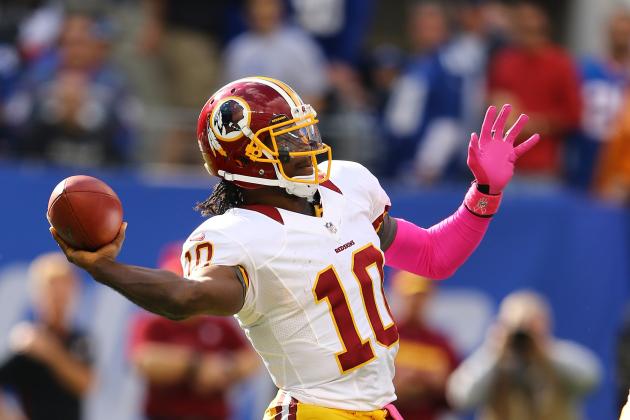 Al Bello/Getty Images

Most Promising: Robert Griffin III—Point totals: 66.5
RG3 racked up the highest point totals in the NFL so far and has clearly been the Rookie of the Year.
This dual-threat QB has electrified the NFL and will keep defensive coordinators up at night for years to come. How do you stop a guy with pinpoint accuracy, intelligence and the ability to run faster than anyone on your defense? It almost seems unfair.
Most Disappointing: (Late-rounders who have done very little at this point is too common to be labeled "Disappointing.")
Class as a Whole: Although I have to give "most promising prospect" to RG3, we really can't overlook one of the biggest steals in the NFL: running back Alfred Morris.
Morris was drafted in the sixth round and since then has lit the league up. He has graded out with a first-round grade, and if we were to consider just Robert Griffin III and Alfred Morris for the team's draft grade, they would still get an A.
Amazingly, Morris and Griffin are both in the top three in the league for rushing among rookies.
Midseason Grade: A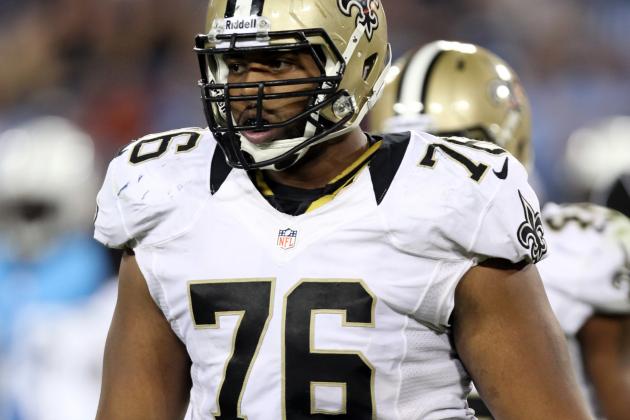 Joe Murphy/Getty Images

Most Promising: Akiem Hicks—Point totals: 7
Hicks is the best option in a series of draft mishaps by the Saints this year. It's hard to find anything good to say about this draft class.
Hicks has seen some decent playing time at DT and has looked pretty good against the run. He was a surprise to me when the Saints drafted him in Round 3 out of the University of Regina (Canada), and he still is an odd choice for their top selection.
Most Disappointing: Nick Toon—Point totals: Below fourth—round quality.
Toon was not a favorite prospect of mine leading up to the draft, yet I did expect more of a contribution that what we've seen so far. Sure he has struggled to stay healthy, but even when healthy he hasn't looked like he belongs in the NFL.
Class as a Whole: Rather terrible to be honest. This is probably the year's worst draft class. Everyone knows the best team build from the draft, and New Orleans has some rebounding to do after this wasted class.
Midseason Grade: F-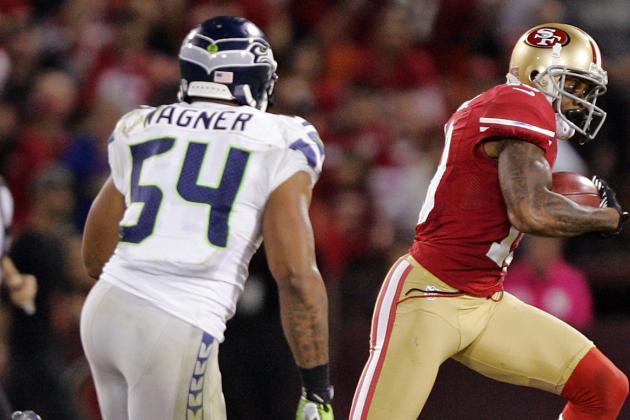 Brian Bahr/Getty Images

Most Promising: Bobby Wagner—Point totals: 42
Bobby Wagner has basically done all the dirty work for the Seahawks defense up the middle. He leads all rookies in stops and has been a tackling machine. Wagner has been a starter from day one and is exactly what a defense needs at middle linebacker.
Pete Carroll has done a remarkable job bringing in talent to Seattle.
Most Disappointing: (Late-rounders who have done very little at this point is too common to be labeled "Disappointing.")
Class as a Whole: Each of the Seahawks' first four selections have all been major contributors to the team. Everyone they bring seems to fit in with what Carroll and Co. are trying to accomplish. Russell Wilson is surprising a lot of people with his high level of performance and appears to be the future franchise quarterback.
Bruce Irvin (25.7) and Bobby Wagner both are graded as first-round quality players, as they've done wonders for this team in strengthening the defense. The front office also provided some much-needed depth with bruising running back Robert Turbin, who may have biceps bigger than my head.
Midseason Grade: B+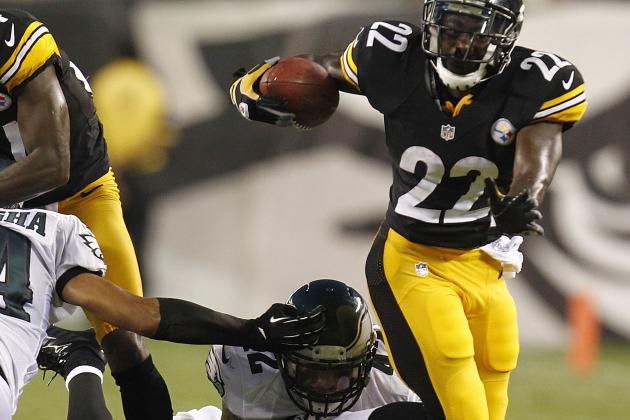 Jeff Zelevansky/Getty Images

Most Promising: Chris Rainey—Point totals: 13.2
Thirteen points is pretty darn good for a running back taken in the fifth round. Rainey is blessed with world-class speed and can provide a lot of versatility to an offensive attack. He even flashes promise as a back who can carry between the tackles and take on contact in the hole.
Most Disappointing: David DeCastro—Point totals: 11
DeCastro was the Steelers' first-round selection and was widely received as the most talented guard in the draft. Unfortunately, DeCastro went down in the offseason with a knee injury, leaving a giant hole up front on the offensive line.
Poor protection has plagued Pittsburgh all year, and clearly DeCastro's injury is at least partly to blame.
Class as a Whole: Pittsburgh has tried to shore up its O-line troubles, but DeCastro's injury and the alarmingly poor play of Mike Adams early on had many wondering if Big Ben would survive a 16-game season.
Fortunately, Mike Adams is showing a lot of signs for improvement and is no longer the major liability he was initially thought to be. In fact, the second-rounder out of Ohio State has completely turned the table and is now looked at as one of the better young blockers in the game today.
Aside from Adams and Rainey, there hasn't been a whole lot of help from the Steeler rookies this year. But the return of David DeCastro next year will be a big help for this team.
Midseason Grade: D+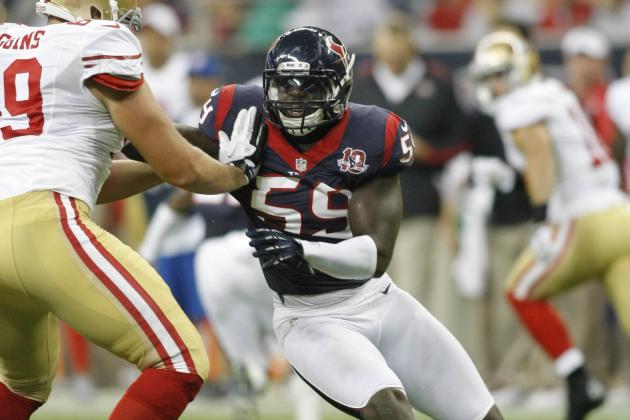 Brett Davis-US PRESSWIRE

Most Promising: Whitney Mercilus—Point totals: 12.5
As the season wears on, Mercilus continues to earn more and more opportunities in the rotation. Mercilus has been noticeably effective in limited opportunities and flashing glimpses of real potential.
Trying to find playing time in a loaded Texans defense has been the major reason his point totals are low for his first-round draft position. When he's on the field, though, he's productive.
Most Disappointing: DeVier Posey—Point totals: Below fourth-round status.
Posey has not been the offensive weapon they expected, and as competition increases with the stakes, his production will be extremely valuable. So far this third-round pick has appeared overwhelmed and lost by the NFL game. Either he catches up soon or he'll have to find a new job.
Class as a Whole: Jared Crick (7.8) is one of the bright spots in a draft class limited in playmakers. If he can stay healthy, Crick can be really special in a Wade Phillips defense. Another solid selection who shows promise is fourth-round pick Ben Jones (6).
The center out of Georgia should eventually become a starter in this league with his impressive feet and technique. But for now he must pay his dues as a capable backup.
Midseason Grade: D+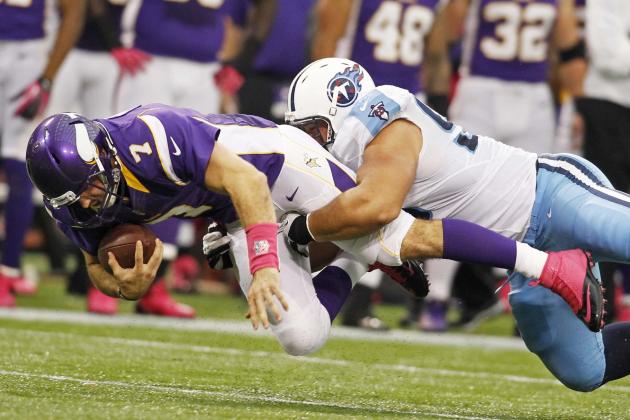 Bruce Kluckhohn-US PRESSWIRE

Most Promising: Mike Martin—Point totals: 31.6
Mike Martin was the Titans' third-round selection this year but has played more like their No. 1 overall pick.
The defensive tackle, who I had viewed as a very underrated athlete coming out of Michigan, has thrived so far in the Titans system. Clearly he has outperformed his draft position and could end up being one of the biggest draft steals of the year.
Most Disappointing: Zach Brown—Point totals: 7
Expectations were high for this dynamic athlete who nonetheless lasted till the second round because of questions about his physicality and tackling ability. These concerns, amongst others, appear to have realized on some level.
When you draft a athlete with production problems, the hope is always to coach them up and develop their skills over time. This may still be in the works for the linebacker, who hasn't played terrible; he has merely failed to live up to second-round expectations.
Class as a Whole: Snagging a couple of first-round-caliber contributors is enough to deem any draft class a success. Kendall Wright (32.1) and Mike Martin are going to be huge for the Titans as they look to develop a playoff-caliber team once again.
Midseason Grade: B-
Brace Hemmelgarn-US PRESSWIRE

Most Promising: Matt Kalil—Point totals: 26.6
Matt Kalil seemed to pick up exactly where he left off at USC, protecting the quarterback consistently without giving up a sack. After eight games of NFL action, Kalil had only given up a single sack. That statistic is beyond impressive. Even if he does little else as a blocker, he still retains a ton of value simply in how he is able to neutralize the opponent's best pass-rusher.
Most Disappointing: (Late-rounders who have done very little at this point is too common to be labeled "Disappointing.")
Class as a Whole: Harrison Smith (19) and Matt Kalil alone give this draft class credibility. Both men have been starters from day one and have not disappointed. Frankly, I was surprised to see Smith drafted in the first round, but it appears to have been a fabulous move.
Aside from the two big name first-rounders, there are several other rookies with a ton of potential that could develop over time. Seventh-rounder Audie Cole was impressive during the preseason, while cornerback Josh Robinson may be perhaps the fastest rookie in the NFL. In addition, Greg Childs is a freakish athlete when healthy and should give Christian Ponder another weapon on offense.
Even though most of the production from this class is yet ot be seen, the Vikes still managed a rather successful draft.
Midseason Grade: C