Liverpool vs. Anzhi Makhachkala: 6 Things We Learned in Reds' 1-0 Win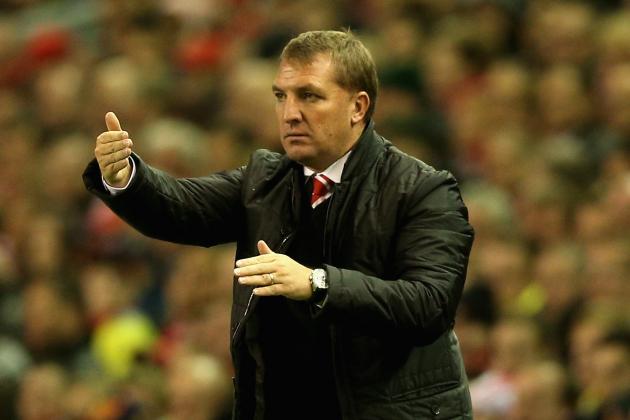 Clive Brunskill/Getty Images

Liverpool beat Anzhi Makhachkala 1-0 in the Europa League on Thursday night after Stewart Downing's goal helped Brendan Rodgers' team overcome one of the favourites to have an impact in the tournament.
Going into the game, Brendan Rodgers could have been forgiven for naming an under-strength team with the Merseyside derby against Everton looming large on the horizon—but he showed his intent to do well in the competition by naming almost a Premier League XI.
Two or three players did themselves no harm at all in the race to remain—or become—first-team regulars, though the likes of Sebastian Coates and Jordan Henderson might be disappointed to have not even gotten the chance to take part, despite some impressive performances in Europe until now.
The win is all that really matters, though, and the Reds can go forward in good confidence now with two wins and three clean sheets from the past three games.
Here are six things we learned in the Liverpool vs. Anzhi match.
Begin Slideshow

»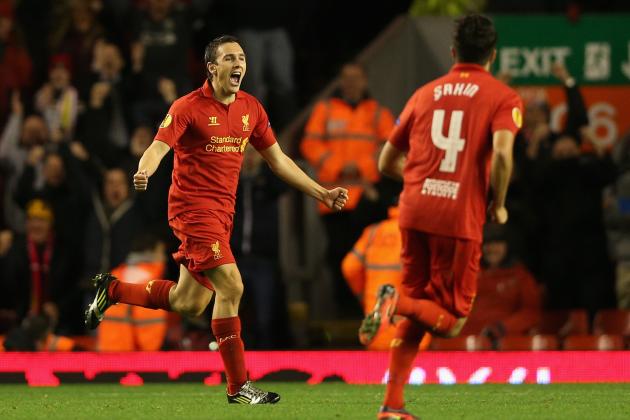 Clive Brunskill/Getty Images

Going into the match against Anzhi, Liverpool sat third in their Europa League group, one point behind both the Russians and Udinese, who beat the Reds at Anfield last time out.
Fast forward 90 minutes, though and the group is all changed, as Liverpool's win and that of Young Boys over the Italian side means that the Reds are on top, with six points.
Anzhi and Udinese remain on four, with Young Boys on three points bringing up the rear. The reverse fixtures of this round of matches takes place next, where Liverpool will almost certainly consider a point won in Russia as a very good result.
With one home match still to play, against Young Boys, the Reds should be looking at a minimum of nine points which could certainly be enough to get through. Beat the Swiss side and claim a draw in either Russia or Italy, and it would now be enough to see the Reds through to the knockout stages—barring a big win for Anzhi in two weeks' time.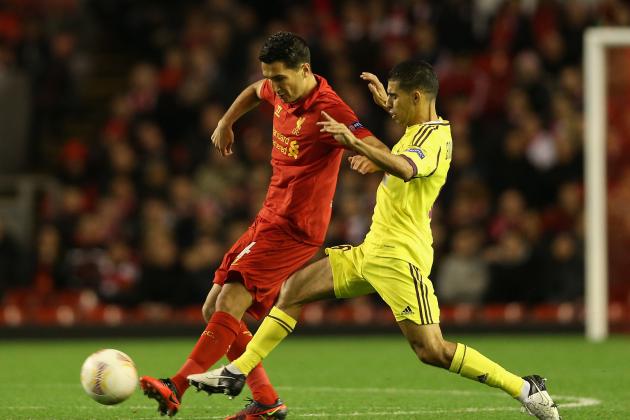 Clive Brunskill/Getty Images

Liverpool's midfield game against Anzhi was controlled, consistent and for the most part, keen to look forward and progress the team's play.
While Nuri Sahin in particular was the "metronome" of the team—save for his barely-avoided calamitous pass across goal in the second half—with outstanding regularity in his passing, Gerrard sought to break forward quickly several times and advance the line of attack.
From defence to 30-metres or so from goal, Liverpool's passing was crisp, accurate and tidy for the most part.
After that point, however, there is still plenty of work for Liverpool to do.
Anzhi sat back in numbers for much of the game, so it was acceptable that the Reds maintained possession and position without over-committing, but when they managed to get the ball down the channels and with the likes of Assaidi going one against one with his marker, one or two extra players needed to be brave enough to venture higher up the pitch.
Too often the winger (or Johnson, overlapping from full-back) managed to get past his marker—but was then faced with the option of either crossing to nobody, running at another two defenders unsupported, or else having to simply turn back to his own goal to find a team-mate.
It's not just numbers, it's movement at the right time, the correct player making a supporting run and a little bit of bravery, too.
Bit by bit, it's coming together for the Reds and the defence being much improved over the past few weeks is reason for cheer, but the final third is still lagging behind a little in terms of progression.
Clive Brunskill/Getty Images

One or two sets of eyebrows might have been raised when Brendan Rodgers named almost all his strongest players in the line-up to face Anzhi Makhachkala with the Everton match just three days away.
Whilst Luis Suarez, Andre Wisdom, Martin Skrtel and one or two others might be easily able to cope with the quick-fire matches, injury records of Daniel Agger, Steven Gerrard and Glen Johnson when they haven't had ample time to recover from the last match made it an interesting choice from the manager.
However, Liverpool played a very smart game against Anzhi.
Partly aided by the Russians' willingness to sit back and barely impose themselves on the game, Liverpool played with confidence and patience rather than energy and an all-out, must-score-now mentality every time they got the ball.
Moving the football across the pitch, letting the wide forwards or full-backs get into spaces before trying to create chances from the corners of the penalty area was a common tactic from the Reds, and most of their chances came from this approach.
After the goal, they did not over-commit themselves unnecessarily; again, the negativity of Anzhi helped Liverpool in this regard as they were never overly-troubled in defence, but by and large it was a conservative approach to the second half from the Reds, which enabled them to not have to expend huge amounts of energy.
"Rest on the ball," says manager Rodgers, and Liverpool were able to do that in the important final 30 minutes of the game for large spells.
The first XI were risked against Anzhi—and the first XI should be fit and fine for the Everton match.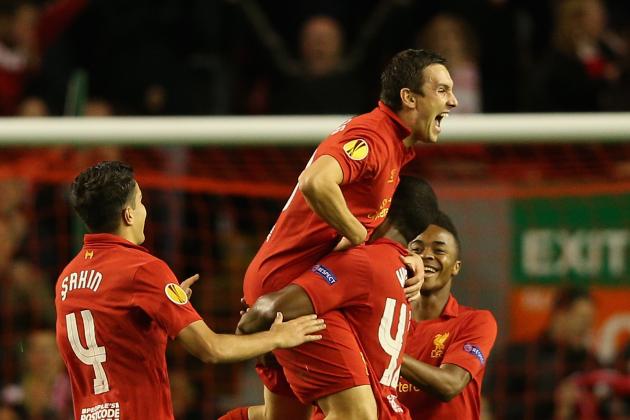 Clive Brunskill/Getty Images

Despite some recent light sparring between the two, and the winger being left out of the match squad in recent weeks by the manager, Stewart Downing was restored to the Liverpool team by Brendan Rodgers for the Europa League tie.
Downing started on the right side of the front three, but when the decision to introduce Raheem Sterling came at half time, the attacker was shifted to left-back, where he has already played previously for the Reds this season.
His goal came from that position and he was defensively solid in everything he had to do throughout the game, not just when he was part of the back four.
At the end of the match, Rodgers was quick to direct Downing towards the Kop and claim their applause, hoping that the crowd's reaction would encourage the player to produce more of the same.
From the official club site:
I think [telling him to approach the Kop] was just something to help his confidence. I think the Kop recognised it was a wonderful bend on the strike and if he can get a round of applause from them, then that would mean a lot to anyone; to a player, manager or a coach.

And you saw how they reacted accordingly - they gave him a great round of applause and that will hopefully do him well going forward. His commitment tonight was excellent. He had to play in a different position in the second half but he's got the qualities to do that. It was a good night for us.
Rodgers might not see Downing as part of his plans for the future of the club, or even want to start him in many more matches between now and the January transfer window, but he is smart enough as a manager to know he needs some squad players confident and ready to perform in the mean-time—the first-choice players simply can't do it all by themselves.
Getting Downing onside with an acknowledgement of his match-winner and boosting his confidence might be the move which lets Rodgers add just an extra body of quality to his available armoury, for now at least as the Reds battle on with injuries and inexperience.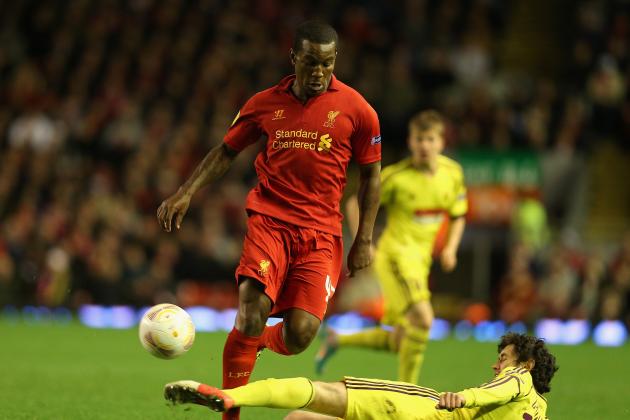 Clive Brunskill/Getty Images

There is just no fazing Andre Wisdom.
The youngster has just six professional appearances to his name yet looked as composed, unflappable and—importantly—full of confidence and quality as any of his more experienced team-mates and opponents.
Right-back has suddenly become an area of the pitch where Liverpool have a strange amount of quality in depth, albeit somewhat depleted at present because of injury.
Glen Johnson and Martin Kelly are both superb players who filled the role last season, though Kelly will miss the rest of this campaign with injury and Wisdom's own form has allowed Johnson to continue on the left.
Then there also remains Jon Flanagan at the club who impressed two years ago but has had a drop-off in form and chances since then—and young Northern Irishman Ryan McLaughlin who looks a cert to get a chance in the not-too-distant future.
Wisdom though arguably towers over all at present with his imperious form, physical strength and ice-cold consistency.
His statistics are regularly up there with the best in terms of passing, and he gave not an inch against technical and fast attackers against Anzhi.
He shielded the ball to win it back more often than he needed to tackle and was capable enough himself to receive passes in tight spots at the back and work the ball out of danger.
Wisdom will compete his first Merseyside derby at the weekend and, for all the praise being given to Everton's left flank this season, has every chance of shutting them down completely.
In fact, he can do it to such an extent that some of the youth-focused glances being sent Liverpool's way this season finally realise how good he has been, just as much as Suso and Sterling.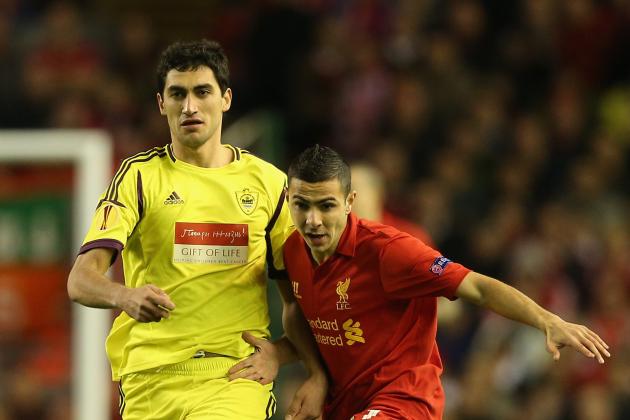 Clive Brunskill/Getty Images

With only a few changes being made to the Liverpool XI from the current Premier League team for the match against Anzhi, there was never much likelihood that anybody would have such an impact to win their way into the league match against Everton—but Oussama Assaidi might have done just that.
Sterling and Suarez have been impressive enough, are strong enough and were last week's match-winners to suggest that they will continue, but Suso might find himself just gently nudged aside for the weekend.
Nothing against the Spanish player who has shown his quality plenty already, but the derby is an intimidating, furious and physical place for a debutant and Suso looks the least mentally- and physically-equipped player out of the front three to deal with it.
Assaidi's personal form offers something very different to any of the other Reds attackers; his low centre of gravity, unpredictability at which way he will go and willingness to get into the penalty area is something which could have Tony Hibbert screaming under the bedsheets in the lead up to the fixture at Goodison.
Neither of the other players who came into the Anzhi side—Downing and Jonjo Shelvey—offered enough to warrant breaking into the side, but Assaidi has put in several creative and exciting performances now for the Reds and he will be hopeful of being involved in some capacity at least.
It could just be that Rodgers goes for the extra pace and experience of Assaidi this time on the left of Liverpool's front three.
Sunday, then, would be the perfect time for the Moroccan international to score his first goal in the Red of Liverpool.