Clemson vs. Wake Forest: Live Scores, Analysis and Results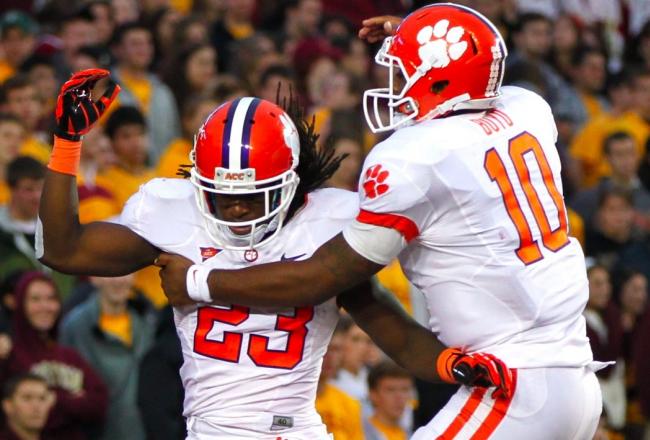 CLEMSON 42 WAKE FOREST 13: FINAL
Clemson's four touchdowns in the second quarter were more than enough to put this game away.
Tajh Boyd exploded for 428 yards and five touchdowns while Sammy Watkins finally picked up his first touchdown catch of the season.
Wake Forest just never had a chance in this one as the Tigers rolled all over the Demon Deacons.
And here's what we learned from this game.
Thank you all for visiting and stay tuned for more live analysis of college football right here on Bleacher Report!
And that's it ladies and gentlemen! Clemson wins big 42-13.
Final thoughts and what we learned coming right up.
Finally, Wake Forest decides to go for it on fourth down.
Too late folks.
It doesn't work and Clemson is going to line up in victory formation.
Wake Forest is playing hurry up. They want to get one more TD in before this game is over.
Well, you have to admire the fact that this team doesn't quit.
Rece Davis suggests that maybe America could do push ups like the Clemson Tiger and the Oregon Duck have to do.
It would certainly help me work off that doughnut I'm going to get after this game is over...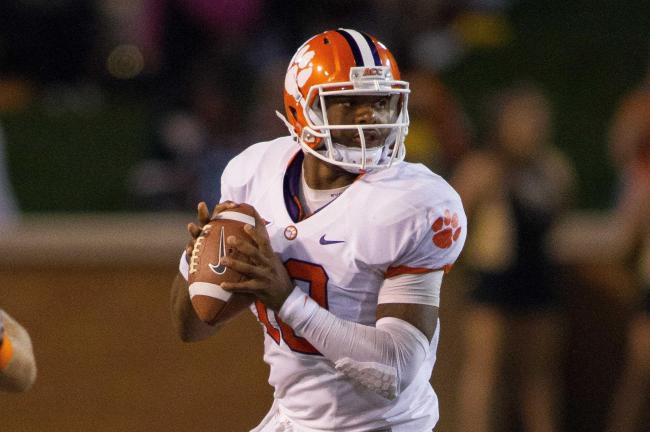 After getting more than 400 yards passing tonight, Tajh Boyd's night is done.
Boyd finishes with 428 yards passing and five touchdowns. Solid play from the Tigers signal caller.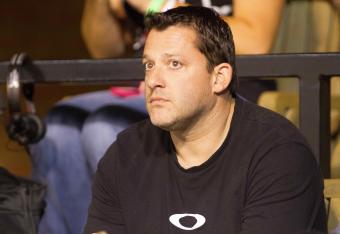 Wow, that stadium looks empty.
Can't say I really blame Wake Forest fans as their team punts again.
Tony Stewart can't be pleased.
And now they're showing the Wake Forest basketball team!
I guess the Demon Deacons are going to have to look forward to getting Clemson back on the hardwood. It ain't happening on the gridiron.
Clemson 42 Wake Forest 13 8:44 Fourth Quarter
If it wasn't before, I'm going to go ahead and say it:
Game over man. Game over.
Wake Forest blocks the extra point, but the guy was offsides.
See, I'm not the only one thinking doughnuts:
Watching the camera man for the wake forest vs clemson eat a doughnut while moving the camera has made my night.

— Kyle Bowdoin (@kyle_bowdoin) October 26, 2012
Wonder how much money Krispy Kreme is going to make from that shot of the cameramen eating doughnuts?
Now Clemson is looking like they did in the second quarter. Looks like they've decided to put this game away.
ESPN is showing their cameramen eating Krispy Kremes.
Cruel and unusual man. Cruel and unusual.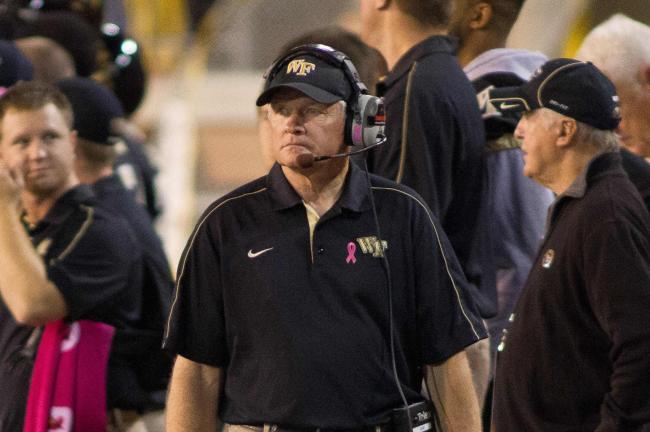 I understand Jim Grobe not wanting to make a mistake, but when you're down like this shouldn't you roll the dice a bit? I mean, you're down by 22 points and time is running out.
Tanner Price wanted to go for it, and really why not? You're down by three scores and it's the fourth quarter.
Instead, Wake Forest punts again.
Well, Wake Forest manged to keep Clemson out of the end zone for the entire third quarter. That's a win for the Demon Deacons.
Still, they're down by 22. The defense has stepped up and the offense has to do so in a big way for Wake Forest to make this interesting.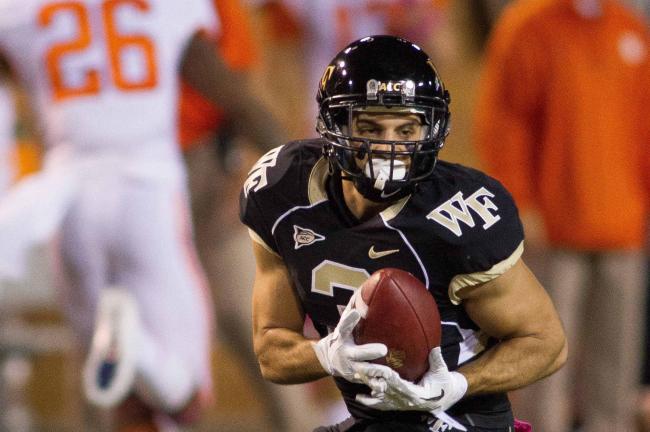 Michael Campanaro looks really good for being out with a hand injury. Great grab at the sideline!
Man, the Clemson offense is just out of sync right now. The Tigers are forced to punt.
Wake Forest is outscoring Clemson 6-0 in the second half. Clemson punt.
And we have another Wake Forest punt.
If the Demon Deacons have a comeback coming, they better get on it!
Clemson fans starting to get a little nervous:
Clemson BETTER NOT let Wake Forest back in this game.

— Nnenya★ (@Aynenn_Yeliah) October 26, 2012
Wake Forest still has a way to go, but still...
Was that a Tajh Boyd sack?
Wow, that linebacker just flew right through that hole! Wake Forest is making things maybe a little interesting...
Clemson back to work driving against Wake Forest.
The Tigers don't look quite as sharp as they did in the second quarter. Still, Wake Forest can't stop them so far on this drive.
Clemson 35 Wake Forest 13 7:45 Third Quarter
And now the Demon Deacons have scored two unanswered TDs.
Does it matter? Maybe not. Still, Clemson better not fall asleep at the wheel.
Tanner Price is showing why he's not Tajh Boyd.
He just missed a wide open receiver deep over the middle.
And Tajh Boyd makes his first poor decision all night.
Clemson misses the field goal. Doesn't really matter at this point.
Still, with how much teams have struggled with field goal kicking, Clemson may want to look into fixing that.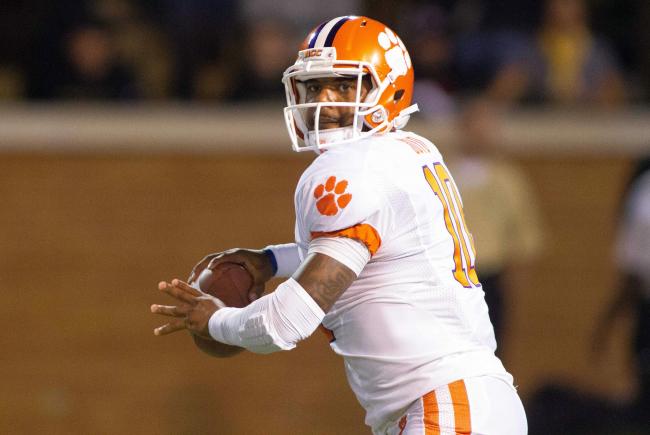 And there's something else we've seen all night:
A big-game pass from Tajh Boyd.
This article is
What is the duplicate article?
Why is this article offensive?
Where is this article plagiarized from?
Why is this article poorly edited?

Clemson Football: Like this team?