5 NBA Stars Who Will Be Hurt by NBA's New All-Star Voting Rules
Stephen Dunn/Getty Images
The 2012 NBA offseason was one of extraordinary changes. Both the super powers and the bottom feeders became stronger and revamped their rosters, thus setting up a regular season of remarkable expectations.
As only commissioner David Stern could do, the head honcho decided to make some last-minute alterations that will change the NBA in an equally powerful way.
For one, Stern is set to retire on Feb. 1st of 2014 (via ESPN.com). The second major change came when the NBA announced that the All-Star game's voting would no longer consist of a two guard, two forward and one center system.
The following is a press release from the NBA (via NBA.com):
The league will announce Wednesday a change to its All-Star ballot that will, for the first time, allow fans to vote for three undefined "frontcourt" players instead of having to vote for two forwards and a center. With more and more teams playing smaller than in the past, the definition of "center" was becoming increasingly difficult—not to mention finding enough quality big men for whom to vote.
The question is, who will be hurt by this change to the voting process?
Which players will be damaged by the emergence of a frontcourt driven system? With the elimination of the value on the center position, the following players will suffer from a higher level of competition and the underestimation of a center's worth.
So who might not make it to All-Star weekend?
Carmelo Anthony, New York Knicks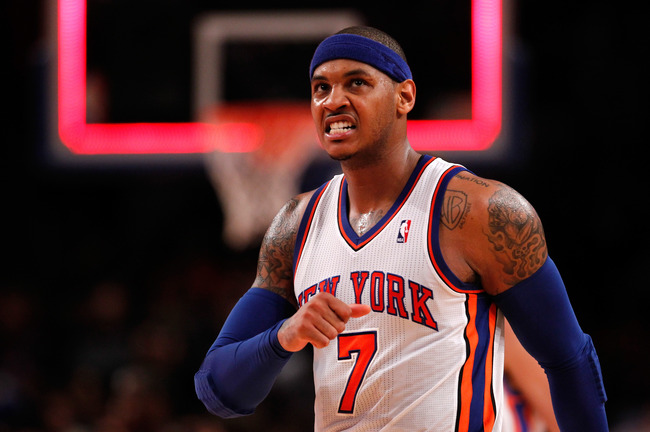 Jeff Zelevansky/Getty Images
Position: Forward
Experience: Nine Seasons
All-Star Game Selections: Five (Latest: 2012)
2011-12 Season Averages
21.15 PER, 22.6 PPG, 6.3 RPG, 3.6 APG, 1.1 SPG
Later in the slideshow I will address how a majority of the Eastern Conference's centers stand no chance of gaining more votes than Carmelo Anthony. So for those looking argue said fact, don't bother.
With that being said, there is a possibility that two centers receives more votes than 'Melo. One player is Andrew Bynum of the Philadelphia 76ers and the other is teammate and reigning Defensive Player of the Year Tyson Chandler.
Chandler stealing an All-Star Game slot from the superstar of New York? Never say never.
If 'Melo starts as slowly as he did in 2011-12, the fans may not vote him in once again. LeBron James will hold one of the frontcourt slots, while Bynum, Chandler and Chris Bosh will compete for the other two.
Is it possible that 'Melo is looked over in the voting process and the Eastern Conference head coach does not select him to the roster? Due to the New York Knicks' shortcomings and Anthony's recent postseason struggles, it could be.
This is speculative and 'Melo is a favorite to be voted in once again. With that being said, if any superstar is to feel the wrath of this change in system, it is Anthony.
Keep in mind, 'Melo received the least votes of any 2012 All-Star Game starter in either conference with 1,041,290 (via InsideHoops.com).
Andrew Bynum, Philadelphia 76ers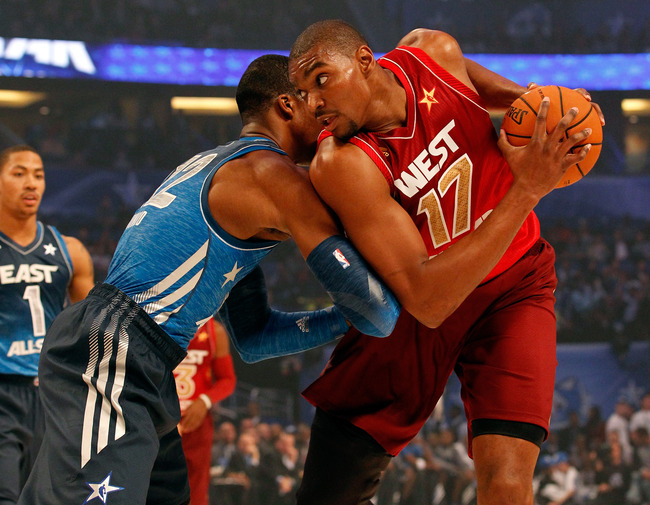 Ronald Martinez/Getty Images
Position: Center
Experience: Seven Seasons
All-Star Game Selections: One (2012)
2011-12 Season Averages
23.00 PER, 18.7 PPG, 11.8 RPG, 1.9 BPG, 55.8% FG
One might be inclined to believe that Andrew Bynum will be voted in as a frontcourt player regardless of the center position being on the ballot. With LeBron James, Carmelo Anthony and Chris Bosh's extreme levels of popularity, however, Bynum may just be the odd man out.
Whether or not he makes the team via coach selection hinges upon his ability to overcome the ankle injury that continues to sideline him (via Fox Sports).
Truthfully, that injury is likely the only way that Bynum does not make the All-Star Game roster. That shouldn't make anyone feel better about his chances, however, as there is a strong chance that he misses a significant amount of time.
If that were to happen, the door will be open for players on the following slides and other Eastern Conference forwards to take his spot. If he remains healthy, however, those players are the odd men out.
To say that this process complicates the selection process is an understatement. It's also a step forward in acknowledging a sad truth in today's NBA game.
Slowly but surely, athletically gifted but fundamentally flawed players are eliminating the value of every position on the floor.
Pau Gasol, Los Angeles Lakers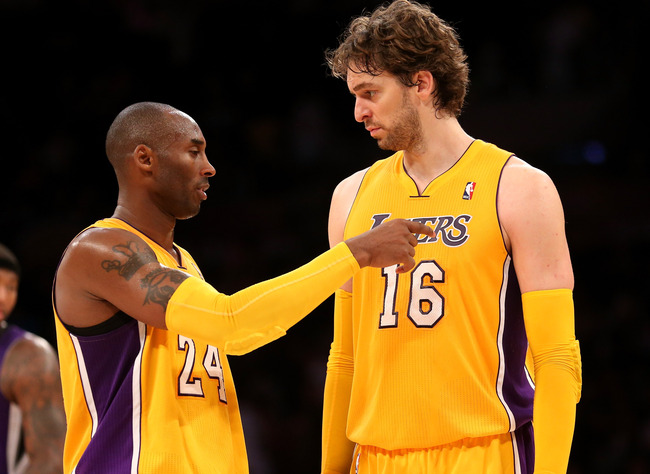 Stephen Dunn/Getty Images
Position: Power Forward
Experience: 11 Seasons
All-Star Game Selections: Four (Latest: 2011)

2011-12 Season Averages
20.51 PER, 17.4 PPG, 10.4 RPG, 3.7 APG, 1.4 BPG
Truthfully Pau Gasol isn't actually hurt by the elimination of a center in the All-Star Game voting process. The fact of the matter is, the Western Conference will have a center starting as long as Dwight Howard is on the Lakers.
This creates one less opening for Gasol to fill. It also creates a plethora of expectations, thus leading to Gasol being overlooked as the fourth tier star on a team with Howard, Kobe Bryant and Steve Nash.
I suppose a championship would make Gasol feel better about being lost in the stacked roster of All-Stars he plays with in Los Angeles.
What this rule does, however, is create competition for Gasol as an All-Star Game reserve. No longer will the hybrid players be blocked out, as players such as Tim Duncan and Al Jefferson are no longer limited by lacking a truly defined position.
The fact that Dwight Howard, Kevin Durant and either Blake Griffin or Kevin Love are locks to be the starters certainly doesn't help Gasol, either.
Roy Hibbert, Indiana Pacers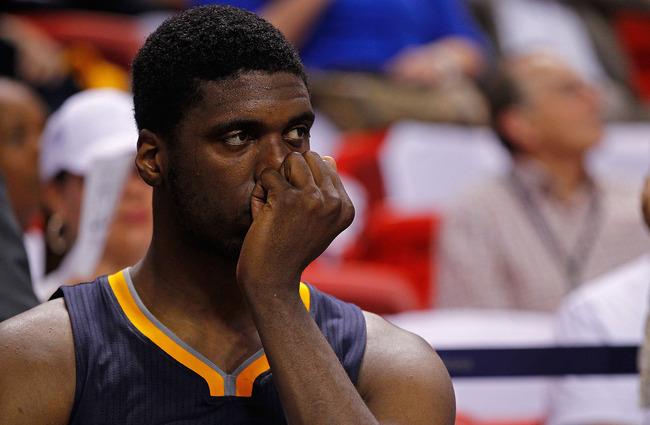 Mike Ehrmann/Getty Images
Position: Center
Experience: Four Seasons
All-Star Game Selections: One (2012)
2011-12 Season Averages
19.35 PER, 12.8 PPG, 8.8 RPG, 1.7 APG, 2.0 BPG
One of three centers to make this list, Roy Hibbert is actually the biggest victim of this change of rules. The reason behind is the fact that Hibbert is one of the last true centers remaining in the NBA.
Unfortunately, this rule change displays the league's belief that center is a dying position. In turn, the fundamentally sound Hibbert will not be appreciated as he deserves to be.
As a back-to-the-basket, old school center, Hibbert will pale in comparison to the star power of the athletic bigs. In turn, his All-Star Game appearances may be limited and his appreciation as a potential starter at center has been eliminated.
That, of course, is only a result of the position being axed all together.
With all of this being said, there is a chance for Hibbert to make the All-Star Game in 2013. If the Indiana Pacers maintain the elite regular season pace they established in 2012, Hibbert could once again be the player that a coach selects.
With Paul George expected to rise as a star and Danny Granger hoping to bounce back from a poor 2012, however, Hibbert could have competition within his own rotation.
No matter which way you cut it, one of the better players in the game could be locked out of a second All-Star appearance. Unless fans and coaches begin to value the center position more than the league, Hibbert could go back to the label of "underrated."
A telling year for the Pacers' big.
Greg Monroe, Detroit Pistons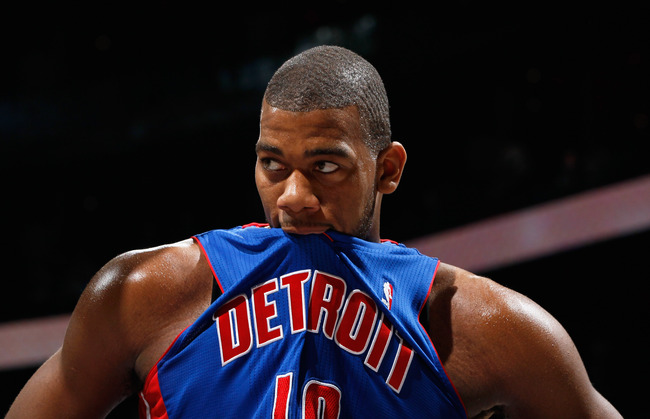 Kevin C. Cox/Getty Images
Position: Forward/Center
Experience: Two Seasons
All-Star Game Selections: None
2011-12 Season Averages
22.09 PER, 15.4 PPG, 9.7 RPG, 2.3 APG, 1.3 SPG
A third Eastern Conference center? Yes, a third one.
Due to Greg Monroe's status as a 4/5 hybrid, one might assume that the elimination of defined frontcourt positions would be beneficial. Due to the plethora of more popular talent at both small and power forward, however, the likelihood that Monroe is voted in decreases significantly.
Should fans opt to vote them in, it's also unlikely that Monroe beats out Andrew Bynum, Tyson Chandler or Roy Hibbert for a coach-selected roster slot.
Despite the hasty progression that Monroe has displayed in a statistical sense, pairing him with the NBA's elite in terms of reputation would be foolish. LeBron James of the Miami Heat and Carmelo Anthony of the New York Knicks have virtually locked down two of the front-line spots.
The final spot could be Monroe's to win, but do you really believe he has that type of following? More than that of Bynum, Chandler, Hibbert, Chris Bosh, Kevin Garnett, Paul Pierce or Luol Deng?
Even if he were to beat out his fellow centers, it's quite unlikely that he overcomes the big-market forwards as well.
Keep Reading