5 Reasons the San Francisco Giants Shouldn't Plan World Series Parade Just Yet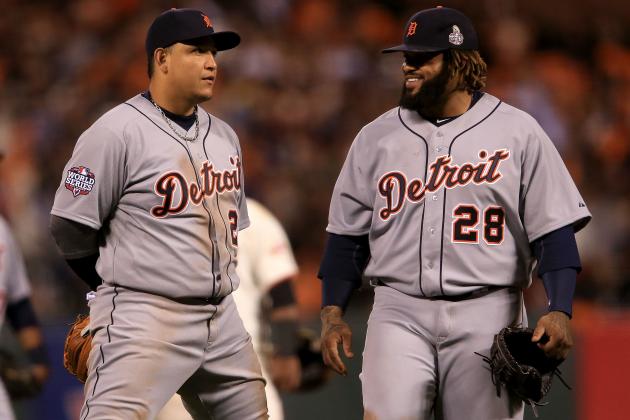 Doug Pensinger/Getty Images
Do Miguel Cabrera and Prince Fielder think the 2012 World Series is over?
With their 8-3 victory over the Detroit Tigers in Game 1 of the 2012 World Series, the San Francisco Giants won their fourth straight playoff game.
The Giants are on an impressive roll, outscoring the opposition by a score of 28-4 during that four-game span. There's seemingly nothing this team can't do right now, beating elite pitchers like Justin Verlander while getting three home runs in a ballgame from Pablo Sandoval.
Meanwhile, the Tigers would appear to be back on their heels a bit after their No. 1 pitcher—the reigning AL MVP and Cy Young Award winner—got rocked for five runs and their formidable lineup could score only one run against Barry Zito.
But should the Giants and the city of San Francisco start planning a World Series championship celebration parade right now? Should this series be stopped right now, as MLB.com's Hal Bodley wrote with presumable tongue-in-cheek?
Well, there's always something to be said for preparation and looking ahead. However, getting fitted for rings might be a bit hasty. (That ring information should already be on hand for most of the players anyway, right? I mean, the Giants won just two years ago.)
Here are five reasons why the Tigers could still extend this series to six or seven games and bring the competition back to San Francisco next week.
Begin Slideshow

»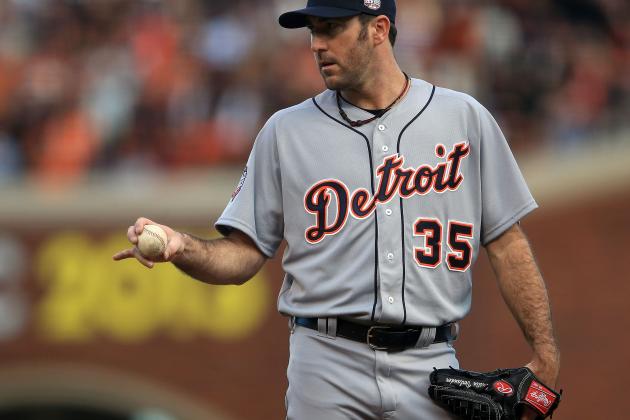 Doug Pensinger/Getty Images

Yes, I realize this is a Captain Obvious statement, but the World Series is not a one-game playoff.
No team should realize how the course of a series can change more than the Giants. San Francisco lost the opening games in its division series versus the Cincinnati Reds and in the NLCS against the St. Louis Cardinals.
It's better to win the first game of a seven-game series than to lose it. As MLive.com's James Schmehl details, the team that won Game 1 of the World Series has gone on to win the championship 62 percent of the time. The Game 1 winner has taken eight of the last nine Fall Classics.
Obviously, that includes the 2006 World Series, during which the Cardinals nabbed a victory in Game 1 and went on to beat the Tigers in five games.
But Detroit can prevent the Giants from taking control of the series by winning Game 2 and achieving a 1-1 tie. Then the World Series becomes a five-game affair with three of the next five games to be played at Comerica Park.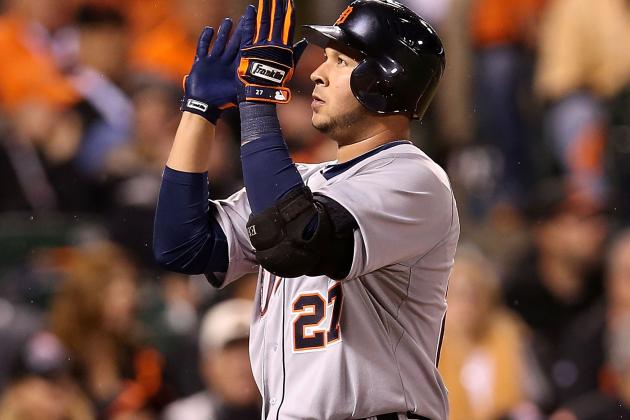 Christian Petersen/Getty Images

Giants fans will roll their eyes at this, balking at the sentiment that the Tigers lost because they were flat from a five-day layoff, rather than giving San Francisco credit for winning Game 1.
But taking time off with any job—or athletic endeavor—is going to render you less effective than you were before the break. Even if you come back feeling refreshed, you likely won't work at the same pace you kept previously.
Barry Zito certainly warrants praise for handcuffing the Tigers lineup for the first five innings of Game 1. But by that point, Detroit seemed to find the touch it had lost during its time off.
During the final four innings, the Tigers looked as if they'd shaken the rust off, gotten back in sync or whatever other metaphor you choose to apply.
MLB teams don't get five days off during the regular season. So for the Tigers to be sidelined for such a span was bound to throw them off their routine. The same almost certainly would have happened to the Giants if they were off for five days.
Game 2 should provide a better idea of where these two teams are. If the Tigers are still flat while the Giants are still playing at a high level, then it will become clearer as to who the better team is in this series.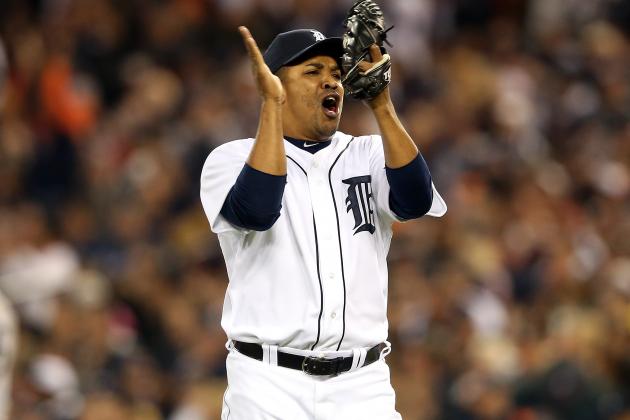 Leon Halip/Getty Images

The Tigers were not a good road team during the regular season, compiling a 38-43 record away from Comerica Park. So it probably shouldn't be a shocker that they lost Game 1 in San Francisco.
Detroit also lost two games in Oakland during the ALDS. Perhaps the most surprising aspect to this team's run to the World Series is that it was able to win two games at Yankee Stadium.
The Tigers tied for the second-best home record in the American League this season, at 50-31. Thus far through the playoffs, they are 4-0 at Comerica Park.
However, the Giants were 46-35 on the road this year, tied for the third-best mark in the National League. They've won three games at Cincinnati and one in St. Louis during the postseason. And in all four of those games, San Francisco faced elimination. So playing away from AT&T Park is not a daunting task.
But there's an old adage that a playoff series doesn't begin until a team wins on the road. If you subscribe to that belief, Games 2 and 3 of the World Series loom as far more important to the outcome of this series than the opening game.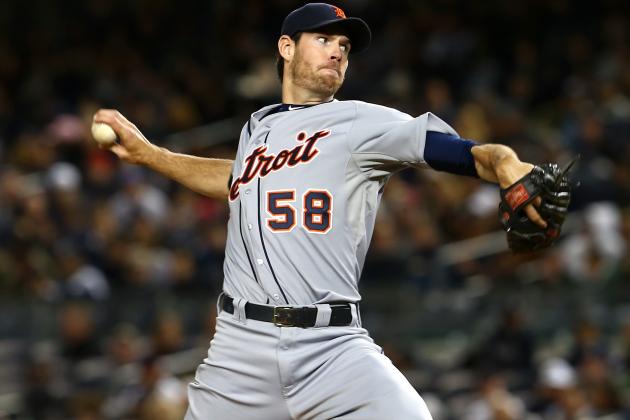 Elsa/Getty Images

Beating the Tigers' No. 1 pitcher—considered among the best, if not the best—in MLB was an impressive way for the Giants to begin the World Series. If they've been scratching marks on a wall for each postseason victory, a win over Verlander might deserve a brighter-colored chalk.
But Detroit didn't win the AL pennant on Verlander's arm alone.
Doug Fister has allowed two runs in his first two playoff starts, resulting in a 1.35 ERA. The same is true for Anibal Sanchez, who has an 0.98 WHIP (walks and hits per innings pitched) and opponents' batting average of .174.
Max Scherzer has been even better, allowing only one run for an 0.82 ERA and striking out 18 batters in 11 innings.
The Giants have proven they can beat any starting pitcher during this playoff run. But have they faced a quartet of arms like the one Detroit can throw at an opponent? Defeating that fantastic foursome might be San Francisco's most impressive achievement in a postseason that's been full of them.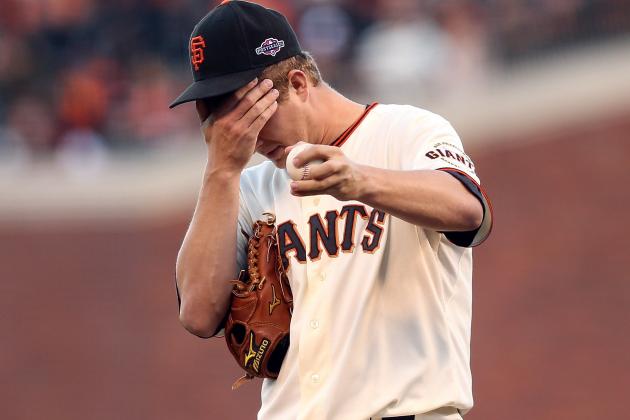 Ezra Shaw/Getty Images

Though Giants manager Bruce Bochy looked as if he might be testing his team's good fortune by tabbing Zito and Madison Bumgarner in the first two games of the World Series, he had some persuasive data to support his decision.
Against left-handed pitching this season, the Tigers hit .253 with a .724 OPS. Their slugging percentage was only .395.
Detroit did little to change that against Zito, scoring one run and knocking six hits (but no home runs) in the series opener. This could bode well for Bumgarner in Game 2.
But in Games 3 and 4, the Tigers will face right-handers Ryan Vogelsong and Matt Cain in Detroit. Against right-handed pitching this season, the Tigers hit .275 with a .771 OPS. That slugging percentage increased to .434.
Detroit's numbers versus righties would presumably be better if for no other reason than the fact its lineup faced right-handed pitching more than twice as much as left-handers. (To be exact, Tigers batters had 2,369 more plate appearances against righties.)
Certainly, it would be in the Tigers' best interests to improve their performance against left-handed pitching, beginning in Game 2 against Bumgarner. If not, they likely won't win the series.
But it's not like Detroit will automatically beat Vogelsong and Cain because they're right-handed either. They're the Giants' two best starting pitchers. Vogelsong, in particular, has been outstanding this postseason. However, the numbers do seem to indicate the Tigers will have a better chance against them.
Follow @iancass on Twitter