The 13 Best Don Cherry Rants of All Time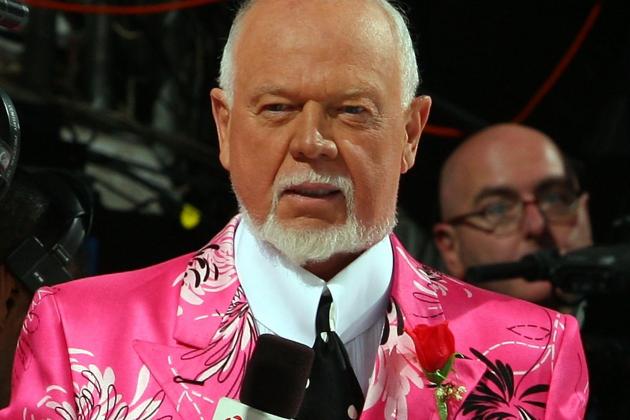 Jim McIsaac/Getty Images
Don Cherry remains a cultural icon in Canada.
Many Canadian hockey fans see Don Cherry on his "Coach's Corner" segment on the CBC production of Hockey Night in Canada.
Cherry has been broadcasting since 1981, and he is known for his garish sports jackets and outrageous opinions. While many of the fans who watch his show embrace him, many others are revolted by his words and ideas.
There are few who have neutral opinions about Cherry.
Prior to his broadcasting career, he was a solid NHL coach. He led the Boston Bruins from 1974 through 1979, and they were a scintillating, hardworking team that regularly beat opponents on the scoreboard and in the back alley. The Bruins of that era were known as "Lunch Pail AC" because they were known for their blue-collar mentality.
The Bruins of that era had the misfortune to compete against the Montreal Canadiens, and that team may have been the greatest in NHL history.
Cherry's known for getting on his soapbox and ranting.
Here are 13 of his best, and one more at the end that you won't want to miss.
Begin Slideshow

»
Cherry's rant about a missed call by referee Kerry Fraser.
Cherry's rant about former Vancouver Canuck, Pavel Bure.
Cherry goes off on Alex Ovechkin's celebration of his 50th goal.
Cherry calls out ex-enforcers for their stance against fighting after the tragic deaths of three former NHL tough guys.
Cherry resents Brian Burke and he let the Maple Leafs' general manager have it after he fired head coach Ron Wilson.
Even though NBC used Cherry on its Stanley Cup Finals broadcasts in 2007, Cherry blasted the network because he thought it was against fighting in hockey.
Cherry uses a video montage to go off on Ulf Samuelsson to show his viciousness on the ice. Samuelsson took out Cam Neely of the Boston Bruins, and Neely was one of Cherry's favorite players.
Cherry criticizes Sidney Crosby for whining, diving and attacking opponents. Cherry wants Crosby to play like a superstar and not take "cheap" penalties.
When Mario Lemieux criticized the NHL for not going after dirty players, Cherry took on the Hall of Famer and labeled him a hypocrite. Cherry complained because Lemieux never said anything when any of his players did something dirty, only when Penguins' opponents broke the rules.
When Cherry was criticized for supporting hardworking pluggers rather than superstars, he brought out the video to show why he comes down on the side of blue-collar players like Gary Roberts.
Cherry ridiculed Cal Clutterbuck of the Minnesota Wild for taking on the role of supposed tough guy, even though he wears his visor while fighting. Cherry makes the point of saying you're either interested in being a tough guy or protecting yourself—but not both.
When Matt Cooke blindsided Marc Savard of the Boston Bruins in 2010, Cherry went after him with both guns blazing. He claimed Cooke went after players to hurt them and needed to be suspended.
Cherry was back at the Boston Garden, but he did not go easy on his old team. When Milan Lucic took a couple of steps backwards and wanted to stop fighting, Cherry would not give him a pass. He called him a "disgrace to the Boston Bruins" and said he should never attempt to back out of a fight again.
CBC comedian Marc Critch does his best Don Cherry imitation. Critch's Cherry takes on the locked-out players on the hit Canadian program, "This Hour Has 22 Minutes."